2022 U20 World Championships
U20 Men's Freestyle Day 1 Bracket Rapid Reactions
U20 Men's Freestyle Day 1 Bracket Rapid Reactions
Quick takes on the freshly minted men's freestyle brackets from the U20 World Championships in Sofia, Bulgaria.
Aug 14, 2022
by Andrew Spey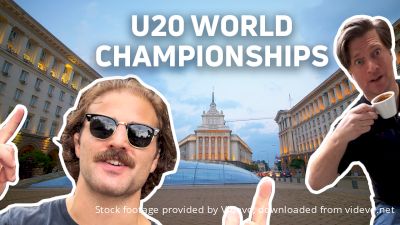 The first day of wrestling at the U20 World Championships in Sofia, Bulgaria starts tomorrow, which means we all get to feast our eyes on glorious brackets today!
Ten Americans are now able to map out their paths to glory (link to brackets). Five weights (57, 65, 70, 79 & 97) start tomorrow, the other five (61, 74, 86, 92 & 125) will start the day after that. It's a two-day tournament for each bracket, so we'll wrestle through the semifinals on day 1 with repechage and medal matches on day 2, and three days total to complete all the men's freestyle weights.
Bulgaria is seven hours ahead of east coast time, so plan accordingly! Now on to the quick takes on each bracket.
57 Kilograms: Jore Volk
Jore Volk received a bye first round and then have the winner of Iran and Italy. This will actually be an excellent match. The Italian was a Cadet World bronze medalist several years ago and won U20 Euros this year. Although this will be the Iranian's first World Championships, he did win the Takhti cup and was Iran's Senior World Team Trials runner-up.
61 Kilograms: Nic Bouzakis
Iran's Habibzadeh looms large in Nic Bouzakis' quarter. The U20 Asian champ will be one of the toughest obstacles for Nic, who first has to get by Rakhimov of Uzbekistan and Toprak of Turkey before he gets a shot at Iran in the quarterfinals.
The favorite to make the semifinals on Bouzakis' side of the bracket is Abdaladze of Gerogia, who twice placed fifth at the U17 World Championships and more recently won U20 Euro Gold in 2022. France and Belgium are also in that quarter of the bracket, and although neither nation is known for their freestyle wrestling, both entrants have long last names that end in a 'V', indicating a Russian pedigree from the Caucus Mountain region that bodes well for their caliber of wrestling skill.
65 Kilograms: Vince Cornella
65 kg is one of the tougher brackets here in Bulgaria, but Vince Cornella could not have gotten a better draw. He'll have 2022 Junior Asian bronze medalist Olzhas Olzhakanov of Uzbekistan first round followed by Bulgaria and then Iran. Most of the firepower, like Sujeet and Zubal, are on the opposite side of the bracket.
70 Kilograms: Michell Mesenbrink
Normally drawing Belgium in the first round is considered favorable, however, Mitchell Mesenbrink would be wise not to look past his round of 32 opponent, Muhammed Abdurachmanov, as he won a silver medal in this year European U20 championships. It doesn't get much easier for Mesenbrink, as Krygyzstan awaits in the round of 16, a nation that is on the rise in and investing heavily in their age-level teams, and then likely a bout with Hossein Mohammed, a 2022 U20 Asian champ from Iran, in the quarterfinals.
The reward for making the semis is likely a European U20 gold medalist in Papikyan of Armenia. No finals bouts are going to be easy, but if Mesenbrink runs that gauntlet he'll be in good shape to secure a gold.
74 Kilograms: Alex Facundo
There wasn't going to be an easy draw in this loaded 74 kg bracket. Iran right off the bat for Alex Facundo. A returning Junior World champion, Elahi is one of Iran's best too. He's also on the same side 2021 U17 World champion Sugar Jaglan of India as well as Turkey, Kazakhstan, and Japan.
79 Kilograms: Brayden Thompson
Brayden Thompson avoids a pigtail bout and starts his tournament in the round of 16, however, he draws the historically strong Iranians in her first world championship competition. The young Oklahoma State commit will have his hands full, but a win over Yari of Iran, a 2022 U20 Asian champ, will be yet more evidence of his sky-high potential.
Not only will a win in the first round be a huge boon for Thompson's medal hopes, but it will also have a major impact on the team race, as Iran figures to be Team USA's chief rival for team gold. Additionally, many of the other countries with team title aspirations are on the other side of the bracket as Brayden, such as Azerbaijan, India, and Armenia.
86 Kilograms: Bennet Berge
Great draw for Bennett Berge.He's on the opposite side of the two other toughest guys in the bracket, Magomedov of France and Ranjbari of Iran. I like him to make the finals from the bottom side. He received one of the pigtails against Armenia and then will have Hungary.
92 Kilograms: Jaxon Smith
Jaxon Smith, a rising redshirt freshman at the University of Maryland, was drawn into the only quarter of the bracket not to have a pigtail, which is a plus. However, Smith starts off the tournament in the round of 16 versus Demian of Moldova, a 2022 U20 European champion and one of the favorites to win gold in Sofia. Another favorite to win gold, Firouzpour of Iran, is on the opposite side of the bracket as Smith.
97 Kilograms: Ben Keuter
Love Ben Kueter's draw. The Iranian is the odd-on-favorite to win this bracket, but he's on the bottom side. As is Romania and Kazakhstan, the other two most credentialed wrestlers in the bracket. Kueter will have to go through Moldova first then the winner of Korea and India.
125 Kilograms: Nick Feldman
Only 12 competitors in Nick Feldman's weight class, and Nick avoids a round of 16 opponent, getting drawn right to the quarterfinals. He'll have the winner of Ivanov of Bulgaria, wrestling on home soil, and Fujita of Japan, a country that historically does not do well at heavyweight.
Likely waiting for Feldman in the semifinals will be Masoumi of Iran, a 2021 U17 World gold medalist, although Masoumi will have no cakewalk in his quarterfinal bout against either Gevorgyan of Armenia, a two-time age-level world medals, or Suleimanashvili of Georgia, a 2022 U20 Euro medalist.