Big 12
When Will Olympic Movement Truly Honor Wrestling?
When Will Olympic Movement Truly Honor Wrestling?
John Smith was snubbed from the U.S. Olympic Hall of Fame. When will Smith and others get their rightful place among the Olympic elite?
Aug 10, 2022
by Kyle Klingman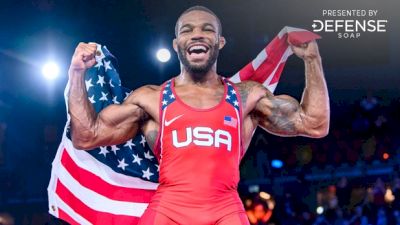 Unlock this video, live events, and more with a subscription!
Get Started
Already a subscriber? Log In
What more does John Smith have to do?
It's as if winning six World and Olympic titles in a row wasn't enough. Apparently, in the eyes of the U.S. Olympic & Paralympic Hall of Fame, it isn't.
Smith's Olympic gold medals from 1988 and 1992 don't shine as bright outside of the close-knit wrestling family. And that's just wrong.
Wrestling's most prolific winner set the standard for wrestling in the United States. From 1987 to 1992 he dominated the world at 62 kilograms. No American had won more than two World or Olympic titles in a row until Smith came along.
Only three American wrestlers have won a pair of Olympic gold medals: Smith, Bruce Baumgartner, and George Mehnert.
Mehnert won in 1904 and 1908, and the former came against an all-U.S. field.
Baumgartner won gold in 1984 and 1992 but earned silver in 1988 and bronze in 1996 for a total of four Olympic medals. He was rightfully inducted in 2008.
Before that, Dan Gable was inducted into the Class of 1985 for his performance at the 1972 Munich Games where he won six matches without surrendering a point.
That's it.
Two wrestlers are in the U.S. Olympic Hall of Fame — and John Smith isn't among them.
The Del City, Oklahoma, native was snubbed again when the Class of 2022 was announced on June 6. Marquee names like Michael Phelps (swimming), Mia Hamm (soccer), and Lindsey Vonn (alpine skiing) headlined the list.
Phelps is the most decorated Olympian of all time with 28 total medals, 23 of which are gold.
Lindsey Vonn made four Olympic teams, winning three medals: one gold and two bronze.
Hamm made three Olympic soccer teams, winning two gold and a silver.
Roger Kingdom was inducted thanks to gold medals in the 110-meter hurdles in 1984 and 1988. He is one of only two runners in the event to win consecutive Olympic crowns. He also won a bronze medal at the 1995 World Championships.
Another reminder: John Smith won six World and Olympic titles — in a row.
This is past unfair.
Wrestlers get lumped in against a crowded field where making multiple Olympic teams in multiple events is the norm. Smith can only win one gold medal at a time — and he has to make weight to do it. He also has another human being across the mat trying to take him out.
Unlike swimming and track, there are no relays to bulk up your gold medal count. As a point of reference, Phelps' record-breaking eight gold medal haul in 2008 included three relays and five different individual events.
Carl Lewis won gold medals at the 1984 Olympics in the 100 meters, 200 meters, 4x100 meters, and long jump.
Unfortunately for Smith, he doesn't have that luxury. He has only one Olympic competition every four years — and it's the most important championship a wrestler can win.
Be clear on this: All of the above names absolutely deserve induction into the Hall of Fame. This is not meant to tear another sport down; rather, it is meant to lift Smith up.
Smith was already recognized as one of the 100 Greatest Olympians of All Time at the 1996 Atlanta Games and he is in every hall of fame that matters — except this one.
This slight should concern wrestling fans as we continue to fight for our place within all sports. Two wrestlers in the Hall of Fame isn't enough. Smith should have been included years ago, but we are still trying to explain how one man transcended our sport.
An induction for Smith can pave the way for other deserving candidates like Kenny Monday, Rulon Gardner, Jordan Burroughs, Helen Maroulis, Tamyra Mensah-Stock, Kyle Snyder, Henry Wittenberg, and John and Ben Peterson.
This is long overdue. Make things right. Induct John Smith into the U.S. Olympic & Paralympic Hall of Fame.