2022 U17 World Championships
UWW U17 World Championships Live Blog - Day 6
UWW U17 World Championships Live Blog - Day 6
All ten USA men's freestylers are still alive for medals! In this round, four wrestle in the semis, four wrestle for gold, and one will wrestle for bronze!
Jul 30, 2022
by Andrew Spey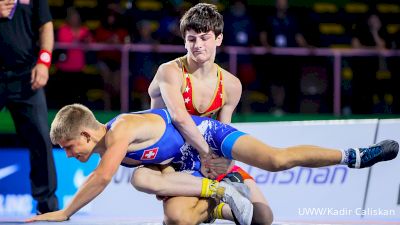 We've got a classic 'refuse to lose' situation going for Team USA, as all 10 men's freestyles are still in the medal hunt. In this round, four will wrestle in the semis, four are going for gold, and one will wrestle for a bronze.
So strap in, we've got a lot of blogging to do!
For yesterday's live blog, click here.
For a recap of the previous day's results, check out these links: Day 1 | Day 2 | Day 3 | Day 4 | Day 5 | Day 6
Semifinals
45 Kilograms
Domenic Munaretto (USA) vs Amir Navazi (IRI)
1st period: Munaretto wastes no time getting on the board with a takedown in about 10 seconds. Navazi attacking but Munaretto defends and gets another go behind in the ensuing scramble. Navazi in on a deep shot in short time but Munaretto defends and it's 4-0 at the break.
2nd period: Navazi keeps going upper body but it's Munaretto once again getting the better of the exchange. Another go behind to make it 6-0. Navazi stays on his offense, he's as close as he's been to a takedown but Munaretto with the great situational awareness and he gets another takedown to go up 8-0. Short time takedown for Navazi but it's no where near enough. Munaretto advances to the gold medal match! Team USA continues to refuse to lose!
In the other semifinal bout it's Azerbaijan coming through with a quick pin of Moldova to advance to the finals.
---
51 Kilograms
Luke Lilledahl (USA) vs Nurdanat Aitanov (KAZ)
1st period: Scramble off the whistle and Aitanov drives Lilledahl off the mat for the first point on a step out. Blazing fast start to the match. Low shot for Lilledahl and collects an ankle and another scramble. Good defense by Aitanov to limit the damage to a step out. 1-1, Lilledahl with criteria advantage. Score stays 1-1 as we go to the break.
2nd period: Another low shot for Lilledahl and he gets another step out and adds a point to his lead. Shot by Aitanov and great down block spin behind and it's two points for Lilledahl. That's a big score for criteria purposes as well. Under a minute to go. Aitanov attacking, Lilledahl circling and avoiding danger. 30 seconds. Wow Lilledahl is fast, must be frustrating for Aitanov. 10 seconds to go. Lilledahl will take it, 4-1! Another victory for Team USA!
Classic Iran vs Azerbaijan rivalry match in the other semifinal. And this time I'm not being facetious, Iran and Azerbaijan are classic regional rivals. In fact, there are more Azeris in Iran than there are in Azerbaijan. That's a fact, you can look it up!
AZE with the 2-0 lead at the midway point. But Iran comes storming back and scores 12 unanswered points! Iran vs USA in the finals!
---
60 Kilograms
This is the one weight that has their semifinal bouts in this session that doesn't feature an American. Instead, it'll be Japan vs Kyrgyzstan on mat A and Iran vs India on mat B.
Great action on mat A as Sharip Uulu of KGZ leads 5-2 at the break. On the other mat its a 2-0 lead for Pulanagoila from India. Very slick level change and go behind by Sharip Uulu to run the score up to 7-2 deep in the 2nd period. Pilanagoila gets a step out by Elahi of Iran answers with a takedown and gut wrench to take the lead 5-3 with only 21 seconds on the clock. Sharip Uulu gets it done on mat A while Elahi will hold on to win on mat B. KGZ vs IRI in the finals!
---
71 Kilograms
Joe Sealey (USA) vs Razmik Yepremyan (ARM)
1st period: Can Yepremyan handle Sealey's pace? We shall find out together! Yepremyan goes on the activity clock but it's Sealey that produces the action and a two point double leg. New rule means Yepremyan stays on the clock, which expires and Sealey has a 3-0 lead, now in short time in the 1st. It stays 3-0 as the clock expires.
2nd period: Good level change on a sweep single, chained into a double but heavy hips by Yepremyan and there's no score. Now shot by Yepremyan and reattack by Sealey who manages to secure another takedown on the edge. Sealey leads 5-0 as we round the final minute of the bout. Sealey in on a single as he goes out the back door. Sealey will get an exposure out of it as Yepremyan holds on to a leg for too long. 7-0 but Sealey doesn't stop and he gets a takedown late for a 9-0 lead. A turn makes it a tech fall in the closing seconds. Team USA stays on a heater!
Italy with home mat advantage vs Azerbaijan in the other semifinal bout. Slim 1-0 lead for Caso of Italy at the break. 2-1 late in the second, Caso still leading as the crowd gets into it. Italy holds on and will face Manic Joe Sealey in the finals!
---
92 Kilograms
Maxwell McEnelly (USA) vs Kamil Kurugliyev (KAZ)
1st period: Last semifinal round of the entire event. Good double by McEnelly who gets an exposure two but it's Kurugilyev who counters for two of his own. Kurugliyev than climbs on top and guts McEnelly twice for a 6-2 lead. Kurugliyev keeps the pressure on, drives McEnelly to the boundary then limp arms to secure another takedown. 8-2 with only 20 seconds left in the period. We go to the break, same score.
2nd period: McEnelly charges forward hoping to change the momentum but Kurugliyev reattacks with a perfectly timed double and takes McEnelly to his back to make it 12-2 and that'll do it. Team USA's hot streak comes to an end, but McEnelly is still eligible for a bronze medal, and in fact will wrestle for a bronze tomorrow. He'll face the winner of Turkey and India who will first wrestle in the repechage.
Iran and Hungary in a battle on the other mat. It's 2-0 with Hungary in the lead at the break. Now its 4-2 with a minute to go but Iran threatening. Hungary can't stay in a quadpod forever and now its 4-4, Iran leading on criteria. 30 seconds to go. A go behind with 5 seconds left gives Hungary the victory! Or does it? Iran challenges. Looooong review taking place. Challenge lost! So Hungary advances to the finals.
America goes 3 for 4 in another excellent men's freestyle session. We've also locked up the team title, so that's pretty good!
---
Medal Matches
48 Kilograms
Two bronze medal matches will be wrestled before USA gets their first crack as men's freestyle gold.
Lalit of India goes BIG 4 by picking up his opponent from Kazakhstan and somersaulting him to the mat. France and Iran are on the other mat and it looks like Iran is going to cruise to a bronze medal. India indeed wins the first bronze medal of the session, with Iran sealing the deal on the other mat right behind him.
Gold Medal Match: Christian Castillo (USA) vs Vasif Baghirov (AZE)
1st period: Things start off with some physical wrestling as Baghirov locks up a tight front headlock and tries to roll Castillo through. Castillo doesn't go and they're back to neutral. Baghirov gets put on the activity clock first. Castillo slowing him down with a two-on-one that's been working for him this tournament. 30 seconds go by and Castillo gets a point. Double leg for Baghirov but Castillo manages to sprawl in time to hold him at bay. We go to the break still 1-0.
2nd period: Castillo taking ground in collar ties but is still waiting for the right time for a level change. Now Castillo goes on the clock with 1:18 left in the match. More good defense for Castillo as Baghirov continues to attack. Activity clock expires so it's 1-1 but Baghirov leads on criteria. 30 seconds to go. Castillo needs a score. 20 seconds. Baghirov in on Castillo's legs. Castillo goes for a gator bacon. It doesn't land, four points for Baghirov with just seconds to go. Castillo steps over for some last-minute dramatics but can't secure a fall and he loses 5-3 to Azerbaijan. A superb tournament for Castillo comes to an end with a silver medal.
---
55 Kilograms
India vs Japan on mat A and Uzbekistan vs Germany on mat B in the bronze medal matches. Quick tech fall for Uzbekistan to secure the podium placement. India with a 1-0 lead after 2 minutes. India had a couple more scores to make it a 5-0 win officially.
Gold Medal Match: Jax Forrest (USA) vs Daryn Askerbek (KAZ)
1st period: A couple slide by attempts by Forrest don't land but then an arm spin starts a scramble that eventually ends with two points for Forrest. Gut wrench attempt by Forrest nearly gets stepped over by Askerbek but no exposure points are awarded so it stays 2-0. Another scramble after the restart and another takedown by Forrest as he extends his lead to 4. Just 5 seconds left in the periods and the score stays the same as we hit the break.
2nd period: Back to the throw by attempts and this time Forrest gets behind. Askerbek grabs a boot and tries to tilt Forrest but the refs white paddle his attempts. The takedown is scored though so Forrest leads 6-0. Now Kazakhstan wants a challenge. This is a big swing as it's either 7-0 for Forrest or 6-2 (or 6-4?). Lengthy review time, and it's won by Kazakhstan, so Askerbek gets two. It's 6-2 with a little over a minute to go. Although the scoreboard says 7-2, not sure why Jax would have 7 but away we go. And Askerbek rips a headlock that sends Forrest to the mat. That's four and the score is 7-6. Forrest scrambles back on top to make it 8-6. Criteria will favor Askerbek if he scores in short time. Acton to the edge, and another headlock for Askerbek and that's trouble for Forrest. Four is awarded, making it 10-8 with just 10 seconds to go. Challenge coming from the American corner. Perhaps it was just 2? Or maybe they were out of bounds? Nope, challenge lost. 11-8, Forrest needs a feet to back. He gets two but it's not enough. Forrest losses a heartbreaker 11-10. Another heroic tournament that comes oh so close to the ultimate prize.
---
65 Kilograms
Another two bronze medal matches before Team USA goes for it's first gold of the men's freestyle tournament. Kazakhstan vs Georgia in a battle of ex-Soviet republics and India vs Ukraine in the other bout. Back and forth contest has India leading Ukraine by 5 late in the match. Kazakhstan hit a nice lat drop for four but Gerogia responded and it's 5-5, KAZ with the criteria lead. India extends his lead and wins comfortably, 11-2. Georgia gets a turn late to make it 7-2 with just 9 seconds left on the clock. KAZ gets a step out but it's not enough so GEO takes the other bronze.
Gold Medal Match: Tyler Kasak (USA) vs Ilyas Isayev (AZE)
1st period: Two-on-one for Kasak, Isayev level changes looking for a firemans, the flurry ends with no scores. So far the only gold for Team USA in Rome has come from Joel Adams in Greco, and it was Kasak that stopped Adams int he team trials finals from making two teams in both styles. Kasak goes on the activity clock. A flurry ensues, tricep control dump for two by Isayev. And an activity clock point makes it 3-0 with short time left in the period. Scores stays the same and Kasak has a 3 point deficit midway through the match.
2nd period: Kasak drops to a single leg, picks it up, Isayev is walked out of bounds so that's a step out. The mat ref says it was a push but she was over ruled by the table judge and chairman who say it was a step out, which is definitely was. So three-ref mechanics get the correct call. Another flurry at the edge and Kasak gets another step out. Or does he? Kazakhstan wants a review. High risk, medium reward for Kazakhstan here. Isayev would have criteria if they lose but then a step out would give Kasak the lead. If Kazakhstan winsn the challenge than a takedown would still do it for Kasak. Challenge won, so it's 3-1. 49 seconds to go. Kasak on the attack, a flurry, Kasak comes out on top with the two. 3-3 but Kasak with criteria. Isayev almost steps over but they wrestle back to neutral instead. Isayev attacks, Kasak sprawls, out of bounds but white paddled. Restart with just 6 seconds to go. Isayev charges ahead, and now Kasak does step out. Back up when he needed to circle. Easy for me to say though. And it's another heartbreaker. Very tough loss. USA will challenge, and another point is put on the board before the ruling, so its 5-3 and we're still waiting on the yolo challenge. 2 seconds are put back on the clock and I guess it was a quick ruling because it's still 5-3 as we wrestle the final seconds. An now its official, Isayev wins gold, Kasak falls 5-3.
The American mojo is wearing off, but still have to be proud of Kasak's silver-medal performance.
---
80 Kilograms
Bronze Medal Match: Zack Ryder (USA) vs Muhammadamin Abduloev (TJK)
1st period: Ryder working from short offense and a front headlock. He moving Abduloev around the mat and finally gets a step out for his efforts. Ryder leads 1-0 after a minute. Snap down go behind attempt turns into a single that earns Ryder another point via step out. Reattack blasts Abduloev to the mat and Ryder scores two more. 12 seconds left in the period and the clock runs down to midway point, still 4-0 in favor of Zack.
2nd period: Ryder continues to be physical. He drives Abduloev out of bounds but it's ruled grounded and white paddled. Abduloev is shooting but he's not coming close to finishing. Ryder scores off Abduloev's next shot to make it 6-0. Abduloev slow to get up. Now he's holding a pinky and gets time called for the trainer to come out. Perhaps they'll cold spray the hurt finger so we can get on with the match. An obviously gassed Abduloev eventually makes his way back to the center. 3- seconds to go. Ryder just needs to maintain position. He down blocks all of Abduloev's shots. 10 seconds to go. Ryder circles. And two more in the final seconds. 8-0 is the official. Zack Ryder wins bronze! Team USA needed that jolt of victory. Now let's see if Hopke can end things on a high note.
Ukraine vs Moldova in the other bronze-medal bout. Moldova leads by a point halfway through. 2-1 lead late for Moldova and that will be enough for the victory. 4-1 is the official final.
Iran vs India in the finals. Not sure if India can catch Iran for second place in the team standings but if they can, they will likely need to win this bout. Iran attempts an ill-advised lat drop and India nearly capitalizes with a pin. He'll settle for four points. Oh and a caution and two so back to par terre they go, India leading 6-0. Iran scores a takedown in the second to close the gap to 6-2 but there's less than a minute to go and he'll be down on criteria even if he scores 2 more takedowns. Time runs out and India wins 6-3.
---
110 Kilograms
Final two bronze-medal matches of the day. Uzbekistan has Georiga and another Indiva vs Iran bout. India raced out to a quick 4-0 lead in his match. India will take that lead into the break while Georgia leads 2-1 halfway through that match. Those four points will be all India needed, as he wins the bronze 4-0 over Iran (and perhaps keeps Team India's second place hopes alive?). Uzbekistan won a more tightly contested bout, coming from behind to take the 3-2 victory and the bronze medal.
Gold Medal Match: Koy Hopke (USA) vs Levan Lagvilava (FRA)
1st period: Our last bout of the day will feature an American in search of our first freestyle gold. Lagvilava starts things off with two quick step outs to take a 2-0 lead. Hopke just barely avoided giving up a 3rd step out thanks to a grounded call. Single leg shot by Lagvilava is stalemated after a lengthy scramble. Now Hopke goes in for a shot, Lagvilava counters for two and now has Hopke in a headlock. Hopke fighting off his back and scrambles behind for a point. Lagvilava leads 4-1 but Hopke maybe changing the momentum. He shoots in on the restart with short time on the clock and gets two just before the bell. Now its 4-3 and Hopke is very much in this bout.
2nd period: Lagvilava walked to the corner with his hands on his head. Conditioning could play a roll in this second period. Hopke on the attack, close to a takedown but Hopke stepped out, so its 5-3, but Lagvilava looked pretty gassed. Can Hopke capitalize? Hopke keeps working, he gets a go behind, 5-5, Hopke leads on criteria. Hopke slaps in an arm bar and starts running to the head. Lagvilava tries to tap out. Hopke gets two on the exposure. Lagvilava screams out to get injury time called. Hold looked legal, Lagvilava just didn't want to turn. At least that's how it looked to my biased eyes! Restart in neutral, Lagvilva saved by the ref. 7-5 Hopke leading, trying another snap down go behind but Hopke stepped out again. 7-6 lead for Hopke. Snap go behind again and it's 9-6. Hopke has a cradle. Lagvilava fights him off but he's spent. 13 seconds to go. Another go behind and Hopke ices it 11-6! Conditioning indeed was the difference. Plus Hopke is very good at wrestling! Koy Hopke, world champ!
What a way to end the day. Hopke gets gold and the men's freestyles snap their mini losing streak after looking nigh unbeatable in the earlier rounds.
Tomorrow we wrap up the whole event with the final medal matches from Rome, see you then!