Penn State's New AD On Cael Sanderson, NIL, & Supporting Wrestling Program
Penn State's New AD On Cael Sanderson, NIL, & Supporting Wrestling Program
A breakdown of an interview with Penn State's new athletic director, Pat Kraft, where he discusses the wrestling team and Cael Sanderson.
Jul 28, 2022
by Jon Kozak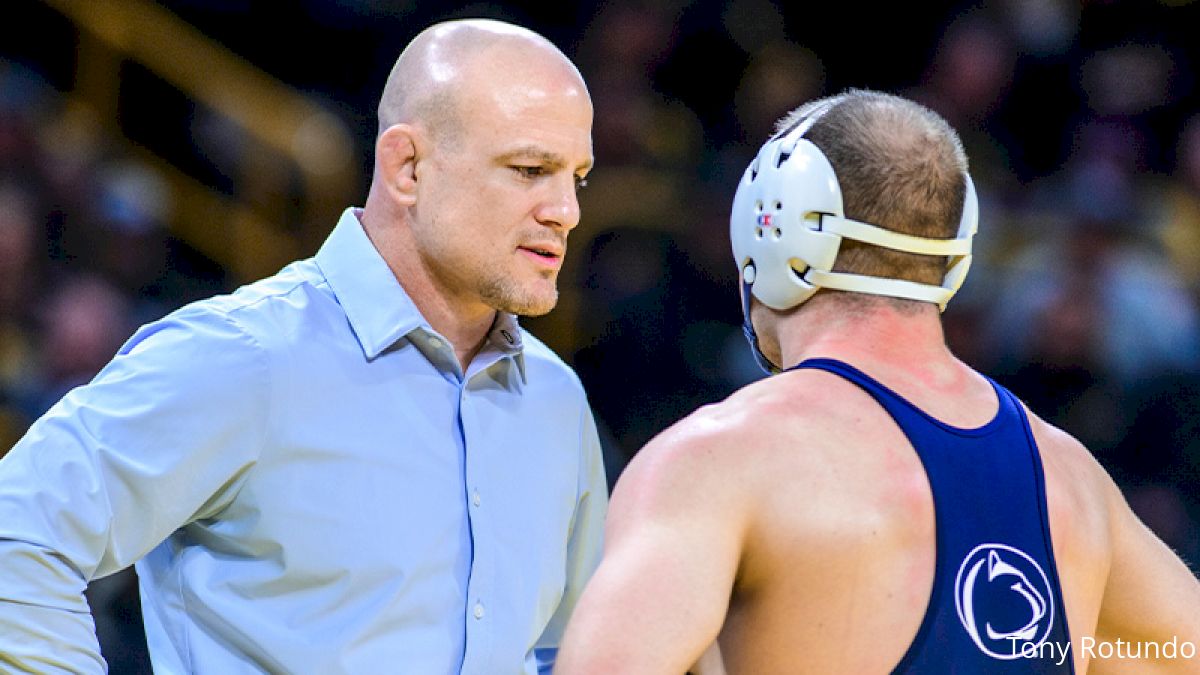 Pat Kraft was hired in April as Penn State's new athletic director and officially started his new position on July 1. Kraft was recently in Indianapolis for Big 10's media days and shared some interesting information regarding head coach Cael Sanderson, NIL opportunities at Penn State, and supporting the wrestling program. Take a look below at some of the brief comments from Kraft provided by 247sports.com.
Kraft On Cael Sanderson's Contract Extension
Earlier this month, we reported Cael Sanderson signed a contract extension however the details of that extension have not yet been disclosed. In the past, Penn State has only released the contract information of the athletic director and the head football coach. When asked about Sanderson's contract extension, and the lack of details provided to the public, Kraft said, "It's funny because I asked, 'Why does no one know this?' Maybe Day 29 I will have that answer. I'm with you. I don't know why. There's some things right now that we're uncovering that were like, I'd yell from the mountaintops that our coach is staying with us."
While not providing further information on Sanderson's contract extension, Kraft's comments do suggest that Sanderson's contract is significant both in terms of time and compensation. Kraft clued into this by saying, "He's the GOAT. He can be here for as long as he wants."
NIL And Supporting Wrestling At Penn State
Kraft also spoke candidly about providing more support for Coach Sanderson and the wrestling team as a whole. On this topic, Kraft said, "As great as Cael is, there's things we have to do to continue to support him. He is special. That whole program is special. I'm no fool. I'm not getting in the way of what Cael wants to do, but I think there are pieces that we have to help him there. Look, the NIL space is not just a football thing. It's in every aspect of our organization, but I'm happy. I'm very happy that Cael is locked up with us. In fact, I was just going back and forth with him yesterday about some stuff. It's a big deal."
Athletes benefitting from their name, image, and likeness took the college sports world by storm in July of 2021 but not much was heard from Penn State in that first year on the NIL front. However, this spring a NIL collective called Success With Honor launched that looks to be one of the most organized and well-funded collectives in the country (we detail NIL collectives and Success With Honor in this article). On top of that, Success With Honor has been active in partnering with Nittany Lion wrestlers Roman Bravo-Young, Carter Starocci, Nick Lee, Greg Kerkvliet, Aaron Brooks, and Alex Facundo. With the above comments from Kraft, and what we've already seen from Success With Honor, we should continue to see Penn State lead the way for NIL opportunities in college wrestling.
Recent NIL deal for RBY facilitated by Success With Honor
.@SnapCustomPizza is in good hands with 2x NCAA Champ @RomanBravoYoung 🍕

Success With Honor is happy to have facilitated this deal 🍽 #WeAreNIL pic.twitter.com/CeTs7YB6c0

— Success With Honor (@success_w_honor) July 18, 2022
Starocci participating in an autograph signing event:
Yesterday was fun, let's do it again 🔜#WeAreNIL x #SWH pic.twitter.com/lHqSc5YEFM

— Success With Honor (@success_w_honor) June 5, 2022
Greg Kerkvliet, Nick Lee, Carter Starocci, and Max Dean all took part in the first Success With Honor Event:
What an amazing first event for @Success_W_Honor at the Penn State spring football game, as more than 500 fans came out to get autographs signed by over a dozen Nittany Lion student-athletes! pic.twitter.com/y7DnMHkXJh

— Jason Belzer (@JasonBelzer) April 23, 2022