2022 Hawkeye Wrestling Club Golf Outing
Iowa's Possible Line-Up And Other Takeaways From HWC Golf Outing
Iowa's Possible Line-Up And Other Takeaways From HWC Golf Outing
Iowa coach Tom Brands provided insight about the upcoming season and the new facilities that are expected next year.
Jun 28, 2022
by Kyle Klingman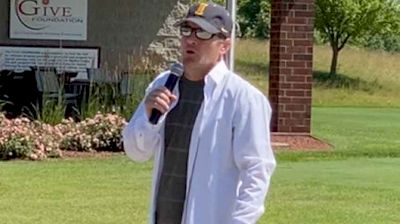 The Hawkeye Wrestling Club hosted its annual golf tournament at Riverside Casino & Golf Resort in Riverside, Iowa, on June 27. The event had a strong showing, which is a reflection of why Iowa sold out all of its home duals this season.
The 2022-23 season will see three-time NCAA champion Spencer Lee enter his final year of competition. Iowa coach Tom Brands answered several questions that were fresh on everyone's mind, including new facilities and a potential line-up.
Here is what we learned.
— When will Iowa's multimillion-dollar wrestling facility be finished? Brands wasn't sure, but he indicated that he wants it completed by August of 2023. Fences were being put up the day of the golf tournament but Brands had a conversation with a friend in construction who said "putting up fences doesn't mean doodly squat."
The process officially gets started once trucks start moving and shovels start digging. Fences will re-route traffic to Carver-Hawkeye Arena, which is the first step in a lengthy process to get the new facility complete.
"Let's put a shovel in the ground and get going," Brands said. "We're fired up and we'll be moving into a new facility, hopefully, in 14 months."
— Alex Marinelli, Kaleb Young, and Austin DeSanto joined the club after graduating from Iowa in 2022. All three were part of the Hawkeyes' 2021 NCAA team championship and all three placed multiple times at the NCAA Championships.
— Marinelli, Young, and DeSanto weren't at the golf tournament since they were part of an Iowa summer camp that had over 300 kids.
— What does Iowa's lineup look like for next season? Brands provided a detailed breakdown of each weight and it looks something like this.
125 pounds: Brands called Spencer Lee a player/coach while mentioning Jesse Ybarra as a possibility. Drake Ayala was not mentioned, which indicates he will likely redshirt. Ayala eventually entered the lineup as a true freshman when Lee opted to have season-ending surgery after wrestling a handful of matches last year.
133 pounds: DeSanto graduated and Cullan Schriever was mentioned at this weight after finishing last season with a 15-5 record.
141 pounds: Returning All-American Real Woods transferred from Stanford and will replace Jaydin Eierman who graduated. He also mentioned Leif Schroeder as a possibility.
149 pounds: Caleb Rathjen and returning starter Max Murin.
157 pounds: Rathjen, Cobe Siebrect, and Bretli Reyna.
165 pounds: Patrick Kennedy, who was behind Marinelli for the past two seasons, won the U23 Nationals and was mentioned as the starter.
174 pounds: Brands's nephew, Nelson, is moving down to 174 pounds after qualifying for the NCAA Championships at 184 pounds in 2021. Brennan Swafford was also mentioned after "a decent showing" at U23 Nationals.
184 pounds: Abe Assad returns as the starter.
197 pounds: Zach Glazier is healing from surgery and 2022 NCAA tournament finalist Jacob Warner returns as the highest placer from last year's team.
285 pounds: U23 World champion Anthony Cassioppi is the starter after placing twice at the NCAA Championships. Cassioppi will represent the United States at the U23 Worlds later this year.
— Can the director of operations Mariah Marinelli play golf? "We'll find out," Brands said. She was in a golf grouping with two-time NCAA champion Mark Ironside and two-time All-American and Coe coach John Oostendorp. Mariah is married to former Iowa wrestler and current HWC wrestler Alex.
— Brands expressed his gratitude throughout. The golf tournament was a fundraiser for HWC, which supports athletes within the club to continue their athletic careers.
— According to Brands, Chad Beatty doesn't get enough credit for the work he does with Hawkeye Wrestling Club. Beatty, a former wrestler at Iowa, is the club's executive director and is the one responsible for organizing events and fundraisers.
"We have great help with finances and financial support," Brands said. "That doesn't go without saying so thank you. We have behind-the-scenes support. I don't think Chad Beatty gets enough credit. He's huge for us. You can see the results. Not only are the events full but there's a little more enthusiasm — and that's important. Enthusiasm keeps things going. It's a catalyst for better things."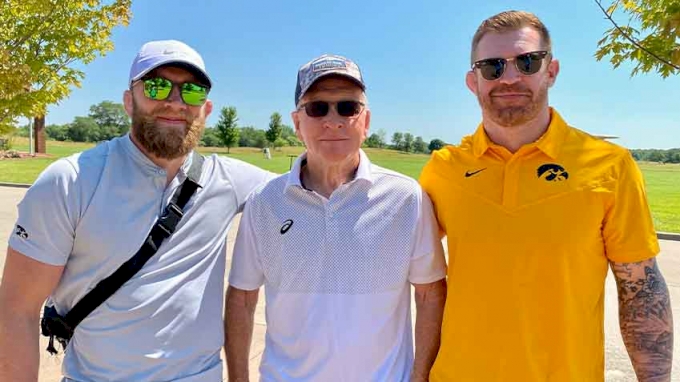 From left: Iowa assistant Ryan Morningstar, former Iowa coach Dan Gable, and HWC executive director Chad Beatty
— Brandon Sorensen, a four-time All-American for Iowa, appears to be "doing great" after battling cancer.
— The only time Tom Brands has been choked out was against former teammate Joey Melchiore during practice.
"He was older than me and he whooped my butt many, many times," Brands said. "He was a mentor to me. That's how you learn. You gravitate toward the best people in the room. You pick the toughest partners and you take pride in your effort and before you know it you're getting better."
Brands mentioned Greg Randall, Randy Lewis, and Barry Davis as other HWC workout partners who influenced his career.
— Tom Brands photo bombed former Iowa coach Dan Gable during his interview at the event.