2022 Senior World Championships
Japanese Men's Freestyle World Championship Preview
Japanese Men's Freestyle World Championship Preview
A run down of the Japanese Wrestling Federation's men's freestyle team competing at the World Championships in Belgrade, Serbia.
Jun 27, 2022
by Andrew Spey
The Japanese Wrestling Federation recently completed its world team trials process. Japan's method for picking their world team is unique. It's not as crazy as it seems at first glance but definitely not how we do things in the USA.
In the briefest of summaries: Japan has two major national tournaments, one in December (the Emporer's Cup), and another in June (the just completed Meiji Cup). Win both and you're on the world team. Win just one and you have a wrestle-off with the winner of the other tournament. That's it! And the upshot is we now know the squads Japan is sending to Belgrade.
And with said squad known, we'll take the time to preview the men's freestyle team.
More Belgrade Content: Team Iran Preview | Worlds Rankings
Japan excels in the lighter weights. Since 2008 they've won 12 of their 15 medals at the Olympics or World Championships in weight classes from 66 kilos and below. Hasegawa is the latest in a long line of illustrious lightweights, having won bronze at the Oslo Worlds at 61kg, the only men's freestyle medal for Japan at the 2021 Worlds.
Toshihiro has dropped back down to 57 kilos for Serbia, the same weight he won a U23 gold medal in 2018. Hasegawa made his second team in a row in two different weight classes for team Japan.
Watch Hasegawa defeat Iran's young Rahman Amouzad, one of the few wrestlers already named to the Iranian world team, at the Oslo World Championships: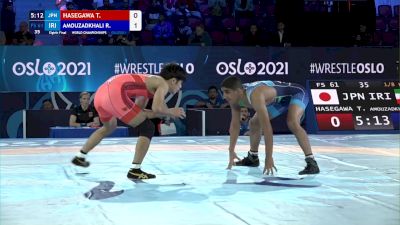 Unlock this video, live events, and more with a subscription!
Get Started
Already a subscriber? Log In
Sprediction: Hasegawa did not have to go through Yuki Takahashi, Japan's 2017 world champ, 2018 world bronze medalist, and 2020 Olympic rep, but he still had to fight through a deep domestic bracket that included 2021's 57kg rep, Toshiya Abe.
With Russia and Belarus still out of the picture, the favorites at this weight are Thomas Gilman and India's Ravi Kumar, which makes Hasegawa a prime candidate for a medal. A bronze is very possible for Hasegawa, who will be one of Japan's best chances at bringing back hardware from Belgrade.
The Olympic silver medalist in Rio and world gold medalist in Budapest is back! Higuchi, who was once rumored to be joining the Penn State Nittany Lions based on this very fake but rather funny newspaper clipping posted to the Mat Dot Com back in 2017, is back on a world team for the first time since 2018.
Higuchi has bounced around the lower weights, wrestling at 57, 61 and 65 in recent years. Recently he won the Asian Championships at 61 kilos, the weight at which he will seek to add to his collection of medals in Belgrade.
Watch Higuchi beat the very tough Zholdoshbekov of Kyrgyzstan in the semifinals of the Asian Championships. Zholdoshbekov will be the #3 seed in the 61kg bracket in Belgrade.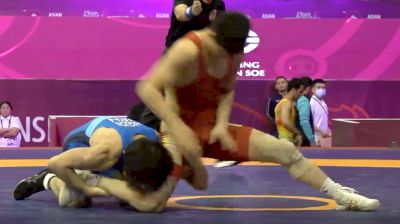 Unlock this video, live events, and more with a subscription!
Get Started
Already a subscriber? Log In
Sprediction: 61kg is a fairly wide-open weight class, and if a wrestler of Higuchi's pedigree is at the top of his game, there's no reason he can't come home with a yellow medal.
That said, a DNP is also not out of the question, and Higuchi has not wrestled internationally much since his 2018 world gold. Guys like Armenia's Harutyunyan, India's Ravinder, and USA's Gross, could all pose big problems for Rei. Leaving Serbia without any color medal, however, will mostly likely be looked at as a disappointment by Higuchi and Team Japan.
65 kgs: Kaiki Yamaguchi
Reigning Olympic champ and national hero Takuto Otoguro has not yet returned to competition following his electric run to a gold medal on his home turf in Tokyo. In his place steps Kaiki Yamaguchi, who makes his second consecutive world team after failing to place at the Olso World Championships.
Yamaguchi is still a medal threat, however, as evidenced by his Asian bronze medal a couple of months ago. He's also still very young, having won a U20 gold medal in 2019, the same year he made his first world team.
Sprediction: 65kg is, as usual, an extremely wide-open weight class, and that remains especially the case with 2019 world gold and Tokyo bronze medalist Gadzhimurad Rashidov still out of the picture (despite Rashidov being upset just now at 2022 Russian Nationals). It's not impossible that Yamaguchi finds himself on the podium, but there are many obstacles for him to overcome and a medal here for Japan will still be a longshot.
70 kgs: Taishi Narikuni
Taishi Narikuni, the 2022 Asian gold medalist, was defeated by 18-year-old Kota Takahashi in the Meiji Cup semifinal but still earned a chance at revenge in a wrestle-off by dint of his Emporer's Cup championship from last December. Narikuni made the most of his opportunity, cradling and pinning Takahashi in the first period of their world team qualifying bout.
Fun fact: Wrestling runs in Narikuni's family, as his mother, Akiko Iijima, was a women's world champ in 1990 and 1991.
Narikuni is also a dual-style threat, having made age-level national teams for Japan in Greco-Roman wrestling in 2013 and 2017. It appears Narikuni is focusing on freestyle for now, and the results speak for themselves, which include a victory over Krygystan's young dynamo, Ernazar Akmataliev.
Watch highlights of that Asian gold medal match: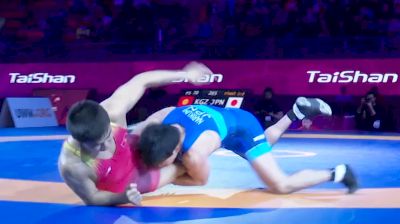 Unlock this video, live events, and more with a subscription!
Get Started
Already a subscriber? Log In
Sprediction: Unexpected results have a way of popping up in Non-Olympic weights, and it sure feels like this weight is due for some weirdness in Belgrade. But that's not really a prediction, just a gut feeling.
That said, Narikuni has the strength to power his way to a medal, and should be in the mix this September.
74 kgs: Daichi Takatani
Younger, lighter, and slightly less credentialed than older brother, Sohsuke, Diachi Takatani still brings a wealth of experience and accomplishments to his second world team. Daichi has also made five Asian teams, earning a silver medal in 2018, as well as bronze medals in 2020 and 2022.
The last time Daichi was on a senior world team, however, was back in 2014, and he'll have an uphill climb to get to his first senior-level podium.
Sprediction: Takatani will be in a 74kg field with many other experienced veterans. The problem for Daichi is that he's yet to prove amongst these fellow experienced peers at a world championship, and so will be considered a longshot to make the podium.
79 kgs: Yudai Takahashi
Rising teenage star Kota Takahashi may have lost his bid to make the world team, but his older brother, Yudai, accomplished that goal. The 2022 Asian bronze medalist will wrestle in his second senior world championship, his first since 2019. That was a busy year for Takahashi, who also made the 2019 U20 and U23 world teams.
Sprediction: Jordan Burroughs will be on a mission to collect an astounding seventh world or Olympic gold medal in Belgrade. Beyond that, there is a lot of unknowns in this field, although Mohamed Nokohodi will be favored to both make the Iranian world team and reach the podium from the number two seed.
Takahashi will have an outside shot of finding a step on the same award stand, but it's likely not in the cards.
86 kgs: Shota Shirai
Shota Shirai is also making his second world championship appearance, his first since 2018, where he did not place. Shirai is a veteran of the top echelons of Japanese wrestling, having also made the 2012 U17 world team, where he scored a bronze medal.
Shirai had to go through another experienced Japanese veteran, Mao Okui, to make the team, who you may remember getting steamrolled by Jordan Burroughs in the bronze medal match of the 2019 World Championships. However, that fifth-place finish was enough to qualify the weight for the Tokyo Olympics.
Sprediction: We will probably see three of the Tokyo Games' medalists at this weight back in action in Belgrade with the top three seeds: #1 Hasan Yazdani, #2 David Taylor, and #3 Myles Amine. That will make it very difficult on the rest of the field, and it's very unlikely we see Shirai come home with a medal.
Older brother of Daichi, Sohsuke Takatani is perhaps the most accomplished non-lightweight in Japanese wrestling history. I say non-lightweight rather than upperweight because Sohsuke spent most of his career as a middleweight. This is Takatani's 10th World or Olympic team and his 11th Japanese national championship. A three-time Olympian, the only instance since 2012 in which Takatani has not represented his home nation at the worlds or Olympics was last year in Oslo, although he was on the 2021 Tokyo Olympic team.
Takatani's best result so far was in 2014, when he snagged a world silver, falling to Denis Tsargush in the finals in Tashkent, Uzbekistan. Sohsuke was at 74 kilos for his first six teams. He moved up to 79 in 2018, then to 86 kilos for 2019 and for the Tokyo Games, which means 92 is the fourth weight class for the indefatigable Sohsuke.
Takatani is also a freshly minted father and in his first year as head coach of his alma mater, Takushoku University.
Sprediction:Takatani is less than even money to grab a medal, but a non-Olympic weight without Russia and Belarus gives him as good a chance as he'll probably get to make the podium again before his inevitable retirement from senior-level competition.
97 kgs: Takasahi Ishiguro
Making his second straight appearance at the World Championships is Takasahi Ishiguro, who failed to place at the 2021 Worlds in Oslo. Ishiguro found more success at the 2021 Asian Championships, where he brought home a bronze medal from Almaty, Kazakhstan.
Sprediction: Though the 2021 Asian bronze is a commendable accomplishment, the field wasn't very deep, and Ishiguro failed to medal a year later at the 2022 Asian Championships in a very similar bracket. The field in Belgrade will be much deeper, and it will take a couple of major upsets for Ishiguro to find the podium.
125 kgs: Taiki Yamamoto
Like Ishiguro, Yamamoto is making his second straight World Championship. Also like Ishiguro, Yamamoto failed to medal in Oslo, but also has an Asian bronze medal to his name.
Yamamoto made two other world teams for Japan but did not medal in either of those events.
Sprediction:I have a completely unresearched theory that Japan struggles in Olympic-style wrestling in upperweights because all the best athletes of that size get pulled into Sumo, a historic (and profitable!) local style of wrestling that is far more popular domestically than freestyle or Greco-Roman. Wrestling communities around the world have much to learn from Sumo.
But that is a topic for another time. This paragraph is supposed to focus on if I think Yamamoto will medal or not at the 2022 World Championships. And so I will give my prediction: Yamamoto will not medal in Belgrade (no disrespect).
Team Prospects
Over/under for medals for team Japan right now is about 2. That may seem low, especially with Russia and Belarus not entering the tournament, but Japan only averages one men's freestyle medal a year, so I think they would consider two medals a successful Worlds.
I could also see bumping that line up to 2.5 once the brackets come out, but there aren't a lot of sure things on that squad. I think Higuchi has the best shot at gold, and Hasegawa and Narikuni are very strong medal contenders, but winning medals at world championships is very difficult!
Japan probably finishes in the top 10 in the team race, perhaps as high as five? Not really sure there, just taking an educated guess.
Or perhaps my low-balling Japan's medal-haul inspires them to come up with a handful of podium placements. If that's the case, I will be happy to have contributed to their great success in Serbia.
For more on Japan's men's freestyle team, check out this excellent article from the great Ken Marantz!