Full 2022 Russian Nationals Results
Full 2022 Russian Nationals Results
Full results and brackets from the 2022 Russian Nationals
Jun 26, 2022
by Jon Kozak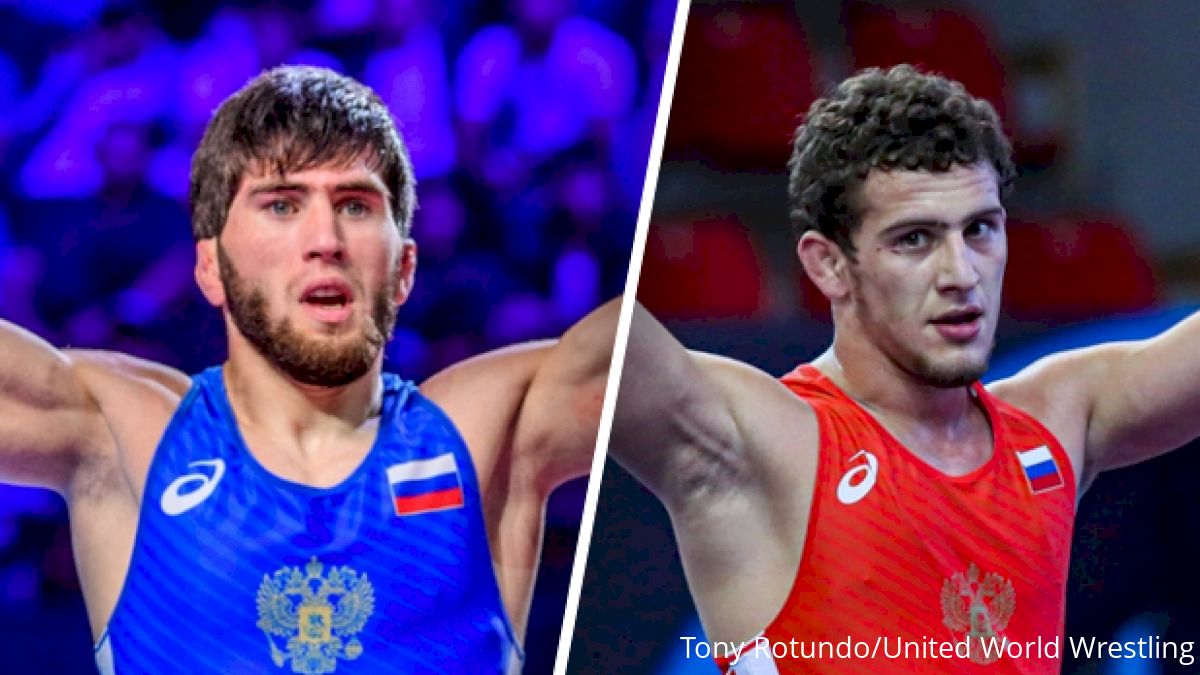 Russia held its national tournament from June 24-26 and, although they're currently banned from the world championships, a number of world and Olympic champions competed in this incredible event. Check out the full results and brackets below.
57kg
Tokyo Olympic champ and 2-time world champ Zaur Uguev proved once again he's the best in the world by defeating 2021 European Silver medalist, Nachyn Mongush in the finals - 3-2. Mongush's biggest win of the tournament came in the semis to eventual bronze medalist - #6 Ramiz Gamzatov.
The biggest surprise of the tournament was #4 Azamat Tuskaev losing in the quarter-finals to Amir Chamzyn. Tuskaev has finished in the top 3 of Russian nationals in both 2021 and 2020 and was a European champion in 2020.
Medal Match Results With Video Links:
61kg
Defending world champion Abasgadzhi Magomedov unsurprisingly won Russian nationals with a 4-2 decision over #7 (at 57kg) Akhmed Idrisov in the finals. The title for Magomedov was his 9th straight major tournament win and third straight Russian national title. Magomedov continues to prove he's the best in the world at 61kg and is making his case to move up the pound-for-pound rankings with every match.
Medal Match Results With Video Links:
65kg
Ibrahim Ibragimov was one of the biggest surprises of Russian nationals winning an incredibly deep 65kg bracket. Also, a surprise in the bracket was Ibragimov's finals opponent - Gadzhimurad Omarov who took out Tokyo Olympic bronze and 2019 world champion Gadzhimurad Rashidov in the semis, 3-3. Omarov was trailing Rashidov 3-2 but went ahead on criteria with less than 20 seconds after Rashidov was hit with a caution +1 for fleeing the hold. While Rashidov has been the king of 65kg in Russian for the past 3 years, it looks like the tide has shifted and a new challenger will soon take over.
Medal Match Results With Video Links:
Bronze: Aikhaan Antonov over #4 Gadzhimurad Rashidov, forfeit
70kg
Israil Kasumov won his second straight Russian national title with impressive wins over both #3 Viktor Rassadin and #13 Anzor Zakuev. Though he won a European title in 2021, Kasumov has never wrestled at a world championship and looks to be out of luck this year with Russia's world championship ban. Though #3 Viktor Rassadin and #7 Kurban Shiraev were upset, they both came back to take bronze medals on their respective sides of the bracket.
Medal Match Results With Video Links:
74kg
With 2-time world and Olympic champ Zaurbek Sidakov out with an injury, #6 Razambek Zhamalov won an incredibly deep 74kg bracket. After losing to #5 David Baev last month, Zhamalov got revenge over Baev in the semi-finals with a 9-3 victory before defeating 2022 Yarygin Champ Cherman Valiev in the finals, 3-2. Two-time world champ Magomedrasul Gazimagomedov might be nearing retirement after losing to Dibirgadzhiev (eventual bronze medalist) in the quarter-finals and failing to place.
Medal Match Results With Video Links:
79kg
After losing to #3 Radik Valiev last month and at the Yarygin in January, #5 Malik Shavaev got revenge in the quarter-finals with a 3-3 criteria win. Despite the loss, Valiev came back to take bronze with a dominant win over Begkhan Misrikhanov in the bronze medal match. Though he lost to Shavaev in the finals, Magomed Magomaev was a bit of a surprise finalist coming out of the bottom side of the bracket that included higher-ranked wrestlers - #8 Akhmed Shakhbanov and #9 Amanula Gadzhimagomedov.
Medal Match Results With Video Links:
86kg
World and Olympic bronze medalist, #3 Artur Naifonov won his third Russian national title with a 3-0 win over #6 Amanula Rasulov in the finals. Rasulov pulled an upset in the semis by defeating #4 Dauren Kurugliev in a tight, 3-2 match. Kurugliev was notably the world team rep for Russia in 2018 and narrowly lost to David Taylor in the semi-finals of the 2018 world championships. Naifonov looks to have separated himself from the pack in Russia and will likely be the world team rep at 86kg for years to come.
Medal Match Results With Video Links:
Bronze: #10 Ada Bagomedov over #4 Dauren Kurugliev, Forfeit
92kg
Returning world silver medalist Magomed Kurbanov has solidified himself as Russia's best wrestler at 92kg by once again winning Russian Nationals. If Russia were in this year's world championships, Kurbanov would assuredly be a medal threat and a contender to win a world title at 92kg. Kurbanov's finals opponent, Azamat Zakuev had an impressive run to the finals defeating both #10 Guram Chertkoev and 2017 world bronze medalist #19 Vladislav Valiev.
Medal Match Results With Video Links:
97kg
With the #1 pound-for-pound wrestler in the world, Abdulrashid Sadulaev out of 97kg, this bracket proved to be wide open with unranked Aslanbek Sotiev winning the title. Though unranked, Sotiev is not without credentials - he was a runner-up at Russian nationals in both 2020 and 2021 and was a U23 world silver medalist in 2018. Sotiev fell out of the rankings due to inactivity but will sure to rise after his Russian nationals performance.
Medal Match Results With Video Links:
125kg
125kg proves to be the most unpredictable and unreliable weight for Russia with two unranked wrestlers reaching the finals. Alen Khubolov came out on top of this unpredictable bracket with impressive wins over #11 Baldan Tsyzhipov and two-time Russian nationals champ Alan Khugaev. Khubolov's finals opponent, Tamerlan Rasuev, forfeited in the finals but had an impressive run to silver. Rasuev took out both #4 Zelimkhan Khizriev and #8 Eric Dzhioev to make the finals.
Medal Match Results With Video Links:
Gold: Alen Khubolov over Tamerlan Rasuev, Forfeit
Though Russia is banned from this year's world championships, this year's Russian national tournament will influence our International Rankings and will set the stage for Russia's world/Olympic teams in the future.