Women's Weekly
Women's Weekly: Fresh High School Rankings
Women's Weekly: Fresh High School Rankings
Wyoming Seminary tops the girls' high school team rankings but California is the best dual team in the land.
Jun 21, 2022
by Kyle Klingman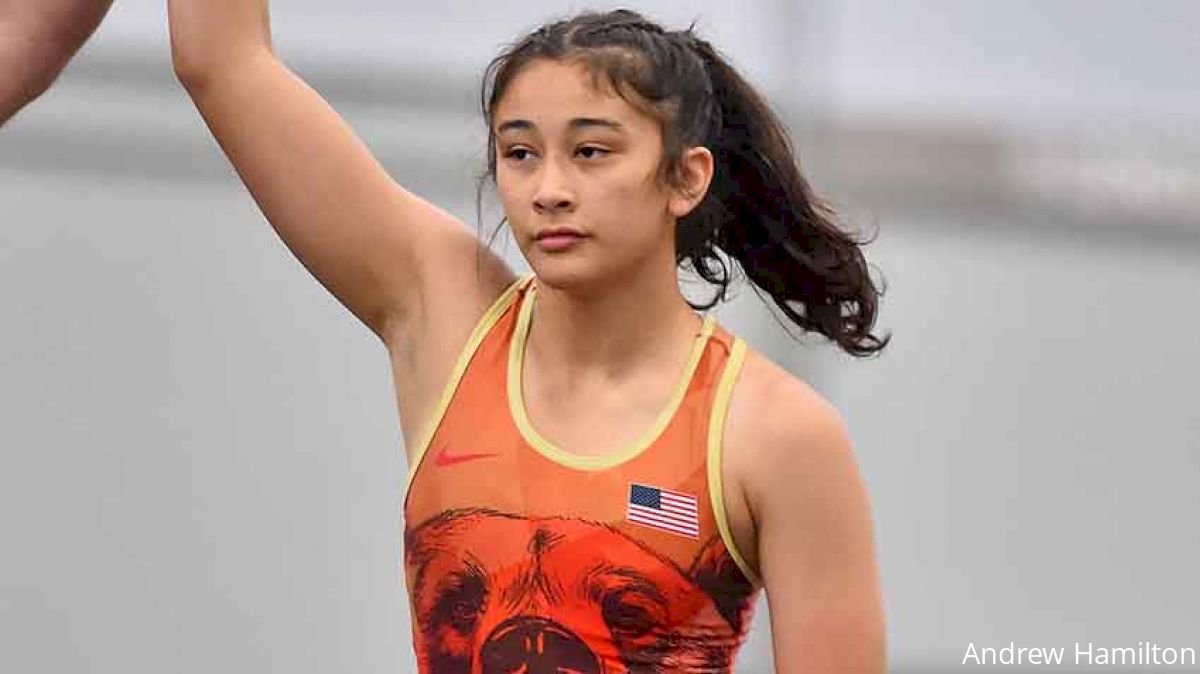 Team High School Ranking Are Here
End-of-the-year high school team rankings were released with Wyoming Seminary leading the way as the top girls' high school team in the country. Rankings include public and private high schools from all states, including states with official girls' state championship events as well as those with unofficial girls' state championships.
The top 10 include:
1. Wyoming Seminary (Pennsylvania)
2. Toppenish High School (Washington)
3. SLAM Academy (Nevada)
4. Marina High School (California)
5. Waverly-Shell Rock High School (Iowa)
6. Allen High School (Texas)
7. Lebanon High School (Missouri)
8. Amarillo Caprock High School (Texas)
9. Moanalua High School (Hawaii)
10. Orlando Freedom High School (Florida)
California Reigns
California knocked off Michigan during the finals of the Junior Nationals Duals in Tulsa, Oklahoma on June 16 to take home this year's title. The field included a record 30 different teams.
The Golden State compiled a 68-30 match record with five wrestlers — Madison Avila, Mikayla Garcia, Arieana Arias, Isabella Marie Gonzales, and Johanna Forman — going undefeated in the tournament with at least four victories each.
California's run included seven straight wins.
California over Georgia Blue, 50-11
California over Virginia, 50-16
California over Indiana, 47-18
California over Missouri 1, 43-23
California over Texas Blue, 36-25
California over Colorado, 37-28
California over Michigan Blue, 37-26
Two Of A Kind
There's history — then there's jaw-dropping history. Ken Marantz recently mentioned a unique statistic in an article he wrote for United World Wrestling about Japan's Akari Fujinami's 100th straight win.
Only two wrestlers — Haruna Okuno and Masako Furuichi — have achieved the grand slam of international wrestling: U17 (Cadet), U20 (Junior), U23, and Senior World titles.
Haruna Okuno
2016 Cadet World champion
2017 Senior World champion
2017 U23 World champion
2018 Senior World champion
2019 Junior World champion
2019 U23 World champion
Masako Furuichi
2011 Cadet World champion
2012 Cadet World champion
2013 Cadet World champion
2014 Junior World champion
2015 Junior World champion
2016 Junior World champion
2019 U23 World champion
2021 Senior World champion
Women's Spotlight: Katie Gomez
Cadet World champion Katie made a Junior World team this year and already has an eye on the 2024 Olympics. Learn more about her story.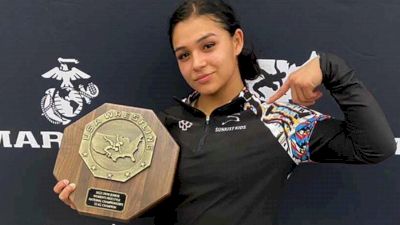 Bracket Breakdown
Olympic bronze medalist Sarah Hildebrandt mentioned the 55-kilogram bracket from the 2015 World Team Trials during the Final X New York press conference. The bracket is even more impressive than Hildebrandt let on.
Participants include:
— Four 202One Olympians (Hildebrandt, Jacarra Winchester, Helen Maroulis, and Kayla Miracle)
— Two 4x WCWA champions (Maroulis and Miracle)
— Four current World teamers with the possibility of a fifth (Hildebrandt, Dom Parrish, Maroulis, Winchester, and Miracle who hasn't qualified yet)
— Two World champs (Maroulis and Winchester)
— One Olympic champion (Maroulis)
— Five wrestlers who won at least one World/Olympic medal (Becka Leathers, Hildebrandt, Winchester, Maroulis, and Miracle)
— Six wrestlers who have made at least one Senior World team (Leathers, Hildebrandt, Winchester, Maroulis, Miracle, and Amy Fearnside).
Also, notice that Tarkyia Mensah — sister of 2020 Olympic gold medalist Tamyra — is in the bracket.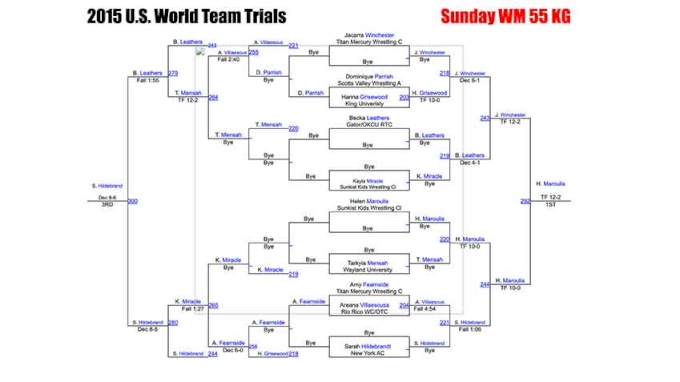 Matches Of The Week
Cadet and Junior World champion Amit Elor, 18, made her third World team at Final X New York (U20, U23, and Seniors) with straight wins over Skylar Grote. Watch scoring highlights from one of America's promising young superstars.
Unlock this video, live events, and more with a subscription!
Get Started
Already a subscriber? Log In
World Team Rewind
The inaugural Women's World Wrestling Championship was in 1987 but the United States did not participate until 1989. There there were nine weight classes and only four Americans participated.
1989 World team
47 kg: Afsoon Johntson - Bronze
50 kg: Asia de Weese - Silver
53 kg: Janet Trussel - 5th
70 kg: Leia Kawai - Silver
"I made a flyer and went door-to-door and business-to-business, introduced myself, and said, 'Hi, my name is Afsoon and I am representing the United States at the World Championships in women's wrestling. Will you help support me?'
"Most people's response was 'We didn't know there was women's wrestling.'
"Some businesses donated $10, others donated $100 and I scraped up enough money to get myself to the World Championships to represent the United States. More importantly, I was educating people that there was such a thing as women's wrestling and we were a legitimate sport."
Below are US results at the Women's World Championships with the team champions listed in parentheses. Terry Steiner was hired as the first full-time women's national team coach for USA Wrestling in 2002. American teams have placed in the top three for the past nine years. Japan has won 24 of the 31 contested World Championships.
1987 Did Not Enter (Norway)
1989 5th (Japan)
1990 6th (Japan)
1991 5th (Japan)
1992 9th (Japan)
1993 4th (Japan)
1994 4th (Japan)
1995 4th (Russia)
1996 3rd (Japan)
1997 3rd (Japan)
1998 3rd (Russia)
1999 1st
2000 3rd (Japan)
2001 5th (China)
2002 11th (Japan)
2003 2nd (Japan)
2005 3rd (Japan)
2006 7th (Japan)
2007 5th (Japan)
2008 4th (Japan)
2009 6th (Azerbaijan)
2010 5th (Japan)
2011 3rd (Japan)
2012 3rd (China)
2013 3rd (Japan)
2014 3rd (Japan)
2015 3rd (Japan)
2017 2nd (Japan)
2018 3rd (Japan)
2019 3rd (Japan)
2021 2nd (Japan)