2022 Final X NYC
The Complete Final X New York Greco Preview
The Complete Final X New York Greco Preview
Greco guru Tim Hands breaks down the five Greco series on the card for Final X New York.
Jun 7, 2022
by Timmy Hands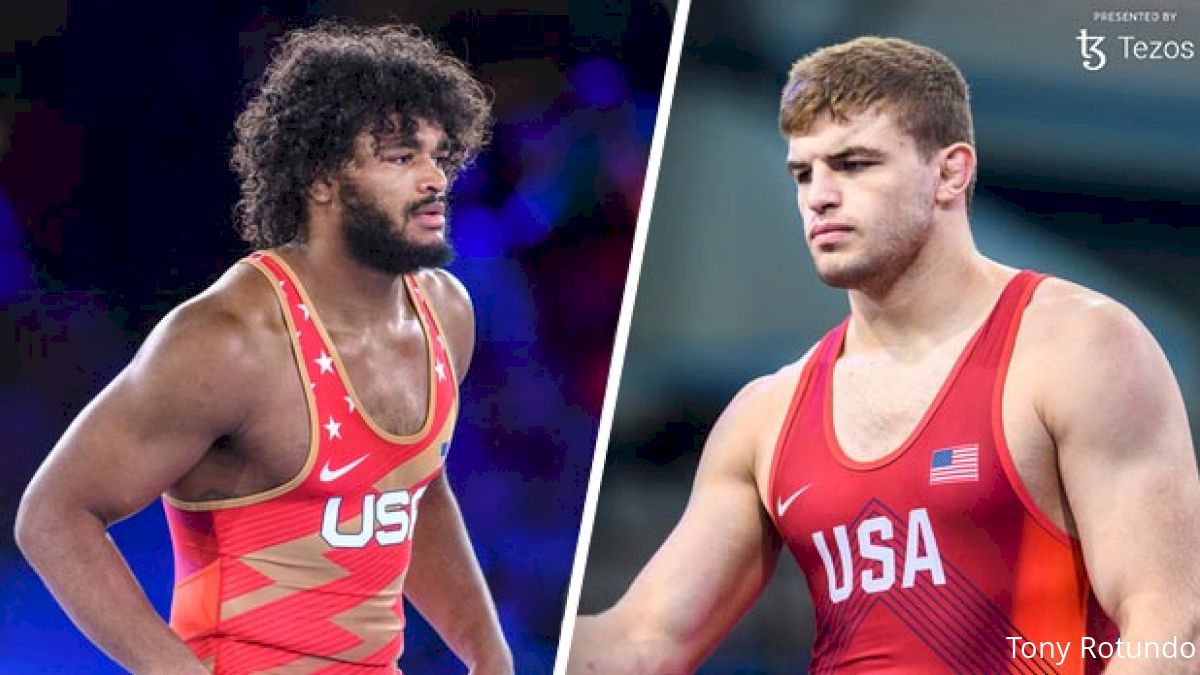 All five series on the docket for Final X New York presented by Tezos involve the elite of the elite in American Greco-Roman wrestling. Who the headliners are is subjective fodder, but many are looking forward to the only Olympic Trials final rematch from last year pitting '21 World bronze G'Angelo Hancock against Braxton Amos, who captured a World bronze last year on the Junior level.
Each weight category has its own list of reasons and intriguing beneath-the-surface narratives to render them potentially compelling theater. It is an exciting time in the U.S. with World Team selection now about to reach its conclusive phase. Final X Stillwater presented an incredible show. Can what goes down in New York top it? Plenty of observers seem to think so, and it is easy to see why when looking at the match-ups.
60 kg: Dalton Roberts (Army/WCAP, 5PM #1) vs. Ildar Hafizov (Army/WCAP, 5PM #2)
No two Greco-Roman athletes in New York on Wednesday are beholden to more contrasting styles than Roberts and Hafizov.
Roberts wants a fist fight. Hafizov wants a wrestling match. All of their previous meetings have offered a little of both, but their three bouts from '18 should probably be ignored by now given how much Roberts has improved since then. They do know one another's habits well, maybe too well, which has kept the energy between the two suspenseful from whistle to whistle.
Most get the picture: Hafizov is the cleanest technician in the country, a topic about which much has been written. Overhooks, single or double, are his most formidable weapons and his high gut from par terre is usually money in the bank. But even if Roberts lacks some of Hafizov's polish, he makes up for it and then some by doggedly attacking angles and pushing an uncomfortable pace. "Neck and neck" doesn't come close to describing how tight this series will likely be – and should be. The only shame about the thing is that they are in the same weight class.
67 kg: Alex Sancho (Army/WCAP, 5PM #1) vs. Alston Nutter (Sunkist/NTS, 5PM #4)
The World Team Trials Challenge Tournament showed that Sancho is still the most complete competitor in this weight category. "Complete", as in general wrestling ability, and what goes on between his ears. Usually not one to wax and wane in confidence, Sancho re-focused on the task at hand. He approached Coralville with the singular objective of reclaiming his spot; in order to do that, he had to take out Peyton Omania (his vanquisher from the '21 Trials, one month after Tokyo). Even if shreds of doubt had sporadically danced around in his mind in the months since, that victory likely cut the music on those thought patterns.
But he does have himself a very real problem with Nutter, who kept it very close in their two previous match-ups. They are not entirely different when it comes to their respective approaches, though Nutter's comparatively compact frame makes for an excellent change-up from the pocket. Speed matters, and Nutter slings drags into workable attempts in flashes. It also helps that his finishes from the feet tend to be vicious in scope, as well as favorable for adding follow-up points.
Par terre leans slightly towards Sancho, for his side lift remains #1 among all American lightweights. And keep in mind that if the lift doesn't land four, the Miami native can easily adjust into a crash gut. Nutter from top is a threat, certainly, and his feel defensively on bottom is sufficiently solid. Makes one wonder how and when passivity will influence the outcome.
The perception is an uphill climb for Nutter. He has not beaten Sancho yet and will have to get over that hump twice on the same day. Tall order. But he appears ready to do that when gauging his recent performances. If the stage isn't too big – which it shouldn't be for a Junior World medalist – then Wisconsin getting their fourth World Team member for '22 is a legitimate possibility.
77 kg: Kamal Bey (Army/WCAP, 5PM #3) vs. Britton Holmes (Army/WCAP, 5PM #4)
To start off, there is one man who will watch this series with the same amount of pride as a parent: TC Dantzler, who is largely responsible for Bey and Holmes not only attaining what they already have, but also for basically rearing both in the sport with which to begin. Kamal is not "Kamal" without TC, and Britton is not the fiercest competitor in the U.S. program if Dantzler never enters his life when he was a school kid. Both will attest to this.
How they stack up is not easy to decipher unless one has been present in the WCAP wrestling room. And even then, that's practice, so no one really cares.
In the past, it would have been simple: Bey, the ultrasonic thrower whose highlights routinely promote the sport, is steps above Holmes athletically and competitively. This would have been the consensus as recently as three years ago. "Would have been, would have been, would have been…" The past is gone. Bey still has all that and more going for himself, but what few bothered to see was the monster growing inside of Holmes. Bey no doubt is the more explosive of the two, but he has nothing on Holmes when it comes to the sheer will to win. That, along with a cavalcade of improvements in his game, is why Holmes is in this spot.
But part of what makes Holmes a National champ and Final X participant is his virtually unrivaled desire to impose all kinds of hurt on the other guy. Can he access those dark feelings against Bey, a close friend, when the lights are bright and with a buzz present in the arena? If he plans on taking the series, he'll have to. Otherwise, this ain't his gig yet. Either way, they will tell some kind of story on Wednesday. Two absolutely tremendous wrestlers who have yet to touch the height of their powers.
87 kg: Alan Vera (NYAC, 5PM #1) vs. Timothy Young (Unattached, 5PM #7)
Young is not supposed to come close to challenging Vera. He's not, certainly not yet, anyway. What Hafizov is to the lightweights from a technical aspect, Vera is to the upper-weights. Secondly, Young – though a former collegian and a Cadet World Team member before that – is without a meaningful Senior sample size; and while it is admirable that he managed to advance to this here event, his side of the bracket in Coralville was little more than a contest to see who would earn the right to get VSU'd a couple of times in NYC by Vera.
All of the above is partially true. If not mostly true. Those precise phrases have been uttered by many, just with a little less eloquence.
Yet, there is something about Young that is difficult to dismiss. It is almost as if all of the requisite pieces are present and waiting to be tacked into place. Young demonstrates a high wrestling IQ that is complemented by a physical profile which could pose Vera problems, provided he lasts long enough for that to matter. If Vera has a vulnerability, it is stepping off the gas too early in matches. Whenever he has run into issues, it has unanimously happened in second periods.
Young most assuredly is an exciting addition to U.S. Greco-Roman and should develop into a real threat by the '24 Paris Trials. He may even have a moment or two inside of the Hulu Theater from which he can draw for later down the road. But this year isn't his time. It's Vera's.
97 kg: G'Angelo Hancock (Sunkist, world #5, 5PM #1) vs. Braxton Amos (Sunkist/Wisconsin RTC, 5PM #2)
Senior World bronze versus Junior World bronze, and the only rematch from the '20 Olympic Trials finals. Decent selling points for the casuals, at least for those needing to be sold on the pairing.
Hancock has not stepped onto a competitive mat since the winter, when he decimated Egyptian Ahmed Hassan at 'Bout at the Ballpark'. He has trained, mostly. Europe, the States, wherever. He is not living the sedentary lifestyle most might presume. Hancock has not had to compete – so, he hasn't. When an athlete has logged as many miles, literally and figuratively, as Hancock has since '16, easing off the pedal a little bit and saving the body is a good idea. In the U.S., people express concern over inactivity. Meanwhile, plenty of top Europeans appear in at most three events per year and everyone in that region understands why.
As for young Mr. Amos, he put back on his Greco pants for the World Team Trials Challenge Tournament and they fit just fine. He looked – and wrestled – noticeably stronger against stout competition. Amos snared another tough win against Lucas Sheridan before handing Haydn Maley a pair of VSU losses. One thing about Amos on the feet? His intuition to find angles and use some power to gain a score meshes very nicely with his general competitive zeal. The upper-weight guys need to force scores, sometimes, and Amos seems to know when that is appropriate.
However, Amos is unlikely to yield the same opportunities against Hancock without paying a dear price. It is easy to think "bodylock" when Hancock's name is involved, but his counters and re-throws are equally deadly. Amos might want to think twice about trying to cut corners on a guy who is actually anticipating that very action. Par terre is similarly problematic for the Badger in this match-up. In a turn-and-not-get-turned game, Hancock is one of the best on the planet. This isn't news. Ask Amos. While he will stop short of heaping all sorts of "aw shucks" praise on Hancock, he can identify what his counterpart's strengths are and acknowledge them accordingly.
So it comes down to discomfort. Not "moves", not scores. Amos' best shot on Wednesday is simply to make Hancock uncomfortable. Often. There is no rule that says he has to tune into the same channel and get drawn into a pummel-fest that would eventually result in Hancock uncorking a multi-point score. Heaviness on the head, level changes, a bruising, purposeful hand-fighting campaign that wears on the entire body… These offer the most palatable options if fatiguing Hancock serves as the objective. Meeting him on even ground is not recommended.
Amos is already a different look for Hancock, and he is better than he was a year ago. He is also in "match shape", for whatever that might be worth. You'd assume Hancock is, too. Professionalism, motivation, etc. But is Hancock prepared for an upgraded version of what he saw last year in Texas? Again, that would be the assumption. Until they take the mat, all you have are hypotheticals whispering in the wind, hovering about and teasing the imagination.
What we do know is that the U.S. program's most successful current athlete is just that for a reason. What we don't? How seriously he takes the threat that now lies before him.