2022 Final X Stillwater
The Full Final X Stillwater Greco Preview
The Full Final X Stillwater Greco Preview
Greco guru Tim Hands takes a deep dive into the five Greco matches on the card for Final X Stillwater presented by Tezos.
Jun 1, 2022
by Timmy Hands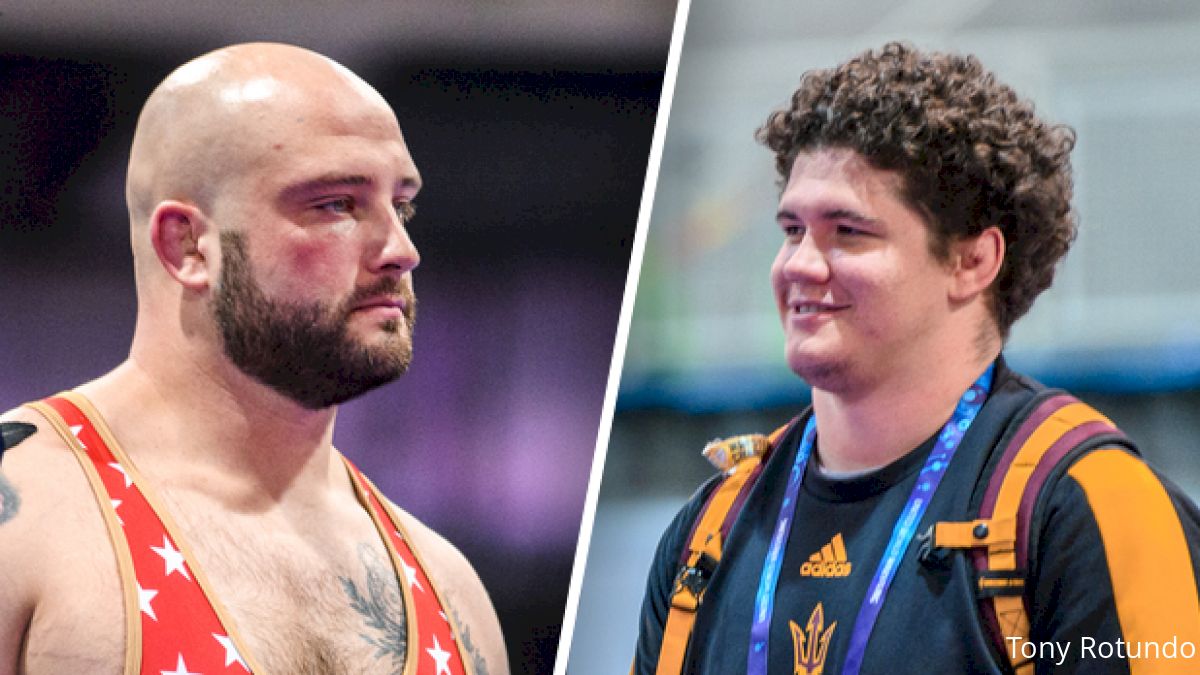 For the first Final X card of 2022, Greco-Roman is giving the people a generous gift in the form of five returning World Team members as well as three rematches from last year's Trials.
One such series is inching closer and closer to "blood feud" status. Two-time Olympian Ben Provisor (82 kg, NYAC, 5PM #1) has had to deal with "The Alaskan Assassin" Spencer Woods (Army/WCAP, 5PM #2) in each domestic final dating back to their first encounter in '21. Provisor has yet to drop a match to Woods, but the gap between the two is narrow. And to fill in said gap, Woods has relied heavily on a brutal style he hopes will eventually send the message that the 82-kilogram spot is all his until it's time to move up in weight for the Olympic Year.
Two-time World Teamer Max Nowry (55 kg, Army/WCAP, world #11, 5PM #1) is set to square off against Brady Koontz (TMWC/Ohio RTC, 5PM #2). They have been down this road before, with Nowry having emerged victorious each time out. But their matches have been extremely competitive and full of technical nuance and skill every wrestling fan can appreciate.
Plenty of observers are most looking forward to what awaits at 72 kilograms. Patrick Smith (Minnesota Storm, 5PM #1) and "Mr. Fantastic" Benji Peak (Sunkist/NTS, 5PM #2) delivered two memorable matches last September. Both bouts went to Smith, who cemented his third U.S. World Team appearance with the series triumph. In the time since, Smith collected his fourth Pan-Am Championships gold and has kept plowing right along through the spring, while Peak came back from injury to earn his second National crown in April before searing through his half of the bracket earlier this month at the Trials.
Members of the "Thielke Death Cult" are rejoicing as their man, '16 Olympian Jesse Thielke (63 kg, Army/WCAP, 5PM #2), has once again put himself in position for a shot at World hardware following outstanding performances at the US Open and the World Team Trials Challenge Tournament. In the other corner stands "Wildman Sam" Sammy Jones (NYAC, 5PM #1), who is enjoying the best stretch of his career and appears even more formidable than he was last season when he represented Team USA in Oslo.
Drawing the curtains in Stillwater is a dose of "big fight feel" thanks to '21 World Team member Cohlton Schultz (130 kg, Sunkist, 5PM #1) and Tanner Farmer (NYAC/IRTC, 5PM #3). After making the NCAA Division I final in March, Schultz grabbed a month's rest and then dominated en route to his third Senior National title. He was also on a roll in Coralville two weeks ago, but so was Farmer. In only his second legitimate season as a full-timer, the Illinois product has improved by leaps and bounds due in large part to an athletic profile not seen at this weight category in quite some time.
55 kg: Max Nowry (Army/WCAP, world #11, 5PM #1) vs. Brady Koontz (TMWC/Ohio RTC, 5PM #2)
Nowry/Koontz is the only match-up, counting both Stillwater and New York, that was featured as part of 2019's Final X Series. Nowry won that best-of-three in two straight, and has defeated Koontz three more times since then, including in the finals of last year's World Team Trials.
But while four-time National champ Nowry has yet to taste defeat at the hands of Koontz, all of their bouts have been highly-competitive, with several outcomes razor-thin. In other words, Koontz's style, as well as body composition, has not been an easy test for Nowry – and one would have to think familiarity at this stage might play a role, too.
Koontz's biggest and best strength is his gutwrench, which often arrives from the left side. He can go in either direction, of course, and has. But against Nowry, that gut (elbow-deep or otherwise) has not proved an equalizing weapon as of yet. From standing, Koontz is an underhooking machine who can waltz antagonists around the mat until he discerns amenable windows for attempts.
Nowry's iron-tough competitiveness is an edge, mainly due to how it is expressed. He finds ways to seize even the smallest positional advantages and turn them into scoring opportunities. Most recognize the footwork and chippy ties that lead to arm drags, but the primary objective is mainly to keep the opposition's own feet moving whilst remaining right in their faces. Nowry forces playback, and his intuitive feel for counter-pressure is what often avails multi-point scores.
It is a rough task for Koontz, to earn two wins against an athlete with whom he has experienced considerable trouble in vital areas. But he is not some sizable underdog here, despite public perception. Though another Nowry series win would be the furthest thing from a surprise, Koontz at last getting over the hump is also not a daydream-believing proposition.
63 kg: Sammy Jones (NYAC, 5PM #1) vs. Jesse Thielke (Army/WCAP, 5PM #2)
Until the final round of the Bill Farrell Memorial in early-April, "Wildman Sam" had not previously defeated Thielke. There wasn't an immense shared history between the two, but they have met through the years, even when both were age-groupers. That was, by now, quite a while ago. The last time they saw one another in competition, that is prior to April, was in 2017. Jones threatened from a few positions, but Thielke still managed to pull his sled into victory lane.
Two things have occurred since then.
1) Jones' game has elevated to new heights and, as one of the five returning World Team members on this card, he is operating with supreme confidence every time he steps on the mat. He is also no longer just locking, throwing, and hoping for the best. Jones these days is doing more to strike a balance offensively, which is another way of saying that he does not rush to throw as soon as he catches even the faintest glimpse of a preferable position.
2) Thielke endured a severe neck injury that in 2019 forced him to step away from competition. The proceeding two years were thusly spent doing all he could to somehow heal enough and wrestle at the level to which he, and everyone else, was accustomed. He also joined Army/WCAP, and that helped, for Army is overloaded with excellent athletes who hover near his weight range. Reliable, talented training partners are mission-critical.
In a sport that very much suffers from recency bias, it is low-hanging fruit to use Jones/Thielke from the '22 Farrell final as a foundation from which to draw any serious conclusions. Jones wrestled smartly with a great feel for the ties, and in the second period caught a run on a front headlock that ended the match.
Later in the spring, Jones bombed to a one-match victory at the Pan-Ams before blitzing through the semis last week in Coralville. He has been outstanding.
Thielke? No big deal or anything, but he just so happened to blow everyone away at the U.S. Open…and slap together two short but efficiently violent wins at the Trials.
The version of Thielke Jones is facing in Stillwater might not be the same one from their Farrell final.
Ultimately, this is a stylistic clash that could go all three matches, with each one in the series unfolding (and looking) differently from the other. Jones relies more on big-play offense and may need to tighten up the game plan a little – but without abandoning the approach that got him this far. Thielke, meanwhile, is once again clicking. All he needs is to find a rhythm. Few adapt as well to what their opponents are doing. Even fewer compel high-yielding counter-scores the way he does when the pressure's on.
Who wins? Who knows? One thing is for sure: Jones vs. Thielke is expected to offer the most fan-friendly matches in Stillwater.
72 kg: Patrick Smith (Minnesota Storm, 5PM #1) vs. Benji Peak (Sunkist/NTS, 5PM #2)
Peak poured out the reserves against Smith in their 2021 WTT finals series. It was something else. Smith masterfully dragged Peak into deep, dark waters by inciting the smallest adjustments in body position and footwork. When Smith is latched – whether via two-on-one, loose underhooked pummel, or even a fleeting collar tie – he is not the one you should be watching. Instead, check out his opponents. There they are, fighting off the arms, flinging fingers free, stepping sideways or back-peddling – anything they can do to reset position and ward off the pressure. Do this for a minute, it's a little taxing. Do it for four minutes, and you're just hoping it somehow stops.
But it never does.
Smith's brilliance is not revealed in dynamic movements and motions. It is most visible in thousands of small ones. Bite-sized beatings take a toll. And yet, Peak kept his composure. He was drained, but not broken, at least not seemingly in the fashion that has become the norm for those vanquished by Smith.
For Peak, avoiding the ugliness of a phone-booth throwdown is paramount. That's a tough fight for him to win and it doesn't favor the way he wrestles. The mechanics upon which Peak mostly relies can work against Smith, such as battering in underhooks and taking advantage of those long arms to negotiate what are usually wide-open windows to the body. Hawking over the top is fine, as well, but only when keeping the hips aligned with his feet. Otherwise, hips-out against Smith will just result in the Stormer bruising up the insides and generating off-balances.
Smith knows that his two wins logged at Peak's expense in September weren't easy. There was never the feeling that either of their bouts were on cruise control, even when Peak was beginning to slow in the second period. The reach-arounds and step-outs for which Smith is known were available, as they often are. And although Smith was sharp in their series nine months ago, he has appeared even sharper as of late. But to be fair, he has not faced anyone who brings the same unique package Peak does.
Peak has had a lot of time to stew over September, especially when he was recovering from his shoulder injury. It is likely he has done his film work and visualized running this whole thing back, but with a different outcome.
Can it be one? Is this series winnable for "Mr. Fantastic"? Par terre from both phases are where Peak wields the most prowess of the two. If he gets his chances and capitalizes, Smith will be the one staring at a deficit.
The summation is thus: Peak cannot beat Smith at his own game, because no one in the U.S. can do that. But there does have to be the impression that he is willing to try, before altering course by angling for push-pull moments that might advance his positions. Smith at this stage of his career is very comfortable with the whole world holding an intimate knowledge of his M.O. It is rare to see that used against him. For a flip-flop to occur at 72 kg in the U.S., Peak has to play the role of creative matador and land on top of the bull. Doable, potentially. But easier said than done.
82 kg: Ben Provisor (NYAC, 5PM #1) vs. Spencer Woods (Army/WCAP, 5PM #2)
In four matches against Provisor since September '21, Woods has been the clear aggressor.
He has gotten heavy on the head with whips, slaps, clubs. With all of his might he has tried to leg-drive Provisor into a morass of vulnerability. Woods has entered each of their contests staunchly committed to hardcore physicality, which is notable because that is by and large how Provisor originally made his mark on the Senior level.
But here's the issue: Woods is 0-4 opposite "Big Ben". So while it sure is entertaining to check out a young athlete on the rise brawl it up with an established star like Provisor, it hasn't exactly equated to a winning strategy.
Think about it from Provisor's perspective for a moment. Two Olympiads, a fistful of National titles, multiple World Teams, and a virtual lifetime devoted to this discipline. Dozens and dozens of matches against top international athletes on the biggest stages available – not to mention a physique that has been purposefully crafted to withstand the type of ordinance someone like Woods brings to bear.
Ask yourself: what can anyone do to Provisor that which he has not encountered previously?
Except Provisor has not required a ballistic vest to survive Woods' repeated onslaughts. What he has needed, however, is patience.
Regardless of the heat brought by Woods, particularly from the second match of their '21 best-of-three through April of this year, Provisor's pace never changed. Because it was unnecessary. And the reason why it was unnecessary has to do with fundamentals. Provisor owns a natural advantage in terms of his center-of-gravity; plus, he reflexively digs in underhooks or navigates to other vice-grip tie-ups that allow him to maintain posture and/or force favorable positions.
It is not complex.
Neither is par terre. While PT has not delivered match-ending scores across their four-match rivalry, Provisor has turned Woods, and Woods has not turned Provisor.
Again, not complicated.
Yet, there is the feeling that Woods might be onto something. It isn't momentum, but something else. It is as though he is coming ever closer to figuring it out.
Patience due to experience has aided Provisor. Obviously. But Woods demonstrated in Vegas and Coralville that he does not have to go breakneck in order to glean the results he wants. Rather, he can fire sporadic salvos from the pocket and let meaningful attempts come to him. There always has to be an antagonistic response. That's the rule. When Woods is OK with easing his foot off the pedal for just a second, what he finds in return are opponents who are overextended, or overzealous.
Two matches or three, it doesn't matter. Their time together in Stillwater will be part-chess match, part-slugfest. Suspenseful, physical, with some exchanges that are so violent they will incite winces. But a changing of the guard? Only if Woods has learned enough from the past not to repeat it.
130 kg: Cohlton Schultz (Sunkist, 5PM #1) vs. Tanner Farmer (NYAC/IRTC, 5PM #3)
Less than two years after embarking on his Senior career, Farmer is in a World Team Trials final. There are some who can truthfully claim that they saw this coming, and for various reasons. Farmer – who played football for the University of Nebraska before spending one wrestling season at Concordia University, where he finished second in the NAIA tournament – is not only extremely powerful and athletic, he is also an eager learner. Humble is his approach. He came into Senior Greco with the understanding that he was starting all over again. As such, Farmer has been willing to absorb intel from everyone and anyone who takes the time to show him a trick or two. You can go and count Schultz in that mix, as well.
Farmer has progressed rapidly thanks to his attitude, the training opportunities and resources of which he has taken advantage, and his coach, Bryan Medlin. He entered this level of the sport with several enviable attributes; but without Medlin's influence and direction, he would likely be needing a ticket to watch Final X instead of suiting up for the show.
As for one Mr. Cohlton Schultz, this whole deal is routine. Little fact: Schultz does not know what it's like to miss a domestic Senior final. He's just 21 years of age and in the three years since his initial WTT Challenge Tournament victory, he has won three Nationals and participated in every Trials series. Schultz also owns a Cadet World crown ('17), two Junior World medals ('18, '19), and over the spring finished second in the NCAA grand spectacle. More credentials can be trumpeted for the bookkeepers, but all of the above sufficiently enunciate how accomplished he already is at what is still a very early stage of his career.
Getting down to brass tacks, the Schultz/Farmer sample size is small. Two matches, that's it, with both victories going to Schultz. Farmer was super-green in those losses. He actually would still be considered a newbie by traditional standards, but tradition goes out the window when we're analyzing a heavyweight with exceptional athletic ability and whose improvements are clearly visible. Overseas seasoning this past winter has helped, as well. Farmer is now the owner of a solid, potentially money-making gutwrench, and his feel on the feet is becoming increasingly solid. That last bit is more important at the moment given the circumstances.
Schultz is incredibly difficult to stymie. His intuition for making even the smallest adjustments is uncanny. He has a lightning-fast processor chip buried beneath that fro. The slightest tweak on the height and angle of an underhook, the switching of his feet to gobble up a little more distance so he can snap at the head or come down to a two-on-one… Schultz makes opponents play his game without them retaining the cognizance to realize what he's doing. Meanwhile, it might all be a slow-playing setup to goad one glancing position from where he believes he can score. And if the action plods, there is not another heavyweight in the country who can counter-attack as effectively, or more creatively.
Despite Schultz's pedigree and obvious advantages in nearly every key area, it would be unwise to dismiss Farmer's chances. He's a live dog here. This is heavyweight, after all, the one division where size and strength do matter – and Farmer is convinced that he is at least one of the strongest heavies on the planet, if not the strongest. If he can push Schultz into and around the zone enough to compel a passive or two, then we'll all get to see how weaponized that gut of his has really become.
Until that happens, this is still Schultz's turf. All of the peripherals involved between the stakes, the stage, and the spotlight are his comfort zone. Farmer's job is to take that sense of comfort away from Schultz over the course of two matches. A difficult task, and he knows it. Welcomes it, even. What looks like a slugfest should turn out that way, the only question is how ready Farmer truly is to wrestle the best matches of his life thus far. Because that's exactly what it is going to take for him to keep Schultz off of a second-consecutive Senior World Team.