2022 Final X Stillwater
The Full Final X Stillwater Women's Freestyle Preview
The Full Final X Stillwater Women's Freestyle Preview
After staging an epic series at the 2021 World Team Trials, Jenna Burkert and Jacarra Winchester headline the women's card at Final X Stillwater.
Jun 1, 2022
by Derek Levendusky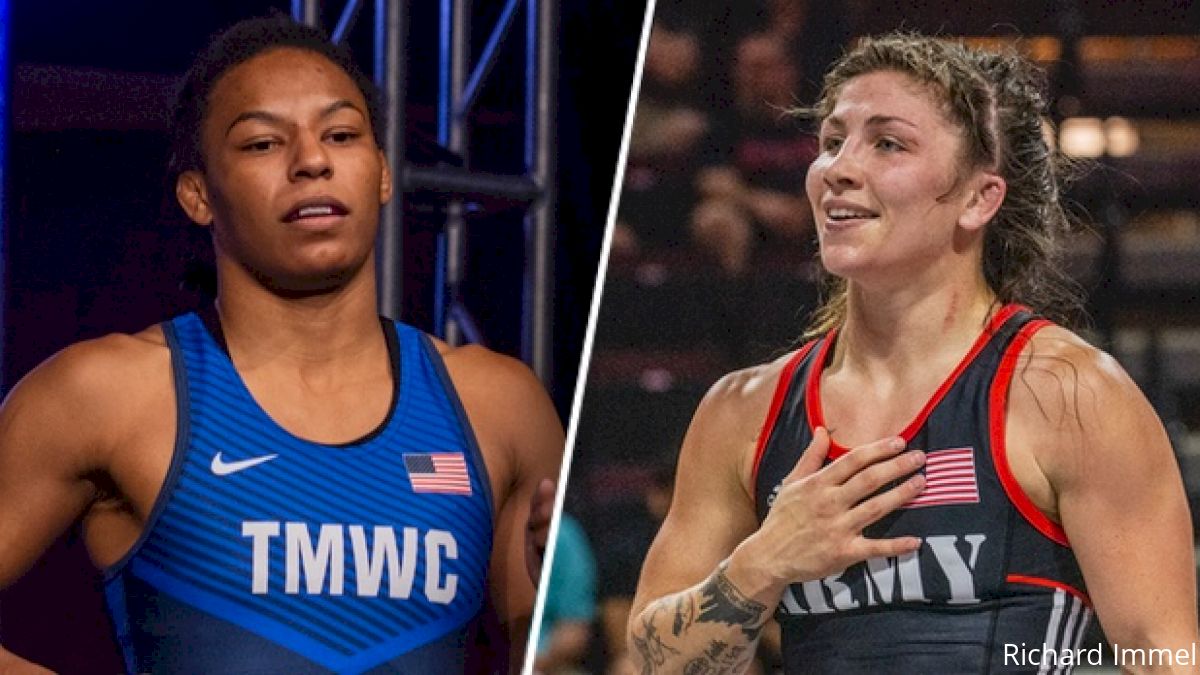 With the World Team Trials Challenge Tournament in our rearview mirror, next stop is Final X presented by Tezos. The first edition will be Friday in Stillwater, followed by the second edition next Wednesday in New York.
The format of Final X will include have two sessions — the first match of the best-of-three championship series (men's freestyle, women's freestyle, Greco-Roman) will be the first session, followed by the second (and third match, if necessary) in the second session. The weight class order will be the same for both sessions.
The winner of each weight will have the honor of representing their country at the Senior World Championships in Belgrade, Serbia, Sept. 10-18.
Based upon USA Wrestling's Senior World Team Selection criteria, 14 wrestlers who medaled at the 2021 Senior World Championships accepted their automatic berth in Final X. Seven will be competing in Stillwater and seven in New York.
Final X Stillwater up first at Gallagher-Iba Arena on the Oklahoma State University campus. It will be held simultaneously with the National Wrestling Hall of Fame Honors Weekend, an event happening next door at the Hall of Fame facility Friday and Saturday.
Final X Stillwater will kick off at 2:00 p.m. CST and the event will stream live on FloWrestling.
The following women's weights will be featured at Final X Stillwater: 55 kg, 59 kg, 65 kg, 68 kg, 76 kg. Here's a weight by weight look at the matchups.
55 kg: Jenna Burkert (Army/WCAP) vs. Jacarra Winchester (USOPTC/Titan Mercury WC)
This final is, no doubt, the marquee matchup and the series everyone wanted. Last year, Jenna Burkert and 2019 World champ Jacarra Winchester gave us one of the most dramatic best-of-three finals in the history of women's domestic wrestling. Every match came down to the final moments, and sometimes the outcome turned in the final moments, with Burkert ultimately coming out on top. The three matches were 6-6 Burkert, 9-8 Winchester, and 4-3 Burkert for the series win. Surely, Winchester wanted this opportunity to flip the script, as she was sober-minded about the position she's in and not resting on her laurels, telling the media in Iowa last week: "I won the World Championships in 2019, so that's in the past for me I'm not a World champion now; I'm not even on the World Team." Burkert went on to win bronze at Worlds last fall.
59 kg: Lexie Basham (Spartan Mat Club) vs. Abby Nette (Army/WCAP)
Someone will make their first Senior World team at this weight. Nette is more of a household name with all of her college and Senior-level accolades, winning the Miranda Medal in 2020 and placing third at Olympic Team Trials last year, but don't sleep on Basham. She's as tough as they come and has to be considered one of the top upcoming prospects hitting the Senior circuit at this weight, winning an NAIA national title in March for Texas Wesleyan followed by a third-place finish at U23s. Her only loss at U23s was 10-4 to a proven Senior-level talent, Brenda Reyna. Nette looks like the favorite, but don't expect her to roll through this series, even though Basham might not have the body of work…yet.
65 kg: Forrest Molinari (Sunkist Kids WC)vs. Mallory Velte (Beaver Dam RTC/Titan Mercury WC)
Molinari is a returning World bronze medalist, and she'll face another world bronze medalist in Mallory Velte, who had her moment in 2018, though she'd love to return to the world stage for another opportunity. Velte looked solid in a gritty best-of-three series with Emma Bruntil at the Challenge Tournament in Coralville, a final that went all three matches. Velte shut the door on Bruntil when she won the last one 6-0, putting her stingy defense on display. Molinari faced Velte in the Yasar Dogu final in Turkey in February, winning it 7-4. If that match says anything about how this weekend could go, it will be an entertaining series for sure. Molinari has made the last three World teams, while Velte made the team in 2018 with a series win at Final X that year over 2021 62 kg Olympian Kayla Miracle, a 2-1 match victory.
68 kg: Tamyra Mensah Stock (USOPTC/Titan Mercury WC) vs. Sienna Ramirez (Southern Oregon RTC)
We all know who Tamyra Mensah Stock is and what she can do. However, just a few months after she won an Olympic gold medal in Tokyo, Mensah Stock fell short in Oslo last fall, losing her semi in shocking fashion to Japan's Rin Miyagi, though she bounced back to win bronze. She'll face a scrappy younger wrestler in Southern Oregon's Sienna Ramirez, an athlete who's made a name for herself the last few years, winning an NAIA national title in 2021, the U.S. Open in April, and the Challenge Tournament last weekend. Even with that, we know it's a tall task to take down Mensah Stock, a powerhouse many believed was the pound-for-pound best wrestler in world after she beat Adeline Gray in an exhibition last year. It would be hard enough for Ramirez to beat Mensah-Stock once, but of course, she'd have to do it twice. She's clearly the underdog, but there's a reason we wrestle these matches. Expect Ramirez to do what she's been doing through all her recent success — wrestle hard against her star opponent Mensah Stock.
76 kg: Dymond Guilford (USOPTC/Titan Mercury WC) vs. Yelena Makoyed (Cardinal WC/Titan Mercury WC)
This is a new rivalry with the rise of Yelena Makoyed during the last few years. Though this is the first time Guilford has made the Senior National Team, she has been a staple on the Senior circuit in recent years, winning Senior Nationals last year and consistently hitting the top 3 in Senior Women's Freestyle Rankings. Meanwhile, Yelena Makoyed has been making her mark in college wrestling, a two-time NCAA champion for North Central, and has had success on the Junior circuit, winning Pan Am gold last year. A Final X showdown only makes sense, as these two have traded wins in their last two matches, with Makoyed taking down Guilford 10-8 at Senior World Team Trials last fall, and Guilford getting it back with a fall over Makoyed fall at U.S. Open in April. Guilford took a loss to Jordan Nelson during the college season but has looked better and better, including winning an NAIA national title in March and then Senior Pan Am gold last month in Mexico. One interesting note is that Guilford lost to Makoyed last fall at 72 kg, but her recent win against her came at 76 kg. It does make you wonder if Guilford is optimized at the higher weight. Regardless, Makoyed and her corner are masters of making tactical adjustments and you can be sure they'll be ready. This matchup has the potential to go all three, as the matches could be close.
Here's the match order for Final X Stillwater:
Bout 1 – 63 kg GR - Sammy Jones vs. Jesse Thielke
Bout 2 – 76 kg WFS — Dymond Guilford vs. Yelena Makoyed
Bout 3 – 130 kg GR —Tanner Farmer vs. Cohlton Schultz
Bout 4 – 70 kg MFS — Zain Retherford vs. Jordan Oliver
Bout 5– 72 kg GR — Pat Smith vs. Benji Peak
Bout 6 – 59 kg WFS — Lexie Basham vs. Abby Nette
Bout 7 – 82 kg GR — Ben Provisor vs. Spencer Woods
Bout 8 – 57 kg MFS — Thomas Gilman vs. Vito Arujau
Bout 9 – 55 kg GR — Max Nowry vs. Brady Koontz
Bout 10 – 61 kg MFS — Daton Fix vs. Seth Gross
Bout 11 – 55 kg WFS — Jenna Burkert vs. Jacarra Winchester
Bout 12 – 92 kg MFS — J'den Cox vs. Nate Jackson
Bout 13 – 65 kg WFS — Forrest Molinari vs. Mallory Velte
Bout 14 – 97 kg MFS — Kyle Snyder vs. Kollin Moore
Bout 15 – 68 kg WFS — Tamyra Mensah Stock vs. Sienna Ramirez