Elite 8 Duals Will Shake Up National Rankings
Elite 8 Duals Will Shake Up National Rankings
The Elite 8 Duals have once again attracted dozens of ranked high schoolers. The event is sure to shake up the national rankings.
Apr 1, 2022
by David Bray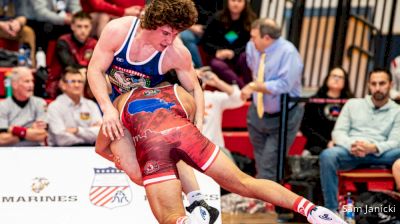 Unlock this video, live events, and more with a subscription!
Get Started
Already a subscriber? Log In
The Elite 8 Duals are kicking off freestyle season in a big way. Eight loaded teams will descend on the south to battle in freestyle dual meet pool competition on Saturday and an 8-team bracket on Sunday. Every weight has the potential to impact the rankings, but there are some especially fascinating potential matchups.
#1 Nate Jesuroga will be making his return to 120 lbs for the first time since Super 32 where he could see Fargo champ #3 Leo DeLuca and Super 32 runner up #6 Jake Crapps. If Jesuroga had stayed at 126 lbs, he could have seen #2 Troy Spratley who made his return to competition last weekend at the Pittsburgh Wrestling Classic, and politely called out Jesuroga after the match. Who knows, maybe Jesuroga moves up for that potential matchup.
Troy Spratley's PWC post-match interview expressing his desire to wrestle Jesuroga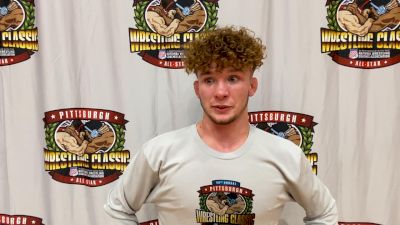 At 132 lbs we could see a battle of brothers as both #1 Nic Bouzakis and #15 Vince Bouzakis are competing for different teams. Ryder Block is also at the weight which makes it pretty fun. 145 lbs has another #1 in Cody Chittum. His toughest competition looks to be #6 Kal Miller and #15 Collin Dupill.
Both 152 lbs and 160 lbs have four ranked wrestlers in the field. At 152 it's Ironman champ #4 Ladarion Lockett, Super 32 finalist #6 Joe Sealey, 2x New Jersey champ #7 Andrew Troczynski, and Super 32 placer #11 Michael Killic while at 160 it's #5 Aiden Riggins, #8 Tyler Lillard, #9 Simon Ruiz, and #19 Nick Vafiadis.
195 lbs has an intriguing potential showdown between Sonny Sasso who recently moved to #2 and TJ Stewart who is #6 at 220 lbs but will be making his return to 195 on his way down to 86 kg for the Junior US Open. That's a clash of styles that would be a lot of fun to see.
Five ranked guys headline 220 lbs which makes it the deepest weight. #2 Ben Kueter and #3 Noah Pettigrew did not meet in Fargo last summer, so there's some mystery about how that matchup might look. Kueter did beat #8 Martin Cosgrove in the Fargo semis. #12 Carter Neves and #20 Levid Rodriguez are also in this field, so if a lot of these duals are tight at the end, these ranked matchups could be important for both rankings purposes and team results.
View full rosters below.
Beast Coast
100 - HM Davis Motyka
106 - Jayden James
113 - HM Christian Fretwell
120 - #3 Leo Deluca
120 - Jamar Anderson
126 - HM Landon Robideau
132 - #15 Vince Bouzakis
138 - Devin Stone
145 - #6 Kal Miller
152 - #7 Andrew Troczynski
160 - #9 Simon Ruiz
170 - #3 Danny Wask
182 - Ben Valdez
195 - #6 TJ Stewart
220 - #8 Martin Cosgrove
285 - Caleb Pruitt
Black Mambas
100 - Mikey Lopez
106 - Declan Strait
113 - Ty Tice
120 - Sefton Douglas
126 - HM Gable Porter
132 - Jeremy Ginter
138 - HM Jacob Bostelman
145 - HM Weston Dalton
152 - #4 Ladarion Lockett
160 - #8 Tyler Lillard
170 - Darion Johnson
182 - HM RJ May
195 - Geoffrey Freeman
220 - Tony Olea
285 - #11 Matthew Moore
CA
100 - HM Ayden Thomas
106 - Moses Mendoza
113 - HM Tyler Washburn
120 - Matt Rowland
126 - HM Casen Roark
132 - Nate Askew
138 - Hunter Sturgill
145 - Greg Merriman
152 - HM Brendon Abdon
160 - Micah Porter
170 - Kam Munro
182 - Joshua Chew
195 - HM Sonny Kling
220 - Will Caneer
285 - Nate Glass
CMP United
100 - Ollie Phillips
100 - Dylan Villers
106 - Mason Moody
113 - Allen Calderon
120 - Bentley Ellison
126 - Hudson Waldrop
132 - HM Brian Papcun
132 - Connor Kimbrough
138 - Reece Jones
145 - Sam Harris
152 - HM Seth Larson
160 - HM Creed Thomas
170 - Keenan Wyatt
182 - Kennedy Wyatt
195 - Patrick Brophy
220 - Christian Preston
220 - Connor Milhorn
285 - Will Cox
Minion Legends
100 - Antonio Mills
106 - HM Sam Herring
113 - HM Jax Forrest
120 - HM Cole Hunt
126 - #2 Troy Spratley
132 - #1 Nic Bouzakis
138 - #9 Hunter Mason
138 - Sammy Shires
145 - #1 Cody Chittum
152 - #11 Michael Kilic
160 - #19 Nick Vafiadis
170 - #15 Gunner Filipowicz
182 - #1 Matt Singleton
195 - #2 Sonny Sasso
220 - #3 Noah Pettigrew
220 - #12 Carter Neves
285 - #7 Nolan Neves
Roundtree
100 - HM Haakon Peterson
106 - HM Bryson Terrell
113 - #16 Draegen Orine
120 - #6 Jake Crapps
126 - #11 Omar Ayoub
126 - HM Amantee Mills
132 - Jo Jo Morris
138 - HM Brock Herman
145 - Jeremiah Price
152 - HM Dominic Bambinelli
152 - HM Kendrick Hodge
160 - HM Tyler Secoy
170 - Aidan Bernot
182 - Devon Bell
195 - HM Sawyer Bartelt
220 - HM Nick Pavlechko
285 - HM Jamier Ferere
Sebolt
100 - Carter Pearson
106 - HM Dru Ayala
113 - HM Reid Spurley
120 - #1 Nathanael Jesuroga
120 - Kale Peteron
126 - HM Carter Freeman
132 - #19 Ryder Block
132 - HM Evan Frost
138 - HM Jacob Frost
138 - HM Hagen Heistand
145 - HM Joel Jesuroga
152 - Carter Martinson
160 - #5 Aiden Riggins
160 - Carson Martinson
170 - HM Hayden Taylor
182 - #12 Griffin Gammell
182 - Andrew Reed
195 - HM Bradley Hill
220 - #2 Ben Kueter
285 - HM Jacob Walker
Vision Quest
100 - Liam Davis
106 - #17 Carson Dupill
113 - Cooper Shore
120 - HM Drew Gorman
126 - Zeno Moore
132 - HM JJ McComas
138 - #16 Nash Singleton
145 - #15 Collin Dupill
152 - #6 Joseph Sealey
160 - Jed Wester
170 - HM Jake Jones
182 - HM Kingsley Menifee
195 - HM Dustin Gue
220 - #20 Levid Rodriguez
220 - Nathan Carnes
285 - Ethan Vergara