2022 Pittsburgh Wrestling Classic
Complete Pittsburgh Wrestling Classic Preview
Complete Pittsburgh Wrestling Classic Preview
The Pittsburgh Wrestling Classic is just around the corner. Here's what you can look forward to.
Mar 23, 2022
by David Bray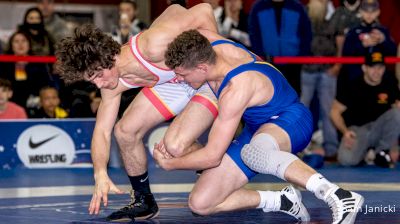 Unlock this video, live events, and more with a subscription!
Get Started
Already a subscriber? Log In
This year's Pittsburgh Wrestling Classic includes six of the top ranked wrestlers in the country and six matchups between opponents ranked in the top ten. Here's a preview of what to expect on Friday at the Rose Bowl of Wrestling.
144 lbs - Schyler Caringi, NY vs #3 Grace Stem, PA
Cadet World team member Grace Stem will look to get the ball rolling for Team PA, but she'll have a tough test in Schyler Caringi, a New Yorker with over 80 wins in her career in a schedule that mostly came against male opponents. Stem is also a Folkstyle National Champion and currently sits at #3 in the rankings. This battle will start the main event off with a bang.
120 lbs - #1 (113) Joey Cruz, CA vs Mason Leiphart, PA
Franklin & Marshall commit Mason Leiphart is fresh off a trip to the PIAA finals. He'll have his hands full on Friday when California state champ Joey Cruz comes to town. Cruz finished his high school career at 113 lbs for Clovis North and currently holds the top spot in the rankings at that weight. He was previously ranked #2 at 120 lbs. If Leiphart can win, he'll pull off one of the biggest possible upsets of the event.
126 lbs - #3 Troy Spratley, TX vs Jake Van Dee, PA
Troy Spratley comes to the PWC from Texas but competed in Oklahoma before that. He's been off the radar this year, but don't let that fool you. He earned the #3 spot in the country for a reason. The Minnesota commit was a Super 32 finalist in 2020 and will provide a nice challenge for Nebraska-bound Jake Van Dee, a 2021 PIAA champ. Van Dee is an accomplished folkstyler who has a number of high-level wins to his credit. He'll look to add one more on Friday.
132 lbs - #4 Zeke Seltzer, IN vs Brandon Chletsos, PA
Brandan Chletsos is fresh off his first PIAA title. He's headed to Rutgers after graduation and has #4 Zeke Seltzer on Friday. Seltzer is a Missouri commit who just capped off his Indiana prep career with this third state title in the tough, single-class state. Chletsos will look to pull the upset over the future Tiger.
138 lbs - #1 Jesse Mendez, IN vs Briar Priest, PA
PIAA champ Briar Priest will need to bring his A-game on Friday when #1 Jesse Mendez comes to town. Mendez is a four-time Indiana state champ who's won just about everything there is to win. He'll look to add a victory at the prestigious Pittsburgh Wrestling Classic to his resume.
145 lbs - #4 Kaleb Larkin, AZ vs Finn Solomon, PA
While there's some disparity in the rankings between Larkin and Solomon, circle this match as a potential upset. Finn Solomon wrestles a hard-nosed style that's tough for anyone to beat. Valiant Prep's Kaleb Larkin comes in at #4 in the rankings after a strong showing at Super 32.
The bout at 152 lbs is a rematch from Who's Number One in the fall. Since that time, both Garvin and Arrington have moved up a weight class and have continued to dominate in Iowa and Pennsylvania respectively. In the fall, Arrington got the win over Garvin, and he'll look to do it again for the home team on Friday.
Garvin and Arrington's match from Who's Number One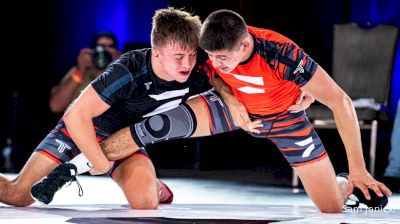 Unlock this video, live events, and more with a subscription!
Get Started
Already a subscriber? Log In
#5 Aiden Riggins and #1 Levi Haines met in perhaps the most exciting three-match series of last year's Cadet World Team Trials. Haines won matches one and three, but Riggins got it done in match two. That was freestyle, and this is folkstyle. Haines hasn't wrestled a high school match since Super 32, but he's undefeated this year in two college opens with victories over Ohio State's Paddy Gallagher and Navy's Andrew Cerniglia. He's the favorite in this rematch.
2021 Cadet Trials match #3 between Riggins and Haines
Unlock this video, live events, and more with a subscription!
Get Started
Already a subscriber? Log In
170 lbs - #1 Matt Singleton, PA vs Nolan Lear, PA
NC State commit Matt Singleton has been dominant this year with titles at Super 32 and Doc B. He may be the biggest favorite in this event, but Nolan Lear is very tough for team PA. His only loss at the PIAA Championships came at the hands of #13 Rune Lawrence.
182 lbs - #1 Clayton Whiting, WI vs #5 Jack Wehmeyer, PA
Wisconsin prep Clayton Whiting has worked his way up to #1 this season with a finals appearance at Super 32 and a win over former #1 Ryder Rogotzke after that. He'll see Malvern Prep's Jack Wehmeyer in a top 5 battle. This will be the first meeting between the two.
195 lbs - #2 Rylan Rogers, ID vs #9 Maclane Stout, PA
Super scrambler Rylan Rogers will take on rock solid Mac Stout in a clash of styles at 195 lbs. Rogers won a Super 32 title this year while Stout got it done in a tough Powerade bracket. Rogers will be at Michigan next year, and Stout will be heading to Pitt.
220 lbs - #7 TJ Stewart, MD vs #6 Dayton Pitzer, PA
TJ Stewart is the only opponent Dayton Pitzer didn't pin this year, and Pitzer needed everything he had to get that victory in the Powerade finals. Stewart got the opening takedown in that bout, but Pitzer powered back. Stewart took the bout looking for this rematch, and you can be sure this one will be electric.
Pitzer and Stewart's Powerade final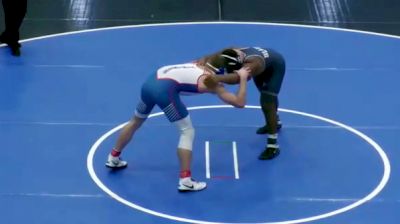 Unlock this video, live events, and more with a subscription!
Get Started
Already a subscriber? Log In
285 lbs - #4 Harley Andrews, OK vs #1 Nick Feldman, PA
Harley Andrews and Nick Feldman met at Fargo in 2019, but that was several weight classes ago at 182 lbs. Now, they're two of the top five heavyweights in the country, and Feldman is the top pound-for-pound man in the land. Feldman's dominance this year has included two victories against #2 Jim Mullen, so Andrews will have a tough test.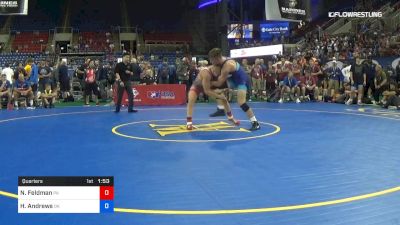 Unlock this video, live events, and more with a subscription!
Get Started
Already a subscriber? Log In
WPIAL All-Star Team vs Indiana All-Star Team
120 - Troy Hohman (Penn-Trafford) - NC State vs Braxton Vest (Westfield) - Undecided
126 - Zander Phaturos (Waynesburg) - Campbell vs Matteo Vargo (Penn) - Undecided
132 - Colton Stoneking (Waynesburg) - George Mason vs Elijah Anthony (Frankfort) - Indiana Tech
138 - Ambrose Boni (Central Valley) - Undecided vs Matthew Koontz (Perry Meridian) - Undecided
145 - Jack Pletcher (Greater Latrobe) - Pittsburgh vs Hayden Watson (Center Grove) - The Citadel
152 - Kelin Laffey (Pine-Richland) - Pittsburgh vs Tyler Jones (Warren Central) - Undecided
160 - Jared Keslar (Connellsville) - Pittsburgh vs J Conway (Floyd Central) - Missouri
170 - Logan Hoffman (Belle Vernon) - Undecided vs Brodie Porter (Eastern) - Undecided
182 - Patrick Cutchember (Quaker Valley) - Clarion vs Landon Buchanan (Jimtown) - Undecided
195 - Brian Finnerty (Thomas Jefferson) - Kent State vs Connor Barket (West Lafayette) - Undecided
220 - Cole Weightman (Belle Vernon) - IUP - Football vs Juan Grange (Penn) - Undecided
285 - Billy McChesney (Greensburg Salem) - Columbia vs Mihail Platonov (Westfield) - Undecided