2022 NCAA Championships Watch Party
These Top 5 Seeds Are On Upset Alert Early!
These Top 5 Seeds Are On Upset Alert Early!
These top-five seeds are going to have to wrestle their best early, or risk being sent to the backside of the bracket.
Mar 10, 2022
by JD Rader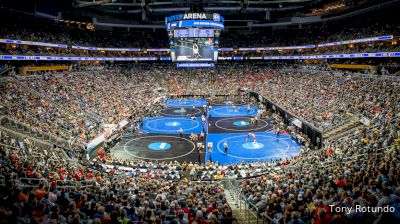 Unlock this video, live events, and more with a subscription!
Get Started
Already a subscriber? Log In
Crazy things happen every year at NCAAs and I'm sure this year will be no different. After the initial look at the brackets, which can be found HERE, I'm putting some top seeds on upset alert.
I'm not predicting these upsets to happen, but I am saying there is a higher percent chance they do than the rest.
Round One
It's very unusual and extremely hard to predict any top-five seeds going down in round one, so here are some top-10 guys that could be in trouble.
125
#7 Trevor Matrogiovanni vs #26 Kysen Terukina
Trevor Mastrogiovanni looked decent at Big 12s, taking third. The Cowboy looked much better than Kysen Terukina, in fact, who needed an at-large bid after going 1-3. However, Terukina got the better of Mastro in the dual, proving that this is indeed a winnable match.
#9 Devin Schroder vs #24 Sam Latona
I think the whole narrative that Sam Latona has fallen off of a cliff from last season is a little overstated. He took a couple not so great losses early but has looked solid as of late. In the ACC finals, he lost a close one to Jakob Camacho, which hurt him. However, he beat Camacho in the last dual of the year. To contradict myself, everyone knows the scale could be a factor for Latona and this being a first-round match could be reassuring for Boilermaker fans.
Round Two
Round two is where things can really get fun. Every #8 vs #9, #7 vs #10, #6 vs #11 is a potential upset special, but these are the top-five guys with the toughest matchups.
125
#5 Killian Cardinale vs #12 Malik Heinselman
Killian Cardinale looked like the 2021 NCAAs Killian. However, his loss early February loss to Kysen Terukina is concerning enough for me to put him on upset alert against Malik Heinselman. Now a 4X qualifier, is this the win that helps spring Heinselman onto the podium?
#13 Drake Ayala vs #4 Brandon Courtney
As a native Iowan, this is likely just a hopeful/homer pick. Brandon Courtney has only lost twice in the past two seasons, and they were to Spencer Lee and Patrick Glory. So, it's not like Courtney has shown he is vulnerable, but with multiple wins over top-10 seeds this season, I'm not ready to write Drake Ayala off yet.
141
#3 Sebastian Rivera vs #14 Dresdon Simon/#19 Chad Red
I hope I'm wrong, but it appears as though Sebastian Rivera is coming into this tournament less than 100%, and despite still receiving the #3 seed, he could be in big trouble early. Dresden Simon and Chad Red having completely out-of-character conference tournaments completely busted up this bracket. Going into conference weekend, Simon and Red were ranked #7 and #11 respectively, and they both ended up needing at large bids. If Seabass is healthy, I think he can get past either. If he's not, he's going to have to get real tough.
149
#3 Austin Gomez vs #14 Josh Finesilver/#19 Yahya Thomas
Austin Gomez wrestled absolutely lights out at Big Tens, but knowing what Yahya Thomas did last NCAAs plus knowing it was a two-point match in the dual this year should be enough to make Badger fans hold their breath during this one. Don't write off 14-seed Josh Finesilver either. The 4X qualifier made the round of 12 last year. He's capable of capatlizing if Gomez takes too much risk.
157
#4 Ed Scott vs #13 Justin Thomas
Outside of Ayala vs Courtney, this one seems like the least likely to actually be pulled off. Outside of a few matches this year, Ed Scott has wrestled lights out. Still a young guy at his first NCAA tournament however, I'm giving sixth-year senior Justin Thomas a shot.
184
#5 Bernie Truax vs #12 Brit Wilson
Bernie Truax finally took a true loss this season (Mark Hall in the Matmen Open finals doesn't count) in the Pac-12 finals to Trey Munoz. After seeing that, I'm convinced Wilson can win this one. It would be a flip-flop from the dual where Truax won 6-2, but I'm still circling this one.
197
#1 Max Dean vs #16 Kordell Norfleet
The only #1 seed I could see losing is Max Dean. I'm aware that Dean majored Kordell Norfleet during the regular season and Penn State performs best at NCAAs. For those reasons + how Dean looked at Big Ten's I don't think it happens. I'm still picking it as my most likely #1 to lose in the first rounds match.
#5 Nino Bonaccorsi vs #12 Tanner Sloan
For a returning national finalist, Nino Bonaccorsi has been shakey this year. Now, he did get over the Isaac Trumble hump at ACCs, so he's trending upwards. However, Tanner Sloan has an interesting wrestling style that could pose some problems for the Panther.
285
#5 Wyatt Hendrickson vs #12 Christian Lance
This is where we really find out if Wyatt Hendrickson is the real deal. I think he is, and will overwhelm Christian Lance. Lance is good at slowing things down though. This will be Hendrickson's biggest test to this point. Can he keep it rolling?