NCAA Bracket Reveal Show
Who Was Helped Or Hurt The Most By Their NCAA Seeds
Who Was Helped Or Hurt The Most By Their NCAA Seeds
An analysis of who got the biggest boost and who was hindered the most by their NCAA seeds at the 2022 Tournament.
Mar 11, 2022
by Andrew Spey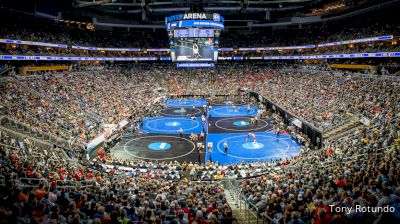 Unlock this video, live events, and more with a subscription!
Get Started
Already a subscriber? Log In
Unlock this article, live events, and more with a subscription!
Get Started
Already a subscriber? Log In
NCAA Championship Tournament seeds don't always align with expectations. Outside of the coaches' poll, however, there is essentially no human element is involved. A seed is determined by a national qualifier's body of work over the course of the season, as well as that of his competitors, and then a formula which is applied to everyone.

Thus, sometimes a seed can be assigned to a wrestler that can be described as nothing short of a head-scratcher.
Below, we analyze some of the seeding surprises we noticed in every weight class.
125 Pounds
Drew Hildebrandt was an All-American in 2021 and spent the year ranked in and around the top 10 ever since returning to action in the second semester. Going 0-2 at Big Tens could not have helped his seed as he checks in at #16 at the NCAAs.
His path to the semis will now go through #1 seed Nick Suriano in the around of 16 and the winner of McKee/Schroder in the quarterfinals.
Killian Cardinale, on the other hand, was ranked #13 but got a big boost from winning Big 12s, and received the #5 seed, which should be a big help in his quest to repeat as All-American.
---
133 Pounds
Austin DeSanto has to have mixed feelings about dropping from #3 in the rankings to the #5 seed. On the one hand, he avoids Daton Fix in the semifinals. On the other hand, he gets another rematch against RBY.
Brock Hudkins didn't have a great Big Ten tournament, but it didn't hurt his seed much, as he still received the #13, despite being ranked down at #18.
---
141 Pounds
Stevan Micic battled back from a first-round loss at the Big Ten Championships to place third. He was helped by medical forfeits, however, and his seed (#24) is not that of a typical Big Ten 3rd-placer. He'll have a tough time navigating that bracket to the podium in his quest for a fourth All-American honor.
Big Ten rival Chad Red is in a similar situation, going for four-time AA status but having to do it from a seed (#19), far below where he is ranked (#12).
On the flip side of the bracket are EIWA rivals CJ Composto of Penn and Matt Kazimir of Columbia, who both jumped up nine spots from where they were ranked to where they are seeded (#12 & #11 respectively).
---
149 Pounds
Zach Sherman had a losing record against D1 opponents (5-9) this season but is a returning 2021 All-American (seventh) and had one of the toughest schedules imaginable this year.
Sherman lost to #2 Tariq Wilson (two times), #3 Austin Gomez, #4 Sammy Sasso, #5 Ridge Lovett, #6 Bryce Andonian, #8 Jonathan Millner, #9 Josh Heil, and #11 Josh Finesilver.
Despite that ambitious schedule and a #17 ranking (#20 in the 2nd coaches' poll), Sherman was punished by the seeding formula and will wrestle a pigtail with the #33 seed.
The seeding formula worked to the benefit of Kaden Gfeller, as the Cowboy won Big 12s and received the #9 seed despite being ranked 18th. He'll be counted on for team points for Oklahoma State as they strive for All-Americans.
---
157 Pounds
Wyatt Sheets made the podium in 2021 from the #33 seed. He'll have an ever-so-slightly easier task this season as he 'improves' to the #31 seed after a rough Big 12 Tournament.
2021 National champion Austin O'Connor will have an uphill climb to the top of the podium in 2022, as the #7 ranked Tar Heel Champ received the #11 seed.
Others in the 157-pound field dinged in the seeds were Brady Berge, Kendall Coleman, and Jarrett Jacques, who all received seeds six or seven spots lower than their rankings.
AOC lost in the ACC finals, and the beneficiary of that result is the Wolfpack's Ed Scott, who gets a bump from his #6 rank to the #4 seed.
---
165 Pounds
#9 Anthony Valencia placed 4th at the Pac 12 tournament and where he lost to Shane Griffith and Matthew Olguin. He also needed an at-large bid to make the tournament and was dropped in the seeds all the way down to #18.
Thirteenth-ranked Peyton Hall made the finals of the Big 12 tournament before losing to Keegan O'Toole, earning himself the #9 seed. Hall finished in the round of 12 last year and has a great chance to earn AA honors in Detroit.
---
174 Pounds
Chris Foca was the #2 seed at EIWA but had to forfeit out after an injury in the semis. He needed an at-large bid to make the tournament and was likely docked a few spots because of that, falling to the #14 seed while being ranked eleventh.
Mickey O'Malley has had a solid season but a loss to Matt Finesilver and a lack of higher-ranked wins kept him down at #17 in the 174-pound rankings. The seeding committee rewarded O'Malley in a big way, however, assigning him the #8 seed after he won an EIWA title.
---
184 Pounds
Brit Wilson won the MAC and has been ranked in the top ten all season long but was likely punished because due to his earlier season loss to ninth-seeded Zach Braunagel, dropping to the #12 seed.
Speaking of Zac Braunagel, the seeding formula side-stepped Braunagel's seven losses and rewarded him for his third-place finish at the Big 10 tournament with the #9 seed.
---
197 Pounds
Once again, Jake Woodley will have to trudge through the bracket as a low seed at the NCAA tournament because of a fourth-place finish at Big 12s where he lost to Owen Pentz and Rocky Elam. He is ranked ninth but received the #13 seed.
Though he was a 2021 NCAA finalist, Nino Bonaccorsi did not have a commensurate season and was ranked #14 after the ACC tournament in a very deep and evenly matched 197-pound field. He got a boost after winning his conference tournament and avenging a regular-season loss to NC State's Isaac Trumble to earn the #5 seed.
---
285 Pounds
Sooner Josh Heindselman took sixth place at Big 12s, dropping matches to AJ Nevills, Sam Schuyler, and Wyatt Hendrickson, and dropped from #21 in the rankings to a #30 seed.
Helping his cause at his respective conference tournament was #16 ranked Nathan Traxler who was rewarded with the #10 seed after winning ACCs and avenging his regular-season loss to Virginia's Quinn Miller (who he coincidentally has in the first round).