2022 NCAA Watch Party: Conference Weekend
Nittany Notes: Bravo-Young Leading Penn State Into Postseason On A Tear
Nittany Notes: Bravo-Young Leading Penn State Into Postseason On A Tear
NCAA champ Roman Bravo-Young has picked up strength, savvy and little skills during his time at Penn State and enters the postseason on a roll.
Mar 4, 2022
by Travis Johnson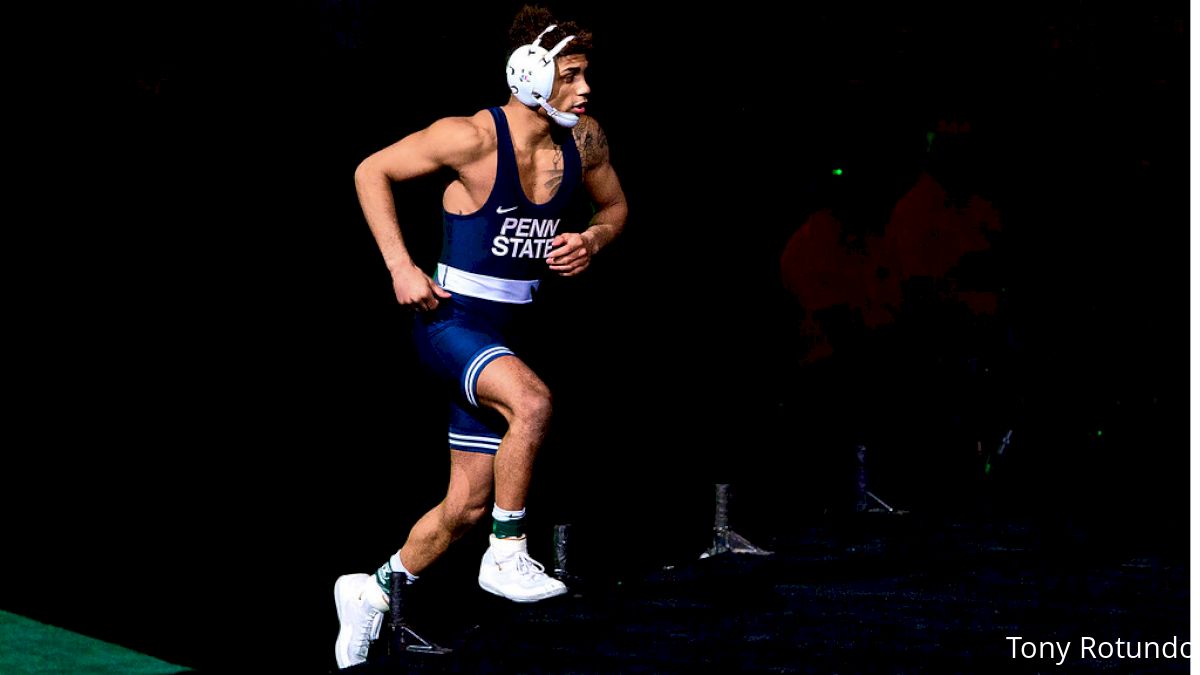 Unlock this article, live events, and more with a subscription!
Get Started
Already a subscriber? Log In
The best statistical stretch of Roman Bravo-Young's career got off on a rocky start.
Off the opening whistle of his first match of the season, Penn State's star 133-pounder popped up and down, jolted side to side and briefly locked up with Sacred Heart's Anthony Petrillo. They separated, and Petrillo dropped to a knee in the center of the mat, waiting while Bravo-Young shuffled in.
Closer. Closer.
Once the returning 133-pound national champion's left leg was within reach, Petrillo struck, and over the next few seconds reeled Bravo-Young in for the takedown. The lead wouldn't last very long as Bravo-Young would wriggle free and overpower Petrillo for a fall a few minutes later.
But Petrillo's breakthrough was enough to remind Bravo-Young of his freshman campaign when his stand-up defense was exposed by more experienced and stronger opponents. That experience has stayed in the back of Bravo-Young's mind during an impressive run that's seen him not only lead Penn State in offense but become virtually impossible to score on.
Since his win over Petrillo, Bravo-Young is 13-0 with an 80-0 takedown differential.
"He's like water," teammate Aaron Brooks said. "He can flow and crash."
Bravo-Young has always been like that to a degree. He was always able to blend speed and precision to outpace foes in high school and against lesser collegiate opponents early on. But once the competition got tougher, Bravo-Young found that he needed to find other ways to improve his defense.
And he didn't have a redshirt year to figure it out. He was thrust into the starting lineup from the get-go as a true freshman.
"I lost a lot of matches and was getting scored on a lot my freshman year," Bravo-Young said earlier this week. "I was getting thrown out in the fire coming from Arizona, wrestling the best guys in college, just over time you just pick up on little things."
Among those little things? Bravo-Young figured out how to better harness his own early-period energy and focus on making himself tough for opponents to even set up against.
He's done so by improving his hand fighting, picking better spots to shrug opponents off and by keeping up his own offensive pressure to keep foes on their heels and not leave many openings for re-attacks.
He's had some help from former Iowa great and reigning 57-kilogram freestyle World champion Thomas Gilman. The two have worked out since Gilman joined the Nittany Lion Wrestling Club to further his freestyle training.
Bravo-Young said rolling with the former Iowa star has helped him develop faster.
"Freshman year I was going against my joints," Bravo-Young said. "Now this year I'm doing things more technically, my technique's a lot better, I'm more filled out for the weight. Just growing up over time, that's all it is."
Bravo-Young will likely be the top seed at 133 when Penn State tries to recapture the Big Ten postseason championship in Lincoln, Nebraska this weekend.
If Bravo-Young's trajectory is any indication, the Nittany Lions figure to have a good shot to win their seventh Big Ten championship under coach Cael Sanderson.
As time has gone on, the usually unfazed Bravo-Young has learned to appreciate the significance of winning conference titles. Two years without a major team title also has the senior hoping to bring home another pair of postseason wins.
"I think for me, this year, it's going to mean a lot more if we find a way to win Big Tens and nationals," Bravo-Young said.
Still Waiting
Will Bravo-Young return to Penn State next season? Maybe.
Although the senior could come back for a fifth season after the NCAA offered athletes an additional year of eligibility in the wake of the COVID-19 pandemic, Bravo-Young insists he hasn't made a decision nor given it much thought.
He has been asked over and over again, however.
"At the end of the day it's going to be up to me," Bravo-Young said. "I don't owe anyone anything. I did my four years here, so play it by ear."
Added Firepower
When Sanderson added Max Dean and Drew Hildebrandt to the roster he was already looking forward to what they would bring to the team in a tournament context.
Now it's time for the two newest Nittany Lions to show off a bit.
Both will make their postseason debuts with Penn State and Sanderson hopes they can add another chapter to their long careers, one that includes Penn State reclaiming the NCAA team title.
"They're both just really consistent," Sanderson said. "They do everything right. They're early to practice every day, they're coachable. We have a really solid lineup right now."
184 Strong
Unless he's abducted by aliens from a far off galaxy in the next few weeks, Brooks is heading to the NCAA tournament.
Even if the Big Ten only had a few allocated spots at 184 pounds, Brooks — the defending national champ at the weight — has to be favored. But the Big Ten will send 12 wrestlers to NCAAs. Pretty much everyone is safe this weekend barring injury. The Big Ten currently has 11 184-pounders ranked in the Top 25.
"I had a tough match usually every weekend of every week," Brooks said. "I was aware that the Big Ten was really stacked at 184, so it doesn't surprise me that there's 12 spots."