2022 Iowa HS Wrestling State Championship
2022 Iowa State Tournament College Guide
2022 Iowa State Tournament College Guide
Take a look at which state tournament wrestlers will be representing your favorite college team at the next level.
Feb 14, 2022
by JD Rader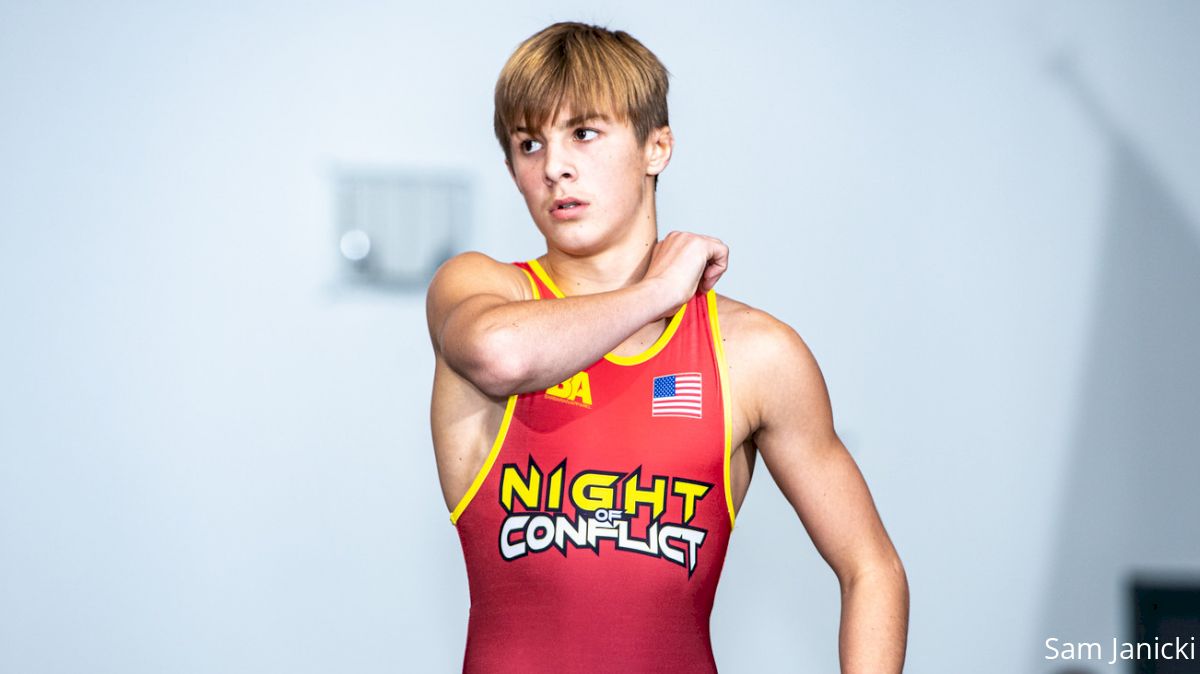 There will be a total of 36 wrestlers competing in Wells Fargo Arena this weekend who have already signed to compete at the next level. While Div I leads the way with 28 wrestlers, and Iowa leads all teams with 10 recruits, all five levels of college wrestling will be represented.
Southeast Polk unsurprisingly leads the way with five committed wrestlers, all of whom are going to the University of Iowa. Don Bosco has the second most with three. Quite a few weights have several committed wrestlers. However, 3A 132, 138, 145, 152, and 160 are the only weights to have multiple Div I commits.
If you're a fan of any of the following college teams, I suggest you set your TrackWrestilng text/email alerts so you can follow the future of your team! You can find out how to do that HERE.
Check out all the recruits we could find. If we missed anyone, email jd.rader@flosports.tv.
| | | | | | |
| --- | --- | --- | --- | --- | --- |
| College | Name | Team | Weight Class | Grade | Record |
| Campbell | Hagen Heistand | Underwood | 1A-145 | 12 | 46-3 |
| Coe | Jaiden Moore | Benton Community | 2A-126 | 12 | 37-0 |
| Coe | Blake Engel | West Delaware | 2A-132 | 12 | 31-7 |
| Columbia | Evan Frost | Dowling Catholic | 3A-132 | 12 | 30-1 |
| Columbia | Jacob Frost | Dowling Catholic | 3A-138 | 12 | 29-1 |
| Cornell College | Jackson Brinker | Johnston | 3A-195 | 12 | 20-6 |
| Ellsworth CC | Tegan Carson | Central Decatur | 2A-220 | 12 | 44-1 |
| Grand View | Cameron Clark | West Sioux | 1A-126 | 12 | 45-1 |
| Iowa | Easton Fleshman | West Lyon | 2A-285 | 12 | 43-1 |
| Iowa | Nathanael Jesuroga | Southeast Polk | 3A-126 | 11 | 39-1 |
| Iowa | Jace Rhodes | Mason City | 3A-132 | 12 | 31-3 |
| Iowa | Ryder Block | Waverly-Shell Rock | 3A-138 | 11 | 34-0 |
| Iowa | Joel Jesuroga | Southeast Polk | 3A-145 | 12 | 36-1 |
| Iowa | Carter Martinson | Southeast Polk | 3A-152 | 12 | 31-2 |
| Iowa | Carson Martinson | Southeast Polk | 3A-160 | 12 | 35-4 |
| Iowa | Aiden Riggins | Waverly-Shell Rock | 3A-160 | 12 | 39-0 |
| Iowa | Bradley Hill | Bettendorf | 3A-195 | 12 | 38-1 |
| Iowa | Ben Kueter | Iowa City, City High | 3A-220 | 11 | 33-0 |
| Iowa State | Carter Fousek | Crestwood, Cresco | 2A-138 | 12 | 18-1 |
| Iowa State | Fernando Villaescusa | Gilbert | 2A-182 | 12 | 35-1 |
| Iowa State | Tate Naaktgeboren | Linn-Mar | 3A-170 | 11 | 36-2 |
| Newberry College | Andrew Reed | Southeast Polk | 3A-195 | 12 | 36-5 |
| North Carolina | Cade Tenold | Don Bosco | 1A-170 | 12 | 31-2 |
| North Carolina | Carson Tenold | Don Bosco | 1A-195 | 12 | 23-2 |
| SIUE | Marcel Lopez | New London | 1A-126 | 12 | 51-0 |
| Stanford | Hunter Garvin | Iowa City, West | 3A-152 | 12 | 44-0 |
| UNI | Garrett Funk | Don Bosco | 1A-132 | 12 | 28-2 |
| UNI | Chet Buss | North Butler-Clarksville | 1A-285 | 12 | 44-0 |
| UNI | Wyatt Voelker | West Delaware | 2A-195 | 12 | 40-0 |
| UNI | Trever Anderson | Ankeny | 3A-120 | 12 | 32-1 |
| Upper Iowa | Joe Ebaugh | Denver | 1A-132 | 12 | 37-6 |
| Upper Iowa | Lawson Losee | Riceville | 1A-160 | 12 | 39-4 |
| Upper Iowa | Matthew Wirtz | Emmetsburg | 1A-195 | 12 | 37-0 |
| Upper Iowa | Mitchel Marr | Riceville | 1A-285 | 12 | 39-5 |
| UW-Platteville | Peyton Westlin | North Scott | 3A-152 | 12 | 31-5 |
| UW-Platteville | Kasey Ross | Urbandale | 3A-170 | 12 | 42-1 |
| Virginia | Robert Avila | Iowa City, West | 3A-145 | 12 | 11-1 |
| Virginia | Griffin Gammell | Waukee Northwest | 3A-182 | 12 | 43-1 |