2022 Bout at the Ballpark Presented by Kubota
Coach Smith vs Coach Brands: By The Numbers
Coach Smith vs Coach Brands: By The Numbers
The history and numbers behind the head coaches at collegiate wrestling rivals Iowa and Oklahoma State.
Feb 10, 2022
by Andrew Spey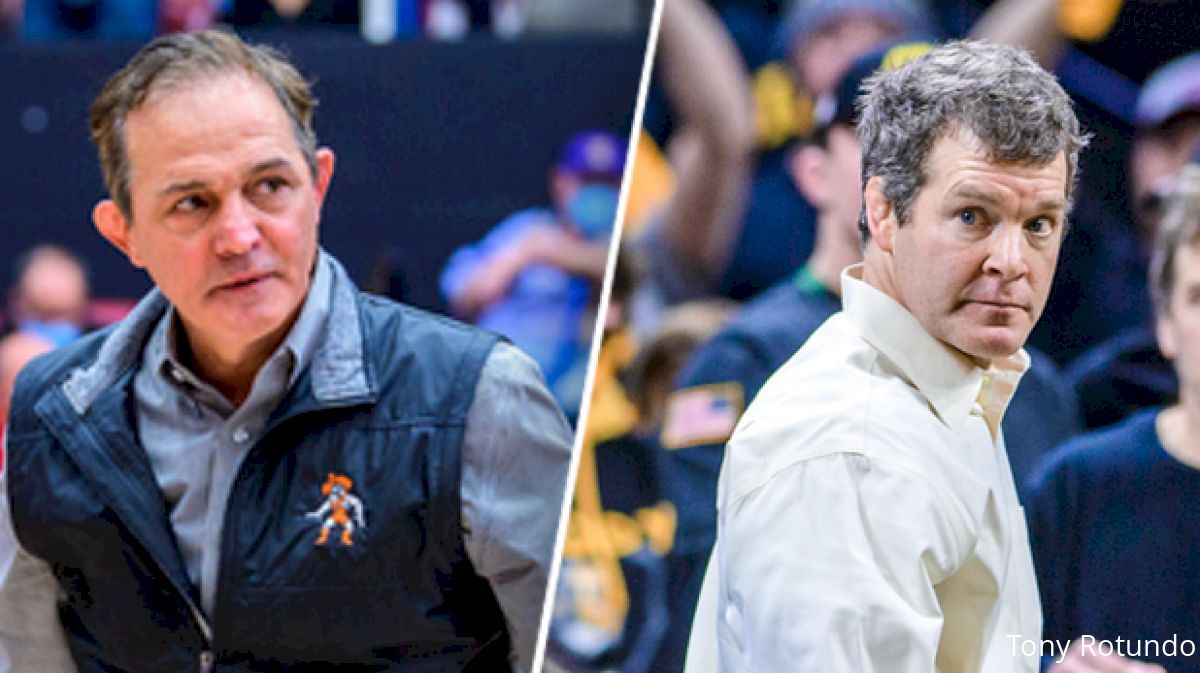 We're night upon the 55th meeting between the bluest of college wrestling's bluebloods. Directing those programs are the Hawkeyes' helmsman Tom Brands, now in year 16 of his tenure, and John Smith, who is in his 31st year of corraling the Cowboys.
Brands and Smith have faced off in a total of 15 dual meets, with the all-time tally knotted up at 7-7-1. Since dual meet scores are now broken via criteria, following the conclusion of Bout at the Ballpark, one head coach will leave Globe Life Field with a winning record in this historic series, while the other will return home plotting on how to tie things back up.
Below are more facts and figures on the head coaches of collegiate wrestling's greatest rivalry.
Tom Brands
248-24-1 career record while head coach of Iowa
265-44-1 career record including his two seasons as head coach of Virginia Tech (2005 and 2006)
Four NCAA team championships (2008, 2009, 2010, 2021)
Six Big Ten team championships
Three-time NWCA National Coach of the Year (2008, 2020, 2021)
Five-time Big Ten Coach of the Year (2008, 2009, 2010, 2020, 2021).
13 NCAA individual champs from eight different wrestlers
87 NCAA All-American honors
Qualified 10 wrestlers to the NCAAs five times (2010, 2014, 2015, 2020, 2021)
Two-time World and Olympic Gold Medalist (1993 Worlds; 1996 Olympics)
---
John Smith
460-68-6 career record, all at Oklahoma State
126 Conference individual champs
Five NCAA team championships (1994, 2003, 2004, 2005, 2006)
21 Conference team championships
Two-time NWCA National Coach of the Year (1994, 2003)
15-time conference Coach of the Year (Big Eight: 1994, 1996; Big 12: 1997, 1998, 2001, 2003, 2004, 2005, 2006, 2010, 2011, 2013, 2014, 2015, 2016)
33 NCAA individual champs from 19 different wrestlers
140 NCAA All-Americans honors
Six-Time World and Olympic Gold Medalist (1987, 1989, 1990, 1991 Worlds; 1988, 1992 Olympics)
Nine former wrestlers that are now NCAA D1 head coaches (Kevin Ward, Army; John Mark Bentley, App State; Glen Lanham, Duke; Neil Erisman, Little Rock; Coleman Scott, North Carolina; Pat Popolizio, NC State; Chris Pendleton, Oregon State; Mark Cody, Presbyterian; Mark Branch, Wyoming)
Both coaches were named in our Top 100 American Wrestlers of All-Time, and both ranked quite highly (Brands #16, Smith #1).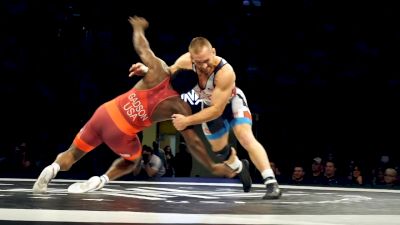 And perhaps even more prestigiously than that, both coaches made our list Best Dressed Vests of the NCAA.