Rankings: College Wrestling's 12 Best Vests
Rankings: College Wrestling's 12 Best Vests
Which college coaches have donned the best vests? Guess who impressed and we will assess who dressed their chest with the blessed of the vests.
Sep 14, 2017
by Andrew Spey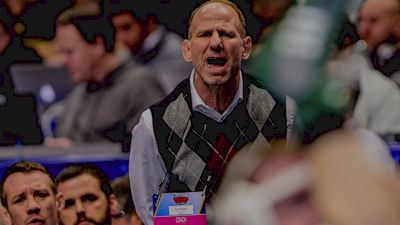 College wrestling coaches are often so much more than coaches. Their job requires them to inhabit numerous roles. They are coaches, administrators, mentors, fundraisers, promoters, and often, wearers of vests.
There's no uniform for wrestling coaches, and vests certainly aren't mandatory. A coach's attire depends on the occasion. High-profile matches like the NCAA finals require a professional suit, whereas in the practice room, many coaches -- even those in their sunset years -- still roll around in sweat suits. But most other times it's business casual, a dress code that conveys a flexibility that will accommodate a wide variety of vesticular options.
Wrestling coaches have been keen to take advantage of the benefits of vest-wear with its nigh unparalleled combination of freedom and functionality. Cumbersome sleeves are but superfluous accoutrement for the confused and knavish. Your sleeves are for fools! Unfetter your appendages from the shackles of coats and jacketry!
And so...
An inquest: which college coaches have donned the best vests? Guess who impressed for we will assess who dressed their chest with the blessed of the vests.
12. Matt Dernlan, Binghamton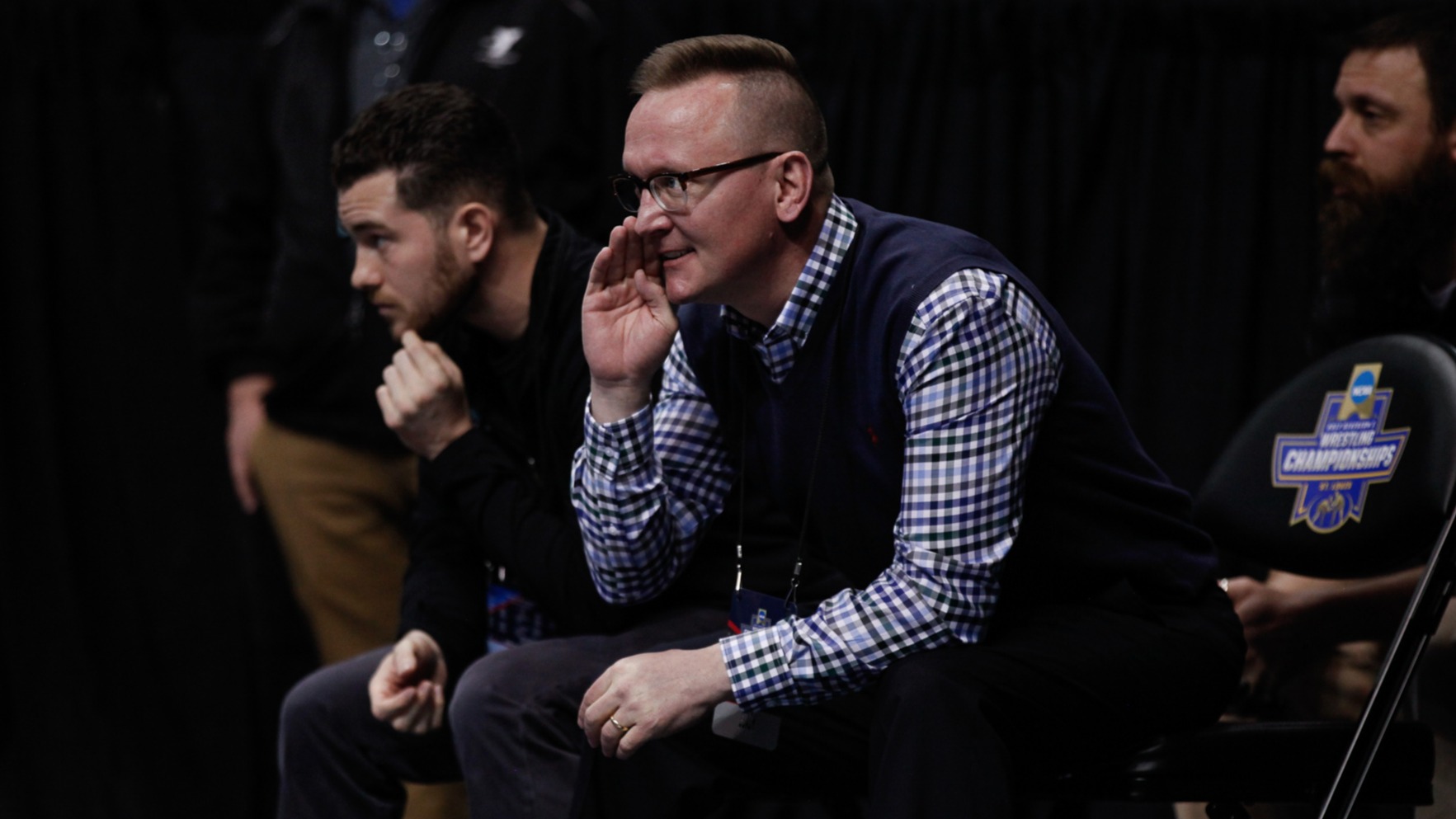 Coach Dernlan gets the ball rolling with a smart sweater vest and button-down combo at the 2017 NCAA Tournament. Dernlan's haircut also mimics the form of a vest, if you think of the side of your head as the "sleeves" of your cranium.
11. Frank Molinaro, Virginia Tech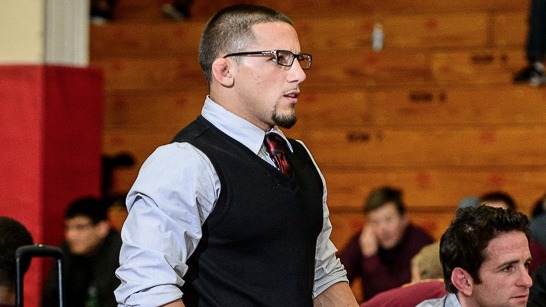 Rio Olympian and Hokies assistant coach Frank Molinaro is also sporting a sweater vest, though here Frank includes a necktie. Molinaro's various hairstyles through the years could (and honestly should) be the subject of their own investigatory article.
10. Ryan Morningstar, Iowa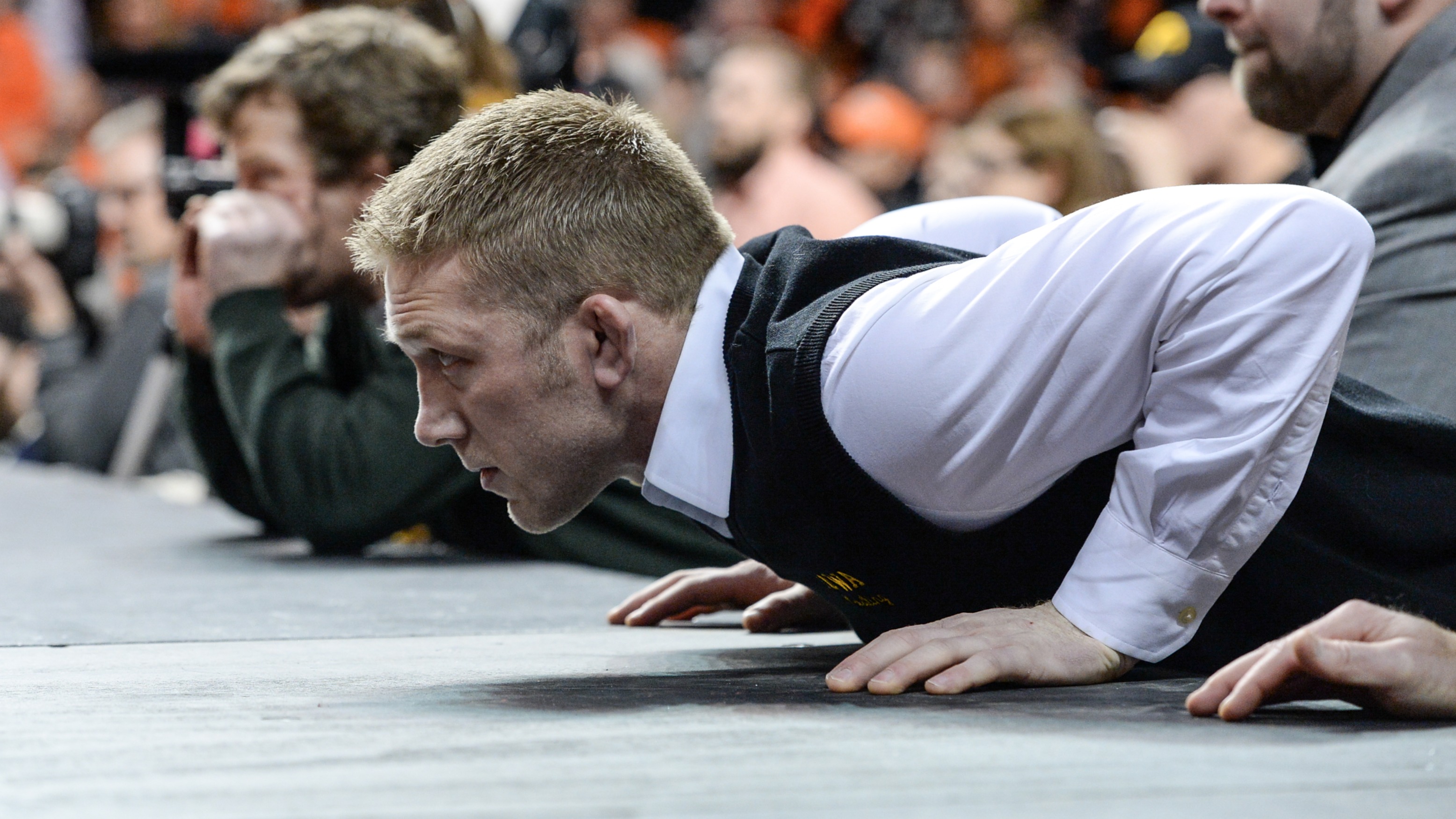 Another sweater vest and button-down shirt set, very similar to the Molinaro and Dernlan looks we just saw. Here Morningstar shows off the versatility of the vest. Would the Hawkeyes assistant coach have been able to strike this pose on a raised wrestling stage if he was wearing a sweater with a full complement of sleeves? Well yeah, of course. But it would have taken more effort because of all the extra fabric he'd have to move around. That vest is just smart strategy and good tactics from Coach Morningstar.
9. Kevin Dresser, Mike Zadick and Brent Metcalf, Iowa State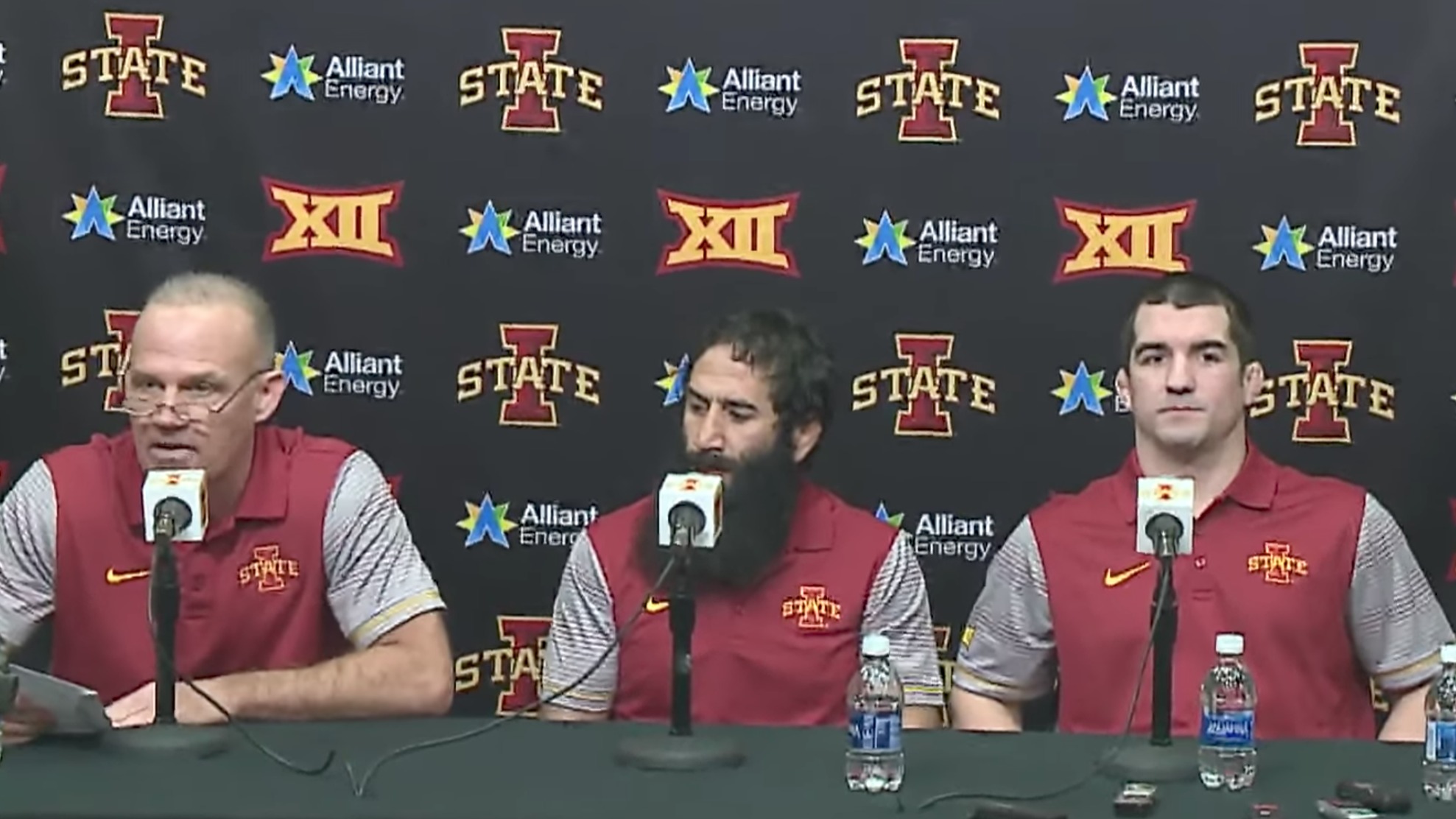 What? No no no! What is this? Despite what
some
people would have you believe, just because your polo shirt has different colored sleeves does NOT make it count as a vest! These are clearly just collared T-shirts. Disqualified! Next!
9. Brian Smith, Missouri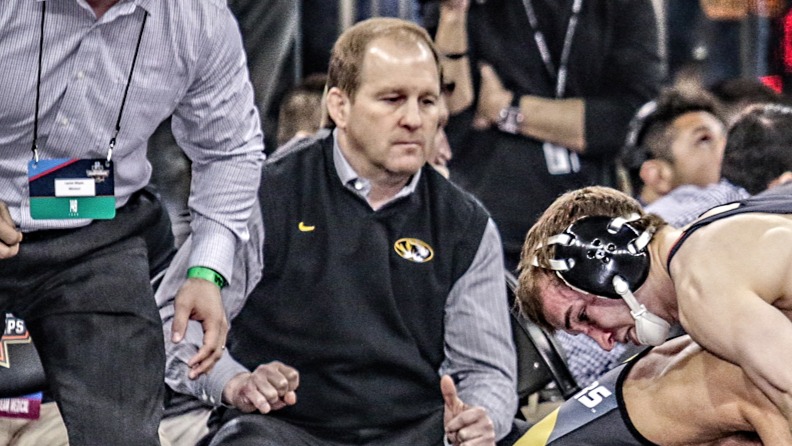 Thank you, much better. Now, the NCAA national championship is the crown jewel of the college wrestling season. So here Coach Smith fittingly wears the crown jewel of torso coverings. His sweater vest and shirt combo is on point while he corners a Mizzou Tiger at NCAAs.
8. Mark Manning, Nebraska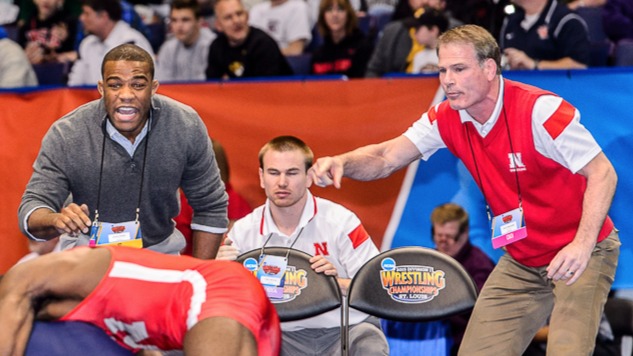 Coach Manning (right, vested) has coached Jordan Burroughs (left, unvested), to two NCAA titles, four world championships, and an Olympic gold medal. Maybe he can coach Burroughs on his wardrobe next, specifically the lack of vests therein.
7. Scott Goodale, Rutgers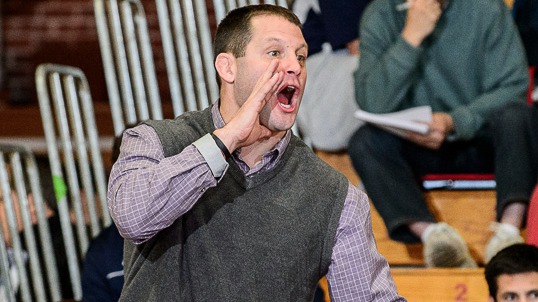 Coach Goodale has raised the profile of the Rutgers wrestling program to a prominence not seen before in school history. His propensity for vestitry has taken the Scarlet Knights' sartorial reputation to even loftier heights.
6. Tom Brands, Iowa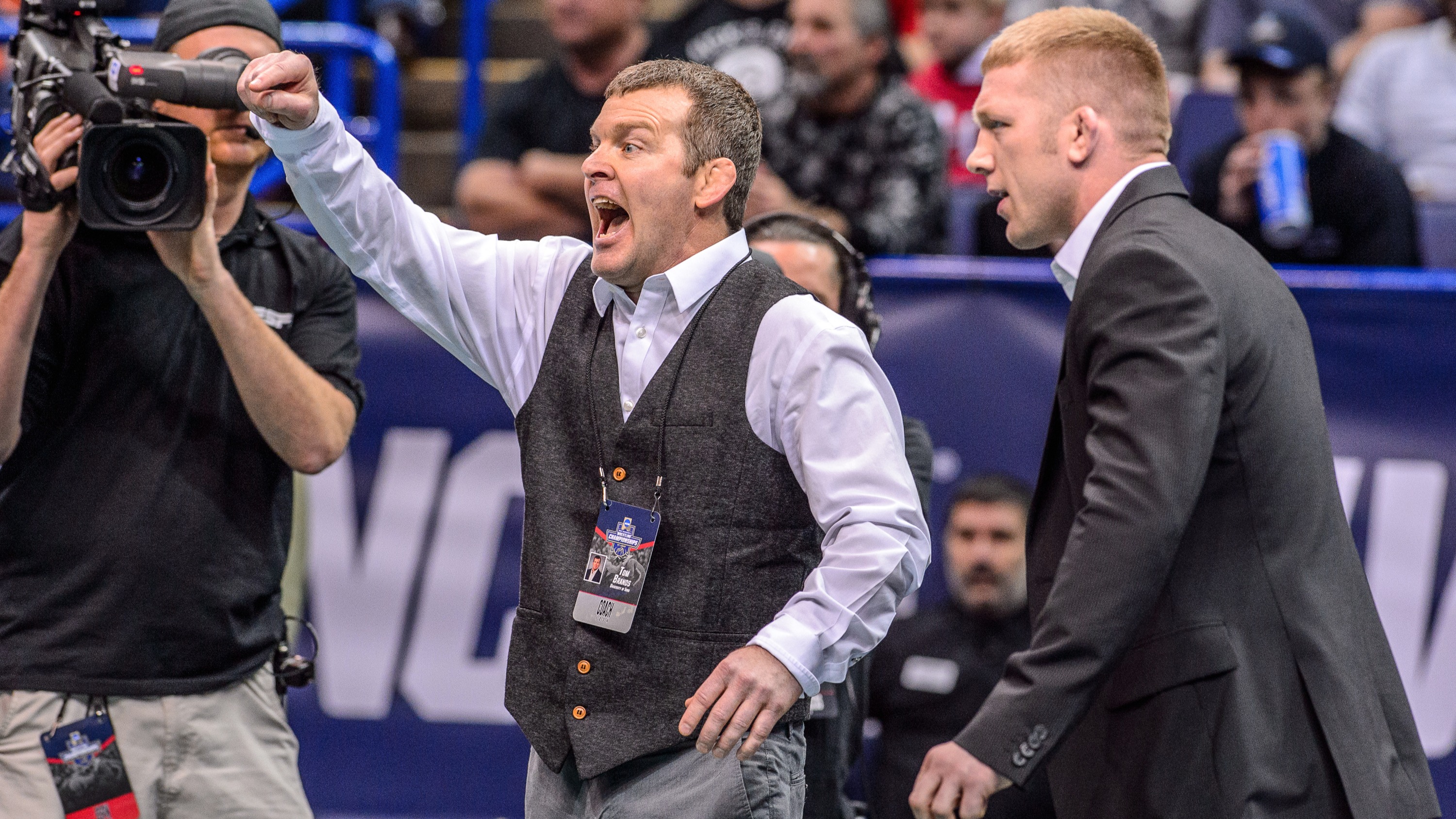 Voilà! In view, a vaudevillian veteran of the sport, cast vicariously as both victim and villain by the vicissitudes of fate. His vest, no mere veneer of vanity, is a virtuous vanquisher of those with venal and verminous tastes. Tom Brands' victorious vest has but one verdict: vogue.
5. J Jaggers, Ohio State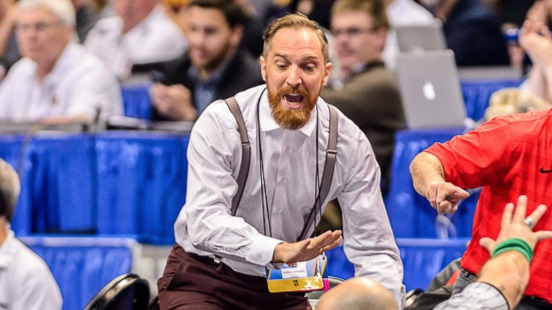 Who did this? WHO PUT THIS HERE? Who is deliberately trying to infuriate me!?! Suspenders are NOT VESTS. Yes, they go over your shoulders. Yes, they have no sleeves. But they are absolutely in no way shape or form a vest! If anything they are closer to pants! But they aren't that either!
I think I know who might hold the outrageous opinion that suspenders are a vest, but I will withhold my accusation until further in
vest
igation.
5. Drew Headlee, Pitt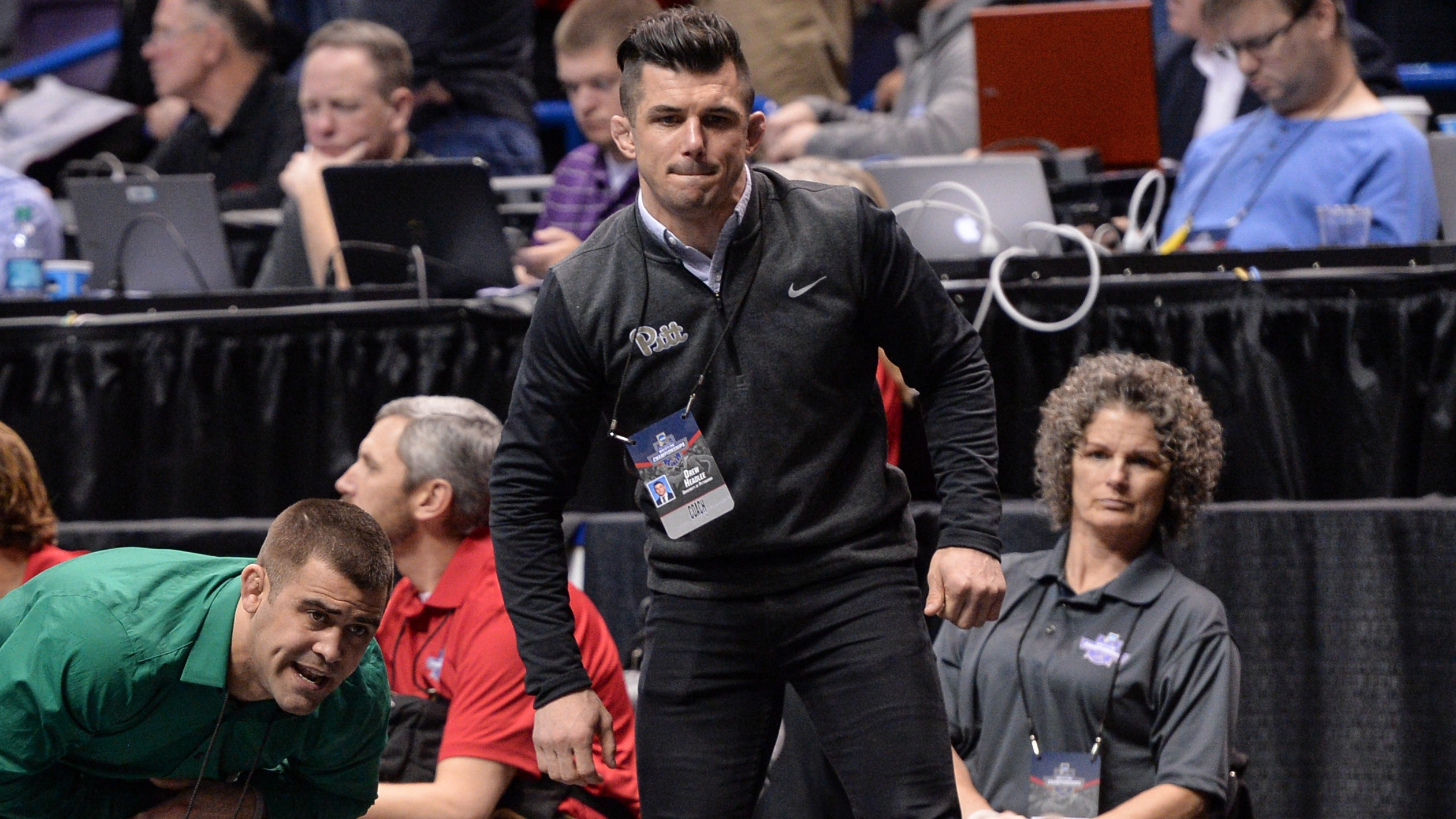 This is also not a vest! This is a shirt! With sleeves! And if I ever find out who... oh, wait a minute. Hold on. I think this is a vest, actually. Computer: enhance.
Now would you look at that? It's a vest! Well done Coach Headlee! Good show!
4. Sammie Henson, West Virginia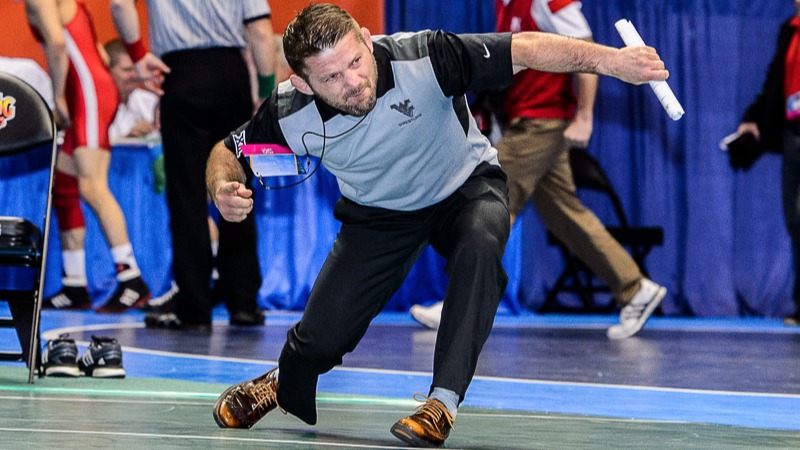 We've reached elite status. The best of the rest of the vests. Coach Henson, besides looking like he's about to bowl a strike, has the entire ensemble working for him. From the shoes to the pants to the lanyard, all culminating with a spectacular vest. Any future entries looking to beat this outfit will have a tall order ahead of them.
3. Tim Flynn, Edinboro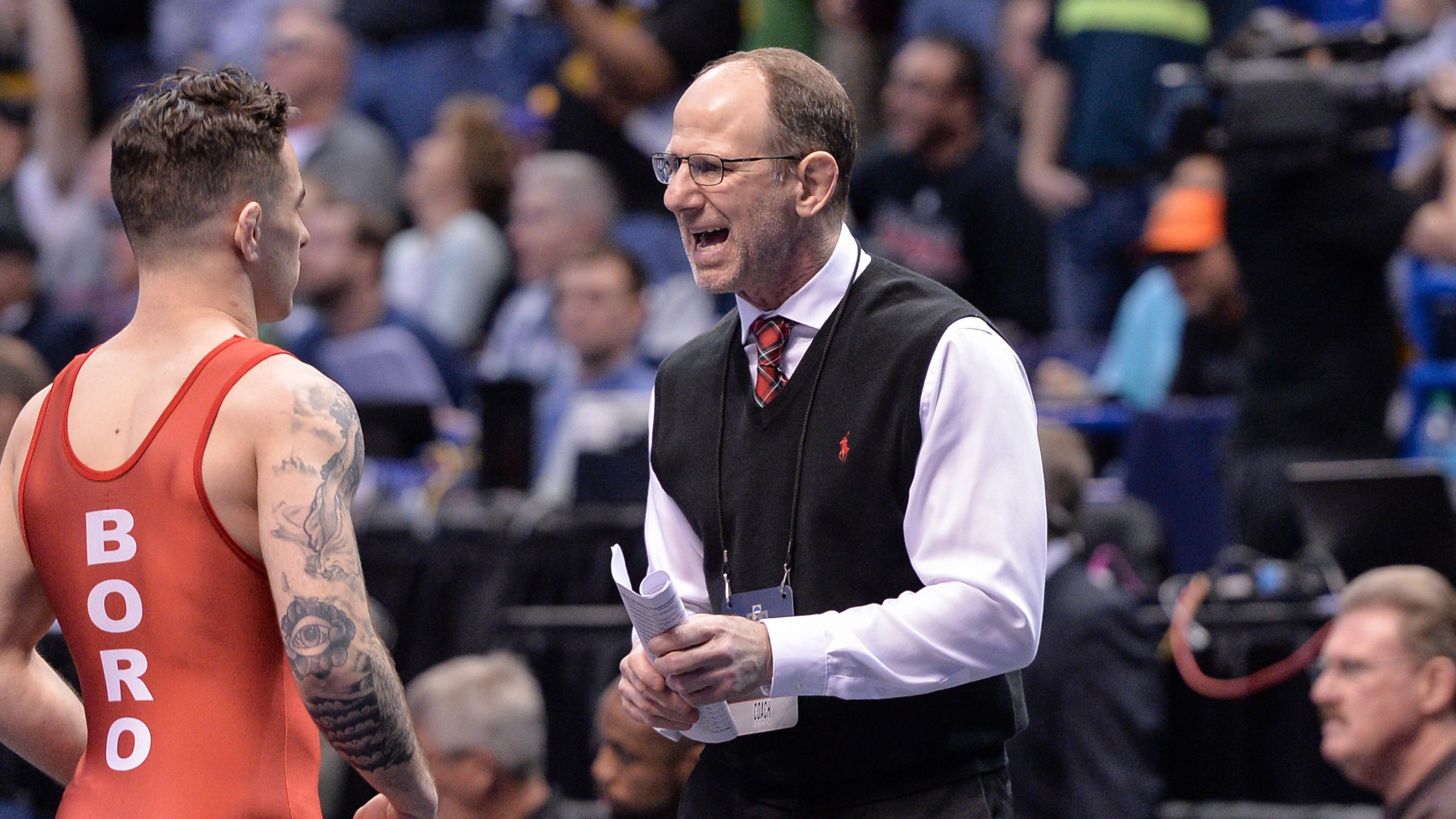 The Endinboro Fighting Scots compete in a panoply of innovative
singlet designs
and wrestle on a
plaid mat
, so to be honest I was hoping for something more than "just" the classic sweater vest from Coach Flynn. I was hoping for something with a little more pizzazz, something in an argyle perhaps?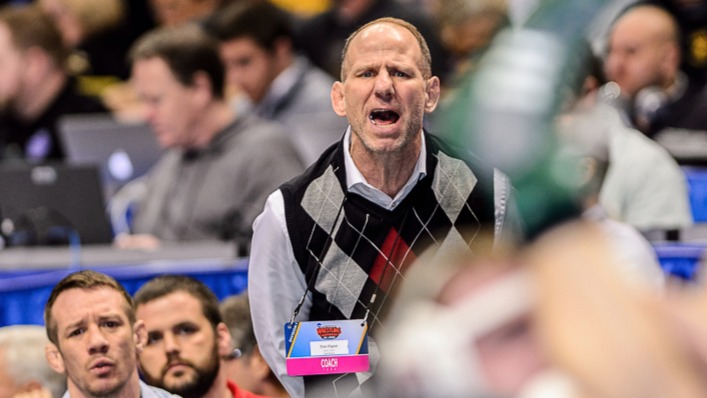 Ah, OK, here we go, now we're talking. Maybe not the absolute very best, but this is very, very nice. We have entered rarified air.
Who else might profess to possess the best vest?
2. Chris Bono, South Dakota State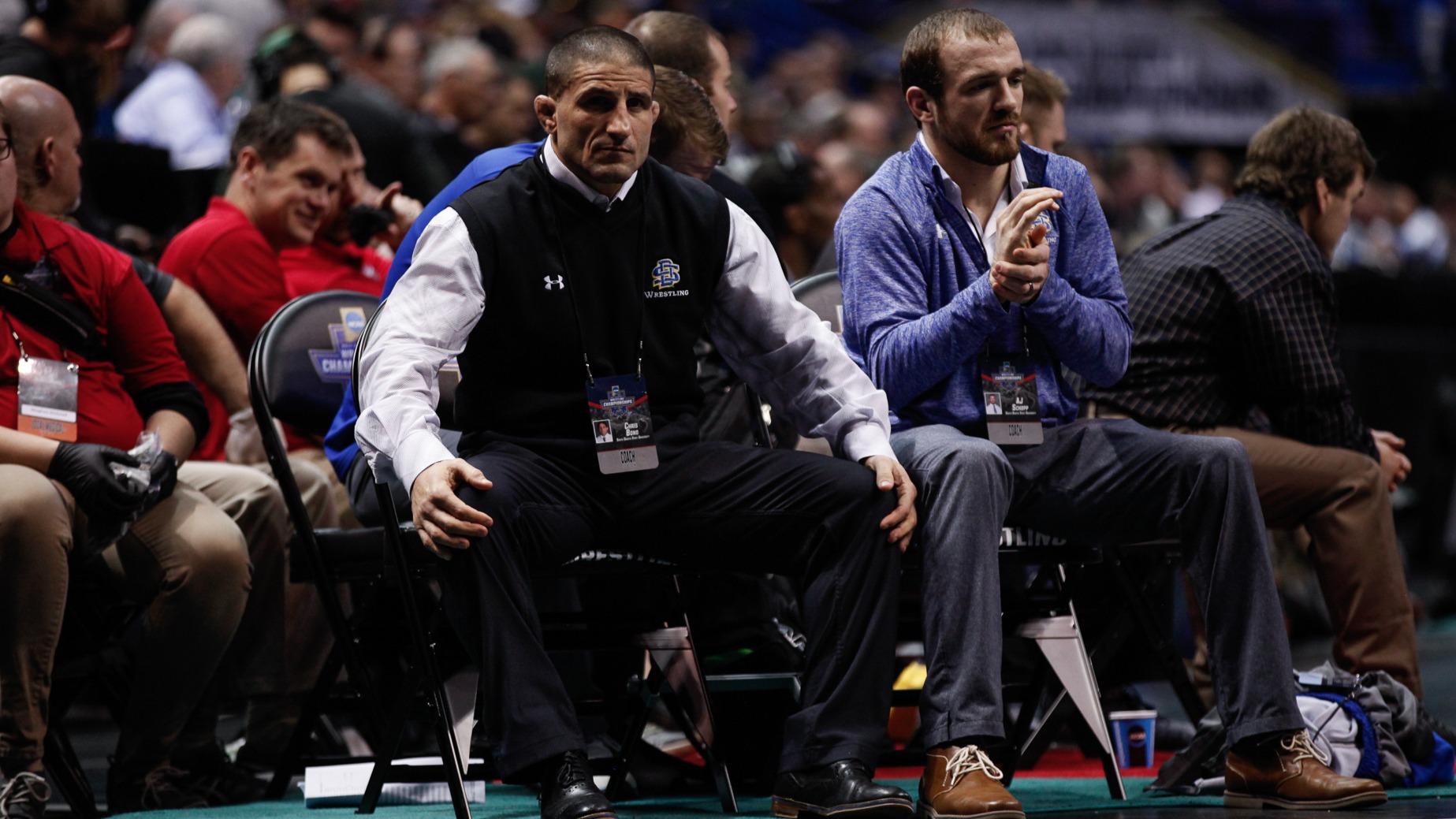 Coach Bono maintains a wide stance and a clean, crisp, and classic sweater vest look. But I'm not sure if this enough to elevate him to elite status. That is, I wouldn't have been so sure, if I had not also seen this: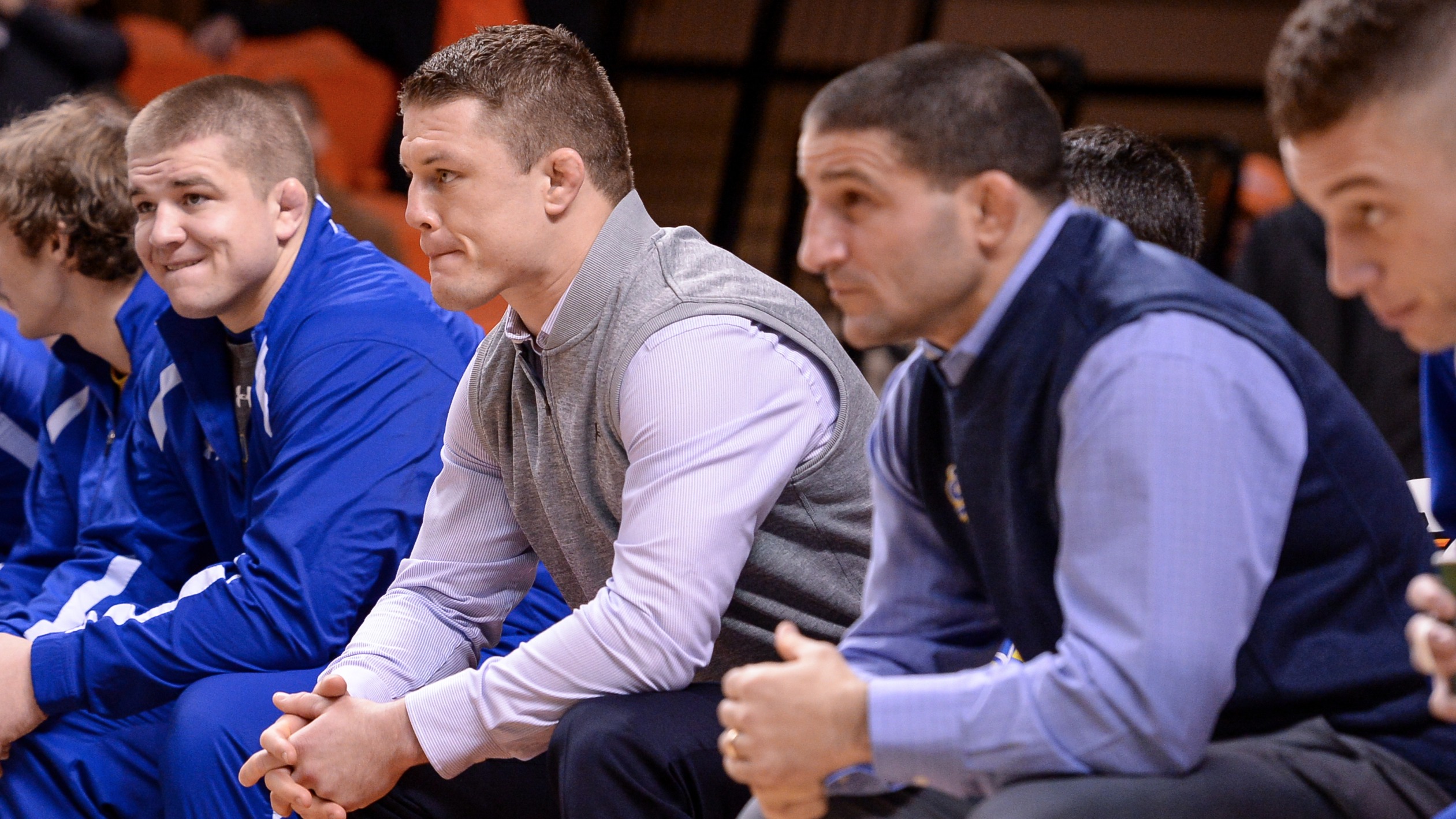 The rare and elusive dual vested coaching combo! The true measure of a great coach is not how well he wears a vest but how many vests he influences others to wear. In this case, we see assistant coach Jon Reader taking queues from his head coach. Coach Reader also adds a personalized twist on the classic sweater vest by going quarter zip with a banded collar. A sensational duo. Good enough to take the crown. Vestation of that magnitude would take an incredible performance to top.
Enter the GOAT.
1. John Smith, Oklahoma State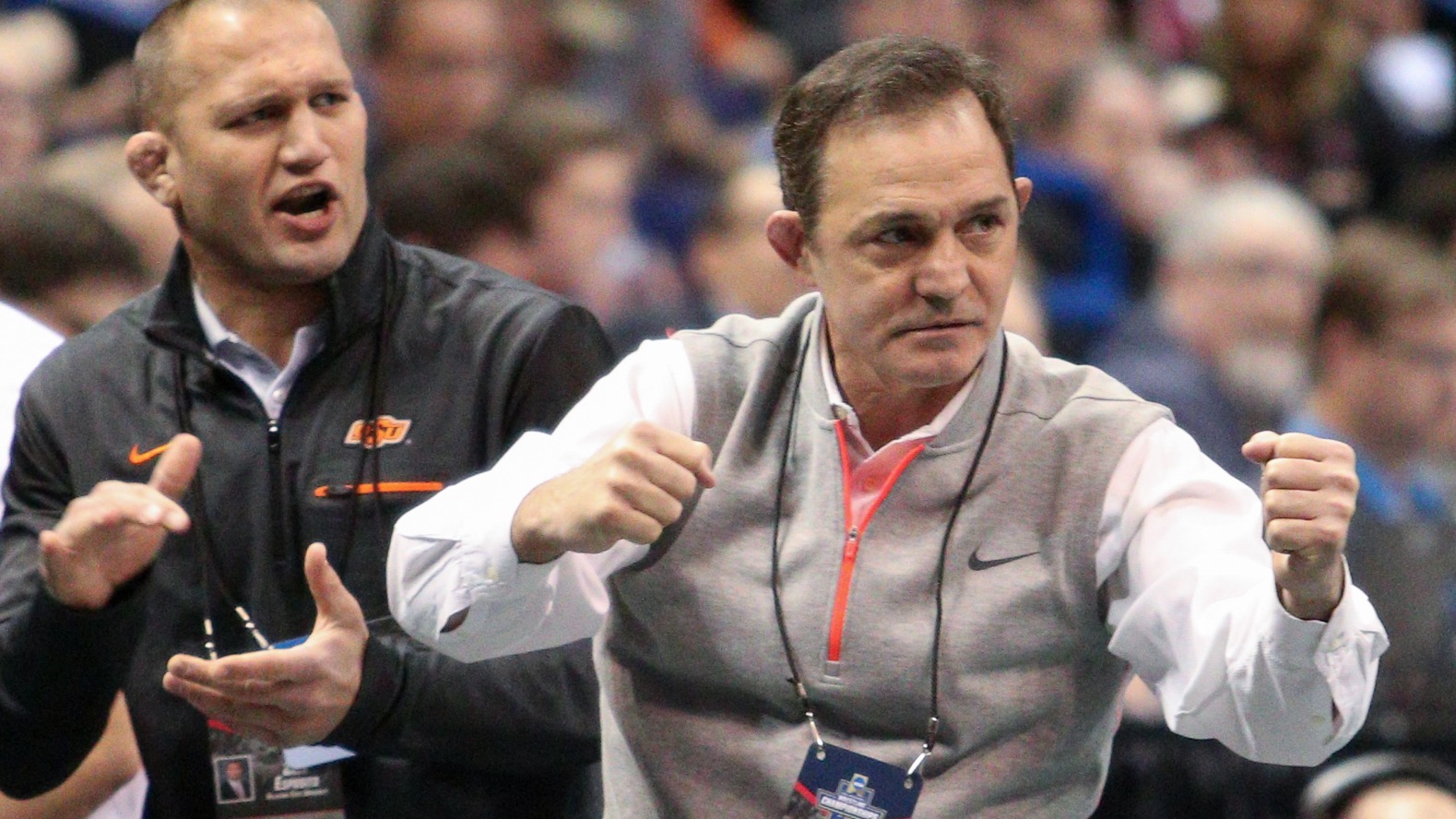 Through the years, there have been many college coaches to wear vests. And some have, on occasion, admittedly worn vests better than Coach Smith. But no one can match Smith's commitment and dedication to the vest. His investment in vests has no equal.
Like his patented single-leg offense, Smith has taken something specific but common, perfected it, and then made it completely his own. And like the nearly infinite variations to the low-leg attack, Smith can vary the verve and vim of his vesting in subtle but profound ways, always in total harmony with his environment and never with any discernible effort.
For example: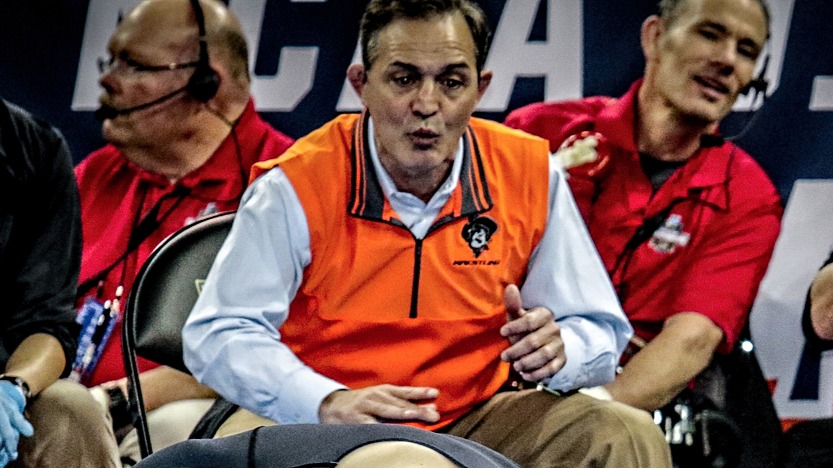 The orange quarter zip with striped collar and emblazoned mascot logo.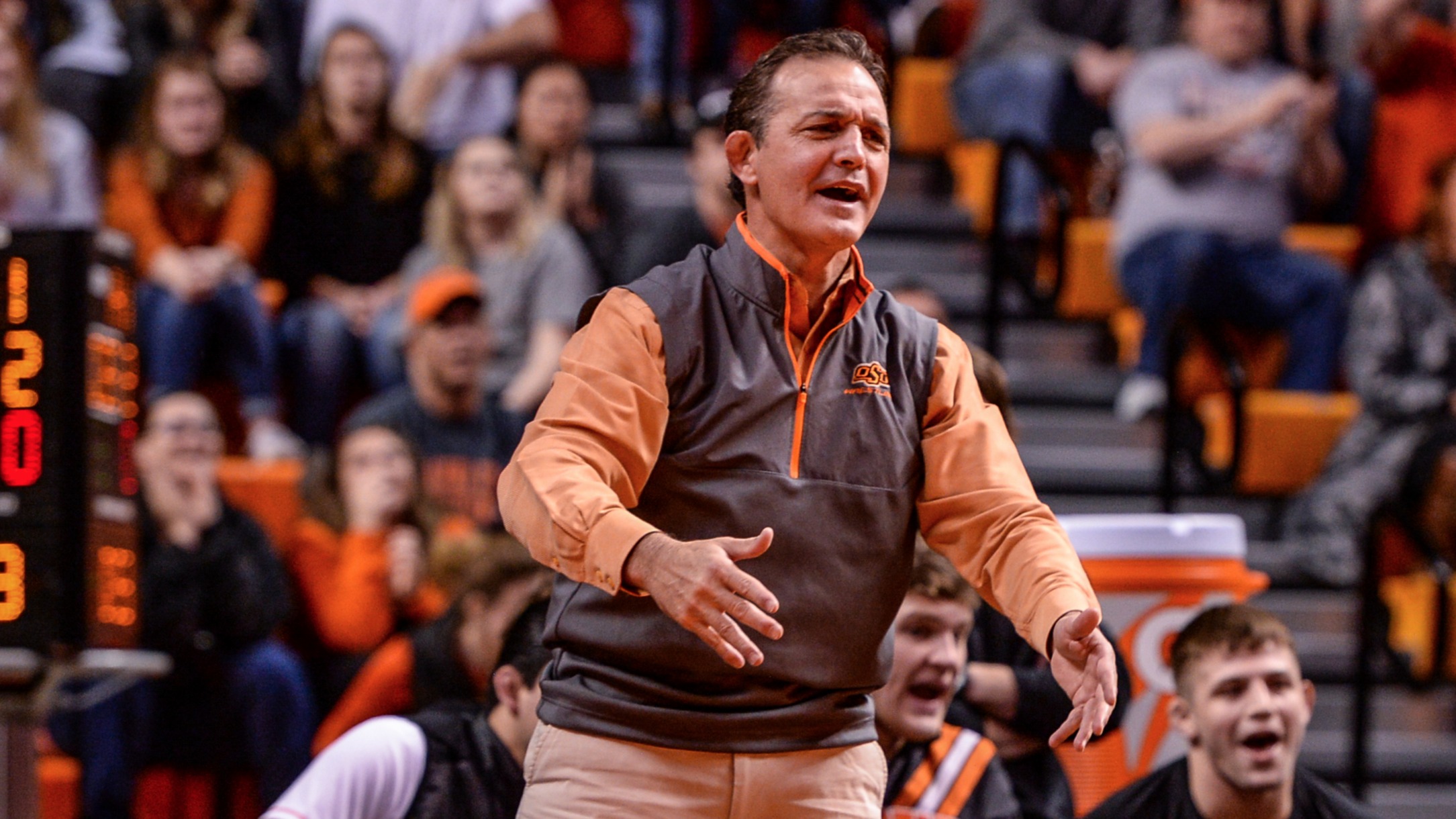 The grey quarter zip with popped collar and emblazoned classic logo.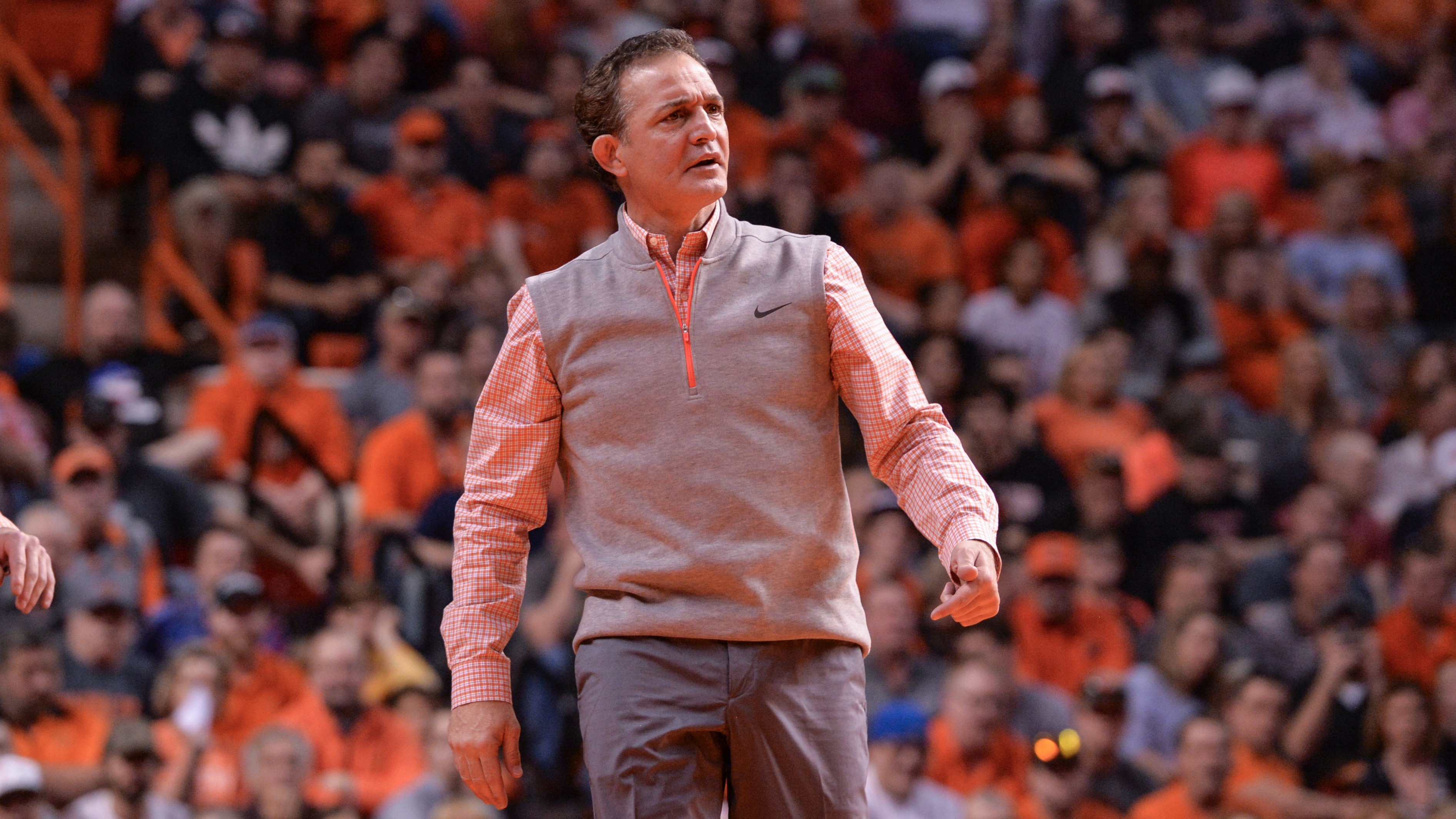 The grey fleece quarter zip with banded collar and branded logo.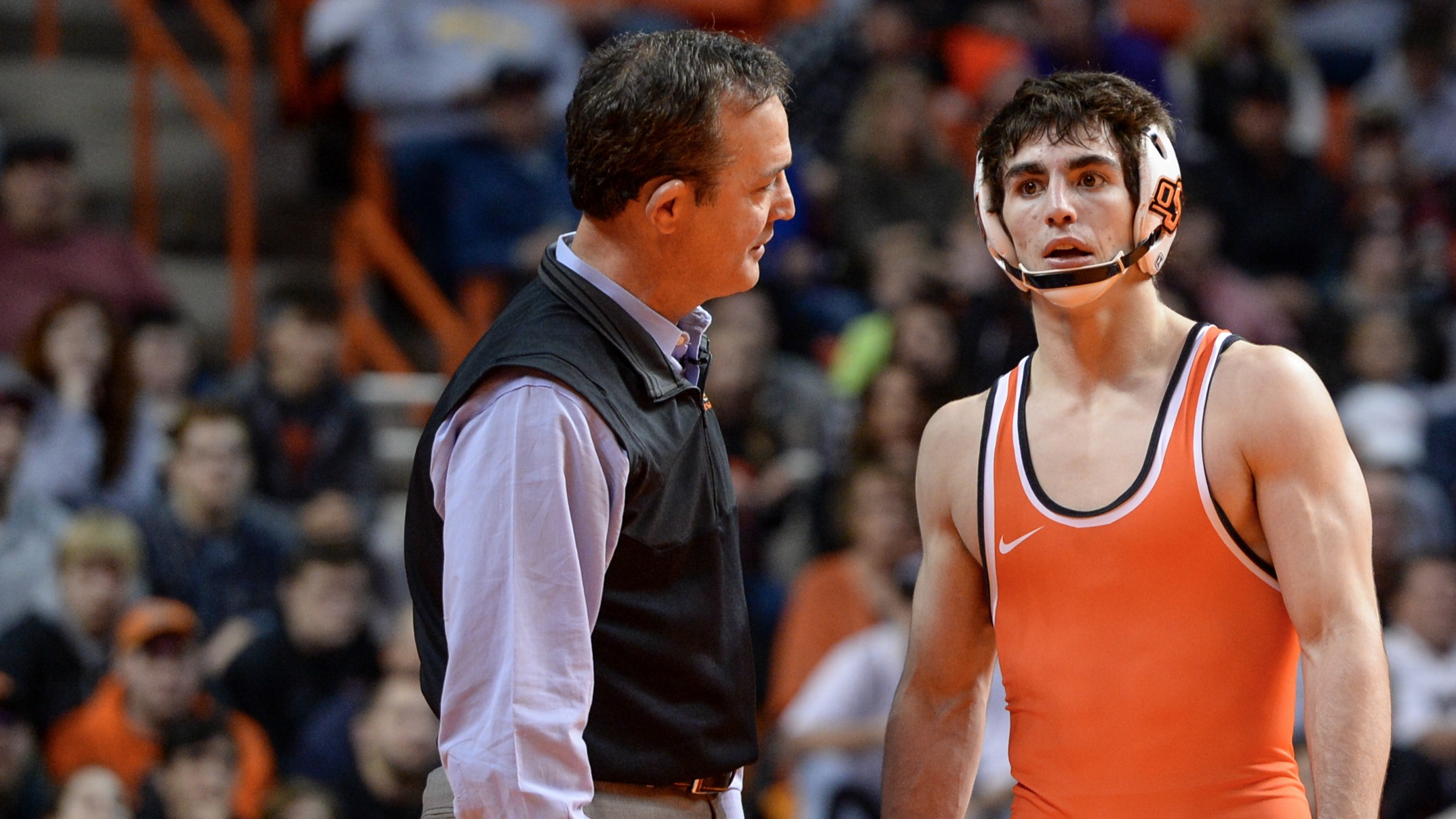 The black quarter zip with classic collar and emblazoned logo.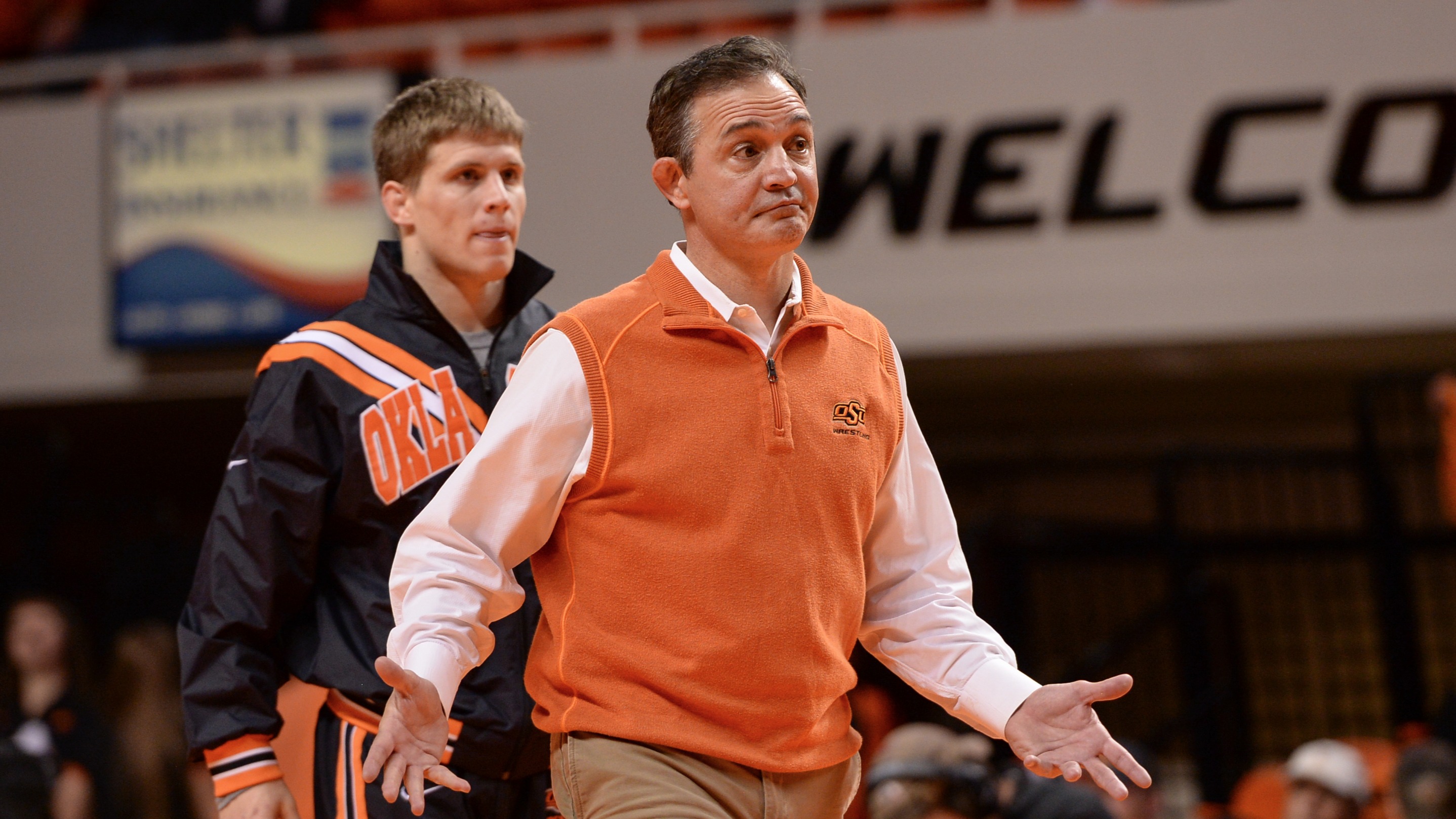 And of course, the classic orange fleece quarter zip with classic collar and school logo.
And naturally, as the vertex of vestularies, Coach Smith has had a prodigious influence on his staff's vestments. Though he has since departed to run the Oklahoma Regional Training Center, former associate head wrestling coach Eric Guerrero has himself adopted Smith's proclivity for vests.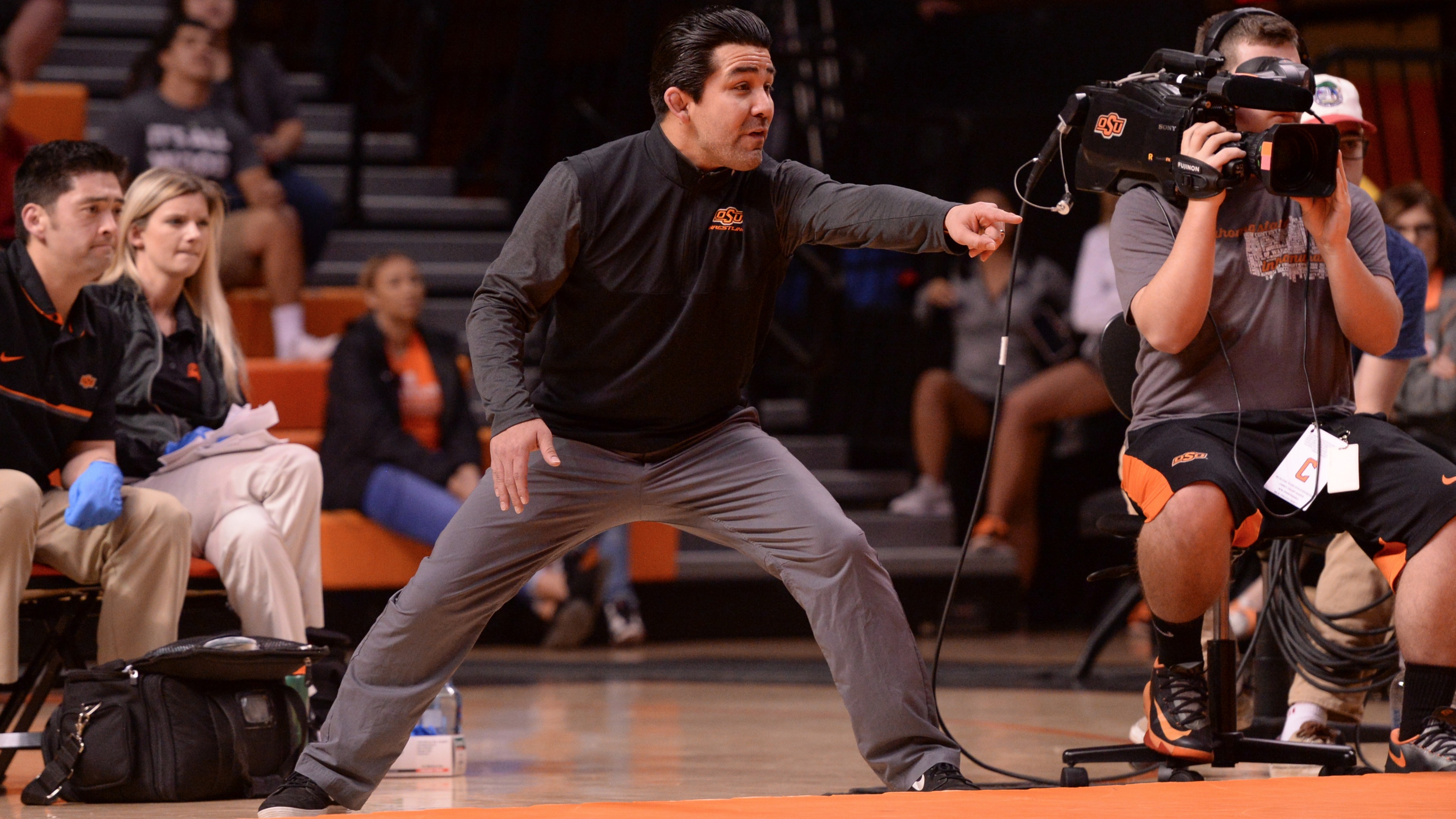 Here is Coach Guerrero, in a demonstrative pose, with a classic black quarter zip and banded collar.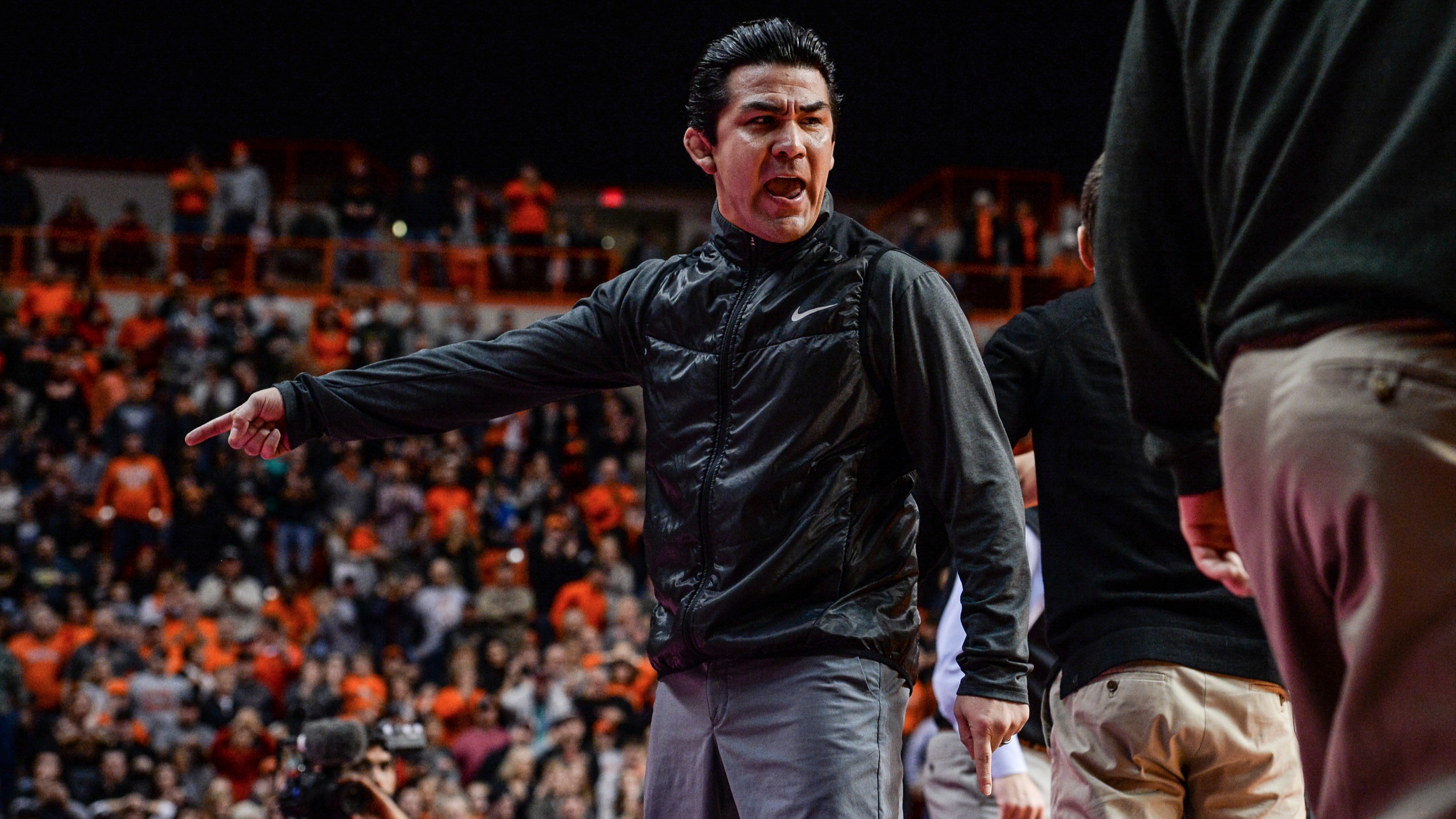 And here, in an even more demonstrative pose, is Guerrero in another classic black vest with a banded collar, but this time a full zip and way shinier material.
Smith's influence is so great it is said that over half the fans at dual meets arrive to Gallagher-Iba Arena enmeshed in vests.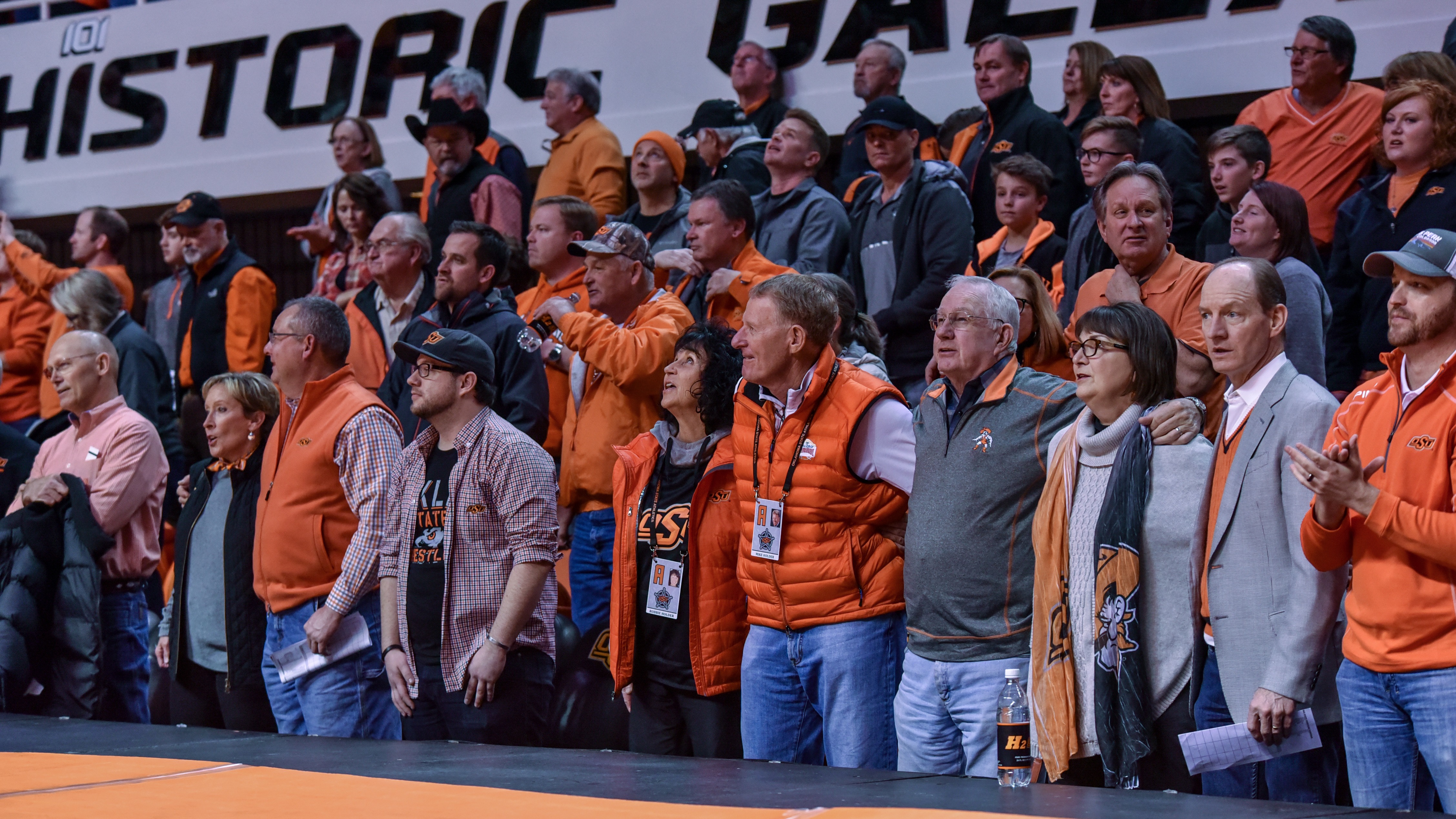 OK, so maybe that's not exactly half, but it's pretty dang close.
Our congratulations to Coach Smith. He wrest the best-dressed crest with finesse. His vests: great success.
The question to ponder now, is what first inspired Coach Smith to start wearing vests? We can but only wonder....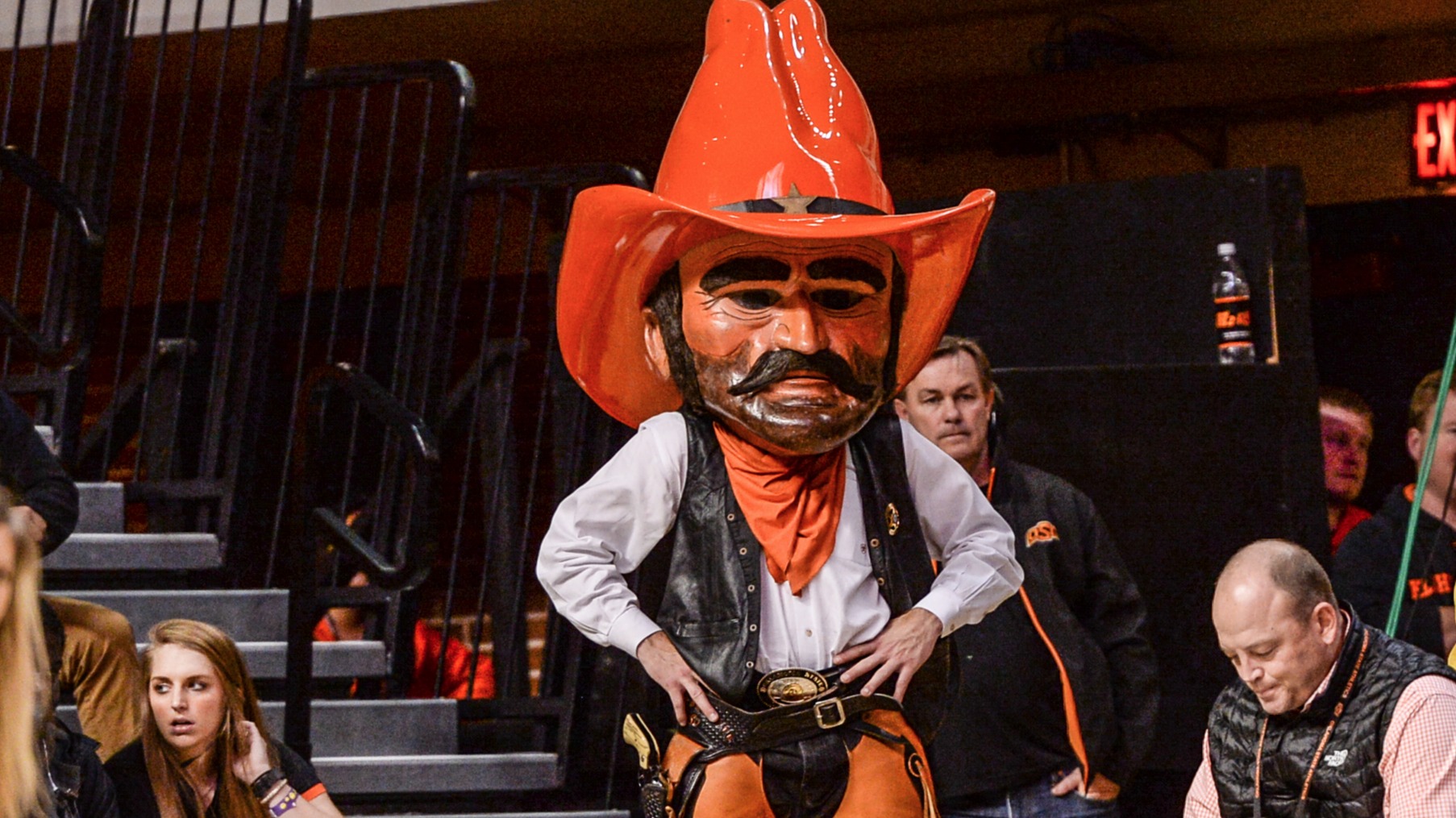 Get all of the hottest FloWrestling content!
Sign up for the FloWrestling newsletter for instant access to: breaking news, live events, results, rankings, archived matches and more!