Team USA Yarygin Updates
Team USA Yarygin Updates
Updates for every wrestler from the United States competing at the 2022 Yarygin.
Jan 30, 2022
by Jon Kozak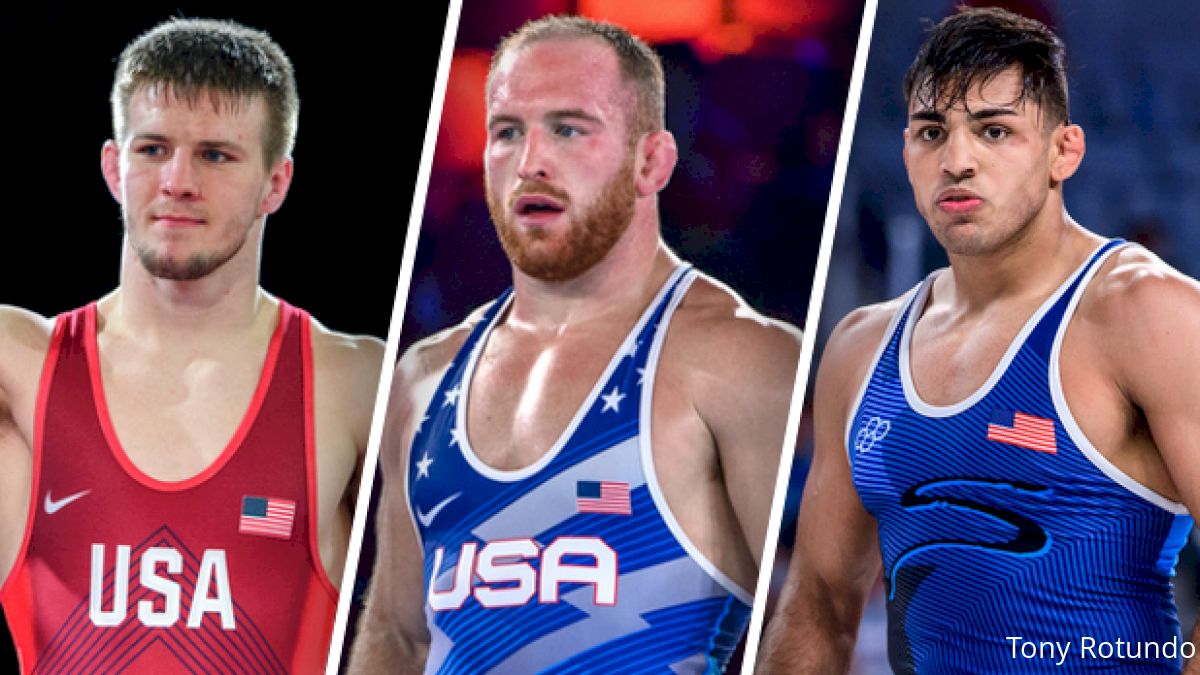 Team USA has wrapped up their competition after the completion of the fourth and final day of wrestling at They Yarygin. Take a look below at a quick recap of the action that went down for the American wrestlers in Russia.
Snyder Comes From Behind For Gold
Kyle Snyder wrestled Shamil Musaev in the gold medal match at 97kg. Snyder looked to get to his offense right away and got in on a single-leg less than 30 seconds into the match. However, Musaev was able to counter and scored a takedown of his own to go up early, 2-0. Shortly later, Musaev added a step-out point as Snyder over-pursued on a shot attempt. Undeterred by the 3-0 deficit, Snyder stayed on the offense, scoring a takedown with 30 seconds to go in the first period, making the score 3-2 going into the break. In the second period, Snyder continued to pressure forward and went ahead 3-3 on criteria in just 20 seconds. Then, with 90 seconds to go, Snyder got in on a double on the edge of the mat and was able to finish for 4 points - extending his lead to 7-3. Snyder would add a step-out, making the final score 8-3. The victory at The Yarygin this year gives Snyder his 3rd Yarygin gold medal - adding to titles from 2017 and 2018.
Nolf Comes Up Short
Jason Nolf took the mat in the 74kg finals against U23 world champion, Cherman Valiev. The Russian got on the board first after a step-out point at 2 minutes into the bout and the score remained 1-0 in favor of Valiev going into the break. Valiev added another point to his lead after Nolf failed to score on the shot clock early in the second period. Then, with about a minute to go in the match, Nolf attempted to score off a chest wrap but was unsuccessful - giving up a takedown and turn to make it 6-0 in favor of Valiev. Nolf was able to score a point as time expired but ultimately Valiev's defense proved too much for Nolf to overcome - Valiev took home the gold with a 6-1 victory.
Zahid Dominates For Bronze
In the bronze medal match at 86kg, Zahid Valencia wrestled Omar Ziiautdinov. The Russian was no match for Valencia from the start with Valencia scoring a takedown just 15 seconds into the match. Valencia then added 6 more points 20 seconds later by way of two gator-rolls and a gut wrench. Zahid closed out the match by staying on the attack with a strong snap to a single - finishing the 10-0 tech just over a minute into the match.
Shields Battles For 5th
Josh Shields was the first American to take the mat on the last day of The Yarygin. He battled his way through the repechage to the bronze medal match with a controlling win over Magomed Kardanov and a gritty, 5-4 win over Abdar Kumykov. Shields met his match in the bronze medal bout against 2021 world bronze medalist Timur Bizhoev. From the start, Bizhoev controlled the ties and got out to an early 2-0 lead. Bizhoev stayed in control the remainder of the match, ultimately winning 4-0 over Shields.
Team USA's Complete Results:
Helen Maroulis (57kg) - Gold
Macey Kilty (62kg) - Silver
Emma Bruntil (65kg) - Gold
Forrest Molinari (65kg) - Silver
Joey McKenna (65kg) - 5th
James Green (70kg) - DNP
Alec Pantaleo (70kg) - DNP
Jason Nolf (74kg) - Silver
Josh Shileds (74kg) - 5th
Alex Dieringer (79kg) - 5th
Zahid Valencia (86kg) - Bronze
Kyle Snyder (97kg) - Gold
Ty Walz (125kg) - DNP
Previous recaps from The 2022 Yarygin can be found below.
---
Day 3 Recap
Maroulis And Kilty Wrap Up Quality Women's Performance
The US women brought four women to Russia and are coming back to the states with four medals - 2 golds and 2 silvers. Helen Maroulis got the easy way out and received a forfeit in the finals to win gold at 57kg. Macey Kilty's opponent, world champion Tserenchimed Sukhee (MGL), took the mat in a battle at 62kg. The majority of the match was close as Sukhee took a 2-0 lead in the second. The turning point came at just over a minute when Kilty was awarded a takedown that put her in the lead on criteria. Sukhee's corner challenged and ultimately won when it was revealed Kilty went out of bounds before securing the takedown. That break in action gave the fading Sukhee a rest and she responded with two big moves - ending the match with a 12-0 tech.
McKenna And Dieringer Lose Heartbreakers
Joey McKenna battled through the repechage with a 10-0 tech fall over Ibragim Abutalimov and a thrilling, 10-8 win over two-time world bronze medalist, #8 Akhmed Chakaev. McKenna then took the mat in the bronze medal bout against Russia's Ibragim Ibragimov. From the start, Ibragimov took control of the match and took a 4-2 lead into the break on two takedowns from Ibragimov and two step-outs from McKenna. Ibragimov added to his lead with an early takedown in the second period and then stayed defensive the rest of the bout. McKenna was able to get to the legs of Ibragimov a few times but only secure step-outs. Ultimately, that was the difference in the match and Ibragimov took home the bronze with a 6-4 win over McKenna.
Alex Dieringer's bronze medal opponent was the 2019 world bronze medalist Gadzhi Nabiev. Dieringer fell behind in the first when Nabiev was able to get to a single leg and earn the step-out point. Nabiev shot off the whistle in the second and extended his lead to 2-0 with another step-out. The score remained 2-0 until Dieringer secured a takedown with just under 45 seconds to go in the match to go ahead 2-2 on criteria. Nabiev, however, came up in the clutch and scored a takedown with less than 5 seconds remaining in the match. After a failed challenge, Nabiev come home with the bronze by way of a 5-2 win.
Nolf And Snyder Into The Finals
Jason Nolf started his tournament at the Yarygin with a favorable draw and took advantage of it by cruising to the semi-finals. He recorded a tech over Magomed Kardanov (12-1) and then controlled fellow American Josh Shields, 9-1, and teched Nurlan Bekzhanov (10-0). Then in the semi-finals, Nolf took the mat against 2021 world bronze medalist, #7 Timur Bizhoev. Just 30 seconds into the match, the two were tied up in the under-over position when Nolf sent Bizhoev for a ride. Nolf threw Bizhoev in a lat-drop and got the fall at only 53 seconds into the match! The win over Bizhoev is one of Nolf's most significant of his young freestyle career and will set up a finals match against Cherman Valiev. Notably, Valiev won Russian nationals in 2020 and was a U23 world champion in 2021.
Kyle Snyder also made the finals in controlling fashion. Snyder recorded three straight tech falls over Dzugaev (10-0), Ovsiannikov (12-2), and Dzhagaev (14-4) to make his third career Yarygin finals. In the finals, Snyder will wrestle Russia's Shamil Musaev. Musaev made the finals by defeating 2018 world bronze medalist #11 Elizbar Odikadze in the semis. Musaev, a junior world champ and U23 world silver, should present Snyder with some unique challenges in the finals. In fact, their match for gold will be a rematch from a match they wrestled last month at the tournament in Khasavyurt, Russia. Snyder won that match 8-3, you can check it out below.
Up And Down Day For Zahid
Zahid Valencia started his tournament in a tough 86kg bracket. After a controlling, 11-2 win in his first match over Babuli Tsoloev, Valencia defeated Azamat Dauletbekov 2-2 to make the semis. In the semi-finals, Valencia squared off against Russia's Amanula Rasulov. From the start, Valencia was highly offensive and scored first on a shot-clock point. Then, Valencia got to a single leg but Rasulov was able to turn the attack into his own step-out. A failed challenge by Valencia put him down 2-1 going into the break. Then in the second, Rasulov scored on a quick step-out to go ahead 3-1. Despite numerous attacks from Valencia, he was unable to put together and significant offense and ultimately fell, 5-2. Valencia will wrestle in the bronze medal match tomorrow morning and will face either Omar Ziiautdinov or Zelimkhan Minkailov.
---
Day 2 Recap
Bruntil Upsets Molinari For Gold
Emma Bruntil and Forrest Molinari met in the finals of the 65kg bracket. Molinari got out to a quick, 1-0 lead on a step-out from a single leg but Bruntil responded with a takedown to take a 2-1 lead into the break. Then, in the second period, Molinari tied the match at 2 with a step-out, however, Bruntil still led on criteria due to the takedown. Molinari continued to pressure forward and got in on a leg attack with just 45 seconds to go in the match. Despite Molinari being deep on a single, Bruntil was able to defend with a shin-whizzer and even score her own takedown to secure the 4-2 upset victory. That win reverses 2 matches from the 2021 WTT finals where Molinari won 4-3 and 9-0.
Maroulis And Kilty Going For Gold, Dieringer For Bronze
Helen Maroulis, Macey Kilty, and Alex Dieringer are all sitting in medal matches and will wrestle their final match tomorrow morning (Jan. 29). Maroulis, wrestling at 57kg, was tested in her opening round match but still brought home a 9-6 victory over Chumikova from Russia. She then recorded an 11-1 tech over Nuridin Kyzy (KGZ) in the quarter-finals and an 8-0 win over Mikhneva (RUS) to make the finals. Maroulis will take on 2019 world bronze medalist Olga Khoroshavtseva tomorrow in the gold medal match.
Macey Kilty's path to the finals started with a dominant, 10-0 tech fall over Sazanov (KGZ) in her opening round match. Then, in the semi-finals, Kilty faced off against 2021 junior world champ, Alina Kasabieva (RUS). The match was an exciting, back-and-forth bout that saw Kilty down 4-3 with less than a minute remaining. However, Kilty converted on a takedown and turn to go ahead, 7-4. Kasableva responded with an exposure of her own to close the gap to 7-6. Kilty then put the nail in the coffin as time expired to close out the match with a 9-6 win. Kilty's finals opponent will be Tserenchimed Sukhee (MGL) who was a world champion in 2014 and a world silver medalist in 2015.
Alex Dieringer wrestled in a loaded 79kg bracket that included 9 total wrestlers ranked in the top 20 in the world. Despite the depth of talent, Dieringer navigated his way to the quarter-finals with ease. He recorded two pins to start his tournament over Alik Badtiev and #11 Magomed Magomaev. Then in the quarter-finals, Dieringer took out Dmitrii Kuprin, 9-5 to set up a showdown with 2021 world bronze medalist, #3 Radik Valiev. Notably, this is the same Russian opponent who Jordan Burroughs defeated 8-4 in the quarter-finals at 2021 Worlds. From the start, Dieringer had trouble getting his offense going, and trailed 3-0 at the end of the first period. In the second, Valiev added another takedown to go up 5-0 with less than 2 minutes remaining in the match. Dieringer was able to secure a takedown with about 30 seconds left on the clock but it was too little, too late with Valiev coming out on top, 5-2. Dieringer will have to wait for the results of the repechage rounds tomorrow but his potential opponents include #10 Arsalan Budazhapov, #7 Amanula Gadzhimagomedov, and #4 Gadzhi Nabiev.
Walz Eliminated, McKenna Alive For Bronze
Also in action on Day 2 of the Yarygin were Ty Walz (125kg) and Joey McKenna (65kg). Walz was eliminated from the tournament after losing his opening round match to Arsamag Zaseev, 12-2. McKenna is still alive for a bronze medal but will have to navigate his way through repechage tomorrow morning. McKenna opened up his Yarygin with a tech fall over Uladislau Koika (BLR) but then lost in the next round to Ramazan Ferzaliev, 6-1. Ferzaliev went on to make the finals with impressive wins over #8 Akhmed Chakaev and Ibragimov Ibragimov to keep McKenna alive for a medal.
Next Up For USA
On Friday night (and into Saturday morning), Jason Nolf, Josh Shields, Zahid Valenica, and Kyle Snyder all start their tournament in Russia. Wrestling begins at 11:00 pm (ET) and you can find the stream to watch here. You can also take a look at a preview for our men's freestyle team here. We'll be sure to update you on all the results for Team USA as the tournament unfolds.
---
Day 1 Recap
James Green And Alec Pantaleo Lose Heartbreakers
Both James Green and Alec Pantaleo entered a challenging 70kg bracket with tough, first-round opponents. Green squared off against 2019 junior world silver, #5 Kurban Shiraev. In a back-and-forth bout, Green was down 8-6 with less than 30 seconds left when controversy struck. During a scramble, it looked as though Green and Shiraev went out of bounds in the grounded position, however, Shiraev was then awarded 2 points. Green's corner challenged, but the officials said there were technical difficulties preventing them from looking at the replay - leaving the score at 10-6 in favor of Shiraev. Despite a step-out and caution awarded to Green in the final seconds of the match, Shiraev held on to win 10-8. Green was then eliminated from the tournament when Shiraev lost 7-6 to #13 Viktor Rassadin in the next round.
Alec Pantaleo had a much less controversial match in his opening round bout to Alan Kudzoev. Pantaleo got out to a 4-0 lead with takedowns in the first and second periods. However, the crafty Kudzoev slowly worked his way back into the match and went ahead on criteria with less than 30 seconds remaining. Pantaleo worked his way to a single leg but was unable to finish, ending the match in favor of Kudzoev, 4-4. Like Green, Pantaleo was eliminated in the next round when Kudzoev lost to Anozr Zakuev. It is notable that both Rassadin and Zakuev made the finals at 70kg.
Bruntil And Molinari Will Meet For Gold
Forrest Molinari and Emma Bruntil were each able to overcome challenges on their way to making the Yarygin finals at 65kg. Bruntil was on the very bottom of the bracket and reached the semi-finals with two, close wins over junior world medalists - Daria Bobrulko (2-0) and Mariaa Lachugina (4-0). Then in the semi-finals, Bruntil squared off against Russia's 65kg senior world rep from last year and U23 world silver medalist - Dinara Kudaeva Salikhova. After being down 1-0 going into the break, Bruntil worked her way into the lead with two takedowns in the third. Kudaeva Salikhova struck back with a takedown of her own but was unable to score against as Bruntil held onto the win, 4-3.
Molinari was on the very top side of the bracket and had more dominant wins to make the semi-finals with two tech falls over Bolortungalag Zorigt (MGL) and Anna Krasnova (RUS). Molinari continued her domination in the semis with a 13-2 tech fall over Mariia Kuznetsova (RUS).
The gold medal match between Bruntil and Molinari will be a rematch of the 2021 World Team Trials finals where Molinari won 4-3 and 9-0. After making the 2021 world team, Molinari then went on to win a world bronze medal in Oslo, Norway at the World Championships. It will be interesting to see if Bruntil can close the gap or if Molinari continues to send a message as the best 65kg in America.
The first match between Molinari and Bruntil from the 2021 WTT: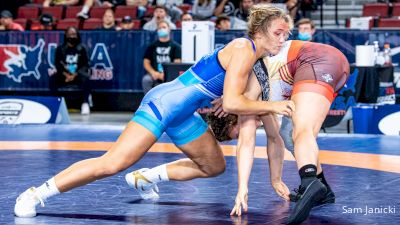 Unlock this video, live events, and more with a subscription!
Get Started
Already a subscriber? Log In
Next Up For USA
On Thursday night (and into Friday morning), Helen Maroulis, Macey Kilty, Joey McKenna, Alex Dieringer, and Ty Walz will all take the mat in Russia. Wrestling begins at 11:00 pm (ET) and you can find the stream to watch here. You can also take a look at a preview for our men's freestyle team here. We'll be sure to update you on all the results for Team USA as the tournament unfolds.