2022 Yarygin Preview And Predictions - Men's Freestyle
2022 Yarygin Preview And Predictions - Men's Freestyle
Check out a complete preview and prediction for America's men's freestyle wrestlers at the 2022 Yarygin.
Jan 27, 2022
by Jon Kozak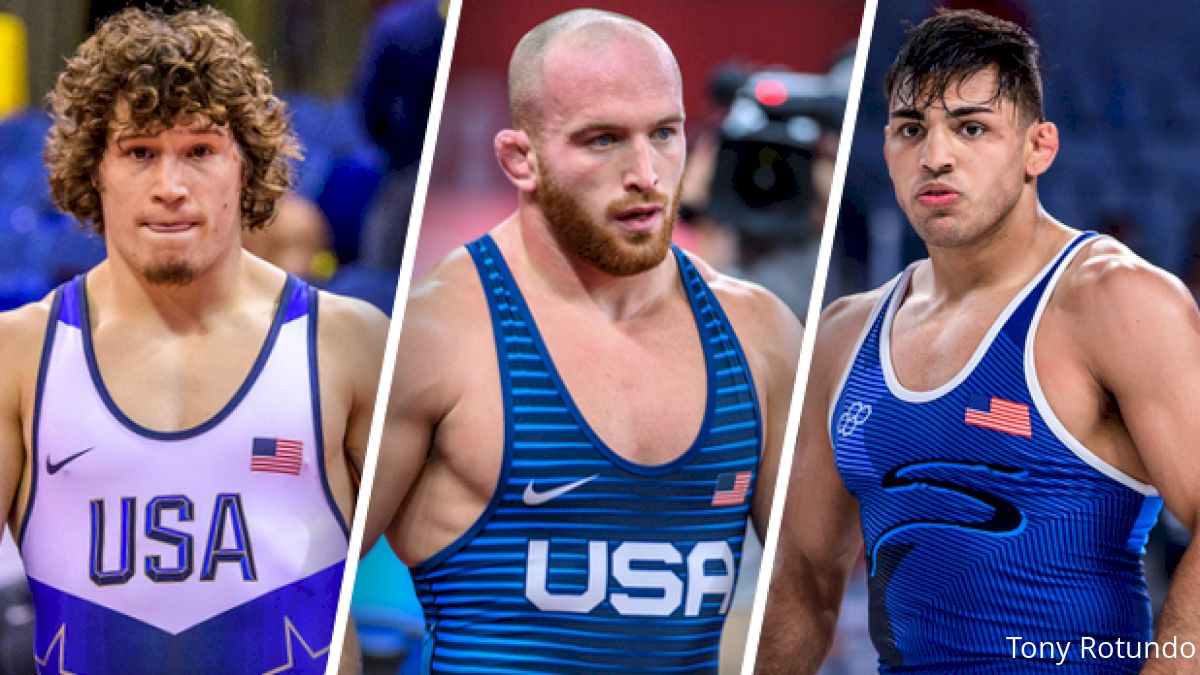 Nine of America's best freestyle wrestlers will take the mat in Krasnoyarsk, Russia to compete at one of the toughest tournaments in the world - The Yarygin. Take a look at their brackets with a quick breakdown of their draws below.
Day 1, January 26-28 - James Green And Alec Pantaleo
James Green is sitting on the top side of the bracket and received one of the toughest draws imaginable. In his opening round match, Green will face-off against one of the best young Russian's - #5 Kurban Shiraev. A 2019 junior world silver medalist, Shiraev won the Yarygin in 2020 and 2021 and has placed bronze at Russian nationals twice. Should Green get by the tough Shiraev, he'll face the veteran Viktor Rassadin. Although Rassadin has never made the world team for Russia, he's placed second at Russian Nationals twice (2016 and 2017) with another bronze finish in 2014. Should Green defeat both Shiraev and Rassadin, he'll have a great chance to make the finals.
Alec Pantaleo has a slightly easier draw than Green with an opening-round match against Alan Kudzoev. The Russian did win junior world gold back in 2019 but has yet to place at any tournament on the senior level. Should Pantaleo get by Kudzoev, he'll likely meet Anzor Zakuev in the second round. Though unranked, Zakuev has been on the verge of placing at Russian Nationals and has a win over James Green from the 2019 Dan Kolov tournament. Pantaleo's potential quarter-final match would likely be his road to the finals against either #12 Rezuan Kazharov or #11 Magoma Dibirgadzhiev.
70kg Prediction: 1) Kurban Shiraev, 2) Magoma Dibirgadzhiev, 3) James Green, 3) Alec Pantaleo
James Green and Alec Pantaleo's last meeting at the 2021 Poland Open: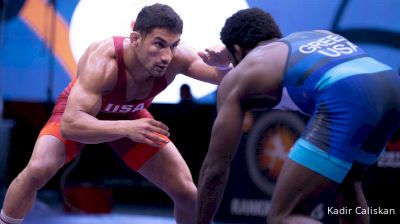 Unlock this video, live events, and more with a subscription!
Get Started
Already a subscriber? Log In
Day 2, January 27-29 - Joey McKenna, Alex Dieringer, And Ty Walz
In 2020, Joey McKenna wrestled at the Yarygin for the first time and, although he performed well, he failed to place after going 2-1 and losing in the quarter-finals. McKenna is on the bottom side of the 65kg bracket with the likes of Ramazan Ferzaliev, #8 Akhmed Chakaev, and #12 Alik Khadartsev. McKenna should be considered a favorite in his opening-round match and will likely face the veteran Ramazan Ferzaliev in his second match. Ferzaliev placed silver at Russian Nationals twice (at 61kg) but hasn't yet experienced the same success up at 65kg. Should McKenna make the quarters, he'll likely face the winner of #8 Akhmed Chakaev and #12 Alik Khadartsev. Chakaev is much more accomplished as a two-time world bronze medalist but Khadartsev, a 2019 junior world bronze medalist, proved he's capable of competing with the best on the senior level by winning the 2021 Yarygin last May.
65kg Prediction: 1) Akhmed Chakaev, 2) Tulga Tumur-Ochir, 3) Alik Khadartsev, 3) Shamil Mamedov
Alex Dieringer's bracket is loaded with 9 total ranked wrestlers in the bracket - seven of them being Russians! Dieringer is on the bottom side of the bracket and will likely have to go through 4 ranked wrestlers to win Yarygin gold. Dieringer's first test will be 2021 U23 World Champ, #11 Magomed Magomaev. Should he defeat Magomaev, Dieringer's quarter-final bout will likely be against #5 Atsamaz Sanakoev. Sanakoev has placed second at Russian Nationals twice and even has a 10-0 win over Isaiah Martinez from 2019. Waiting for Dieringer in the semi-finals will be one of #3 Radik Valiev, #7 Amanula Gadzhimagomedov, #10 Arsalan Budazhapov, or #4 Gadzhi Nabiev. Any are worthy contenders by my money is on 2021 world bronze medalist Radik Valiev. The top side of the 79kg bracket lacks the depth of the bottom - #6 Akhmed Usmanov or #12 Malik Shavaev should be considered the heavy favorites to make the finals opposite Dieringer.
79kg Prediction: 1) Alex Dieringer, 2) Akhmed Usmanov, 3) Radik Valiev, 3) Malik Shavaev
Dieringer's win at the 2019 Yarygin over Alan Zasseev:
Ty Walz is at the very top of the 125kg bracket and will face 2019 Cadet World champ, Arsamag Zasseev in his first match. Should he get by Zasseev, Walz will likely face #11 Anzor Khizriev in the quarter-finals. Khizirev will be an incredible challenge for Walz as he is a 2-time Russian Nationals champion and placed 5th in the world in 2017 and 2018. While Khizriev is the toughest competitor on the top half of the bracket, #13 Shamil Sharipov and #6 Lkhagvagerel Munkhtur will be battling it out on the bottom half of the 125kg bracket. Sharipov placed silver at Russian Nationals in 2020 and won the 2020 Individual World Cup. Munkhtur had an impressive performance at this year's world championships bringing home a bronze medal for Mongolia. Expect either Sharipov or Munkhtur to come out of the bottom side of the bracket to make the finals.
125kg Prediction: 1) Shamil Sharipov, 2) Anzor Khizriev, 3) Lkhagvegerl Munkhtur, 3) Khamzat Khizriev
Day 3, January 28-30 - Jason Nolf, Josh Shields, Zahid Valencia, And Kyle Snyder
At 74kg, Jason Nolf and Josh Shields are both on the top side of the bracket and have the potential to meet in the second round. The top side of 74kg is relatively thin but #7 Timur Bizhoev should be waiting for either Nolf or Shields in the semi-finals. Bizhoev took home bronze at the 2021 World Championships and is the favorite to win it all in Krasnoyarsk. The bottom side of the 74kg bracket has a number of contenders to make the finals including #6 (at 70) David Baev, #10 Mokhmad Nasirkhaev, #18 Nikita Suchkov, and Aznaur Tavaev. Most notable from that bunch is 2019 World Champion, David Baev who is competing up at 74kg for the first time in his senior-level career.
74kg Prediction: 1) Timur Bizhoev, 2) David Baev, 3) Jason Nolf, 3) Cherman Valiev
Zahid Valencia finds himself at the very top of the 86kg bracket and will likely have a quarter-final match against #13 Akhmed Gadzhimagomedov. While Gadzhimagomedov hasn't had the same success up at 86kg, he did take home world bronze in 2018 and has past wins over Alex Dieringer and Kyle Dake at 79kg. If Valencia gets by Gadzhi, he's likely to make the finals and meet #4 Dauren Kurugliev. American fans will remember Kurugliev from his 7-5 loss in the 2018 world semi-finals against David Taylor. Valencia's performance at The Yarygin will tell us a lot about how close he is to the best in the world at 86kg.
86kg Prediction: 1) Dauren Kurugliev, 2) Akhmed Gadzhimagomedov, 3) Zahid Valencia, 3) Magomedsharif Biiakaev
Zahid Valencia's win over world silver medalist Fatih Erdin: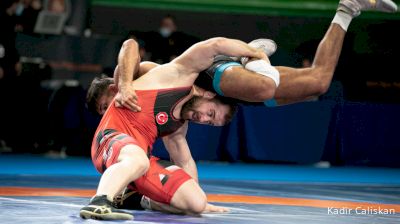 Unlock this video, live events, and more with a subscription!
Get Started
Already a subscriber? Log In
Kurugliev's match against David Taylor from 2018 Worlds: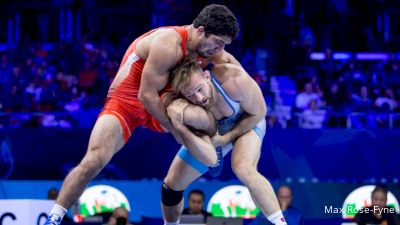 Unlock this video, live events, and more with a subscription!
Get Started
Already a subscriber? Log In
Kyle Snyder is on the top side of the 97kg bracket at the Yarygin and won't face a ranked opponent before the finals. While he's not ranked in the top 20 currently, Igor Ovsiannikov has been ranked in the past and is the toughest roadblock to the finals. Ovsiannikov took home silver at the 2019 Russian Nationals and won bronze at the 2018 U23 World Championships. Notably from that tournament, Snyder's former teammate Kollin Moore defeated Ovsiannikov, 6-5. The bottom side of the bracket is much deeper with the most notable entries being #11 Elizbar Odikadze, #16 Aslanbek Sotiev, #20 Ali Aliev, and Erik Dzhioev. The most notable of that group, and most likely to meet Snyder in the finals is 2018 world bronze medalist, Elizbar Odikadze. Snyder is 3-1 in his career against Odikadze and won the most recent bout from the 2019 World Championships 5-0. In fact, it's been over 5 years since Odikadze defeated Snyder at the 2016 Clubs Cup by criteria - 2-2.
97kg Prediction: 1) Kyle Snyder, 2) Aslanbek Sotiev, 3) Elizbar Odikadze, 3) Igor Ovsiannikov
Kyle Snyder's recent win over Ali Aliev from December 2021:
Wrestling begins every night at 11pm (ET) and a live stream can be found here.

To see full brackets for all 10 weights, check them out by clicking on my tweet below:
2022 Men's Yarygin Brackets Thread

57-70: pic.twitter.com/zrJJQVvbWB

— Jon Kozak (@KozakJon) January 26, 2022