High School Insider: Marquee Dual Season Is Heating Up
High School Insider: Marquee Dual Season Is Heating Up
An unranked wrestler took out a national #1, two top heavyweights tangled again and big-time programs are colliding in duals across the country.
Jan 21, 2022
by Brendan Scannell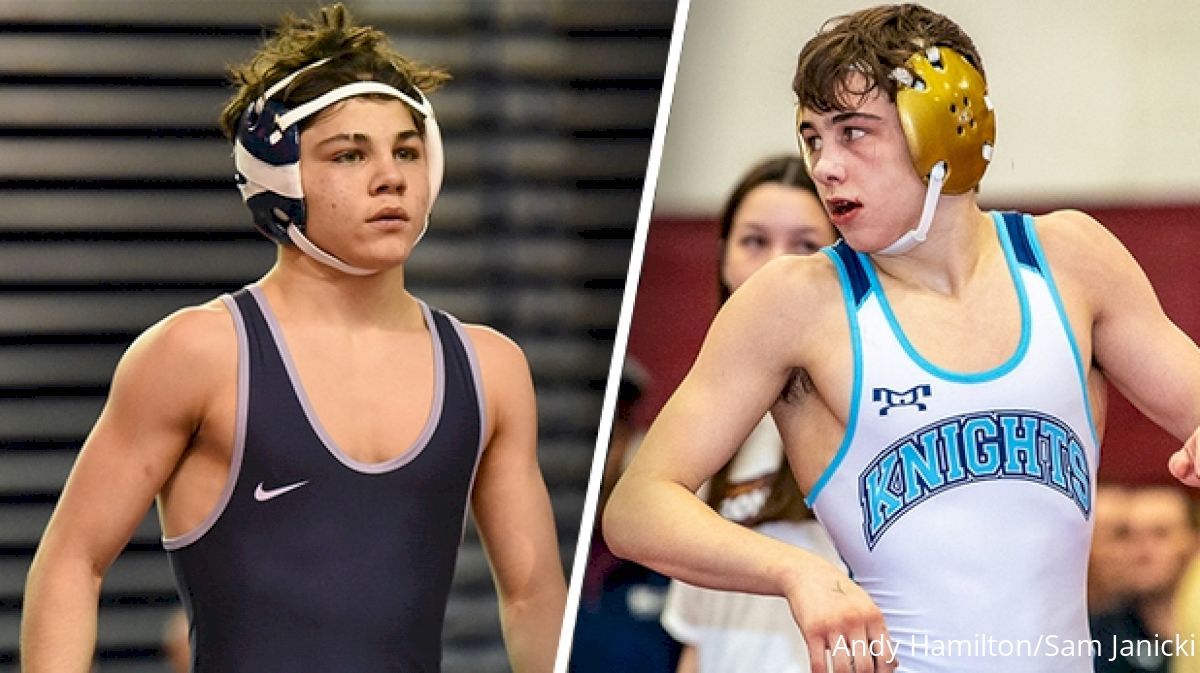 Unlock this article, live events, and more with a subscription!
Get Started
Already a subscriber? Log In
We had an unranked wrestler defeat a #1, the top two heavyweights in the country collided for the second time and tons of awesome dual meet action as the high school season wears on!
A Little Tournament Talk: Escape the Rock
Escape the Rock is quickly becoming one of the east coast's best in-season tournaments. This year's tournament featured a total of 41 previous state or National Prep champions and 65 wrestlers that have placed at UWW, Fargo, Super32 or NHSCAs.
The weekend's biggest star was Zac Jacaruso of Delaware Valley. Previously unranked, the Pennsylvania state runner-up from a year ago knocked off #1 Anthony Knox in sudden victory of the 113-pound final.
It was an action-packed bout. While Knox pushed the pace, getting in deep on at least five leg attacks, he was only able to secure points on one blast double late in the first period. It was Jacaruso's own pair of double-leg takedowns at the end of regulation and sudden victory that propelled him to the title and the 6-4 upset.
For Knox, this loss was just a minor blip on a loaded resume. All of his goals remain in front him and the loss was hardly enough to dethrone him from the top spot in the national rankings. With that said, it was enough to send Jacaruso shooting up the 113-pound rankings all the way to #6.
But he wasn't the only breakout star of the weekend.
Caedyn Ricciardi entered the weekend unranked, as well, before the St Peter's Prep freshman went on an absolute heater that began with a quarterfinal win over national #8 Nick O'Neil of Malvern Prep and a semifinal win over Pennsylvania state placer Dante Frinzi. In the final, Ricciardi was able to avenge a prior loss from Beast of the East to Luke Poore to take home the title. This young freshman is beginning to look like the standout of a St. Peter's team that's already garnered nationwide early on this season.
At heavyweight, we saw a rematch from the Powerade finals between #1 Nick Feldman and #2 Jim Mullen, and once again it was Feldman who emerged with the win, this time by way of a major decision victory to further cement himself as the pound for pound #1 and catapult his Malvern squad to the team title in dominant fashion.
Other notable results from the weekend included Bethlehem Catholic's #4 Tyler Kasak and #2 Nate Desmond each winning titles to continue stellar seasons of their own.
You can check out the full Escape the Rock results HERE.
Some Dual Meet Discussion
What a week of dual meets!
Last weekend, St Edward crossed state lines to take on some of Michigan's best teams at the Detroit Catholic Central Super Duals and the Ohio powerhouse reigned supreme taking out Lowell, Dundee, Davison and the host squad to go 4-0 on the day.
St. Ed's was dominant in all four matches but the best of the day came in a 32-15 win over Detroit Catholic Central. In a matchup of nationally-ranked 189-pounders, it was Luke Geog of St. Ed's who prevailed 11-5 over Manny Rojas of DCC to enter the top 10.
Detroit Catholic Central and Davison didn't meet during Super Duals because the two were supposed to clash on Wednesday night, but due to COVID-19 complications the match has been rescheduled for January 26.
Buchanan and Clovis Clash in The Big One
California sure knows how to put on a show.
It was rowdy, sold out crowd equipped with neon lights, banners, and more on Wednesday night at Clovis High School for "The Big One" – a matchup between two of California's best teams, but it wasn't quite enough for the home team. It was Buchanan instead — the state's #1 team — that came away with the dominating victory on the back of eight straight wins from 134 to 197 pounds. Six of those wins came with bonus points to culminate in a 44-16 blowout.
Blair vs. Wyoming Seminary for #1…For Now
It may not be nicknamed "The Big One", but this one is big.
Blair Academy is headed to Pennsylvania on Friday night to take on Wyoming Seminary at 7 p.m. in a matchup of America's top two high school teams.
For the past decade now, we've seen back-and-forth battles between these two programs, but this will be Cornell Robinson's first as Wyoming Seminary head coach. He'll be looking to lead his team to its first dual win over Blair since 2017.
Both teams have been busy early on, as usual. The lineups combine for a total of 17 nationally ranked wrestlers. Blair was the team champs at Ironman and Beast of the East back in December, while Sem was notably missing some heavy hitters. A few weeks later, with its lineup at full strength, Sem took home the title at Powerade. But similarly, Blair didn't have its full squad in action that weekend.
Now, though, it's heads up.
With both lineups at full strength, Sem looks to have the slight edge, but the Knights also know that this Blair team, like any Blair team, is difficult to steal a win from. You have to put them away.
Who can forget in 2019 when Beau Barlett pinned the nation's #1 Shayne Van Ness in just 24 seconds to send the home crowd into a frenzy? Later that dual, Sem's Darrien Roberts beat Julian Ramirez who was wrestling at Who's #1 earlier that season. Still, it wasn't enough. Blair prevailed.
What will the winning team need to do this time around?
Here are the three big difference-makers to be on the lookout for:
BONUS POINTS will be at a minimum Friday night, that's for sure, but if you're looking for some candidates to provide some fireworks – here's two. Be on the lookout for the Bouzakis brothers Nic and Vince who both come in as heavy favorites and their Knights teammates could be looking to them to provide that Barlett-esque spark I'm sure many of them remember.
113 is the match of the dual. Cadet world team member and #3 in the country Luke Lilledahl vs. Fargo champ and # 5 Leo DeLuca. Despite plenty of opportunities early on, these two youngsters have yet to clash this season. First, they were on opposite sides of the Ironman bracket, then they traded titles at Beast of the East (DeLuca won, Lilledahl didn't wrestle) and Powerade (Lilledahl won, DeLuca didn't wrestle). If Blair can get this one, then feel good about the Bucs' chances.
DOES SEM BUMP? You have to figure former #1 Gabe Arnold is hungry for a rematch after losing to Blair's Danny Wask at Powerade. But if Sem bumps it's lineup from 138 up to maximize points, which it could, we might not see that one. With that said, Blair will be targeting that matchup, for sure, at an attempt to take out one of Sem's best guys. After all, all duals come down to matchups.
These two teams will, of course, meet at National Preps in February, but February isn't all that matters. So, you can expect both lineups to be ready to roll Friday night hungry for a win.