2022 Penn State vs Iowa (Audio Only)
Penn State vs Iowa: Preview & Betting Lines Contest
Penn State vs Iowa: Preview & Betting Lines Contest
A short preview of all 10 potential matches in the #1 Penn State vs #2 Iowa dual along with interactive betting lines!
Jan 25, 2022
by JD Rader
#1 vs #2 is always highly anticipated. Make it two of the most historic programs and college wrestling's most notorious crazy venue, and you've got yourself a recipe for an A+ dual. On Friday, January 28 the #1 Nittany Lions of Penn State travel to Iowa City, Iowa, to take on the #2 Iowa Hawkeyes in what is the most anticipated dual of the year. You can listen to all the action live on the FloWrestling radio broadcast!
Penn State is currently ranked #1, but don't count out the Hawkeyes. After all, they are the returning national champions and are currently ranked #1 in the dual rankings. Below is a short breakdown of each match as well as betting lines to make some picks on.
Make your own picks against the spread HERE!
125: Drew Hildebrandt vs Drake Ayala
Line: Hildebrandt -0.5
Your standard true freshman vs formerly retired 6th-year senior match here. A top 10 recruit from the class of 2021, no true freshman has been more talked about since Spencer Lee announced he wouldn't be competing this season than Drake Ayala. With a good offensive neutral game, the Iowa native has looked solid so far in his freshman campaign. Ayala's only losses have come to Pat McKee and more recently Malik Heinselman. However, Ayala beat 2X Big Ten finalist Devin Schroder #10 Michael DeAugustino.
Having only wrestled the second semester, Drew Hildebrandt has just five matches on the year. The Central Michigan transfer suffered his first loss of the season to Nick Suriano last Friday night but in a 2-1 match where riding time was the deciding factor. I don't see riding time being a factor in this one and think it becomes a takedown game.
133: Roman Bravo-Young vs Austin Desanto
Line: Bravo-Young -2.5
I wrote a more in-depth breakdown, along with keys to victory, of these two before the 2020 Iowa - Penn State dual, which you can read HERE. The history of these two has changed, but the keys to victory haven't. It was all Austin Desanto early in this rivalry, but the pendulum has swung in favor of Roman Bravo-Young the past two years.
Desanto won their first two meetings in 2019 by a combined score of 19-9. In the dual in 2020, Desanto was forced to injury default in the 1st period, but with RBY getting the first takedown and locking up two cradles, fans started to really wonder how Big Tens would go. RBY won 3-2 at Big Tens with an early takedown. The two once again met last season with RBY widening the gap and winning 5-2.
Watch RBY and Desanto's 2020 Big Ten semifinal below.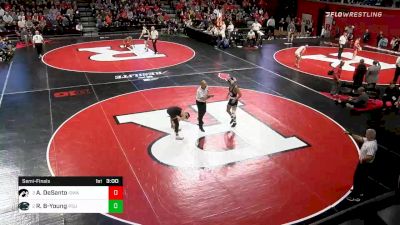 141: Nick Lee vs Jaydin Eierman
Line: Lee -1.5
Nick Lee and Jaydin Eierman first wrestled all the way back in 2018 with Eierman winning by major decision. Don't put too much stock into that match however as not only was it four seasons ago, but the two are 1-1 in matches the past 12 months. Eierman won at Big Tens, Lee won at NCAAs.
The key for Nick Lee will be to not get stuck underneath. Even when he lost in the Big Ten finals, he won the takedown battle, 2-1. It was a riding time point that made all the difference for Eierman as he was able to get his legs in and amass over a minute after getting his takedown in the first period.
The key for Eierman is to get into a funky scramble, get on top, and go to work. When you're on top, Nick Lee can't take you down or get you called for stalling.
149: Beau Bartlett vs Max Murin
Line: Murin -1.5
Beau Bartlett is starting to show signs of what a lot of people thought the highly touted recruit would be out of high school. He put up decent wins over PJ Ogunsanya and Anthony Artalona early in the season and more recently knocked off returning AA Kyle Parco. Max Murin will be going into this match with 3.5 years of experience as a Hawkeye starter. I'm not exactly sure who is going to get their hand raised at the end of this one, but I'd bet a lot of money they don't win by more than a couple of points.
157: Terrell Barraclough/Tony Negron vs Kaleb Young
Line: Young -5.5
Not exactly sure who will take the mat for the Nittany Lions Friday. Tony Negron has stepped up for the Nittany Lions this year at 157 but has gone just 1-4 so far. Terrell Barraclough got the nod this past weekend, but lost to both Chase Saldate and Will Lewan. While Kaleb Young has seen some unusual struggles of his own this season, this man is still a 2X AA with a lot of high-level wins over the course of his now six-year career. Hawkeye fans should expect a sound win and hope for some bonus points here.
165: Brady Berge vs Alex Marinelli
Line: Marinelli -2.5
The second to last time that Alex Marinelli will take the mat in Carver-Hawkeye Arena. He's had a great run in Carver, only losing one time, and I don't expect that to change. Brady Berge coming out of retirement for one semester has been the eye-opening event of 2022 in college wrestling so far. Despite finishing 7th in our final post NCAAs rankings last year, Berge failed to AA when he defaulted due to injury. Berge is tough no doubt, and coming off of a nice win over Cam Amine, but Marinelli has proven it takes a Vincenzo Joseph type of wrestler to take him out in CHA.
174: Carter Starocci vs Michael Kemerer
Line: Starocci -1.5
Similar to 141, these two split last season with the Hawkeye winning at Big Tens and the Nittany Lion winning at NCAAs. It was all Michael Kemerer in match one. He got two takedowns, a set of back points, and only gave up escapes. At NCAAs, however, Carter Starocci was able to slow things down and get the only takedown of the match in OT to win.
Kemerer's health was a question mark in the first half of the season when he wasn't competing. In his first handful of matches, however, he's looked dominant. Starocci had the most recent win, but Kemerer had the more dominant win. Who knows how round three goes?
Watch the highlights from Carter Starocci and Michael Kemerer's NCAA final below.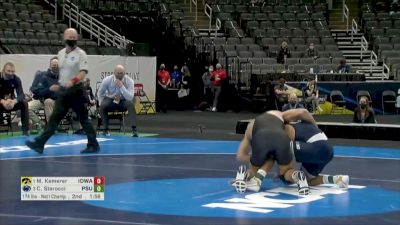 Unlock this video, live events, and more with a subscription!
Get Started
Already a subscriber? Log In
184: Aaron Brooks vs Abe Assad
Line: Brooks -7.5
Aaron Brooks has looked amazing so far this year. His bonus rate is up from 50% last season to 72% this season, including a recent major over #6 John Poznanski. His success this season has got him up to #5 in the Dan Hodge Trophy Award rankings. Abe Assad hasn't necessarily been very down this season, especially since the New Year. However, the growth from Brooks is why the line is quite larger than their first meeting which ended in a 7-4 regular decision for Brooks.
Watch Aaron Brooks and Abe Assad's match from the 2020 dual below.
197: Max Dean vs Jacob Warner
Line: Dean -1.5
At the beginning of the year, this might have just been a pick-em. Then, before last weekend, with how tough Max Dean had looked and Jacob Warner dropping a match to Yonger Bastida, it might have leaned into a -2.5 line in favor of Dean. However, with Dean wrestling Patrick Brucki close and dropping a match to Cam Caffey, this line gets brought down to Dean as a slight favorite at -1.5. Both of these wrestlers are sound in all three positions, so it could come down to one takedown or something like stalling, riding time, or a locked hands.
285: Greg Kerkvliet vs Anthony Cassioppi
Line: Kerkvliet -2.5
Maybe this is a disrespectful line to Anthony Cassioppi, who majored Greg Kerkvliet last year at Big Tens 9-0. However, with the knowledge that Kerkvliet was not 100% healthy last season and the fact that Kerkvliet just beat Mason Parris 8-5, I think it's fair to say there is a very real possibility that Kerkvliet is able to beat Cassioppi by the same amount of points than he beat Parris.
Maybe Cass is able to use the power of Carver to make me look like a fool?
---
Top-to-bottom this is sure to be an awesome dual. Stay locked in on FloWrestling.org for more preview content and the live audio broadcast!