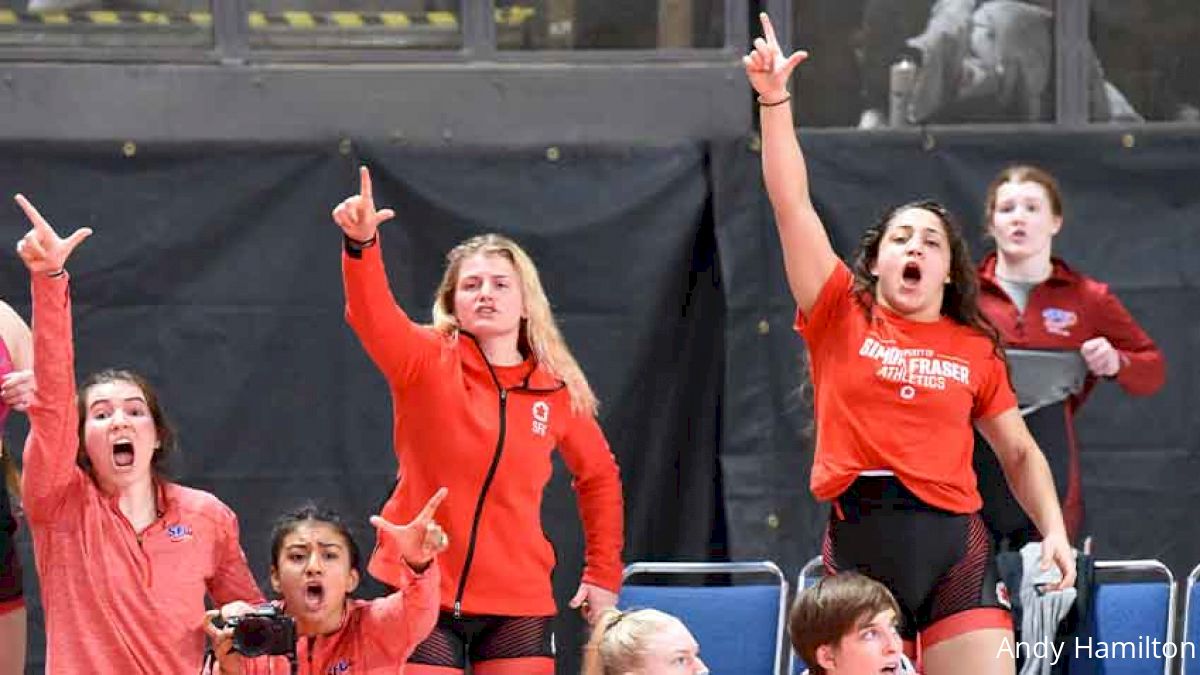 Get ready for fireworks!
Set aside all the time you need on January 6-7 to watch the women's divisions at this year's NWCA Multidivisional National Duals. If it was anything like 2020 (remember, 2021 was canceled due to a global pandemic) then we are in for a treat.
2020 In Review
The 2020 National Duals was an important year for women's wrestling since it was the first time that the NAIA division and NCAA division had separate tournaments. Prior to that, all women's teams competed together.
Although it's fun to see the best teams go head-to-head, this is a sign of growth for women's wrestling as charges forward become a sanctioned sport in both divisions.
McKendree won the NCAA division with a 20-19 win over Simon Fraser while Menlo won the NAIA division with a 22-19 Win over Campbellsville. McKendree's win was particularly memorable since the score was tied at the end of the dual and it took around 30 minutes to declare a winner based on criteria.
Here are the 2020 finals results. Look at all the stars — past and present — between the four teams.
NCAA
McKendree 20, Simon Fraser 19
101: Pauline Granados (McKendree) won by forfeit
109: Ciara McCrae (SFU) over Natalie Reyna (McKendree), 5-3
116: Karla Godinez-Gonzalez (SFU) over Felicity Taylor (McKendree), 8-0
123: Alex Hedrick (SFU) over Theresa Rankin (McKendree), 11-0
130: Alexia Ward (McKendree) over Lauren Mason (SFU), 5-1
136: Emma Bruntil (McKendree) over Nicole Depa (SFU), 7-0
143: Ana Godinez-Gonzalez (SFU) over Alara Boyd (McKendree), 12-0
155: Alyvia Fiske (SFU) over Alexandria Glaude (McKendree), 8-4
170: Korinah Bullock (McKendree) over Rebekah Trudel (SFU), 9-0
191: Sydnee Kimber (McKendree) over Emily Cue (SFU), 10-2
NAIA
Menlo 22, Campbellsville 19
101: McKenzie Bacich (Campbellsville) over Tianna Fernandez (Menlo), 12-5
109: Aleida Martinez (Menlo) over McKayla Campbell (Campbellsville), 10-00
116: Katlyn Pizzo (Campbellsville) over Alexandra Christoforatos (Menlo), Fall 1:35
123: Tiana Jackson (Menlo College) over Charlotte Fowler (Campbellsville) 8-0
130: Abby Nette (Campbellsville) over Laynee Pasion (Menlo), Fall 1:35
136: Alana Vivas (Menlo) over Randi Robison (Campbellsville), 9-1
143: Solin Piearcy (Menlo) over Mhina Oseitutu (Campbellsville), 10-0
155: Marilyn Garcia (Menlo) over Alexia Foca (Campbellsville), 7-5
170: Precious Bell (Menlo) over Kenya Sloan (Campbellsville), 10-2
191: Alexandra Castillo (Campbellsville) over Sara Aguilar (Menlo College), 10-2
National Duals seeds are here!
NCAA
6 Augsburg
NAIA
7 Baker
She's back!
Simon Fraser received a boost to its line-up with the return of Lauren Mason during the second semester. She is scheduled to compete at 130 pounds for the National Duals. Mason placed eighth at the 2018 WCWA Championships and third in 2019 — then placed third at the 2020 WCWC (NCAA) Championships.
"Having Lauren back is huge," said SFU coach Justin Abdou. "She is a three-time All-American at three different weights. She is obviously a very good wrestler but, more importantly, she is a great teammate and leader.
"We have an excellent group of experienced wrestlers but it is our young group that will really benefit from having Lauren involved. It's exciting that she made the decision to come back.
In addition to Mason's return to the college wrestling mats, she will be a contributor for FloWrestling's marketing department beginning in 2022.
FloWrestling Women's Rankings
Check out FloWrestling's women's U.S. freestyle national rankings — then check out how many are on college teams. Here are all the current college wrestlers ranked in the top 10. This list doesn't include college wrestlers from Canada.
50 kg

5. Emily Shilson (Augsburg)
7. Peyton Prussin (Life)
8. Alleida Martinez (Menlo)
10. Asia Ray (Wayland Baptist)
53 kg

8. Felicity Taylor (McKendree)
9. Jaslynn Gallegos (Presbyterian)
10. Sage Mortimer (King)


55 kg

2. Alex Hedrick (Simon Fraser)
3. Marissa Gallegos (Colorado Mesa)
5. Lauren Mason (Simon Fraser)
6. Asia Nguyen-Smith (North Central)
7. Payton Stroud (McKendree)
8. Amani Jones (North Central)
9. Julia Vidallon (Life)
10. Nichole Moore (Baker)


57 kg

3. Cheyenne Sisenstein (King)
5. Vayle Baker (King)
7. Gabby Skidmore (Augsburg)
8. Claire DiCugno (Colorado Mesa)
9. Cayden Condit (Lindenwood)
10. Devin Patton (Texas Wesleyan)
59 kg

4. Cam Geurin (McKendree)
8. Nanea Estrella (Menlo)
9. Mia Macaluso (East Stroudsburg)
62 kg

5. Gracie Figueroa (Menlo)
6. Ana Luciano (King)
9. Lexi Basham (Texas Wesleyan)
10. Zoe Nowicki (Adrian)
65 kg
4. Katerina Lange (Augsburg)
5. Ashlynn Ortega (King)
8. Destiny Lyng (Oklahoma City)
9. Waipuilani Estella-Beauchamp (Midland)
10. Alexis Gomez (Grand View)
68 kg
3. Alara Boyd (McKendree)
5. Malea Palahniuk (North Central)
6. Tiyahna Askew (Missouri Baptist)
7. Tiera Jimerson (North Central)
8. Erin Redford (Eastern Washington)
9. Emma Walker (Campbellsville)
10. Samantha Snow (Indiana Tech)
72 kg
3. Yelena Makoyed (North Central)
5. Alyvia Fiske (Simon Fraser)
6. Kayla Marano (McKendree)
7. Marlynne Deede (Augsburg)
8. Sienna Ramirez (Southern Oregon)
10. Tiffany Baublitz (King)
76 kg
4. Emily Cue (Simon Fraser)
5. Chey Bowman (King)
6. Joye Levendusky (McKendree)
8. Brittyn Corbishley (Texas Wesleyan)
9. Abby McIntyre (Grand View)
10. Ashley Lekas (Texas Wesleyan)