USA Wrestling
21 Of The Biggest Women's Freestyle Storylines Of 2021
21 Of The Biggest Women's Freestyle Storylines Of 2021
It was a banner year for women's wrestling in 2021, highlighted by amazing performances in Tokyo and Oslo and the addition of the first Power Five program.
Dec 28, 2021
by Olivia Lichti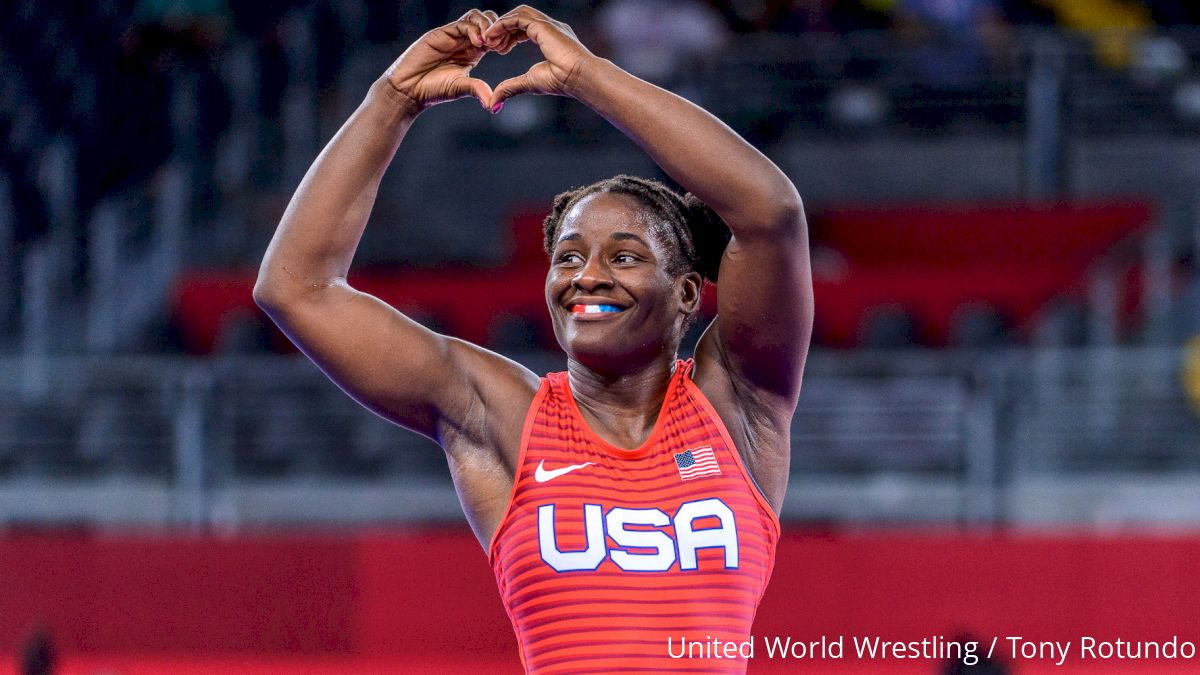 Unlock this article, live events, and more with a subscription!
Get Started
Already a subscriber? Log In
Though COVID-19 prevented much of the major domestic and international wrestling events in 2020, 2021 was chock-full of women's wrestling at the highest level. In addition to having both the Olympic Games and the World Championships in the same year, wrestling fans were treated to some amazing age-level competitions and thrilling domestic events. Here are 21 of the women's freestyle highlights from 2021:
Mensah Stock Wins USA's Second Women's Freestyle Olympic Gold
Five years after Helen Maroulis broke the glass ceiling by becoming America's first women's wrestling Olympic Champion, Tamyra Mensah Stock earned a gold medal of her own in Tokyo. Her feat was made even more impressive by her dominance — her path to gold included a technical superiority win against the reigning Olympic Champion and controlling 10-0, 10-4 and 4-1 victories.
Blades And Welker Make Olympic Trials Finals
When 18-year-olds Kennedy Blades and Kylie Welker both qualified for the Olympic Trials and the Last Chance Qualifier in Fort Worth, Texas, most wrestling fans didn't truly expect them to contend for a spot on the team. Blades and Welker both shocked the nation when they ripped their way through deep 68- and 76-kilogram brackets, respectively, only falling to eventual Olympic finalists in their final bouts.
Iowa Adds Women's Wrestling, Hires Chun
With Iowa's wrestling legacy and current powerhouse status, it seemed fitting that the Hawkeyes would become the first Power 5 school to add women's wrestling. The university followed up the exciting news with a fantastic head coach hire: World champion and Olympic medalist Clarissa Chun. The school will begin competing in the 2023-2024 season.
Japanese Women Win Four Olympic Titles
Japan's long-standing dominance in women's wrestling was put on exceptional display at the Olympic Games, and the talented women didn't disappoint their hometown fans. The Japanese women took home two-thirds of the women's wrestling titles, with gold medals in the four lightest weight classes.
Susaki Dominates Her Way to an Olympic Title
Japanese lightweight Yui Susaki's performance in Tokyo has to go down in history as perhaps the most dominant Olympic run of all-time. The two-time World Champion earned first-period techs over each of her highly seasoned opponents, giving up no points in the process.
Rotter-Focken Closes Out Career With Olympic-Winning Upset over Gray
Aline Rotter-Focken of Germany announced prior to the Games that the Olympics would be her last competition, and she ended her career with a huge statement. She notched arguably the biggest upset of the year by upending huge favourite Adeline Gray with a controlled 7-3 victory.
Gray Redeems Herself After Falling in Tokyo, Wins World Title #6
Few expected that Adeline Gray would come away from the Olympic Games with anything other than a gold medal, making her upset defeat at the hands of Germany's Rotter Focken a huge surprise. However, Gray reminded the world just how skilled she is with a dominant performance in Oslo, pinning her way to her sixth World title.
Olympic Champions Maroulis, Kawai Meet In Razor-Thin Bout
It was one of the most highly-anticipated matches of the Tokyo Games: 2016 Olympic Champions Helen Maroulis and Risako Kawai met in the 57-kilogram semifinals. In a battle of world-class positioning and back-and-forth passivity points, Kawai snuck out the 2-1 win; wrestling fans should hope for a rematch between these two greats in years to come.
Helen Overcomes Adversity, Wins Another Olympic Medal + World Title
When Helen Maroulis suffered a series of intense concussions in 2018, many — including Maroulis herself — thought her wrestling career could be over. However, the American legend battled back and added to her legacy this year, securing an Olympic bronze and winning her third World title in dominant fashion.
Oborodudu Becomes First African Woman to Make Olympic Finals
Over the past several years, the Nigerian women's wrestling program has displayed remarkable growth, and Blessing Oborodudu's impressive Olympic finals run consolidated this improvement. After the bottom half of the 68-kilogram bracket fell apart with some surprising upsets, Oborodudu rose to the top and gave Mensah Stock her closest match of the tournament before taking silver.
Yukako Kawai Defeats Tynybekova in Fourth Match of Series
Wrestling fans were treated to the fourth rendition of a matchup between two of women's wrestling's greatest current athletes: Aisuluu Tynybekova of Kyrgyzstan and Yukako Kawai of Japan. Though Tynybekova led the series 2-1 prior to the Olympic Games, Yukako Kawai evened the score with a 4-3 victory to win an Olympic gold medal alongside her sister, Risako.
Team Mensah-Stock Wins Inaugural Captain's Cup
Though wrestling was plagued with COVID-related misfortunes for much of 2020, one of the fruits of these impediments was the inaugural Captain's Cup event: a dual meet tournament with teams captained by the top American women's freestylers. The event was won by Tamyra Mensah-Stock's dynamic group of athletes, including Amy Fearnside, Alisha Howk, Abby Nette, Xochitl Motta-Petis and Dymond Guilford, as well as coach Afsoon Johnston. The high-level wrestling was accompanied by a deep sense of camaraderie and team spirit from each of the women participating in the event.
Americans follow up Cadet Title With Dominant Junior World Championships
The next generation of American women proved themselves dominant on the world stage with two team titles and seven individual champions in Budapest for the Cadet Worlds and Ufa for Juniors. This incredible performance was highlighted by the impressive upperweight sweep at Junior Worlds, where Amit Elor, Kennedy Blades and Kylie Welker teched and pinned their way to World titles without giving up a point.
Shilson And Elor Double Up on World Titles; Welker Makes Three World Teams
Amit Elor and Emily Shilson have been widely renowned as phenoms for the past several years, but the pairs of World titles each won this year — Amit at Cadets and Juniors, Emily at Juniors and U23s — iced this perception. Kylie Welker had a similarly impressive year, winning a Junior World title, U23 World bronze and making the Senior World team at 72 kilos.
Yepez, Anshu, Ringaci Make History
Several women made history for their nations this year with remarkable performances at the World Championships. Lucia Yepez Guzman became Ecuador's first woman to win a World title when she bumped up to 53 kilos (from her Olympic weight class of 50) and won U23s in Belgrade. Indian Olympian Anshu also became the first woman from her nation to make the World finals. Irina Ringaci earned the growing Moldovan women's wrestling program's first women's Senior World title when she added to her gold in Ufa with a solid performance in Norway.
Both Tokyo 2020 Olympic Finalists Fall in Oslo
68 kilos proved to be one of the craziest weight classes of the year, and Oslo was no exception. Olympic finalist Blessing Oborodudu lost in a wild match to Russia's Khanum Velieva, and was not pulled into the repechage after Velieva failed to make the finals. In an even more shocking upset, Olympic champion Tamyra Mensah Stock was pinned by Japan's unheralded Rin Miyaji in just 21 seconds after the young Japanese secured a cradle and stuck the American, much to the world's surprise.
Teenager Fujinami Wins a World Title
Akari Fujinami needed a parental permission slip just to compete in the World Championships, but she displayed the poise and skill of a wrestler much beyond her years. The high schooler teched her way to a World title at 53 kilos and just recently added another Japanese national title to her quickly growing resumé. The world will certainly be on notice for a pending matchup against her reigning Olympic champion Mayu Mukaida of Japan.
Japanese Backups Win Team Title in Oslo
Prior to the World Championships, it seemed like the well-decorated American women's team would have a prime shot at defeating perpetual favorites Japan for their first team title in decades. However, Japan's youngsters showed out — winning medals at nine of 10 weights — and proved just why the country is revered as such a powerhouse.
Kyrgyzstan's Women's Program Emerges as Upperweight Powerhouse
Kyrgyzstani wrestling superstars Aisuluu Tynybekova and Meerim Zhumanzarova made history for their nations this year by becoming the first women in any sport to win an Olympic medal for their nation, taking silver at 62 kilograms and bronze at 68 kilograms, respectively. They followed that up with World titles in Oslo, and fellow Olympian Aiperi Medet Kyzy added a U23 World title to cap off a groundbreaking year. The victories by these women have helped improve conditions for all women in sport in Kyrgyzstan.
Ukraine Enters Potential Powerhouse Tier with Strong Olympic, U23 Performances
Ukrainian women's wrestling showed just how bright its future is with strong performances at the age-level and Olympic competitions this year. With seven Junior European champions, two Olympic medalists and five U23 World finalists, Ukraine will definitely be a program to watch out for entering into 2022.
Japan, China, USA, Mongolia And Russia Qualify All Six Olympic Weights
While 2021 revealed some new countries that may emerge as potential powerhouses, the five staple women's wrestling nations continued to produce solid results. Japan dominated the international scene, but the United States proved it's continuing to gain ground with spectacular Senior and age-level results. The team race between these two countries will certainly be a focal point of interest in years to come.