2022 Southern Scuffle
Full Southern Scuffle Registration List
Full Southern Scuffle Registration List
With over 50 ranked D1 wrestlers, the Southern Scuffle is sure to be electric once again in 2022.
Dec 28, 2021
by JD Rader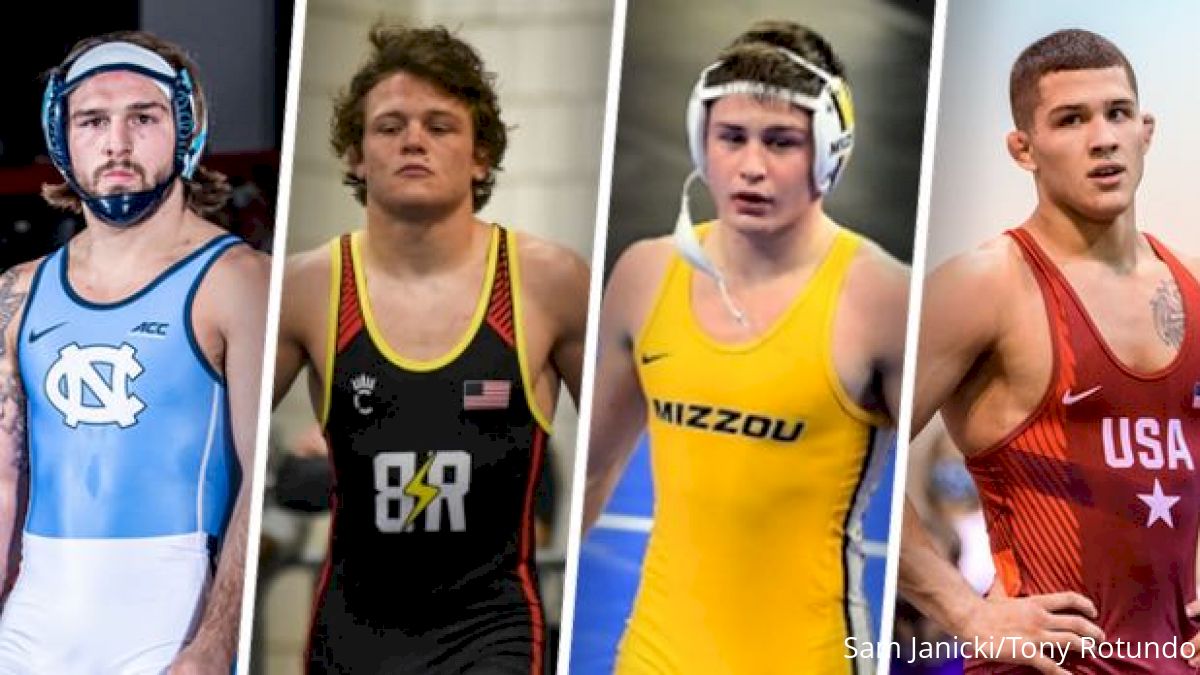 Every New Year's Day, the Southern Scuffle kicks off the beginning of the year with an electrifying lineup that produces some of the year's top collegiate matches. The 2022 Southern Scuffle will be no different. Check out the full registration list here with ranked wrestlers at the top of each weight class, and get ready to kick back, relax, and ring in the only way we know-how.
Entries are subject to change. Wrestlers may compete unattached.
125 Pounds
#7 Killian Cardinale, West Virginia
#9 Pat McKee, Minnesota
#13 Noah Surtin, Missouri
#17 Joe Manchio, Columbia
#21 Fabian Gutierrez, Chattanooga
#HM Tristan Daugherty, Buffalo
Drake Ayala, UA-Iowa
Reece Witcraft, Oklahoma St
Greg Diakomihalis, Cornell
Cooper Flynn, Virginia Tech
Tanner Jordan, South Dakota St
Jace Koelzer, Northern Colorado
Gary Steen, Penn State
Eddie Ventresca, Virginia Tech
Logan Agin, Duke
Logan Ashton, Stanford
Chad Bellis, Appalachian State
Braxton Brown, Maryland
Jayden Carson, UA- Little Rock
Aedyn Concepcion, Gardner-Webb
Sammy Congleton, VMI
Alex Cottey, Chattanooga
Eddie Flores, CSU-Bakersfield
Malik Hardy, The Citadel
Ryan Henningson, North Dakota St
James Joplin, North Carolina St
Tyler Klinsky, Rider
Tristan Lujan, Michigan State
Nieko Malone, Rider
Antonio Mininno, Drexel
Ty Naquin, Duke
Reid Nelson, UA- Little Rock
Julian Saldana, Michigan State
Josh Sarpy, UA- Little Rock
Jace Schafer, West Virginia
Baylor Shunk, Penn State
Caleb Smith, Appalachian State
Zachary Spence, Maryland
Brett Unger, Spartan Combat RTC
Jordi White, The Citadel
---
133 Pounds
#13 Rayvon Foley, Michigan State
#17 Chance Rich, CSU-Bakersfield
#23 Jake Gliva, Minnesota
#24 Jackson Disario, Stanford
#HM Kellyn March, North Dakota St
#HM Jarrett Trombley, North Carolina St
Cullan Schriever, UA-Iowa
Chrales Matthews, Iowa
Connor Brown, Missouri
Sean Carter, Appalachian State
Trey Crawford, Missouri
Richie Koehler, Rider
Dom Lajoie, Cornell
Brandon Meredith, Penn State
Kai Orine, North Carolina St
Angelo Rini, Columbia
Trayton Anderson, South Dakota St
Blake Boarman, Chattanooga
Aidan Campbell, UA- Little Rock
Jaylen Carson, UA- Little Rock
Todd Carter, Gardner-Webb
Mason Clarke, Columbia
Jackson Cockrell, Maryland
Dominic DiTiullio, Gardner-Webb
Drake Doolittle, Duke
David Evans, Penn State
Jayden Gomez, UA- Little Rock
Kyle Gorant, Davidson
Caleb Gross, South Dakota St
Aaron Ibarra, CSU-Bakersfield
Jake Insko, Chattanooga
Dyson Kunz, Northern Colorado
Garett Lautzenheiser, West Virginia
Phillip Moomey, Cornell
Ethan Oakley, Appalachian State
Brayden Palmer, Chattanooga
Jacob Perez-Eli, Rider
Deon Pleasant, Drexel
Michael Rapuano, George Mason
Jake Rotunda, The Citadel
Codi Russell, Appalachian State
King Sandoval, Maryland
Derek Spann, Buffalo
Jordan Titus, West Virginia
---
141 Pounds
#6 Clay Carlson, South Dakota St
#7 Andrew Alirez, Northern Colorado
#12 Allan Hart, Missouri
#13 Real Woods, Stanford
#20 Matt Kazimir, Columbia
#HM Collin Gerardi, Virginia Tech
#HM Angelo Martinoni, CSU-Bakersfield
Dusty Hone, Oklahoma St
Wyatt Henson, UA-Iowa
Drew Bennett, Iowa
Leif Schroder, Iowa
Anthony Brito, Appalachian State
Vince Cornella, Spartan Combat RTC
Dylan Droegemueller, North Dakota St
Cole Handlovic, Cornell
Quinn Kinner, Rider
Ethen Miller, Maryland
Jason Miranda, Stanford
Marcos Polanco, Minnesota
Caleb Rea, West Virginia
Josh Saunders, Cornell
Franco Valdes, Chattanooga
Conner Ward, UA- Little Rock
Danny Bertoni, Maryland
Matthew Bianchi, UA- Little Rock
Kaden Cassidy, George Mason
Gavin Damasco, Davidson
Jared Donahue, Drexel
Ben Freeman, Buffalo
Jason Garay, The Citadel
Heath Gonyer, Appalachian State
Jordan Hamdan, Michigan State
Freddy Junko, VMI
Hunter Lewis, North Carolina St
Trevon Majette, Gardner-Webb
Jack Marlow, Buffalo
Bryan Miraglia, Rider
Shawn Nonaka, George Mason
Jarred Papcsy, North Carolina St
Kyle Rowan, Stanford
Patrick Rowland, Duke
Matt Santos, Michigan State
Jack Whitmire, The Citadel
---
149 Pounds
#9 Jonathan Millner, Appalachian State
#11 Josh Finesilver, Duke
#20 Josh Edmond, Missouri
#HM Zach Price, South Dakota St
Bretli Reyna, UA-Iowa
Caleb Rathjen, UA-Iowa
Cody Chittum, Unattached
Benji Alanis, Northern Colorado
Jeff Boyd, West Virginia
Travis Mastrogiovanni, Oklahoma St
Peyton Omania, Michigan State
Brayden Roberts, West Virginia
Chris Sandoval, Northern Colorado
Victor Voinovich, Oklahoma St
John Arceri, Buffalo
Matt Arciuolo, Columbia
Joey Bianchi, UA- Little Rock
Josh Brown, CSU-Bakersfield
Noah Castillo, Chattanooga
George Coleman, Chattanooga
Mitch Collicay, Bellarmine
Zac Cowen, Bellarmine
Jared Dinh, Gardner-Webb
Corbin Dion, Gardner-Webb
Jaden Enriquez, Michigan State
Danny Fongaro, Columbia
Luke Hart, VMI
Lincoln Heck, Chattanooga
Eddie Homrock, Michigan State
Austin Keal, UA- Little Rock
Daniel Kimball, South Dakota St
David Loniewski, Davidson
Rudy Lopez, Northern Colorado
Cade Lucio, CSU-Bakersfield
Grant Lundy, Chattanooga
Alex Madrigal, George Mason
Alek Martin, South Dakota St
Hunter Noland, Chattanooga
Michael North, Maryland
Gabe Onorato, Drexel
Matt Ryan, Buffalo
Joey Sanchez, Oklahoma St
Gaven Sax, North Dakota St
Fillers Seth, VMI
Matthew Williams, Chattanooga
Tyler Williams, Drexel
Ethan Willis, The Citadel
Lewis Zach, Gardner-Webb
---
157 Pounds
#5 Brayton Lee, Minnesota
#8 Jared Franek, North Dakota St
#17 Jarrett Jacques, Missouri
#24 Chase Saldate, Michigan State
#HM Parker Kropman, Drexel
#HM Kyle Mosher, Columbia
#HM Colton Yapoujian, Cornell
#HM Dazjon Casto, The Citadel
Joe Lee, Penn State
Brock Mauller, Missouri
Sebastian Robles, UA-Iowa
Terrell Barraclough, Penn State
Cody Bond, Appalachian State
Jalin Harper, Oklahoma St
AJ Kovacs, North Carolina St
Hunter Richard, Cornell
Adam Santoro, Cornell
RJ Weston, Northern Iowa
Vinny Zerban, Northern Colorado
Tommy Askey, Appalachian State
Avery Bassett, George Mason
Alec Bobchin, Rider
Lucas Cordio, Maryland
Charles Darracott, Stanford
Cody Eaton, Northern Colorado
Derek Fields, North Carolina St
Angel Garcia, Rider
Andy Garr, Columbia
Alex Hornfeck, West Virginia
Jackson Hurst, Chattanooga
Daniel Manibog, Oklahoma St
Michael Martinak, Drexel
Chance McLane, Oklahoma St
Nathan Moore, Northern Colorado
Kamdyn Munro, Unattached
Cole Nance, Bellarmine
Kenny O'Neil, South Dakota St
Taylor Parks, Gardner-Webb
Ty Raines, Buffalo
Loranzo Rajaonarivelo, George Mason
Brock Rogers, CSU-Bakersfield
Bryce Sanderlin, Davidson
Hunter Shaut, Buffalo
Blake Showers, VMI
Grant Speer, The Citadel
Cael Swensen, South Dakota St
Chase Tebbets, UA- Little Rock
Wade Unger, Duke
Johnathon Viveros, CSU-Bakersfield
Weston Wichman, Chattanooga
---
165 Pounds
#3 Keegan O'Toole, Missouri
#7 Luke Weber, North Dakota St
#12 Peyton Hall, West Virginia
#15 William Formato, Appalachian State
#16 Thomas Bullard, North Carolina St
#23 Joshua Ogunsanya, Columbia
#HM Evan Barczak, Drexel
#HM Tanner Cook, South Dakota St
#HM Gabe Dinette, Duke
#HM Caleb Fish, Michigan State
#HM Selwyn Porter, The Citadel
#HM Andrew Sparks, Minnesota
Alex Facundo, Penn State
Patrick Kennedy, UA-Iowa
Joe Kelly, Iowa
Jack McClimon, UA-Iowa
Michael Caliendo III, North Dakota St
Nick Knutson, Northern Colorado
Matt Lee, Penn State
RJ Mosley, Gardner-Webb
Drew Nicholson, Chattanooga
Clayton Ulrey, Virginia Tech
Gaven Bell, Maryland
Tyler Brennan, UA- Little Rock
River Carroll, VMI
Donald Cates, North Carolina St
Drew Dickson, George Mason
Augustine Garcia, CSU-Bakersfield
Noah Grover, Buffalo
Jaden Hardrick, Davidson
Devin Hendrick, Bellarmine
Jack Janda, Drexel
Andaluz Jerry, Rider
Tyler Kocak, George Mason
Will Miller, Appalachian State
Quentin Milliken, Rider
Andrew Mulay, Rider
Jake Null, North Carolina St
Braden Smelser, CSU-Bakersfield
Jack Thomsen, South Dakota St
Caleb Waddell, Chattanooga
Cody Walsh, Drexel
Mke Wilson, Rider
---
174 Pounds
#8 Matt Finesilver, Duke
#12 Cade DeVos, South Dakota St
#14 Mickey O'Malley, Drexel
#17 Peyton Mocco, Missouri
#HM Tyler Eischens, Stanford
#HM Thomas Flitz, Appalachian State
#HM Triston Wills, UA- Little Rock
Andrew Berreyesa, Cornell
Brennan Swafford, Iowa
Payton Craft, Cornell
Adrien Cramer, Maryland
Bailey O'Reilly, Minnesota
Aaron Ayzerov, Columbia
Eric Beck, Bellarmine
Conor Becker, Duke
Austin Brenner, North Dakota St
Cole Burke, The Citadel
Corey Connolly, Rider
Anthony D'Alesio, West Virginia
Alex Faison, North Carolina St
Nick Fine, Columbia
Riley Habisch, North Dakota St
Sean Harman, Missouri
Ben Haubert, The Citadel
Alex Hernandez, UA- Little Rock
Giuseppe Hoose, Buffalo
Jon Hoover, VMI
Nathan Jimenez, Michigan State
Diaz Joel, VMI
Scott Joll, West Virginia
Jake Lanning, Buffalo
Natty Lapinski, Drexel
Marty Larkin, Michigan State
Logan Messer, George Mason
Brett Mordecai, Appalachian State
Steven Newell, Davidson
Jay Nivison, Buffalo
Damen Pape, Northern Colorado
Joseph Pargoe, Gardner-Webb
Paul Pierce, George Mason
Shane Reitsma, Rider
Dennis Robin, West Virginia
Evan Schenk, Gardner-Webb
Thomas Sell, Chattanooga
Jeremy Seymour, George Mason
Dom Solis, Maryland
Carial Tarter, Chattanooga
Albert Urias, CSU-Bakersfield
Andrew Wilson, Gardner-Webb
Lennox Wolak, Columbia
---
184 Pounds
#8 Hunter Bolen, Virginia Tech
#12 Jon Loew, Cornell
#16 Jeremiah Kent, Missouri
#21 Layne Malczewski, Michigan State
#24 Kyle Cochran, Maryland
#HM Cade King, South Dakota St
Colton Hawks, Missouri
Andrew Simaz, UA-Iowa
Nathan Thacker, Cornell
Jha'Quan Anderson, Gardner-Webb
Sam Fisher, Virginia Tech
Bryan McLaughlin, Drexel
Isaiah Salazar, Minnesota
Matthew Waddell, Chattanooga
Peter Acciardi, Buffalo
Vincent Baker, Duke
Donovon Ball, Penn State
Barrett Blakely, Appalachian State
Brian Bonino, Columbia
Branson Britten, Northern Colorado
Zach Brown, VMI
Anthony Carman, West Virginia
Luke Chakonis, Duke
Kyle Davis, George Mason
Micha DiCarlo, The Citadel
Mason Diel, UA- Little Rock
Judah Duhm, Stanford
Joe Franzese, Columbia
Jacob Hansen, CSU-Bakersfield
Colbey Harlen, Stanford
Gavin Henry, Davidson
Landon Lewis, Chattanooga
Tanner Mendoza, UA- Little Rock
Chase Mielnik, Maryland
Sam Mora, Gardner-Webb
Michael Nelson, North Dakota St
DJ Parker Jr, North Dakota St
Sam Schroeder, Bellarmine
Gavin Stika, Oklahoma St
Josh Stillings, Drexel
Xavier Vasquez, Northern Colorado
Evan Vazquez, Rider
---
197 Pounds
#6 Rocky Elam, Missouri
#15 Owen Pentz, North Dakota St
#24 Alan Clothier, Northern Colorado
#HM Tanner Sloan, South Dakota St
#HM Cam Caffey, Michigan State
#HM Michaial Foy, Minnesota
#HM Jaron Smith, Maryland
Michael Beard, Penn State
Matt Correnti, Rider
Josh Loomer, CSU-Bakersfield
Kaden Russell, Duke
Andy Smith, Virginia Tech
Jaxon Smith, Maryland
Jacob Anderson, Rider
Azeem Bell, Rider
Nick Casperson, South Dakota St
Jacob Ferreira, North Carolina St
Jack Flynn, Missouri
Cody Howard, Virginia Tech
Garrett Jones, Minnesota
Christian Knop, North Carolina St
Kevin Makosy, Maryland
Sam Mitchell, Buffalo
Jackson Moomau, West Virginia
Mateo Morales, CSU-Bakersfield
Santino Morina, Drexel
Tyler Mousaw, VMI
Anthony Perrine, Gardner-Webb
Brooks Sacharczyk, UA- Little Rock
Eli Sheeren, Buffalo
Andrew Stemmet, Stanford
Ben Stemmet, The Citadel
Asa Terrell, Rider
Sam Wustefeld, Columbia
---
285 Pounds
#16 Zach Elam, Missouri
#18 Lewis Fernandes, Cornell
#19 Michael Wolfgram, West Virginia
#20 Owen Trephan, North Carolina St
#22 Brandon Metz, North Dakota St
#23 AJ Nevills, South Dakota St
Aaron Costello, Iowa
Hunter Catka, Virginia Tech
Austin Harris, Oklahoma St
Seth Nevills, Penn State
Deonte Wilson, North Carolina St
Toby Cahill, Buffalo
Michael McAleavey, The Citadel
Jacob Seely, Northern Colorado
David Szuba, Rider
Robert Winters, Northern Colorado
Jake Andrews, CSU-Bakersfield
Eli Anthony, Drexel
Michael Burchell, Appalachian State
Jonathan Chesser, The Citadel
Nicco Colucci, Rutgers
Dan Conley, Columbia
Isaac Dolph, VMI
Konner Doucet, Oklahoma St
Matthias Ervin, Chattanooga
Brendan Furman, Cornell
Josiah Hill, UA- Little Rock
Tyrie Houghton, North Carolina St
Evans Josh, VMI
Peyton McComas, Gardner-Webb
Bowen McConville, South Dakota St
Peter Ming, Stanford
Jonah Nisenbaum, Duke
Seth Nitzel, Missouri
Seamus O'Malley, Stanford
Abraham Preson, Gardner-Webb
Brayden Ray, Duke
Jacob Sartorio, Appalachian State
Zachary Schrader, Maryland
Harris Solomon, VMI
Jalen Stephens, Columbia
Austin Stith, George Mason
Mitchell Trigg, Davidson
Grayson Walthall, Chattanooga
Brad Wilton, Michigan State