Women's Weekly
Women's Weekly: Everything Women's Wrestling
Women's Weekly: Everything Women's Wrestling
A new women's wrestling podcast has launched on FloWrestling and a new women's coach at USA Wrestling will be hired by next year.
Dec 23, 2021
by Kyle Klingman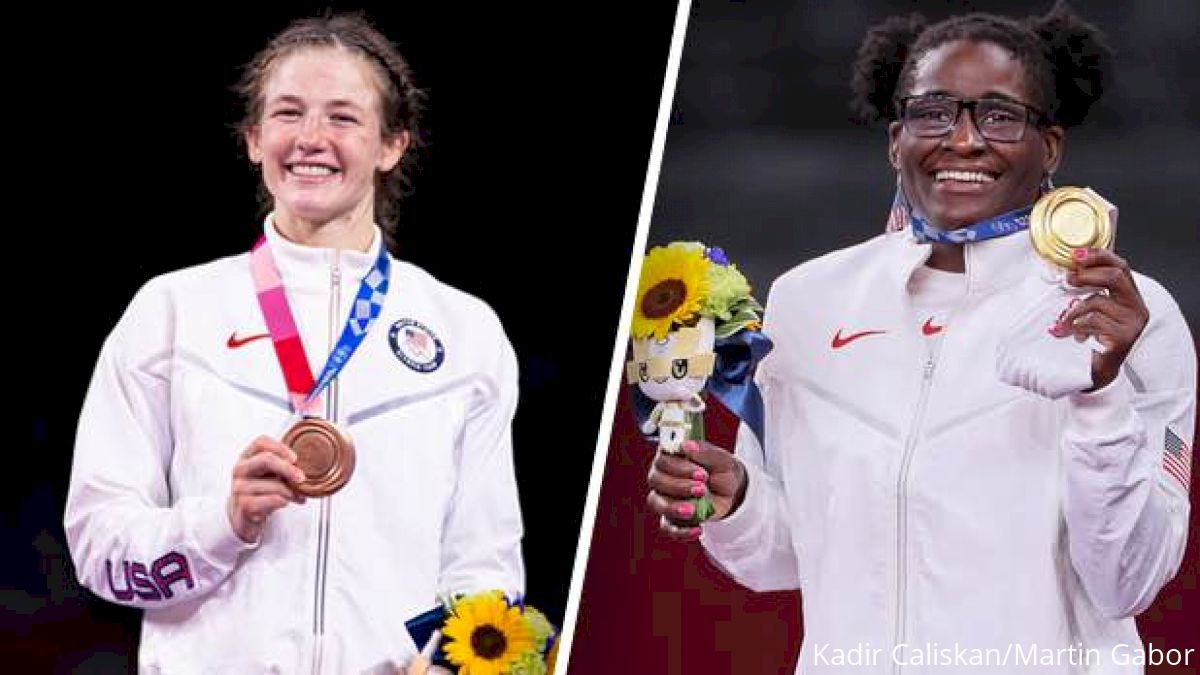 Everything Women's Wrestling
Lori Ayres is starting a new video podcast on FloWrestling called "Everything Women's Wrestling." Ayres is the co-founder of Division I women's wrestling, an organization working to educate, grow, and support women who want to wrestle at the Division I level.
The show covers a variety of topics within women's wrestling in an effort to build the sport at all levels. The inaugural episode has dropped on FloWrestling. Her first guest is Jacque Davis — the former women's wrestling director for Beat the Streets and a coach for 17 international wrestling tours.

"Women's wrestling needs more focused conversation and I'm grateful to FloWrestling for stepping up to provide a platform," Ayres said. "The Everything Women's Wrestling podcast will host discussions with thought leaders on topics such as media coverage, emerging sport status, Title IX, regional training centers, Junior Nationals, collegiate opportunities, and so much more.
"Honestly, the topics seem endless and I can't wait to get the conversation going. This will be a partnership of the highest order. The show is for women AND men. For our wrestling ecosystem to grow to its strongest, we have to work together."
Job opening
There is a job opening at USA Wrestling now that Clarissa Chun has accepted the position of head women's coach at Iowa. Her previous role as assistant women's national team coach at USA Wrestling will be vacant when Chun moves to Iowa City early next year.
Current women's national team coach Terry Steiner said he likely won't fill the role until April since potential candidates may be in the midst of a college or high school season. He wants to have someone in place by the U.S. Open in Las Vegas.
"This is an important position," Steiner said. "They have to wear a lot of hats. It's not going to be easy to fill. Clarissa was great at what she did. We'll find someone who will step in and get them up to speed. We need to have coaches in these elite positions. Iowa was the first and I hope there are 50 more. I hope all of our major schools jump on board. I hope it's an issue we're facing a lot.
"We're kind of mid-stream here going into the next Olympics. We don't have a lot of time for some of these athletes and they want someone who can come in and make an impact and help them along their journey right away. They're going to have to build trust and the only way to build that trust is an ability to communicate verbally and non-verbally."
Olympic cycle
The upcoming 2022 international season might look a little different since there were two World-level championships held in 2021. Our six-member Olympic team and 10-member World team were part of a historic medal haul for Team USA.
As a refresher, here is what each team looked like.

202One Olympic Team
50 kg: Sarah Hildebrandt, bronze
53 kg: Jacarra Winchester
57 kg: Helen Maroulis, gold
62 kg: Kayla Miracle, silver
68 kg: Tamyra Mensah-Stock, gold
76 kg: Adeline Gray, silver
2021 World Team
50 kg: Sarah Hildebrandt, silver
53 kg: Amy Fearnside
55 kg: Jenna Burkert, bronze
57 kg: Helen Maroulis, gold
59 kg: Maya Nelson
62 kg: Kayla Miracle, bronze
65 kg: Forrest Molinari, bronze
68 kg: Tamyra Mensah-Stock, bronze
72 kg: Kylie Welker
76 kg: Adeline Gray, gold
Several members of the team have indicated that they will compete through Paris 2024 but we'll keep an eye on who on the above World and Olympic teams will participate during the 2022 freestyle season.
Historical Perspective
Of the above six Olympians, four competed at the 2013 WCWA Championships — and only one took home a title.
Jacarra Winchester (Missouri Valley) took second place at 116 pounds to Joey Miller of Oklahoma City.
Sarah Hildebrandt (King) took second place at 123 pounds to teammate Kat Perez.
Tamyra Mensah-Stock (Wayland Baptist) wrestled back for third place at 143 pounds after getting pinned by Bailey Halverson of Simon Fraser during her first match.
Helen Maroulis of Simon Fraser won the 130-pound title with a win in the finals over Shauna Isbell of Lindenwood.