2022 Arizona State vs Michigan
What Nick Suriano To Michigan Means For The NCAA Team Race
What Nick Suriano To Michigan Means For The NCAA Team Race
Can Michigan take out Iowa or Penn State now? JD breaks it down.
Nov 29, 2021
by JD Rader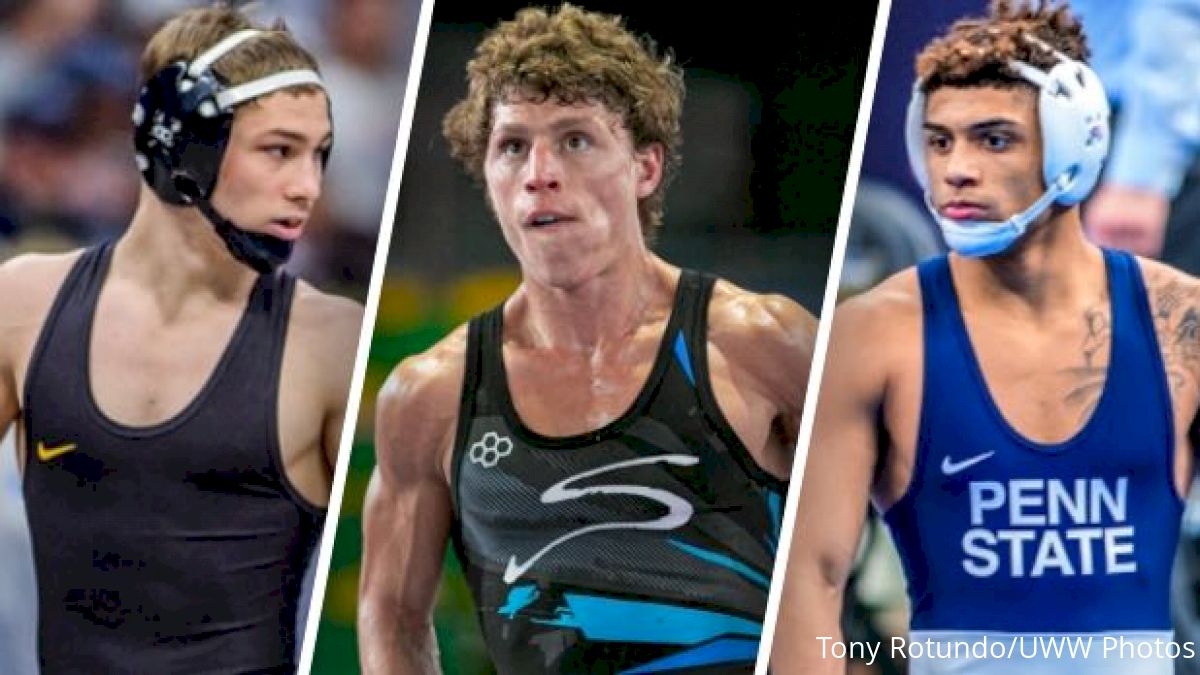 Unlock this article, live events, and more with a subscription!
Get Started
Already a subscriber? Log In
In one of the biggest moves in NCAA history, Nick Suriano announced he is going to Michigan for the second semester of this year to try and help Michigan win their first-ever NCAA team title.
I will hone the honor of assisting this team in the pursuit to our first team National Championship." - Nick Suriano
Assuming Suriano goes 125 lbs, this has major implications for both individual legacies and the team race. Not only could Suriano attempt to stop Spencer Lee from winning his fourth NCAA title, but Michigan just might have a shot at stopping Iowa from repeating as back-to-back team champions.
But can the Wolverines actually beat Iowa? Right now they are ranked fifth in the NCAA team tournament rankings, but that's with current 125 lbs starter Jack Medley at #15 and current 174 lbs starter Max Maylor unranked.
Updated Projected NCAA Placement Points With Suriano and Massa
Suriano ranked at #2 and Massa at #5 would give Michigan an extra 24 projected points and slide them into third behind #1 Iowa and #2 Penn State. Keep in mind that these theoretical team points don't include any bonus points.
1. Iowa, 121
2. Penn State, 109
3. Michigan, 81
Let's take a look at the lineups.
Potential NCAA Lineups
| | | | |
| --- | --- | --- | --- |
| | Michigan | Iowa | Penn State |
| 125 | Nick Suriano | #1 Spencer Lee | Drew Hildebrandt* |
| 133 | #19 Dylan Ragusin | #3 Austin Desanto | #1 Roman Bravo-Young |
| 141 | #4 Stevan Micic | #2 Jaydin Eierman | #1 Nick Lee |
| 149 | HM Kanen Storr | #7 Max Murin | #19 Beau Bartlett |
| 157 | #9 Will Lewan | #8 Kaleb Young | Terrell Baraclough |
| 165 | #14 Cameron Amine | #1 Alex Marinelli | Alex Facundo* |
| 174 | Logan Massa* | #2 Michael Kemerer | #1 Carter Starocci |
| 184 | #2 Myles Amine | Abe Assad | #1 Aaron Brooks |
| 197 | #7 Patrick Brucki | #3 Jacob Warner | #2 Max Dean |
| 285 | #2 Mason Parris | #5 Tony Cassioppi | #4 Greg Kerkvliet |
*Drew Hildebrandt is currently not on the Penn State roster, but rumors have circulated that he will join the team second semester
*Creighton Edsell is the current 165 lbs starter for Penn State, but there is a good chance true freshman Facundo is the guy by Big Tens
*Logan Massa is currently not on the Michigan roster but has one year of eligibility left
Michigan's Path To The Title
Get Logan Massa Back
As of right now, it doesn't look like Logan Massa is coming back to compete for the Wolverines, but the Wolverines really need him. Redshirt junior Max Maylor has been Michigan's starter for the first three duals of the season. No offense to Maylor, but Massa is a massive upgrade. Michigan would go from likely scoring 0 points at the weight to as many 15+ if Massa is able to finish 3rd with several bonus-point victories like he did in 2017.
Maybe Suriano joining the team will be the straw that breaks the camel's back and gets him back on the team?
Win a Match at 125, 141, 174, or 184
If you look at each one of those weight classes, you wouldn't favor the Michigan wrestler against Iowa at any of them on paper. However, it's not a 0% chance either. On the NCAAs craziness scale, Michigan taking out a #1 seed at one of these weights is fairly moderate. Any victory would move Michigan closer to the Hawks.
Pick Up Bonus Points Where They Can
Iowa easily has the soundest top-to-bottom lineup. They return 9 All-Americans and Assad was an NWCA AA in 2020. I have a hard time seeing a scenario where Ragusin and Storr make the podium. Where can Michigan make up those points? With bonus points. Cam Amine finishing in 7th place with two forfeits on the backside was huge for them finishing 5th last year. So was Mason Parris picking up 6.5 bonus points en route to making the finals. Every fall, forfeit, default, disqualification is 2 extra team points, and every point is going to matter this year.
Have Iowa and Penn State Underperform At A Weight Or Two
Unless Michigan wildly outperforms expectations at NCAAs, they're still going to need a break or two to win the title. Iowa was still able to win last year without Marinelli placing. I'm not so sure if that will be the case this year.
---
Long story short, Iowa is still the favorite and Penn State is still #2. However, this makes things much more interesting. I'm saying there's a chance. Don't forget, NCAAs are in Michigan this year.