Women's Weekly
Women's Weekly: College Season Off To Strong Start
Women's Weekly: College Season Off To Strong Start
It was an eventful week with Iowa naming a head women's wrestling coach and the Missouri Valley Open taking place on November 19-20.
Nov 23, 2021
by Kyle Klingman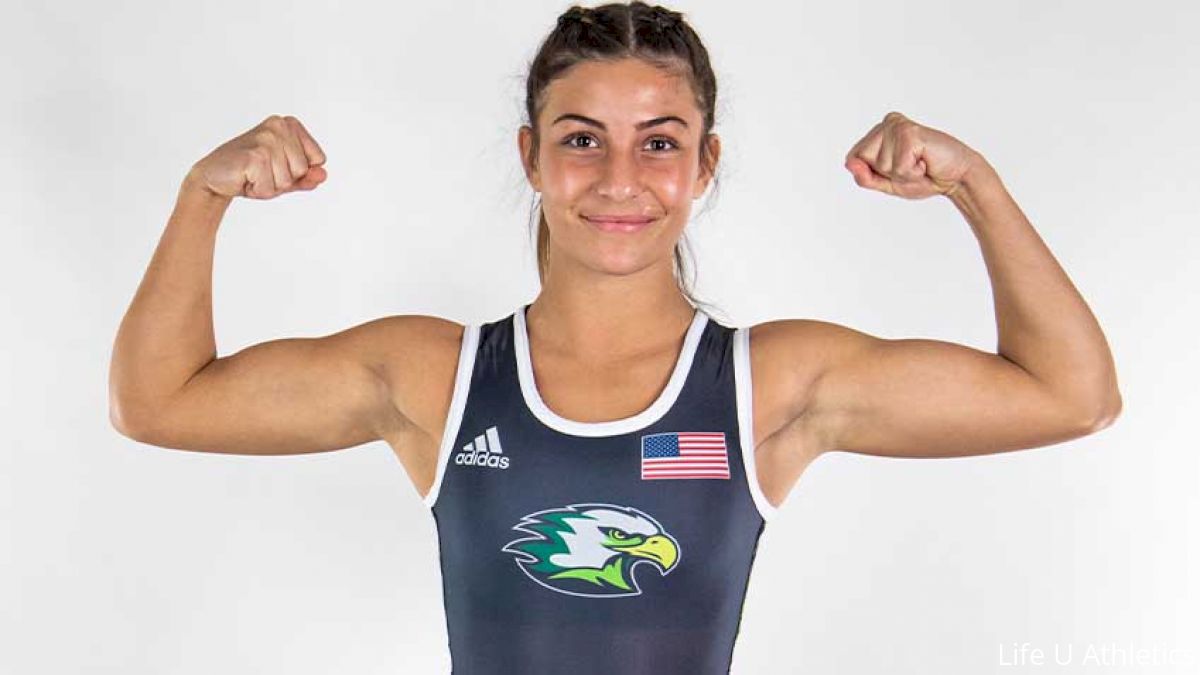 It was an eventful week with Iowa naming a head women's wrestling coach and the Missouri Valley Open taking place on November 19-20. We have all of that and more in this edition of Women's Wrestling Weekly.
Clarissa Chun Makes History
Thursday, November 18, 2021, will mark an important date in wrestling history. That's when Olympic bronze medalist Clarissa Chun was named the inaugural head coach at Iowa, becoming the first coach to lead a Power Five women's wrestling team. The Hawkeyes begin competition during the 2023-24 season.
The University of Iowa celebrated Chun's hire in grand fashion. She held a press conference on November 19 alongside athletic directors Gary Barta and Barbara Burke. Chun received a standing ovation when she was introduced during the Princeton-Iowa dual later than evening — and another standing ovation the following day when she was recognized during the Illinois-Iowa football game.
Chun will begin her tenure at Iowa on February 7, 2022.
King For A Day
The Missouri Valley Open on November 19-20 was the first major college women's wrestling tournament of the season. It featured over 35 teams and 391 wrestlers across all divisions. Second-ranked King University outpaced top-ranked McKendree — 244 to 210.5 — for the title. Texas Wesleyan (fourth) was the highest placing team from an NAIA program.
King crowned three champions out of 11 weights, including Sage Mortimer (116), Cheyenne Sisenstein (123), and Ana Luciano (136).
"I feel like we had a pretty good weekend," said King coach Jason Moorman. "We have a lot of new faces in our lineup and not everybody was there. Not everybody was at the weight they're going to be at for the season.
"This was a good test. We had some sloppy matches and we have a lot of work to do. I was happy to see us gut out some wins — and that's where you start. We want to be ready to peak by March."
King will participate in the first-ever women's tournament at the Midlands Championships on December 30. Moorman also mentioned that he was excited about the possibility of wrestling Iowa at some point.
"Iowa adding women's wrestling is a game-changer," Moorman said. "They hired a great coach with Chun so it's exciting to see where it's going to go. Who knows? Iowa vs. King in Carver-Hawkeye would be pretty cool."
Top 10 team scores
King 244

McKendree 210.5

North Central 178.5

Texas Wesleyan 139

Grand View 119.5

Life 110

Southern Oregon 94.5

Wayland Baptist 90.5

Tiffin 75.5

Campbellsville 73.5
Individual champions
101: Olivia Shore, Tiffin
109: Peyton Prussin, Life
116: Sage Mortimer, King
123: Cheyenne Sistenstein, King
130: Cameron Guerin, McKendree
136: Ana Luciano, King
143: Destiny Lyng, Oklahoma City
155: Alara Boyd, McKendree
170: Yelena Makoyed, North Central
191: Jaycee Foeller, McKendree
235: Kelani Corbett, Lyon
Peyton Prussin Power
Peyton Prussin of Life University was named the Outstanding Wrestler of the tournament after winning the loaded 109-pound bracket featuring three returning collegiate national champions.
Prussin won the 116-pound NAIA title last season while Nina Pham of Wayland Baptist was the 101-pound champion. The two met in the semifinals with Prussin pulling out a late 8-6 win. Paulina Granados of McKendree — national collegiate women's champion at 101 pounds in 2020 — lost in the semis to Ovieonce Ray of Wayland Baptist but defeated Pham for third.
This tournament marks the first time Prussin has competed at 109 pounds. The Las Vegas native typically weighed 120 pounds during the off-season but naturally got down to 113 pounds over the summer.
"The way I wrestled this weekend I'm proud of myself," Prussin said. "I think 109 is just as good as 116 as long as I feel good and feel strong and confident at that weight. I feel like it's a good choice for me, as well.
"Getting down happened naturally. Vegas is super hot and dry. When I would work out outside I would lose a ton of weight. The weight just kind of started to come off. I think I'll end up staying here if my body feels good at this weight."
Prussin won by scores of 10-0, 12-2, 10-0, 8-6, and 13-0 to take the title.
Roommate Battles
How's this for a scenario? Alara Boyd of McKendree won the 2021 national collegiate women's wrestling championships at 155 pounds with an 8-2 win over Kayla Marano of Emmanuel in the finals. Marano transferred to McKendree after the season, which meant the top two 155-pound wrestlers in the country would be in the same room.
Not only that, Marano and Boyd are roommates. It was a rematch of the national finals at the Missouri Valley Open with Boyd prevailing again — this time with a 7-0 victory.
"It's never fun wrestling your teammate — especially since we wrestle each other basically every day in the practice room." Boyd said. "We both knew going into it that we were wrestling the same weight. We just went out there and acted like it was practice.
Here's another twist. Kayla's mom, Kristie, is Emmanuel's former head coach. She was a nine-time World medalist and a two-time World champion.
"I met Kayla the first year I made a World team so it was my freshman year of high school," Boyd said. "It's funny because her mom was the one that awarded me the OW my freshman year when I made my first World team. I have a picture of me and Kristie from back then so it's a funny connection."
Boyd Moving Down; Bruntil Moving Out
The recent departure of two-time national champion Emma Bruntil at McKendree means there's an opening at 143 pounds. Boyd will drop down to her more natural weight while Marano will stay at 155 pounds.
"I am going down to 143," Boyd said. "That's basically where I feel the best. It's really a perfect weight class for me. I don't have to cut too much and I feel good there."
Bruntil has indicated she will train out of the Olympic Training Center in Colorado Springs before deciding where she will attend college. McKendree will compete for its third straight national title later this season.
Who was the first?
The history of the Women's Collegiate Wrestling Association (WCWA) is long and winding. It's fun to look back at the history of the women's collegiate national championships — especially since the sport is growing quickly. According to USA Wrestling's Gary Abbott — a leader for the advancement of women's wrestling — Sara Fulp-Allen was the first collegiate women's national champion.
Fulp-Allen of Menlo won the 105.5-pound women's national title in 2004 prior to the tournament being called the WCWA Championships, which began in 2008. Missouri Valley was the inaugural team champion of the tournament that was held in Marshall, Missouri.