Big Ten
BREAKING: Nick Suriano Makes His Transfer Decision
BREAKING: Nick Suriano Makes His Transfer Decision
NCAA champion Nick Suriano has finally decided where he will attend college this season.
Nov 28, 2021
by Kyle Klingman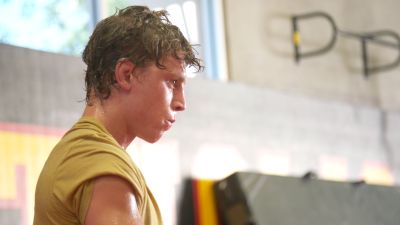 The wait is finally over.
One of college wrestling's biggest storylines has been where 2019 NCAA champion Nick Suriano will attend college this season. Now we know.
Suriano will join the Michigan Wolverines for his sixth year of eligibility after a long and winding journey. He made the announcement with the following post on Instagram.
The former Bergen Catholic star was an undefeated four-time New Jersey state champion who began his college career at Penn State. He was the Nittany Lions' 125-pound starter for the 2016-17 season where he was on pace to make noise at the 2017 NCAA Championships.
The only blemish on Suriano's resume during the regular season was a 3-2 dual loss to Iowa's Thomas Gilman on January 20, 2017. Then his season unraveled. Penn State faced Oklahoma State in the finals of the 2017 National Duals Championship in Stillwater on February 19 and Suriano suffered what would be a season-ending injury during his match against Nick Piccininni.
Suriano did not wrestle at the B1G Championships but received an at-large bid to the NCAA tournament where he medically forfeited both his bouts. He transferred to Rutgers for his sophomore year and reached the 125-pound finals at the 2018 NCAA Championship where he fell to Iowa's Spencer Lee, 5-1.
As a junior, Suriano bumped up to the loaded 133-pound weight class and won the 2019 NCAA title with a 4-2 SV2 win over Oklahoma State's Daton Fix in the finals, becoming the first NCAA wrestling champion in program history.
March 23, 2019, was the last time we saw Nick Suriano compete in a college wrestling match.
He took an Olympic redshirt in 2020 but the Olympics were postponed due to a global pandemic. Suriano continued training to make the 57-kilogram freestyle spot but he tested positive for COVID-19 prior to the Olympic Trials on April 2-3 and could not compete.
The former Rutgers star entered the 2021 World Team Trials on September 11-12 in an attempt to earn the 61-kg spot. He won his opening match against Sean Fausz, 12-2, but fell in the quarterfinals to Nathan Tomasello, 3-0.
Suriano will likely enter the 125 or 133-pound class for the Wolverines although 125 seems like the more likely fit based on Michigan's current lineup. This will bolster their chances of moving toward the top of the trophy hunt in Detroit this year and may even put them in contention to win the whole thing just down the road from Ann Arbor.