2023 #2 Christian Carroll Flips From Illinois To Penn
2023 #2 Christian Carroll Flips From Illinois To Penn
Christian Carroll, the #2 recruit in the class of 2023, has flipped his commitment from Illinois to Penn.
Nov 2, 2021
by David Bray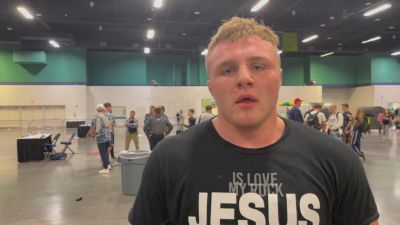 Since committing to Illinois in June, Christian Carroll has notched Fargo and Super 32 titles and has competed at Who's Number One. Now, one of the top upper-weight prospects in the country has found a new college home.
Carroll announced his new decision with the following post on Instagram:
This change in commitment shifts recruiting landscape for the class of 2023. Until today, Illinois had two of the top 21 recruits in this year's Junior class. Now that has all changed.
The addition of Carroll for Penn is massive for the Quakers who are set to bring in a large and talented class of 2022. Penn is no stranger to solid recruits, but typically, top 5 guys tend to sign outside of the Ivy Leauge. That is not the plan for Christian Carroll.
Penn, and The Pennsylvania RTC, have made tremendous strides in recent years. Last month, Jordan Burroughs became the first World Champion for the PRTC, an organization closely affiliated with both Penn and Drexel.
Carroll, who has expressed his interest international freestyle goals, may have been drawn to the PRTC's affiliation with Penn. Whether that was a deciding factor or not is irrelevant. The good news for Penn Wrestling fans is that the #2 recruit in the class of 2023 is committed to the recruiting process. He could be a program changer.