2021 Senior World Championships
World Championships Men's Freestyle Bracket Reactions
World Championships Men's Freestyle Bracket Reactions
Wake up to brackets for four American men's freestylers! Fix, Taylor, Dake & Gwiz have their draws, now let's break it down.
Oct 1, 2021
by Andrew Spey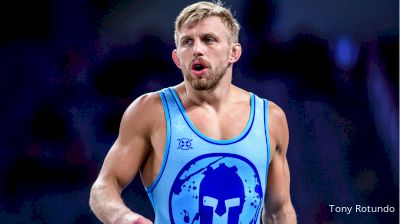 The best part of waking up is seeing fresh brackets from Oslo, in our humble opinion. Day 1 competitors Daton Fix, David Taylor, Kyle Dake & Nick Gwiazdowski have their draws, let's break them down before action gets underway in the wee hours of Saturday morning.
Day 1
61 Kilograms - Daton Fix
Seeds:
Adlan Askarov, KAZ

Abasgadzhi Magomedov, RUS

Eduard Grigorev, POL

Beka Lomtadze, GEO
Daton Fix is on the top side of the bracket and will have Georgi Vangelov (BUL) in the first round. Vangelov is moving up from 57kg where he placed 5th at the Olympics. Should Fix win his first match, he'll likely have an easier match in the second round against Eloyan (FRA) or Ansari (MAR). This would ultimately set up a quarter-final match for Fix with 2019 World Champion Beka Lomtadze (GEO). Should Fix make the semis, he would likely have the winner of the first-round match between Arsen Harutyunyan (ARM) and Adlan Askarov (KAZ). Harutyunyan was the 2019 European Champion while Askarov was second at this year's Asian Championships.
On the bottom side of the bracket, #1 ranked Abasgadzhi Magomedov will likely cruise to the quarter-finals where he'll face the winner of the first-round match between Tumenbileg (MGL) and Zholdeshbekov (KGZ). That match is one of the best first-round bouts in the bracket as Tumenbileg is a former world medalist and Zholdeshbekov is a U23 World Champion. Magomedov will still be a heavy favorite to make the semis where he could face a number of competitors. The favorites to meet Magomedov in the semis are Toshihiro Hasegawa (JPN), Rahman Amouzad (IRI), and Andrei Bekreneu (BLR). Whoever makes it to the semis will be a major underdog against Magomedov.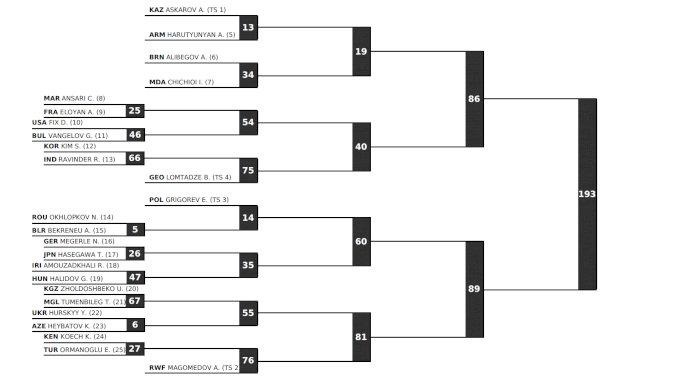 ---
74 Kilograms - Kyle Dake
Seeds:
Kyle Dake, USA

Nurkozha Kaipanov, KAZ

Tajmuraz Salkazanov, SVK

Miroslav Kirov, BUL
Kyle Dake is the only Olympic medalist at 74kg who is also competing at these world championships - he is also the top seed in the bracket. Dake will have a bye in the first round and then face the winner of Andruse (EST) vs Diacon (MDA). Dake should cruise in that match and will most likely face the winner of Fazil Eryilmaz (TUR) and Murad Kuramagomedov (HUN). Coincidentally, Dake defeated both Eryilmaz (3-1) and Kuramagomedov (10-0) at the 2020 Matteo Pellicone.
While it's challenging to predict Dake's semi-final and potential finals opponent, there are a few likely opponents to come through their sides of the bracket. Dake's potential semi-final opponent will likely be either Khetik Tsabolov or Azamat Nurykau. Tsabolov is the favorite and a former world champion from Russia who defeated Zaurbek Sidakov last October. Dake's potential finals opponent will most likely be one of Tajmuraz Salkazanov (SVK), Timur Bizhoev (RUS), Azamat Nurykau (BLR), or Avtandil Kentchadze (GEO).
Malik Amine (SMR) and Mitch Finesilver (ISR) are two Americans representing other countries in this bracket. Amine has a winnable match first round but will likely face Russia's Timur Bizhoev in the second round. Finesilver will wrestle Azamat Nurykau first and will be an underdog against the Belarussian. While both are unlikely to make the finals, Amine and Finesilver have shown great progress on the senior level and will look to challenge some of the more credentialed wrestlers in the bracket.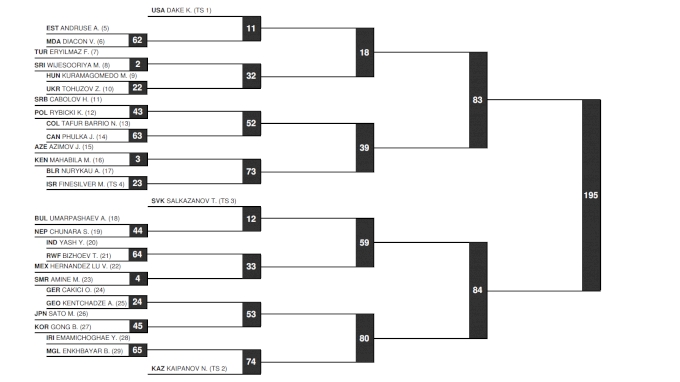 ---
86 Kilograms - David Taylor
Seeds:
David Taylor, USA

Hassan Yazdani, IRI

Artur Naifonov, RUS

Sandro Aminishvili, GEO
By dint of his Olympic gold medal, David Taylor secured the number one seed in Oslo. His Iranian rival, Yazdani the Greatest, will be seeded on the opposite side of the bracket in the number two slot.
Russia's Artur Naifonov will be in the top of Yazdani's half with the number three seed. Joining the Magic Man in the top half will be Georgia's number four seed Sandro Aminishvili.
Taylor drew world-medalist Boris Makoev of Slovakia in the first round and the winner of Bulgaria and Kazakhstan in the second round. You may remember Makoev from the 2017 Worlds when he defeated J'den Cox in the semifinals.
David should have no trouble making it to the semis, where Aminishvili is favored to also be, although Dudarov of Germany is formidable Russian ex-pat and will have his say.
DII All-American Noel Torres, representing Mexico, and North Carolina's All-American Ethan Ramos, representing Puerto Rico, can be found in the bottom half of the bracket with another formidable Russian ex-pat in Friev of Spain.
Abakarov of Azerbaijan and Gocen of Turkey is a fire first-round match on the bottom half. The winner of that gets the pleasure of taking on Yazdani in the next round. Yazdani should cruise to the semis for another matchup with Naifonov. Then DT v Yaz Round IV? We shall see!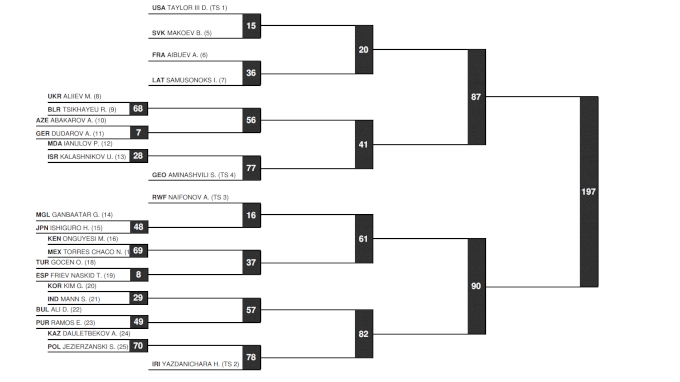 ---
125 Kilograms - Nick Gwiazdowski
Seeds:
Geno Petriashvili, GEO

Taha Akgul, TUR

Amir Zare, IRI

Oleg Boltin, KAZ
Once Tokyo gold medalist Gable Steveson decided not to participate in these Championships, his vanquished Olympic finalist opponent Geno Petriashvili claimed the number one seed. Opposite him in the top half of the bracket will be Kazakhstan's Oleg Boltin.
On the bottom half will be seven-time world and Olympic medalist Taha Akgul in the two seed. Iran's young Olympic bronze medalist Amir Zare is in the number three seed.
Multiple-time NCAA champ Nick Gwiazdowski, who was randomly drawn into the bracket, gets Oregon State's multiple-time NCAA All-American Amar Dhesi of Canada in the first round. Assuming Gwiz wins, he'll get Zare in round two, although Zare's Belarusian first-round opponent is very solid.
In the other quarter of the bottom half is Jere Heino of Finland and Campbell University, as well as Egypt and Maryland's Youssif Hemida. Russia's Khizriev and Turkey's Akgul, however, are favored to meet in the quarterfinals.
If Gwiz gets by Zare he'll likely get Taha. Then in the top half, Geno Petriashvili should roll mostly unchallenged into the finals.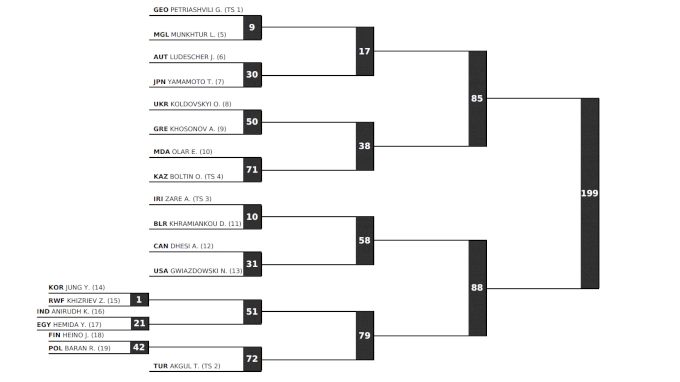 ---
Day 2
57 Kilograms - Thomas Gilman
Seeds:
Thomas Gilman, USA

Suleyman Atli, TUR

Alireza Sarlak, IRI

Roberto Blanco, MEX
As the only Olympic Medalist who's also competing at worlds, Thomas Gilman is the #1 seed in the bracket. Like at the Olympics, Thomas Gilman will once again face a Russian opponent in the first round - Abubakr Mutailev. Gilman wrestled Mutaliev twice at the end of 2019 and lost both matches (10-8 and 2-1). Should Gilman win his opening round match, he'd have a more winnable match in the second round against Egorov (MKD) or Park (KOR). Gilman's potential semi-final opponent should be either Horst Lehr (GER) or Afghan Khashalov (AZE). The two last wrestled at the 2020 European Championships where Lehr won 8-2.
A number of competitors could make it out of the bottoms side of the bracket but the main contenders are Suleyman Atli (TUR), Bekhbayar Erdenebat (MGL), Toshiya Abe (JPN), Aryan Tsiutryn (BLR), and Alireza Sarlak (IRI). Those competitors are fairly spread out through the bracket but Suleyman Atli, a two-time world medalist, should be the favorite to make the finals opposite Gilman.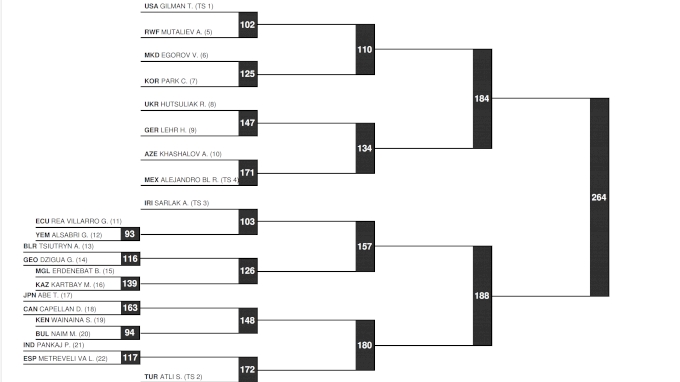 ---
65 Kilograms - Yianni Diakomihalis
Seeds:
Krzysztof Bienkowski, POL

Tulga Tumur-Ochir, MGL

Zagir Shakhiev, RUS

Marcos De Brito, BRA
Yianni Diakomihalis was unseeded and randomly drawn into the 65kg bracket. In the first round, Yianni will be the heavy favorite against Northern Iowa's Colin Realbuto (wrestling for Italy). This will likely set up a match against Vazgen Tevanyan (ARM). Tevanyan had one of the best winning streaks at the end of 2020 and beginning of 2021 - he won the Individual World Cup by defeating Ismail Musukaev and qualified for the Olympics with wins over Magomedmurad Gadzhiev and Haji Aliyev. Should Yianni get by Tevanyan, he'll likely have Tulga Tumur-Ochir (MGL) in the quarter-finals. Tumur-Ochir is a formidable opponent as he was a Tokyo Olympian and placed 5th at the 2019 World Championships. Diakomihalis will have to run the gauntlet to make the finals and will likely face Russia's Zagir Shakhiev in the semis.
The top side of the bracket lacks the depth of the bottom side. The main contenders to make the finals out of the top side are Ali Rahimzade (AZE), Amir Yazdani (IRI), Vasyl Shuptar (UKR), and Niurgin Skriabin (BLR). None are clear favorites making it challenging to predict the outcome of many matches. Sebastian Rivera (PUR) could be a potential darkhorse in this bracket and, if he wrestles his best, has the ability to reach a medal match.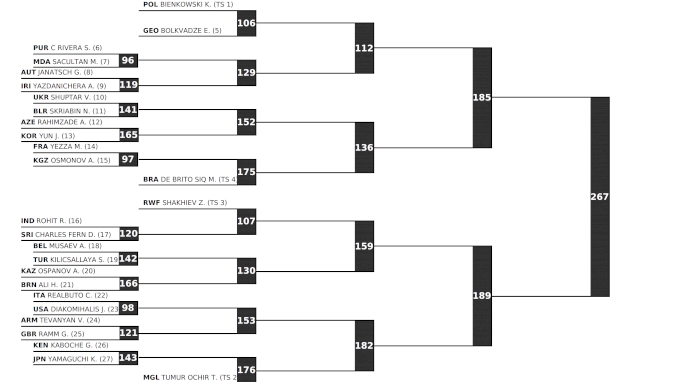 ---
79 Kilograms - Jordan Burroughs
Seeds
Akhsarbek Gulaev, SVK

Saifedine Alekma, FRA

Nika Kentchadze, GEO

Alans Amirovs, LAT
Like some of the non-Olympic weights, the seeds at 79 may not be full of familiar names, but they were earned according to the rules clearly outlined by UWW. That means Jordan Burroughs, in his quest for a sixth world or Olympic gold medal, got randomly drawn in, and will face Barmish of Canada in the round of 32.
A win over one of his neighbors to the north will get JB a match against the winner of Hungary and Kazakhstan, and then a likely bout against Valiev of Russia in the quarters. That's correct, Jordan Burroughs is on the same side of the bracket at Russia, as it ever was and will be.
Burroughs is in the second quarter. Up in the first is Gulaev from Slovakia by way of Ossetia, who has an intriguing first-round matchup against Ashirov of Azerbaijan. That winner will likely see Burroughs in the semis.
The bottom half of the bracket looks like a free-for-all, although Kentchadze has a solid track record at major events and Iran has a 2021 junior world champ entered in Nokhodilarimi, who could meet in the semifinals.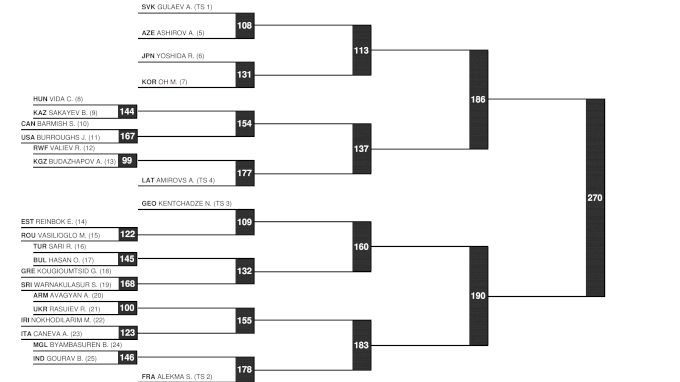 ---
92 Kilograms - J'den Cox
Seeds
Magomed Kurbanov, RUS

Kamran Ghasempour, IRI

Jeremy Poirier, CAN

Osman Nurmagomedov, AZE
The UWW seeding procedures use an objective point system, so some of the weights, especially the non-Olympic ones, have yielded some unexpected results. For example, J'den Cox, the only human to ever win a gold medal at 92 kilos, is unseeded. Nothing to say about it but to quote Bruce Hornsby: that's just the way it is.
J'den's first opponent in his quest to defend his 92kg crown is Dagvadorj of Mongolia. His second opponent will be Iannattoni of Italy. A third match is likely to occur for J'den on the championship side against the winner of the classic Pan-Am rivalry of Canada vs Venezuela.
That will set up the marquee match of the bracket in the semis between J'den and Ghasempour of Iran.
The top side has many quality contenders from traditional powers like Azerbaijan and Belarus but also the number one seed, Kurbanov, who will be under pressure to make the finals for team point purposes.
Kurbanov's first match against Gwon of South Korea will be no gimme. Also in that half is Rubaev, a Russian ex-pat wrestling for Moldova, and Baranowski, a savvy veteran from Poland.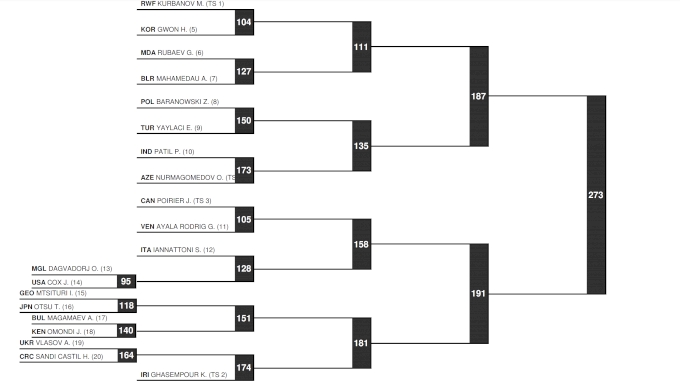 ---
Day 3
70 Kilograms - James Green
Seeds:
Syrbaz Talgat, KAZ

Turan Bayramov, AZE

Carlos Romero, CHI

Arman Andreasyan, ARM
James Green was unseeded and was randomly drawn into the bottom side of the bracket. Green will be a heavy favorite in his first two matches to make the quarterfinals. Once there, he will likely have the winner between Turan Bayramov (AZE) and Adam Batirov (BRN). Green has never wrestled Batirov but has a 2-0 win over Bayramov from January at the 2021 Henri Deglane Tournament. Should Green make the semi-finals, his probable opponents would be either former world champion Zurabi Iakobishvili or 2-time world medalist Magomedmurad Gadzhiev. Green defeated Iakobishvili (4-0) at the 2021 Poland Open but lost to Gadzhiev at the 2019 World Championships (3-2).
The main contenders in the top side of the bracket are Evgheni Zherbaev (RUS), Ernazar Akmataliev (KGZ), Erfan Elahi (IRI), and Syrbaz Talgat (KAZ). Though this is his first world championship, Evgheni Zherbaev is the favorite of those contenders and will be the favorite to make the finals.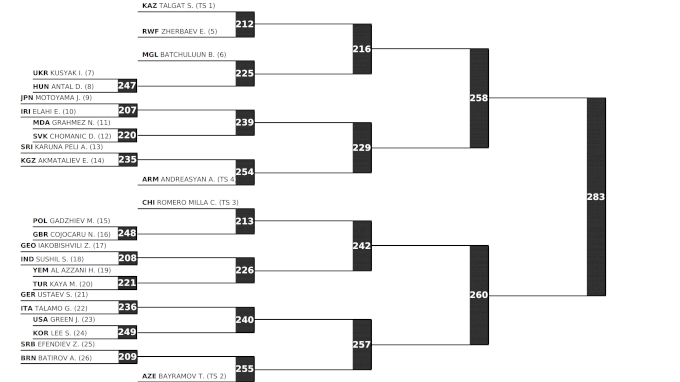 ---
97 Kilogram - Kyle Syder
Seeds
Abdulrashid Sadulaev, RUS

Kyle Snyder, USA

Alisher Yergali, KAZ

Suleyman Karadeniz, TUR
All eyes will be on a potential Snyder vs Sadulaev round four. Both wrestlers are helpfully on opposite sides of the bracket thanks to their top two seeds.
It's a very uneven bracket, with just eight wrestlers up top but 14 down below on Snyder's half. Kyle's first match will be against either Randhawa of Canda, who Snyder defeated at Beat the Streets, or Ulziisaikhan of Mongolia.
There's a lot of tough outs on Snyder's side of the bracket, like Nurov, a Macedonian by way of Dagestan, but the biggest first-round bout will be between Georgian mainstay Odikadze and 2019 U23 champ Goleij of Iran. That match will clear at least one landmine from Snyder's path.
Sadulaev will have some obstacles of his own, such as Turkey's Karadeniz and Hushtyn of Belarus. However, Sadulaev should steamroll his way to the finals, setting up for what we hope will be Snyderlaev p=Part the Fourth in the last men's freestyle match of the event.