2021 Grappler Fall Classic
Mark Hall Used Star Power To Grow Grappler Fall Classic
Mark Hall Used Star Power To Grow Grappler Fall Classic
The Grappler Fall Classic is set for Oct. 2-3. The tournament continues to grow thanks to the groundwork laid by Tony Greathouse and Mark Hall.
Sep 30, 2021
by Kyle Klingman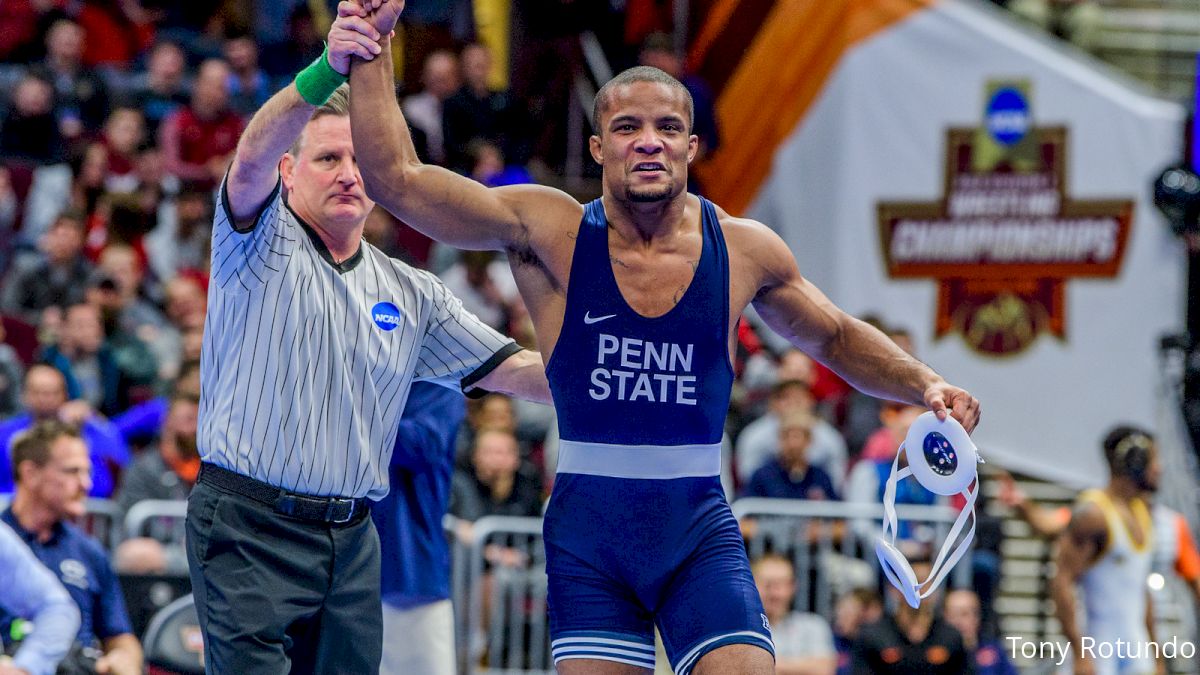 Mark Hall may not have known it at the time, but he was the driving force behind one of the biggest wrestling tournaments in the country.
Where Hall ended up as a wrestler is the stuff of legend. He was a six-time Minnesota state champion (the only one in state history), a two-time Junior World champion (2016 and 2017), and a 2017 NCAA champion for Penn State, including three appearances in the finals.
Although he is still competing, Hall's greatest accomplishment might be his participation at the Grappler Fall Classic. Remember, Hall grew up in Davison, Michigan, before moving to Kentucky for a year and eventually to Minnesota. The Michigan-based tournament needed a verified superstar to get started — and Hall was the perfect person at the perfect time.
"If the best Michigan kids come, then other people around the country are definitely going to come to wrestle them," said tournament director and founder Tony Greathouse. "Mark Hall was a big one.
"I knew Mark really well so the first year I started the GFC in 2010, Mark was the first kid I called. I called his dad to get him to come. At that point, he was living in Kentucky. He had moved to Kentucky for seventh grade and after that, he moved back to Minnesota."
Not only did Hall win three titles (2011-13), but he also became the Mark everyone was chasing. His third and final title was a wild goose chase for national high school superiority. Hall was initially slated to wrestle at 160 pounds but had grown out of the weight and bumped up to 171 pounds.
Prominent wrestlers throughout the country were hunting Hall down. Fox Baldwin of Florida — ranked #2 at the time — registered at 160 to take out Hall. Current Iowa wrestler Alex Marinelli of Ohio did the same, as did a handful of other quality wrestlers throughout the country.
Hall's father called a week before the tournament to let Greathouse know of Mark's decision to move up a weight. This put Greathouse in a conundrum since a handful of his best participants were there because of Hall.
"Now I'm like, 'What do I do?' They're going to show up and think Mark is dodging them," Greathouse said. "I told him that these two guys are coming just to wrestle Mark. His dad was like, that's fine, tell them. Just let them know."
Both moved up and Hall still survived the gauntlet. He defeated Marinelli 5-3 in the semifinals and Fox 6-3 in the finals. He picked up two falls and a 17-5 win prior to that.
No wonder Greathouse created a massive, larger-than-life banner of Hall to hang at every Grappler Fall Classic. His star power elevated the tournament to another level.
This year's GFC will take place on October 2-3 in Myrtle Beach, South Carolina, which might seem strange for a tournament that is based out of Michigan. COVID-19 had tournament directors scrambling in 2020, and Michigan continues to be one of the strictest states.
Greathouse needed a location that was impervious to getting shut down. Myrtle Beach was picked based on the advice of fellow tournament director and Michigan native Dave Dean — father of former Cornell stars Gabe and Max.
The tournament may move back to Michigan, but, for the time being, it has found a two-year home in the South.
That could result in making the tournament bigger and better than it has ever been. Greathouse started the tournament after attending the 2010 FloNationals at Walsh Jesuit High School in Ohio. Michigan restricts most out-of-state competition during the school year so Greathouse wanted a quality tournament in his backyard.
The biggest and best tournaments were out of state. Why do Michigan kids have to travel to Fargo or Virginia or North Carolina to wrestle? Why wouldn't the steel belt be home to a big national tournament?
Greathouse — a former wrestler at Michigan State — kicked into high gear and got the tournament off the ground in 2010. He leveraged his relationships within the wrestling community to get high-profile athletes and top wrestling programs to attend.
Lake Highland Prep in Florida always sends a team, as does Harvey Twisters out of Chicago. Woodward Academy in Georgia plans to bring a full slate of wrestlers this year, too.
This year's tournament has over 1300 participants — male and female — at every age level. And participation numbers are growing.
Past champions include Hall, Nic Bouzakis, Casey Swiderski, Sabrina Nauss, Nasir Bailey, BJ Bailey, Alex Facundo, Markus Hartman, Zac Braunagel, Rayvon Foley, Kordell Norfleet, and several other big-name wrestlers.
There are plenty of reasons to get excited about this year's field, too. Here is a taste of who has registered thus far.
— Seth Mendoza (No. 14 at 106)
— Kyle Montaperto (No. 5 at 120)
— Anthony Santaniello (No. 6 at 120)
— Vincent Robinson (No. 7 at 126)
— Braeden Basile (No. 11 at 126)
— Michael Kilic (No. 12 at 152)
— Nick Vafiadis (No. 14 at 152)
— Gunner Filipowicz (No. 17 at 160)
— Matt Singleton (No. 3 at 182)
— Parker Ferrell (No. 14 at 220)
The Grappler Fall Classic continues to grow in numbers and stature. Organizers found ways to keep the tournament strong through a global pandemic — a testament to the importance of a Michigan-based tournament that found its way to South Carolina.
"There are a lot of good groups that support us," Greathouse said. "It's like everything else — it's all about relationships."