2021 FloWrestling Who's Number One
Who's Number One Men's Card Match Notes
Who's Number One Men's Card Match Notes
All the action from the Dallas Hyatt Regency coming to you LIVE in REAL TIME as the best high school wrestlers in the nation compete!
Sep 18, 2021
by Andrew Spey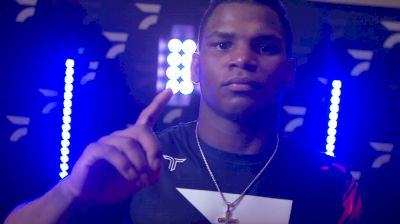 Unlock this video, live events, and more with a subscription!
Get Started
Already a subscriber? Log In
Unlock this article, live events, and more with a subscription!
Get Started
Already a subscriber? Log In
We're following up the groundbreaking first all-women's Who's Number One card with our biggest and raddest men's slate ever. It is indeed a great day to be a high school wrestling fan.
First whistle is schedule for 7:00PM ET. Bout order is below.
170: Rocco Welsh vs Manny Rojas
170: Gabe Arnold vs Brayden Thompson
106 Futures Match: Seth Mendoza vs Bo Bassett
182: TJ Stewart vs Jack Wehmeyer
145: Hunter Garvin vs Jackson Arrington
113: Leo Deluca vs Braeden Davis
106: Luke Lilledahl vs Anthony Knox
152: Jordan Williams vs Caleb Henson
195: Dylan Fishback vs Gavin Nelson
138: Casey Swiderski vs Jesse Mendez
120: Nate Jesuroga vs Joey Cruz
170: Rocco Welsh vs Gabe Arnold
Big Man Super Match: Christian Carroll vs Nick Feldman
And if you are reading this before that seven o'clock start time, we encourage, nay implore, you to play our Pick Em Contest for a chance to win a free year of a FloWrestling premium subscription. It's free to play and only take a minute.
We're about an hour away from starting the show. Let's take a peek at how things are progressing.
Live look at the mainstage and backstage at Who's Number One. pic.twitter.com/JL14HBSAFm

— Dom Kunitsy (@SpeyWrestle) September 18, 2021
A fun game to play for you guys watching at home is 'spot the D1 coach in the stands'. So far I've seen John Smith, Tom Brands, Brian Smith, Mark Manning, Doug Schwab, Brent Metcalf, Derek St. John, Ryan Morningstar, and Tony Ramos. I'm sure there's more. Will call them out if I see them on the broadcast.
Every match is folkstyle and we're using 100% current NCAA rules. In fact, this just may be the first first time the new college overtime rules have been used in a competition. SO that could be fun.
170: Rocco Welsh vs Manny Rojas
1st period: Every match on this card is fire so I'll say that now and know that it applies to every match. No score after the first minute. This is the first round of a four-man group by the way. Welsh shoots Rojas out of bounds. Welsh scores on a double leg. Rohas gets out fairly quickly. Period ends with a 2-1 leads for Welsh.
2nd period. Rojas starts on top. He erases riding time and starts the clock in the other direction. Halfway thru the 2nd Welsh escapes on the edge. RT at 51 seconds. Might have run off a couple of RT extra seconds of RT. Welsh attacking. Low double at the edge and it's 6-1, Welsh with a sizable lead. Rojas escapes in short time, 6-2. Period ends.
3rd period: Rojas takes down. Tremendous teddy bear sock he has on. Big mat return for Welsh, chews up a lot of valuable clock. Rojas escapes on the next attempt. 90 seconds to go, 6-3 Welsh leads. Rojas nearly had a go-behind right off his escape but we're back in neutral. Under a minute. DOwn to thirty, Rojas charging in but Welsh hand fights and stays in position. Single leg by Rojas, sprawl, stalemate. 10 seconds to go. Welsh wins 6-3! Great start to a wonderful evening of wrestling!
Welsh will get the winner of the next match at the end of the card, right before the Big Man Supermatch.
FINAL: Rocco Welsh dec. Manny Rojas, 6-3 (link)
---
170: Gabe Arnold vs Brayden Thompson
1st period: No scores after a cautious first period. Brayden in on a shot, deep single, Arnold defends, stalemate. Back to neutral. No scores in a period of probing but not a lot of flurries or committed attacks.
2nd period: Arnold on bottom. He's up after 12 seconds. Short time. Hi-c by Arnold and he's in deep. Fight's his way around Thompson and he gets the two just in time. Takes a 3-0 leads into the third.
3rd period: Thompson's turn on bottom. He's out in just a few seconds. We got a stoppage, looks like Arnold saying eyepoke. Arnold needs injury time so Thompson gets choice at the restart. He goes underneath. Thompson stands, Arnold cuts him loose. 3-2 Arnold, RT at one second. One minute to go. Thompson attacking. Arnold defending well. Late stall call on Arnold. Find seconds tick away and Gabe Arnold wins it thanks to his nifty takedown at the end of the second.
That means it'll be Welsh vs Arnold in the penultimate match of the evening!
FINAL: Gabe Arnold dec. Brayden Thompson 3-2 (link)
---
106 Futures Match: Seth Mendoza vs Bo Bassett
1st period: Changing things up with a battle of top-ranked 8th graders, one of whom is cadet world champ Bo Bassett. Mendoza wastes no time, shooting in first. Bassett sits the corner. Crazy scramble that goes out of bounds. No scores. Mendoza in on a leg again, Bassett gritting out a thigh pry single. Stalemates. Two minutes in we get another scramble. Bassett is around for two, Mendoza is immediately out for one. Another Takedown off a scramble for Bassett, looking savvy by putting Mendoza in neutral danger, and he gets the ride out. 4-1 at the end of the first.
2nd period: Mendoza on bottom, he escapes to make it 4-2. Mendoza shooting in. A couple snap down go-behind attempts before one lands. Mendoza escapes. Repeat. Then a double leg and its 10-4. Riding time over a minute. Second period ends. That one was all Bassett.
3rd period: We're doing college rules here too so this will be a test of conditioning for these youngsters. Bassett starts on bottom, gets a several, then goes to work with catch-and-release. 14-6 now. Final minute of regulation. Mendoza is giving it his all but Bassett is relentless. 16-7 with 30 ticks to go. Another takedown escape plus riding time and it ends 19-8! That's why Bassett is a world champ. Tough one for Mendoza but he fought until the bitter end.
FINAL: Bo Bassett maj dec. Seth Mendoza, 19-8 (link)
---
182: TJ Stewart vs Jack Wehmeyer
1st period: Snatch single for Stewart and he picks Wehmeyer up in the air. Thunderous return to the mat by Stewart for two. Quick escape by Wehmeyer. Lightening strike snap go behind for Stewart. Whizzer defense doesn't care there in time and it's 4-1. 4-2 after a quick escape by Wehmeyer. Action slows for the rest of the period. They stayed in contact for most of the next 90 seconds or so. 4-2 Stewart into the second.
2nd period: Wehmeyer goes on bottom. Wehmeyer is out, he shoots and incredible reaction time by Stewart. Gets the go behind and the finish, but not after some heroic defense by Wehmeyer. Escape to make it 4-2 with a minute to go in the second. RT at 1:01 in Stewart's favor. Period ends 6-4 in Stewart's favor.
3rd period: Stewart's turn underneath. RT immediately goes under a minute. Wehmeyer will need a turn or more than one takedown to gain the lead. Wehmeyer kicks Stewart free, 90 seconds to go, 3 point lead for Stewart, RT not a factor. Final 60 seconds. They go out of bounds, no scores, 0:49 on the match clock. Wehmeyer stays attacking but can't get through Stewart's stingy defense. That's how it ends, Stewart gets the 7-4 decision.
It should be noted now if it wasn't on the broadcast that Stewart did not make weight so this was a no-contest as far as rankings were concerned and Wehmeyer will hold on to #1. A fun match as far as exhibitions go though!
TJ Stewart is uncommitted, and Jack Wehmeyer is headed to Columbia, by the way
FINAL: TJ Stewart dec Jack Wehmeyer, 7-4 (link)
---
145: Hunter Garvin vs Jackson Arrington
1st period: Iowa native Garvin vs PA native Arrington. Garbin uncommitted, Arrington headed to NC State. Arrington gets in deep early but Garvin's d stops the score. No score in the first minute. Arroington with a nice knee slide to a hi-c, looking for a fireman's. Better defense from Garvin though and we're back to neutral. At the end of the mat, seat belt v whizzer, Arrington tries to step over. Garvin flips him. We get a danger count and quick two but the brick comes out almost immediately. Though the count was a little quick but we'll see what the refs say on video review. And the points come off the board, 0-0 back to neutral. A scamble on the edge no points. From an underhook Arrington charges through Garvin and gets the first points of the match. he then gets a 30 second ride out to keep that 2 point lead going into the next frame.
2nd period: Arrington on bottom, and he stands and is out quickly. 3-0. Arrington controls ties and marches Garvin out of bounds to force the stall call. Lots of time left but Garvin needs to start turning the momentum around. Garvin now taking more ground. We get a stalemate. Garvin trying to work a hip toss, we get a scramble, stalemate. Final seconds Garvin gets behind Arrington but thery're still on their feet. Arrington keeps his butt off the ground and Garvin takes him backwards in a somersault out of bounds just as time expires. Two is awarded but we will review. The call stands, Garvin got the points exactly when he needed them.
3rd period: Garvin also start the period underneath. Big rideout opportunity coming for Arrington. Crossbody claw ride gets RT close to minute. They're on their feet. Hip toss attempt, into a scramble. Arrington on a leg, RT clock ticking. It goes over a minute before a stall is called. Call is upheld, Arrington stays on top but gets the stall. RT now at 1:20. Big mat return by Arrington. Shane Sparks is smiling. A second mat return. Shane Sparks arising from his coach and shouts exhalations. But Arrington gets another stall call. It's 3-3. Now Arrington needs to ride out to win or roll the dice in neutral. More mat returns. Garvin scrambling. Far wrist for Arrington puts Garvin flat. A final scramble, one swipe on Garvin. No more points and that's how the match ends. 4-3 after the RT point. Coach Popolizio has to love the top game on display from their future Wolfpacker.
Final: Jackson Arrington dec. Hunter Garvin, 4-3 (link)
---
113: Leo Deluca vs Braeden Davis
1st period: Davis a junior from Michigan, Deluca a freshman from NJ. Nice flurry but no score after a minute. Davis gets up limping. That's not what you want to see. Davis needs injury time. Didn't see how it got hurt but doesn't look great. Although Davis is up and flexing his legs. He's going to continue. Deluca gets choice after the injury time and goes underneath. Nice hip heist for two and Deluca is looking for backpoints. He'll get a couple swipes but no points. Now in far ankle scrambles. Deluca gets called for stalling and we get a restart. Now Davis is up and out to make it 2-1. 60 seconds in the period, 45 on the RT clock. Over-under whipover attempt by Deluca. Great scramble but no scores. Short-time firemans from Davis, and he's getting swipes. A full complement of backpoints breaks it open for Davis. He leads 7-2.
2nd period. Davis goes back underneath. He's up to his feet, then goes ride in for two legs and the takedown which is really a several, so it's 9-2. Deluca relaxes at the wrong time while standing up and Davis takes him to his back for a two-on-one tilt and four more points. Davis pulling away for a 13-2. Deluca stands and tries to his a high flyer. Gets in a scramble and gets an escape with 10 seconds left, then a go behind with 5 seconds to go. Were they in bounds for that? Refs say so at first but they will review. Scoreboard says 13-5 Davis. For now. Call stands. 5 second ride out and we go to the third.
3rd period: Deluca wants to go neutral so they start the final stanza on their feet. Shot by Davis sprawl, down block go behind for Deluca. Looks for backs, then cuts Davis. 15-7. One minute to go. Davis slowing things down. Deluca looking for an opening, Davis won't give him one. Deluca gets a single leg but time will expire as he's trying to finish. It's a major decision for Braeden Davis! Glad to see him shake off that early injury. It was no problem from my point of view anyway.
FINAL: Braeden Davis maj dec. Leo Deluca, 15-7 (link)
---
160: Josh Barr vs Levi Haines
1st period: Fargo champ vs Cadet World Teamer, buckle up. 45 seconds in and still no score. A lot of hard handfighting, but neither wrestler willing to really open up. A straight-on shot from Barr, but a sprawl from Haines leads to Barr pushing him all the way across the mat and out of bounds. Haines fires off a single leg with 10 seconds left in the period and comes close to scoring, Barr fights it off with a whizzer and time runs out.
2nd period: Barr with a quick stand up to escape, but just as quickly Haines drops in on a shot and methodically picks up the takedown. A couple nice mat returns and Haines has the RT clock over one minute. 22 seconds left after a restart. Haines won't let Barr out and he gets a college-level rideout.
3rd period: Haines underneath. He's got over 30 seconds of RT to take off to get it under a minute. Haines kicks out of his clutches with the RT clock at 1:20 in his favor. 90 seconds remain in the period. Barr needs a takedown and some RT to force OT. College OT may I remind you. Haines makes use of a front headlock to slow down the rest of the match and frustrate Barr. Haines will take it thanks to a strong second period.
FINAL: Levi Haines dec. Josh Barr, 4-1 (link)
---
106: Luke Lilledahl vs Anthony Knox
1st period: Two young hammers. Lilledahl a sophomore and cadet world medalist, Knox a freshman and Fargo champ. Nothing after a period. Slick duck under down to the legs and Knox chases Lilledahl down for the two at the edge. 44 seconds of riding later and it's 2-1 in favor of Knox, back in neutral. Short time in the first. Period ends no change in score.
2nd period: Lelledahl takes bottom to start the period. Crab ride with the half in, Knox tightens his grip and rocks Lilledahl back to start the swipes. He gets all four and takes a 6-1 lead, still riding. Repeat but this time just for two. That ride is doing serious damage. Restart with 2:01 of RT and 45 on the clock. Lilledahl finally escapes Knox's clutches in short time and the period ends 8-2.
3rd period: Knox chooses bottom and up and out in a hurry. It's a 9-2 lead as Lilledahl needs to change the momentum in a hurry to get back into the match. Riding time is locked up with a minute to go in the match. Hand fighting and good defense from Knox and Anthony Knox wins in convincing fashion. Did get dinged for stalling to lose the major but hardly a concern at that point. Gonna be a heck of a recruiting battle for this young New Jerseyan.
FINAL: Anthony Knox dec. Luke Lilledahl, 10-3 (link)
---
152: Jordan Williams vs Caleb Henson
1st period: Henson is headed to Virginia Tech, Williams is uncommitted and said he's making a decision in November. Great flurry to start and Henson powers through Williams to get the takedown at the edge. Henson working on armbar. Big mat return and looked like Williams came down awkwardly on his arm. He shakes it off and escapes on the next restart. Underhook from Williams, kicks in a leg and brings Henson down and takes the lead. It's 3-2, now 3-3 as Henson ecapes quickly. RT at 19 seconds for Henson. Single leg by Henson, rubber knee and a whizzer from Williams. Stalemated with 30 seconds left in the period. Duck attempt in the final seconds that doesn't land but looked slick.
2nd period: Henson escapes quickly to make it 4-3, but Williams goes right in on the attack. Another single leg attempt by Henson, potentially dangerous called on Williams' knee. Henson with a two-on-one arm spin, gets stuck underneath, then Henson muscles him over. On the replay that looked like a key-lock which I always thought was illegal there but it wasn't called. Williams needed injury time and no illegal move was called so Henson will gets choice here and elects to go back on bottom. One minute to go in the second. Henson escapes in short time to make it 5-3, RT not a factor.
3rd period: Williams on bottom, he's out quickly, RT still not a factor, 5-4 is the score. We're in neutral with 90 seconds left in regulation. Another single leg by Henson, potentially dangerous on the knee, back to neutral. 57 ticks left. Williams attacks, Henson with his heels to the boundary. There's a duck! Doesn't land and we end in a scramble. Henson stops the iceman and picks up the victory.
FINAL: Calen Henson dec. Jordan Williams, 5-4 (link)
---
195: Dylan Fishback vs Gavin Nelson
1st period: Fishback is headed to NC State, Nelson is a Minnesota commit. Lots of horsepower on the mat right now. No scores after a minute and change but Fishback was in deep and we had a stalemate towards the boundary. Gopher All-American Chris Pfarr in the corner for Nelson. Another good flurry, Fishback being the aggressor for the most part. No scores at the end of the period.
2nd period: Fishback is up and out in a hurry. Nelson charges in on an attack. No scores. 1-0 Fishback leads, 1:18 left in the second. Fishback shoots, blocked, re-shot by Nelson. They go out of bounds. less than a minute left in the second. Nelson on the attack, tricky defense from Fishback, and no additional points are scores. Period ends.
3rd period: Nelson chooses down. Blood time for Fishback, he's got a handful of cotton stuffed up his nose. Back to the mat, Fishback brings Nelson down on his first escape attempt. Nelson to his feet, running out of Fishback's clutches, he jumps free at the edge, but was he out in time? It's ruled an escape, Fishback's corner challenges. Call is upheld. 1-1 with a minute to go now. RT not a factor, and won't be one. There's a flurry. Bloody cotton swap goes flying. Stall call on Nelson and that gives Fishback a 2-1 lead. 15 seconds to go. Nelson goes high flyer, gets caught and gives up 2 and 2. Time expires and it's a 6-1 final win for Fishback, though the match was closer than the score would imply.
FINAL: Dylan Fishback dec Gavin Nelson, 6-1 (link)
---
138: Casey Swiderski vs Jesse Mendez
1st period: Swiderski is going to Iowa State, and his future teammate David Carr is here to support him. Mendez is uncommitted and has just about the entire country recruiting him. Somehow this is not the main event but that's how WNO rolls. This is Mendez' fifth WNO match as he was in two different four-man mini-brackets the last two years. Good shot by Swiderski. Mendez reshoots him off the mat to force a stall. Double leg attack from Swiderski and he finishes at the boundary. Had to fight for that but it's a 2-0 lead for the Michigander. Mendez can't be held down and he's out to make it 2-1. Mendez tenaciously pressures in, get in on a shot and finishes to gain the lead 3-2. With a minute to go in the period Mendez decides to cut Swiderski. Score is tied. Swiderski not backing down. Big snap, then a duck. No scores. Short time in the first. 3-3, excellent first period.
2nd period: Swiderksi is on top to start the second. Methodical stand to escape and Mendez takes the lead again. Mendez threatening, Swiderski keeps him at bay. Now Swiderski in on a single, trying to muscle him up. They tumble across the mat. No scores. Scramble as time runs out. Still 4-3 going into the last period of regulation.
3rd period: Too many cautions for Mendez and he gives up a match tying point. Mendez riding tough, accumulates 30 seconds of RT. Restart, Swiderski granbies and is free. Takedown on the boundary by the shoelace and Swiderski takes the 7-4 lead. Mendez escapes. 7-5 with a minute to go. Mendez pushing in, lat drop at the edge! No points though. 30 seconds. Scramble on the edge, out of bounds. 9 seconds remaining. Mendez in on a shot. Swiderski defends. No points. Well, there was a stall point but it's immaterial. Swiderski with the upset! Awesome match, incredible competitors. There was a challenge at the end but no calls changed. Swiderski got it done. Nothing but respect for both guys. They're gonna do well at the next level.
FINAL: Casey Swiderski dec. Jesse Mendez, 7-6 (link)
---
120: Nate Jesuroga vs Joey Cruz
1st period: Lots of action between these two buzzsaws but no scores after a minute. Californian Cruz recently committed to Oklahoma, Iowa native Jesuroga is uncommitted and has attracted plenty of interest. Movement all over the mat but no scores after two minutes. Makes that three minutes. Scoreless first period.
2nd period: Jesuroga elects to go underneath. He escapes to take the lead. Snaps Cruz down then gets in on a leg. Finishes for a takedown and three-point lead. Jesuroga keeps Cruz on the mat for 37 seconds with 38 on the clock at the restart. Jesuroga breaks Cruz down just as RT crept over a minute. Nate keeps Joey down for the rest of the period and is in command going into the final stanza.
3rd period: Cruz takes neutral, figuring more time underneath Jesuroga will not be productive. Cruz looking for an opening but Jesuroga won't give him one. 60 seconds to go. Jesuroga in on a shot and gets the takedown with 30 seconds left. Cruz escapes but Jesuroga is where he wants to be, leading 5-1 in short time. Regulation expires ina. scramble and its a 6-1 final when the riding time point is tacked on. Controlling, dare I say, dominant win by the young Iowan.
Final: Nate Jesuroga dec. Joey Cruz, 6-1 (link)
---
170: Rocco Welsh vs Gabe Arnold
1st period: The final of our four-man mini-bracket. A tactical first minute with no scores and mostly just probing defenses for weaknesses. The next two minutes end the same way and it's a scoreless first.
2nd period: Welsh will take bottom. Rocco gets out in under ten seconds to score the first point of the match. The theme of this match has been 'tactical' as neither wrestler has been taking too many committed shots. The period ends 1-0.
3rd period: It's Arnold's turn underneath. He's out, also in under 10 seconds. 1-1, RT not a factor. We may see that college OT if this keeps up. Regulation clock rolls over to the final minute. Welsh in on a single in short time, they go out of bounds, no score. That's how the period ends. On to sudden victory and the new college OT rules!
Sudden Victory: Two minutes on the board! This has been just about the most neutral wrestling you can do with both guys taking bottom. Arnold in on a single, whizzer defense from Welsh. Arnold has Welsh hopping. No scores! On to tiebreakers.
Tiebreaker 1: Welsh on bottom. He stands, gets brought down. No escape. Big rideout by Arnold.
Tiebreaker 2: Arnold on bottom. He cartwheels out from a quadpod and takes the lead with 13 seconds to go. Welsh furiously attacking. Arnold defends. He Gabe Arnold will hold on to win the 4-man 170-opund bracket! Our first taste of college overtime and it decided the #1 spot in the nation, which now belongs to Gabe Arnold.
FINAL: Gabe Arnold dec. Rocco Welsh, 2-1 (link)
---
Big Man Super Match: Christian Carroll vs Nick Feldman
1st period: No weight limit here, but both guys were within 10 points of 220. Feldman is bulking up to wrestle heavyweight this season so he can do the same at Ohio State. Carroll has two more years of high school and will be at 220 this season. He'll be headed to Illinois the year after this season ends. No scores after another tactical first period. We do get a flurry at about 1:45, great shot by Feldman and cartwheel defense from Carroll. Still no scores with less than a minute to go in the first. Feldman gets a single leg at the boundary, keeps Carroll in bounds and gets the takedown with 28 seconds to go in the first. Carroll Escapes after 7 seconds, period ends 2-1.
2nd period: Feldman, with a burst of energy from on bottom granbies out. There's a flurry and we're in neutral, 3-1 Feldman leads. Nice shot by Feldman but an even nicer chest lock by Carroll who squeezes Feldman off his legs and we're back in neutral with a minute to go. RT at exactly 0:00. 30 seconds to go. Carroll on the attack but we go to the second with the score still 3-1.
3rd period: We're back in neutral and it's 3-2 now, Feldman with a slim lead. Carroll's head appears to have sprung a leak. He's got a bandage over his left eye. He's back in business and both wrestlers go full bore off the whistle. Another fun flurry but no scores. FInal minute of regulation. Carroll trying to clear head and hands. Losing the head wrap. And now he needs a new one with just 16 seconds remaining. Stall call on Feldman but it's his first. Feldman pressuring in and get launched at the edge but they were, in fact, well out of bounds, so no score. Final 2 seconds and Carroll's in deep but he doesn't score. Nick Feldman takes it 3-2 in the battle of the big men!
FINAL: Nick Feldman dec. Christian Carroll, 3-2 (link)
---
Put another Who's Number One in the books! Check out the full results here. Nothing but gratitude and respect for all the men and women who stepped on the mat and for their family, coaches, and support teams for helping get them to this point.
Next year is the big 10-year anniversary. Going to be tough to top this one but I'm sure we'll think of something. Thanks for following along and apologies for the typos!