2021 World Team Trials
This Will Be One Of The Biggest Tests Of Jordan Burroughs' Career
This Will Be One Of The Biggest Tests Of Jordan Burroughs' Career
Jordan Burroughs is going to have to go through an incredibly tough field on September 11th. If he's not careful, he might not make it to Worlds.
Sep 1, 2021
by JD Rader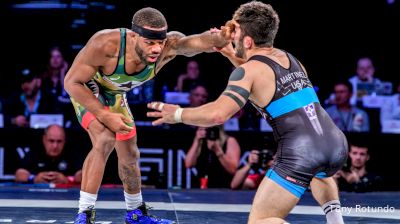 Unlock this video, live events, and more with a subscription!
Get Started
Already a subscriber? Log In
Jordan Burroughs has been tested time and time again in his career. He will once again be pushed to the limit on September 11th and 12th. The World Team Trials won't be a cake wake for Burroughs. In fact, this might even be one of the biggest challenges on domestic soil since winning a World title in 2011.
A lot of people are phoning in JB to Oslo at 79 kg. While he is absolutely the favorite on paper, don't think this will be easy. Here's why.
This Will Be JB's First Ever WTT Bracket
That's right. Every year Burroughs has competed on the senior level, he has had a bye to the finals of World Team Trials/Final X. With Burroughs beeing a staple of consistency throughout his career, he has medaled every year except 2016.
So what about 2011 and 2017 you ask? While he did win the US Open those years and had formidable finals opponents in Kyle Dake and Nick Marable, the totality of those brackets doesn't really compare. No disrespect to Burroughs Open semifinal opponents, Kirk White and Kevin Levalley, but they don't quite stack up to his potential 2021 WTT potential opponents.
He has never had to go through a domestic senior-level bracket with this many landmines.
Don't Sleep On The 79 kg Field
The bracket (minus Burroughs) by the numbers.
Hodge Trophy winners: 2
Multiple time NCAA champs: 3
NCAA champs: 4
NCAA finalists: 6
All-Americans: 12
All of those NCAA stats don't include Taylor Lujan, who was the #1 seed at the 2020 NCAA tournament before it was canceled. That's the same Taylor Lujan who pinned Gabe Dean and won 2021 Senior Nationals.
Luckily for Burroughs, based on our man Jon Kozak's seeding predictions, at least Alex Dieringer and Jason Nolf will be on the opposite side of the bracket as him. However, a potential semifinal opponent could be the man who took a match from him at 2019 Final X: Isaiah Martinez.
Watch Jordan Burroughs break down his 2019 loss to Isaiah Martinez below.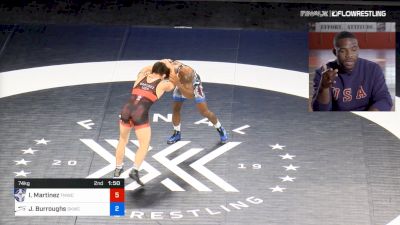 Now, I know we didn't see peak Martinez at Senior Nats. However, he is still just one of four Americans to ever beat Burroughs on the senior level. If we see even close to peak IMar, we're at least in for a treat. And that's if Martinez can make it past Lujan and/or one of the lower/unseeded guys like Carter Starocci, Chance Marsteller, Hayden Hidlay, Devin Skatzka, or David McFadden.
Burroughs Is Now 33 Years Old
33 is darn near ancient in wrestling years. Take a look at some data from an article The Wrestling Nomad wrote a little over a year ago. And remember, this data includes Burroughs' numbers that have been skewing it for a few years now.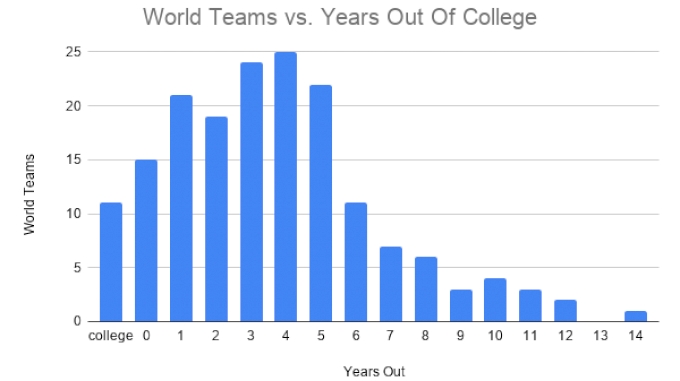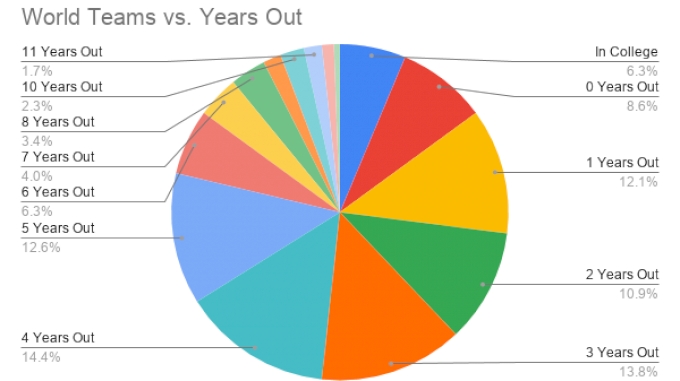 "The average age of a medalist for all male sports in the Summer Olympics was 26.2 years old for the time period between 1992 and 2012. Most studies you find will place peak Olympic performance somewhere between 25 and 27 years of age, depending on the time period being reviewed."
Clearly, Burroughs' game hasn't taken drastic steps back by any means, but now 10 years out of college and six years past the typical peak Olympic athletic performance, Burroughs is absolutely an outlier. At some point he has to stop being so athletic, right? Eh, maybe not. Pretty sure he's not entirely human.
You Only Have To Beat Him Once
This goes hand in hand with every other reason I've mentioned and is what ties it all together. Kyle Dake and Zaurbek Sidakov are the only men on the entire planet to ever beat Burroughs back-to-back on the senior level. IMar came extremely close in 2019, but could still only take one. Same with Dake in 2017.
This is why sitting out to the finals is such an advantage; you earn the ability to lose one match. That's not the case prelims - semifinals. Jordan Burroughs is going to have to go through an incredibly tough field on September 11th. If he's not careful, he might not make it to Worlds.