Pac-12
Cal Poly Plans Are Coming Together And The Mustangs Are Trending Up
Cal Poly Plans Are Coming Together And The Mustangs Are Trending Up
Cal Poly made a breakthrough in Year 5 under Jon Sioredas, and it appears the Mustangs are still on an upward trajectory.
Aug 23, 2021
by Nick Zeller-Singh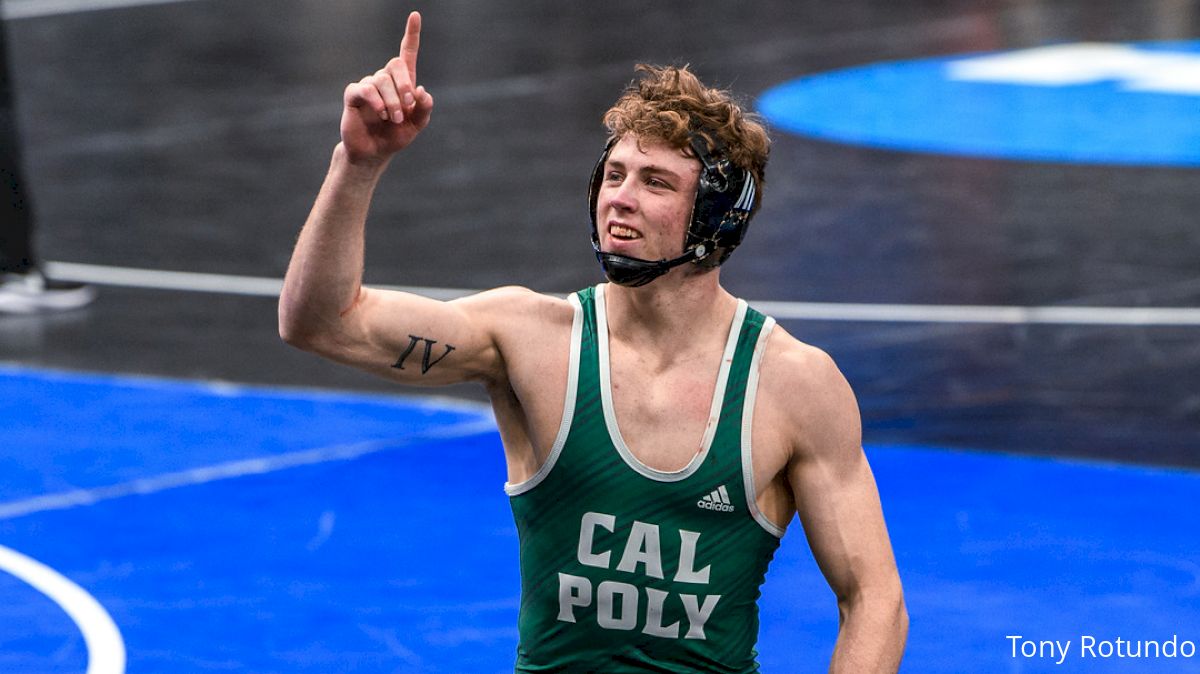 Unlock this article, live events, and more with a subscription!
Get Started
Already a subscriber? Log In
Jon Sioredas was in his first few weeks on the job at Cal Poly in 2016 when he began mapping out a five-year plan to return the Mustangs to prominence.
With the help of Dr. Leopold Selker, a Cal Poly wrestling supporter and former president of the NorthShore University HealthSystem Research Institute, Sioredas plotted a strategy to move the Mustangs up the national charts.
When they were finished putting it together — after countless hours and eight revisions — Sioredas and Selker distributed hard-copy documents to Cal Poly staff, school administrators and donors that included four primary goals for Mustang wrestling:
Becoming a top-25 program.

Producing a 100-percent graduation rate.

Raising more than $120,000.

Pulling in more top-100 recruits to San Luis Obispo.
"There were many parts that we continued to fall short on within the first couple years of implementation," Sioredas said. "It was a very challenging situation and we had to make sure that we were spending our time in areas that would have the greatest impact on our program."
Cal Poly went through winless dual seasons in 2018 and 2019 and finished 62nd, 62nd and 48th at the NCAA Championships in the first three seasons under Sioredas.
But the Mustangs made a breakthrough in Year 5 of the Sioredas era — and it appears they're still on an upward trajectory.
Cal Poly finished 25th in March at the NCAA Championships, thanks primarily to sophomore Bernie Truax's fourth-place performance at 174 pounds. Weeks later, Evan Wick, a two-time All-American at Wisconsin, announced he was transferring from Wisconsin to Cal Poly.
"San Luis Obispo is a destination," Sioredas said. "Our job as the staff is to get the word out and educate high school coaches and potential recruits about the value of our education and career opportunities. Also, our wrestling program has had a ton of resources pumped into our team. We have been able to level the playing field with scholarships, operational budgets, and are building an RTC."
Sioredas is building his roster with a hybrid recruiting approach.
"There are two strategies," he said. "Build your own like Bernie Truax, who never won a state title but put the work in, and by year three he truly broke through. The other strategy is to recruit a star like Legend Lamer and Evan Wick. We will always be a 'build your own' program, but we are now in the conversation for some of these stars."
By signing one of Luka Wick, one of Cal Poly's more highly credentialed recruits in recent years, the Mustangs had an inside track when his older brother was considering his transfer options. Ultimately, Evan Wick picked Cal Poly over Penn State.
"I really just wanted to go to a place where I knew I was going to be happy," he said in June when he announced his decision on Flowrestling Radio Live. "The times I've made the most progress in wrestling and I'm wrestling my best is when I'm happy, not necessarily when I've had the greatest resources, which I think both schools have incredible resources. But I really wanted to focus on where I was happy, and I felt incredibly happy at Cal Poly during my visit. I'm close to my family, my little brother's going to be there, Bernie Truax is going to be a great partner for me and I just love that team a lot."
Sioredas has seen an acceleration in development and a shift in mentality since some of the stars have arrived in San Luis Obispo. Along with some assistance from the upperclassmen, they've helped shape the culture, too.
Sioredas said several underclassmen will stop a drill to pick a veteran's brain about certain aspects of their game.
"The most important thing of our culture and mentality is having fun and being happy," Sioredas said. "I know they love to practice because our first couple years when we were grinding hard, practice would be over and our entire team would be out the door in three minutes or less. Now, practice is over and it will come to a point where I got to kick them out so I can go home to my family and get dinner."
Sioredas sees big things ahead for the Mustangs. Their roster is heavy on underclassmen. They had 22 freshmen last season, including Legend Lamer, who went 13-3 last season at 149 pounds and earned the #9 seed at the NCAA Championships. Additionally, Lawrence Saenz placed second in May at the U23 World Team Trials, Truax has three seasons of eligibility remaining, and Sioredas and company are building their RTC.
Their expectations are on the rise, too.
"I would be lying if i didn't say I looked myself in the mirror and said 'Oh my gosh, are we really doing this,'" Sioredas said. "It's the highs and lows of coaching. When you put a tremendous amount of time into something, we had expectations, but once it starts happening, especially after multiple years — we were compounding five years of a ton of effort and staying on course. When things start to come through on the recruiting and competitive side, it feels great. Did we expect it? I think we did. Does it feel good now that we are starting to hit milestones? Absolutely. Now that we are turning the corner and getting noticed, it motivates and excites us even more."