American Women's Wrestling Took A Leap Forward After 2020 Olympics
American Women's Wrestling Took A Leap Forward After 2020 Olympics
Women's wrestling suffered through years of adversity. Today, it's stronger than ever thanks to a memorable Olympic performance.
Aug 14, 2021
by Kyle Klingman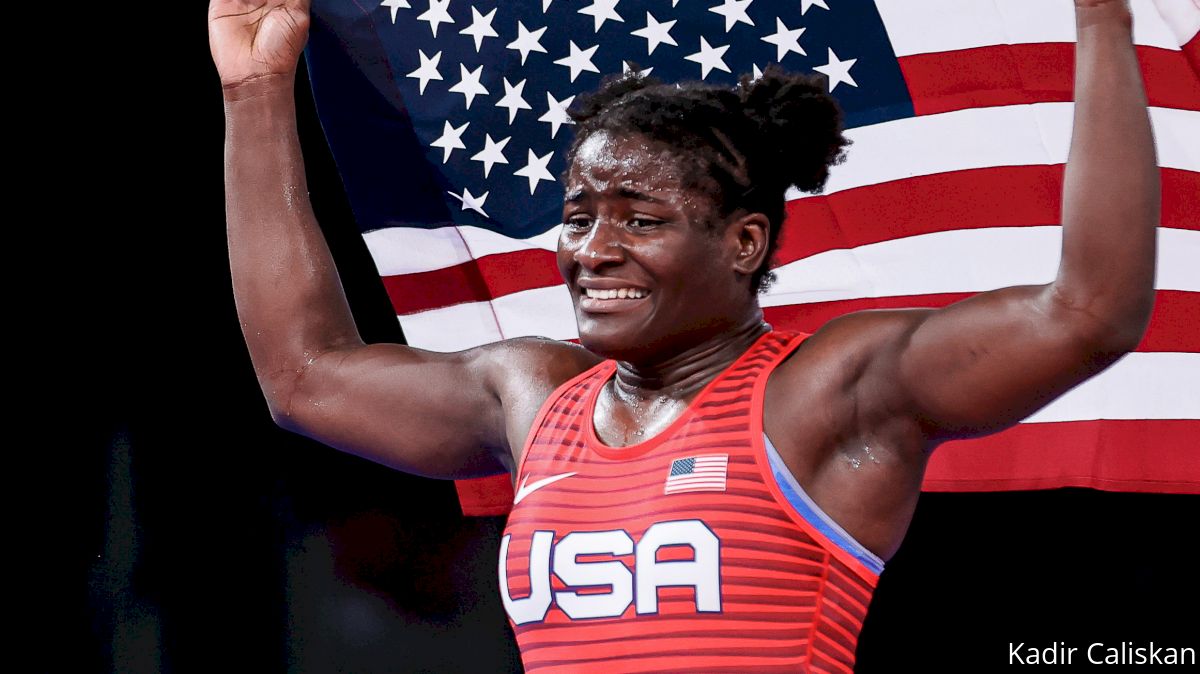 Let's go back to 1989 when American women entered the World Championships for the first time. It was an unmemorable debut, mainly because it was before the Internet, and because media outlets didn't care.
Five U.S. women entered the tournament that year in Martigny, Switzerland: Marie Ziegler (97 pounds), Afsoon Johnston (bronze at 103.5 pounds), Asia DeWeese (silver at 110 pounds), Janet Trussell (116.5 pounds), and Leia Kawaii (silver at 154 pounds).
Johnston, an Iranian immigrant who fled to the United States, was our first U.S. medalist at the World Championships. She tried to shake hands with the men's team from Iran but they were instructed by the government not to. Her historic accomplishment was overshadowed by politics.
Kitchen appliances were given to the women in addition to their medals — at least during the formative years. While an 'Outstanding Wrestler' was selected for the men, the "Most Beautiful Wrestler' was selected for the women. Similar to a beauty pageant, a tiara was placed on the head of the most beautiful wrestler.

Move forward to 2004 when women's wrestling entered the Olympics. Four U.S. women qualified for the tournament that year in Athens, Greece: Patricia Miranda (bronze at 105.5 pounds), Tela O'Donnell (121 pounds), Sara McCann (silver at 138.5 pounds), and Toccara Montgomery (158.5 pounds).
Tonya Verbeek of Canada won a silver medal at 121 pounds, dropping her gold medal match to Japanese legend Saori Yosida — an eventual 16-time World and Olympic champion. Today, Verbeek is the head men's and women's national team coach for Canada.
"I remember the one day, women's wrestling was on the front of the Athens news — on the front page for the Olympics," Verbeek said. "It was with one of my competitors, Anna Gomis from France. It was a crazy picture and the headline read, 'Oh, the scent of a woman,' and it was in a high crotch position or something similar.
"It made me realize that people just aren't used to this. This is something new. I was a little bit ticked off about it but at the same time, we were on the front page of the news. We were on tv and all these things that were new to us and new to me — but especially new to the world of women's wrestling."
If previous teams blazed a trail, then the 2020 U.S. women's Olympic team is the one that climbed to the summit. This was the breakthrough performance that we wanted and needed to advance the sport.
The six-member U.S. women's team was the perfect mix of personalities and powerful wrestling.
Gold medal winner Tamyra Mensah-Stock blitzed through the 68-kilogram bracket to become the star she was meant to be. She also became the first black woman to win the Olympics in wrestling.
Five-time World champion Adeline Gray — silver medalist at 76-kg — could be seen in the stands cheering on the men's and women's teams during every match. Her unbridled enthusiasm was the talk of the tournament.
In 2016, Helen Maroulis became the first American woman to win an Olympic gold medal in wrestling, and in 2021 she became the first American woman to win multiple medals when she snagged bronze at 57 kg. Her inspired performance came on the heels of a three-year-long battle with concussions.
Sarah Hildebrandt ended the Olympics on a high note for the United States. She was the final American wrestler to compete, and she laced her way to a dominant win in her bronze medal match at 50 kg.
Shannon Williams, a four-time World silver medalist (1991, 1993-94, and 1997) and a women's wrestling pioneer, watched from her home in California. She understood the significance of the moment and what it meant for women's wrestling.
"It was so refreshing to see our female wrestlers in the spotlight and supported by everyone," Williams said. "Back when we first started wrestling at the national level we were just tolerated. Having John (Smith) and Jordan (Burroughs) commentate the women's matches generated so much excitement for all genders watching.
"The female wrestlers today get a chance to live at the Olympic Training Center and get a full-time coach and other high-level teammates to train with. Back when we first started wrestling at the national level, we got to stay at the Olympic Training Center for a week to get ready for our bigger international tournaments. Most of our time was spent in a local high school training with high school boys."
Japan was also part of the American women's wrestling movement — even though they are the country we are chasing. Japan won four of six gold medals, but, because women's wrestling is important in Japan, a women's weight was featured every day of the competition. That meant a week's worth of women's wrestling — in descending order from the heaviest weight to the lightest — for the world to see.
All those years of laboring in obscurity finally paid off. Women's wrestling was the grand finale whenever they competed at the Olympics. That's a 32-year turnaround from when Afsoon Johnston and her teammates had to pay their own way to wrestle at the World Championships.
"I made a flier and went door-to-door and business-to-business and introduced myself. Most people's response was, 'We didn't know there was women's wrestling.' I scraped enough money to get myself to the World Championships to represent the United States. I was educating people that there was such a thing as women's wrestling and that we were a legitimate sport.
"Never in my wildest dreams would I have imagined when I first started wrestling that someday I would witness what just occurred at the Olympics. With Terry Steiner and Clarissa Chun at the helm, the USA women's wrestling team has become a dominant force in the world of wrestling. These ladies are excited to watch and the world is cheering them on."