Olympic Games Watch Party
U.S. Women Turned In Historic Performance in Tokyo
U.S. Women Turned In Historic Performance in Tokyo
With four Olympic medals, the USA earned the most ever for the women's freestyle program.
Aug 10, 2021
by Derek Levendusky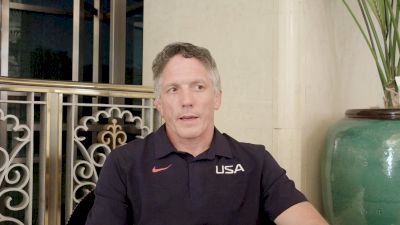 Unlock this video, live events, and more with a subscription!
Get Started
Already a subscriber? Log In
It was an historic performance for Team USA women and men at the 2020 Olympics in Japan, with four of six women bringing hardware home with one gold medalist, while the men went five-for-five with two champions.
"Team USA—what a special time to be a part of it," Hildebrandt said afterward. "We are just growing up, we're supporting each other. You can just feel the energy intermixed between (men's and women's) teams."
With the four Olympic medals, Team USA women earned the most ever for the program. They had previously never won more than two, and that only happened once, in 2004, the inaugural year for women's Olympic wrestling. The only women's medal in Rio was Helen Maroulis' famous gold medal performance.
U.S. women had previously only had five medals total. In Tokyo, Team USA men and women combined for a whopping nine medals after only combining for three in Rio five years ago. The women's team combined for a 15-6 overall record, while all five of the men's team medaled and went 16-3 overall.
The U.S. women's team sent reps at all six weights for the first time since the Olympics offered six weights for the women, landing a gold, silver, and two bronzes. Tamyra Mensah Stock won the gold at 68 kg, Adeline Gray took silver at 76 kg, and Helen Maroulis and Sarah Hildebrandt both took the bronze at 57 kg and 50 kg, respectively.

The U.S. women took second place in the team race behind Japan, which won its eighth straight World/Olympic team title. Japan landed four gold medalists, including a dominant performance by 50 kg Yui Susaki, who scored a tech fall in every match of the event, and the Japanese team finished with 120 points. Team USA scored 85, while China landed in third with 69 points.
The medalists on the women's team were exuberant.
Olympic champion Tamyra Mensah Stock, who made the team in 2016, but didn't qualify the weight, stood at the top of the podium this time. She brought her unique personality to Tokyo, bringing her karaoke machine in tow, and brought her dominant skills to the wrestling mat.
"I'm feeling very happy, and I keep trying not to cry," Mensah Stock said after the match. "When I first started wrestling (in 10th grade) I knew I could be an Olympic champion."
Maroulis tweeted, "2x Olympic medalist!!! Pinching myself!! What a gift to be able to do this on the biggest stage again. My heart is full. Thank you everyone!!"
Gray said: "I still am coming home with a silver medal from the Olympics and I am just so thrilled for that. I qualified myself for the World Championships, so it's still big things that happened. Gonna take a while to soak in that loss."
Mensah Stock cemented her name in U.S. wrestling history with her gold medal performance, defeating Blessing Oborududu of Nigeria in the finals. Her post-match interview was an outpouring of emotion, especially remembering her father who passed away in a car accident in high school.
"If my father were here, he would be so happy," she said.
It was #1 vs. #2 when Mensah Stock faced off with Nigerian hammer Oborududu of Nigeria in the Olympic finals. Mensah Stock had previously owned a 3-0 record over the Nigerian. She scored first about a minute into the final with a front-head go-behind, but gave up a reversal on a failed turn after she got the takedown. She scored again deep in the first with a high-crotch leg attack to make it 4-1 at the break. That would be all the scoring as Mensah Stock held off Oborududu's attacks in the second to win the match 4-1.
Her path to the Olympic final was a dominant one, creaming returning Olympic champ Sara Dosho in the opening round 10-0, followed by another dominant win over China's Feng Zhou, scoring in the first 11 seconds and not looking back until she finished off the match by technical superiority early in the second period.
In the semis, Mensah Stock faced Alla Cherkosova from Ukraine who was fifth at the World Championships in 2019. Tamyra struck first, gaining a 2-0 lead at the break with a go-behind in the first period. Cherkosova struck next, climbing to a 4-2 lead with a front head throw-by and gut wrench turn. The Ukrainian almost got a second turn when Mensah Stock stepped over a second gut attempt and gained an exposure to go ahead 4-4 by criteria. From then on it was all Tamyra. She scored on a leg attack and immediately transitioned to a turn to make it 8-4. A late score made it 10-4 when Cherkosova failed on a YOLO jersey roll and the American stopped motion for a final two-point exposure. In the end, that was the final score as Mensah Stock won it 10-4, advancing to the finals where she would win the gold medal.
Cherkosova won the bronze medal with a win over Dosho.
Gray's path was much more of a grind, winning close matches in both the quarters and the semis with a 6-4 win over 2017 world champion Yasemin Adar of Turkey followed by a 3-2 win in the semis over #4 seed Elmira Syzdykova of Kazakhstan to advance to the gold match. She fell short in the finals to a close friend and familiar opponent, Germany's Aline Rotter Focken, losing the affair 7-3.
Gray finally adds an Olympic medal to her illustrious career, now adding the Olympic silver medal to her five World titles and two World bronze medals.
"This will sting for a while for Adeline," said Jordan Burroughs, commenting on the NBC team. "But eventually she'll see what an accomplishment this is. A lot of people are still excited for her."
Maroulis famously overcame much adversity since her last visit to the Olympics, where she won gold over the legendary Yoshida of Japan, battling through injuries and a severe concussion to make her return to the Olympic podium. She nearly made the final, falling 2-1 in an activity clock battle with eventual champ Risako Kawai of Japan in the semi, a match that included some criticism for the official's decision to put Maroulis on the shot clock twice before Kawai was put on the clock late for Maroulis' only point in the match.
The American wasn't able to score against Kawai's masterful defense, leaving the final narrative of the scoring to a referee's subjective decision, though Maroulis clearly wasn't able to get to her offense against the Japanese star. Kawai was also a returning 2016 Olympic champ like Maroulis, creating the marquee matchup between the two. She had moved down to this weight class so her sister, Yukako, who also won gold for Japan, could compete at the Olympics.
Hildebrandt lost a heart-breaker in the semis, losing 10-7 to China's Sun Yanan
after being up early 7-0, but bounced back to win bronze. She was unstoppable in her first two rounds, especially once she got to her leg lace, scoring two straight tech falls.
Winchester (53 kg) and Kayla Miracle (62 kg) both failed to make the podium, with Winchester falling in the bronze match by fall to Belarus' Vanesa Kaladzinskaya and landing in fifth, still a solid showing for the American. Miracle lost her first round match 3-2 to China's Jia Long and was not brought back into repechage when her opponent failed to make the finals.