Olympic Games Watch Party
Olympic Team Race Complete - Men And Women Finish Second
Olympic Team Race Complete - Men And Women Finish Second
Take a look at the final team standings in all styles at the 2020 Tokyo Olympics.
Aug 7, 2021
by Jon Kozak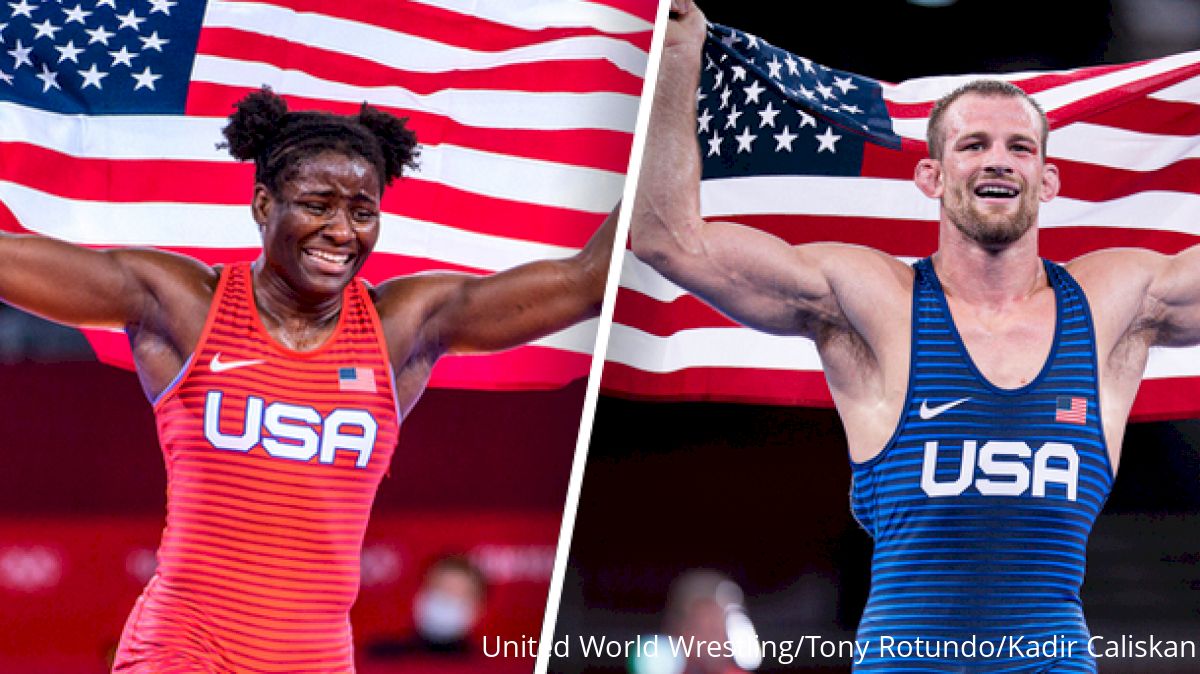 Unlock this article, live events, and more with a subscription!
Get Started
Already a subscriber? Log In
Wrestling has concluded at the Olympics and Team USA in men's and women's freestyle had landmark performances. Although team medals aren't awarded at the Olympics, we've been tracking the standings at the end of each session. Take a look below to see the final team results in each style.
Men's Freestyle - Russia Stays On Top - USA 1 Match Away
The team race in men's freestyle came down to one, historic match - Abdulrashid Sadulaev vs Kyle Snyder. Sadulaev executed and wrestled a phenomenal match against Snyder, winning 6-3 and securing the team title for Russia. Outside of the 97kg gold medal match, USA and Russia matched results with 4 other medals--2 golds and 2 bronze. Russia's golds came at 57kg and 74kg with Zaur Uguev and Zaurbek Sidakov respectively. Gadzhimurad Rashidov and Artur Naifonov took bronze at 65 and 86. USA answered Russia's heavy hitters with golds from David Taylor and Gable Steveson and earned bronze from Thomas Gilman and Kyle Dake.
Take a look at the final top 10 in Men's Freestyle at the Olympics:
| | |
| --- | --- |
| Russia | 105 |
| United States | 100 |
| Iran | 51 |
| India | 45 |
| Kazakhstan | 43 |
| Azerbaijan | 36 |
| Uzbekistan | 33 |
| Japan | 33 |
| Turkey | 29 |
| Georgia | 26 |
Women's Freestyle - Japan Remains Levels Above The Field, USA Finishes Second
Japan's women's team won their 8th straight team title with 4 gold medals at the 4 lightest weights and 2 fifths at the upper weights. Their gold medalists were Yui Susaski (50kg), Mayu Mukaida (53kg), Risako Kawai (57kg) and Yukako Kawai (63kg). Remarkably, this was the second straight Olympics Japan won 4 of the 6 available gold medals.
While USA was pacing ahead of Japan at the start of the tournament, they ultimately could not match their firepower at the lowest weight classes. Though they didn't match Japan, the second place finish for the women was still unprecedented for a variety of reasons. Tamyra Mensah-Stock led the way with gold followed by Adeline Gray's silver and bronze from both Helen Maroulis and Sarah Hildebrandt. Those four medals are the most won by Team USA women since women's wrestling was a part of the Games in 2004. On top of that, Helen Maroulis with her bronze medal became the first woman's wrestler in US history to win two Olympic medals. And finally, Tamyra Mensah-Stock became the first Black woman to ever win an Olympic Gold medal. Women's wrestling in the United States is as strong as ever and looks only to be improving.
Take a look at the top 10 in Women's Freestyle at the Olympics:
| | |
| --- | --- |
| Japan | 120 |
| United States | 85 |
| China | 69 |
| Mongolia | 47 |
| Ukraine | 46 |
| Krygyzstan | 45 |
| Belarus | 39 |
| Russia | 38 |
| Bulgaria | 38 |
| Germany | 29 |
Greco - Russia Wins, Iran And Cuba Round Out Top 3
Though Russia only came away with one gold medal at 97kg from Musa Evloev, they accumulated 2 more bronze medals and enough points to finish in first place. Those 2 bronze came at 60kg and 130kg from Sergey Emelin and Sergei Semenov respectively. Iran finished behind Russia on their one gold medalist at 67kg from Mohammad Geraei and a bronze at 97kg by Mohammad Saravi. They were able to accumulate enough points from two other 5th place finishers to secure them in second place. Cuba was the story of the tournament early due to their gold medal at 60kg from Luis Orta and their heavyweight legend, Mijan Lopez. The Cuban giant cemented his name in the record books by winning his 4th consecutive Olympic gold medal and shutting out his opponents in the process. Lopez will go down in history as one of the best wrestlers ever regardless of gender, weight or style.
Unfortunately for team USA, our greco men only scored 10 points and finished tied for 19th place. The lone points in the tournament were scored from a 7th place finish by G'Angelo Hancock and a 10th place finish by Alejandro Sancho.
Take a look at the final top 10 in Greco at the Olympics:
| | |
| --- | --- |
| Russia | 73 |
| Iran | 62 |
| Cuba | 56 |
| Hungary | 55 |
| Ukraine | 55 |
| Armenia | 40 |
| Germany | 36 |
| Japan | 35 |
| Georgia | 34 |
| Egypt | 33 |
For full match results from the Olympics, check out our Results Page here