Olympic Games Watch Party
Live From Tokyo: Day 6 Olympic Updates
Live From Tokyo: Day 6 Olympic Updates
Kyle Snyder and Sarah Hildebrandt begin their quest for more international hardware and Gable Steveson goes for gold on Day 6 of wrestling at the Olympics.
Aug 6, 2021
by Andy Hamilton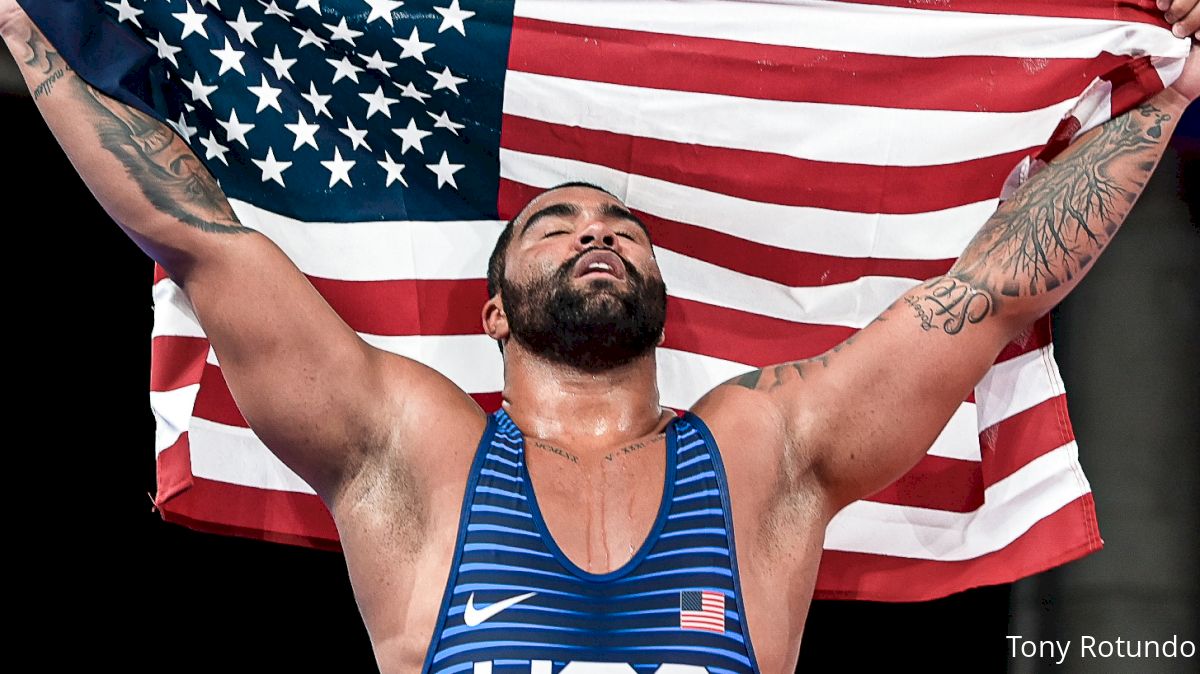 David Taylor was 8 years old when he won his first national title in Tulsa, which poured gasoline on his fire to win at wrestling's highest level.
By the time Taylor was 10, there was an expectation that one day he'd reach the pinnacle and win Olympic gold.
"I've been carrying that my entire life," he said Thursday night in Tokyo. "And I'm proud of it. It's the way I wrestle, the way I represent myself when I'm out there, and I want to score points, I want to dominate people. That was the expectation at every single level that I went to. It wasn't about just winning, it was about trying to dominate people.
"I hit a little bump in the road when I got out of college and it took me a little longer to get to this point, but I'm grateful for that, for those trials. I'm grateful for having to go through adversity because it made me want to find a way to get that done with 10 seconds left."
The margins are paper-thin at the top. One well-timed attack with a precise finish is sometimes the difference between gold and silver, between the fulfillment of a lifetime goal and the gutted feeling of coming so close only to see it slip through the cracks.
One last sprint Thursday night added a new top line to David Taylor's impeccable wrestling resume — Olympic champion.
A double-leg with 18 seconds left vaulted Taylor to a 4-3 win against Iran's Hassan Yazdanicharati and to the top step of the Olympic podium.
"I started that sprint with one minute left and I don't really even know if it was technique, but I wanted to win," Taylor said. "I wanted to win an Olympic gold medal, I've wanted to do that my entire life, and I'm maybe not going to have an opportunity to do this again. This might be my only opportunity. I believe I'll have more opportunities, but you never know. It feels really good."
Certainly more opportunities are ahead for Gable Steveson, too, if he continues down the international wrestling path. He'll try to join Taylor in the gold medal club tonight when he takes on three-time World champ Geno Petriashvili of Georgia in the 125-kilogram gold medal bout.
Additionally, three-time World and Olympic champ Kyle Snyder and 2018 World silver medalist Sarah Hildebrandt begin their quest for more international hardware today in Tokyo and Kyle Dake and Jacarra Winchester take aim at bronze.
Here's David Bray's look at the draws for Snyder and Hildebrandt.
Update: Kyle Snyder will be the 9th match because Fardj of Algeria didn't show up to weigh ins. So a forfeit for Yergali. https://t.co/GqsUcnK4ZM

— Christian Pyles (@CPyles8) August 6, 2021
Fast Start Propels Dake Past Garzon
Kyle Dake blitzed Cuban's Geandry Garzon with a takedown and three guts in the first 45 seconds and rolled into the bronze medal bout with a 10-0 technical superiority victory. Dake will take on two-time World champ Frank Chamizo in tonight's bronze medal bout at 74 kilograms.
Another Win For Winchester
Jacarra Winchester's medal hopes were in serious jeopardy Thursday night until China's Qianyu Pang rallied late on a takedown with six seconds left to win in the semifinals and pull Winchester back into the repechage. Now Winchester is one win from taking home bronze.
The 2019 World champ defeated Cuba's Laura Herin Avila 5-0 in the repechage at 53 kilograms. With Herin on the activity clock, Winchester scored a takedown on the edge to go up 2-0. She added a step-out point midway through the second and tacked on two more.
Winchester will wrestle two-time World champ Vanesa Kaladzinskaya of Belarus in tonight's bronze medal bout.
Sadulaev Shuts Down Sharifov
Sharif Sharifov was a force a decade ago when he won World and Olympic titles in 2011 and 2012 and the 32-year-old from Azerbaijan and he's having a nice late-career resurgence. But Sharifov pulled the short straw in the bracket and drew five-time World and Olympic champ Abdulrashid Sadulaev in the opening round.
In a rematch of the 2019 World final, Sadulaev once again locked Sharifov down, winning a 5-0 decision.
Cuban Collapse
Cuba's Alejandro Valdes Tobier has been one of the steadiest winners at 65 kilograms throughout this quad, but his performance Friday was anything but steady. Valdes raced out to a big lead early and completely fell apart late in a stunning turnaround. Valdes led 11-3 against Daulet Niyazbekov of Kazakhstan before Niyazbekov reeled off 18 straight points to win a 21-11 tech.
Hildebrandt Cruises Into Quarters
It took some time for Sarah Hildebrandt to break through against World bronze medalist Evin Demirhan, but the floodgates opened in the second period and Hildebrandt rolled into the 50-kilogram quarterfinals with an 11-0 tech.
Hildebrandt seemed in position to finish go-behinds on a couple occasions before finally capitalizing to go up 3-0 at the break. She opened it up in the second period with a takedown and three leg laces to end it.
Hildebrandt will take on Bulgaria's Miglena Selishka, who handled two-time World silver medalist Alina Vuc.
Snyder Rolls Through Round 1
Kyle Snyder spotted Canada's Jordan Steen a couple points early and then reeled off 12 straight in a 12-2 tech in the opening round at 97 kilograms. Snyder will take on Italy's Abraham de Jesus Conyedo Ruano, who got here by winning the World Olympic Games Qualifier.
Hildebrandt Rolls Up Selishka To Reach Semis
Sarah Hildebrandt's leg lace has been a trump card today for the 27-year-old Indiana native. She's turned a pair of close matches into blowout wins by locking up laces. Bulgaria's Miglena Selishka became the latest victim. Selishka scored the opening takedown of the match, but Hildebrandt responded by throwing the Bulgarian by for two and then locking up her lace in the middle of the mat for five turns to end it.
Kyle Controls Conyedo
The United States will wrestle in 10 medal matches by the time the tournament's done here. Kyle Snyder became the latest semifinalist for the Americans with a smart, controlling 6-0 victory against Italy's Abraham de Jesus Conyedo Ruano in the 97-kilogram quarterfinals.
Snyder took Conyedo out with a single leg for the first point, added an activity clock point and another takedown before the break.
Otoguro Topples Rashidov
An edge-of-the-mat sequence and subsequent video review proved to be pivotal in a clash between 65-kilogram kings. Japan's Takuto Otoguro, the 2018 World champ, defeated 2019 World champ Gadzhimurad Rashidvo of Russia 3-2 in Friday night's semifinals.
Otoguro scored a first-period takedown when he spun behind Rashidov for just long enough to collect two. That score held until midway through the second period when Otoguro brought Rashidov to the edge and the Russian came around him to cover. Rashidov was initially awarded a takedown, but the Japan corner challenged and the call was overturned when replay revealed that Rashidov stepped out, essentially making it a four-point challenge win for Otoguro.
Rashidov pulled closer when Otoguro was cautioned twice in the final minute, but the 22-year-old from Japan is moving on to wrestle in Saturday night's gold medal bout.
Haji Gets His Shot At Gold
Three-time World champ Haji Aliyev looked razor-sharp early and hung on late to beat India's Bajrang Punia 12-5 in the 65-kilogram semis. Aliyev scored a pair of first-period takedowns, another early in the second and tacked on a lace to build an 8-1 lead. Bajrang scored a pair of go-behind takedowns to cut into the lead and had a chance to pull within three when he took Aliyev to the edge, but Haji worked some magic around the boundary and shoved Punia out to extend his lead to five.
Sadulaev Outlasts Salas
Five-time World and Olympic champ Abdulrashid Sadulaev impenetrable defense has led to three straight shutout victories today over some of the most-decorated veterans in the 97-kilogram class. After blanking Olympic gold medalist Sharif Sharifov and World medalist Elizbar Odikadze in the first two rounds, Sadulaev locked down Cuba's Reineris Salas Perez 4-0 in the semifinals. Sadulaev scored three step-out points and an activity clock point to return to the Olympic finals.
One Step (Out) At A Time For Snyder
Kyle Snyder's patience and persistence was rewarded in a 5-0 semifinal win against Turkey's Suleyman Karadeniz in the 97-kilogram semis. Snyder came out of the gate firing, getting in on a single and taking Karadeniz out for a step-out point. He picked his spots the rest of the way and took the Turk out three more times and added an activity clock point. Meanwhile, Karadeniz seemed content to stay on the defensive. He didn't take a shot until the final 30 seconds.
Snyder's win sets up a Saturday night rubber match with Abdulrashid Sadulaev for all of the Olympic marbles. Two reigning Olympic champs going at it in Round 3. Snyder outlasted Sadulaev in Paris. Sadulaev exacted revenge a year later with a quick fall in Budapest.
"I think about him a good bit," Snyder said. "I'm just ready to wrestle him again. I'm ready to go."
Sun Rises Late To Stun Hildebrandt
Sarah Hildebrandt raced out to a 7-0 lead and appeared as if she might end it early when she locked up a leg lace in the middle of the mat against China's Yanan Sun. But it all unraveled after that for the Indiana native. Sun rallied back and tossed Hildebrandt for four with less than 10 seconds remaining to win a stunning 10-7 decision in the 50-kilogram semifinals.
Dake Battles Back For Bronze
The USA men's freestyle team came here with five Olympians and it's headed home with five Olympic medals. Kyle Dake claimed a bronze at 74 kilograms with a 5-0 win against Italy's Frank Chamizo. Dake gave himself plenty of opportunities to break through against Chamizo's world-class ability to avoid getting taken down and he cashed in with three step-out points. Dake also exposed Chamizo for two more.
"I was able to bounce back and wrestle more like my old self today," Dake said. "A couple hiccups here and there and you just battle through them."
Bekzod Bags Bronze
Uzbekistan's Bekzod Abdurakhmonov came up a couple points short of a medal in Rio. He left nothing to chance Friday night. The All-American from Clarion claimed the other 74-kilogram bronze with a 12-2 victory against Kazakhstan's Daniyar Kaisanov.
Sidakov Remains King At 74 KG
Two-time World champ Zaurbek Sidakov added an Olympic gold to his resume with a controlling 7-0 victory against Mahamedkhabib Kadzimahamedau of Belarus. Kadzimahamedau defeated Sidakov in 2017 on his way to a title at the Russian Nationals. Their paths went in different directions after that, though, with Kadzimahamedau transferring to Belarus and Sidakov surging to the top of the World podium in 2018 and 2019.
Gable's Golden
With two takedowns in the final 10 seconds, including one at the buzzer, Gable Steveson dethroned the heavyweight king, beating three-time reigning World champion Geno Petriashvili 10-8 in the 125-kilogram gold medal bout.
Steveson wrestled a flawless first period, controlling the center, putting Petriashvili on the clock, adding a takdown on a snatch single and launching the Georgian out of bounds for a step-out to go ahead 4-0 at the break.
Petriashvili clawed back with an exposure plus a takedown with 1:17 to go and he went ahead when he gutted Gable twice to go up 8-5 with 49 seconds left. Geno killed clock with shots that tied Steveson up. Gable got to within a point on a takedown with 10 seconds left and snapped Geno down and spun around him for a takedown at the buzzer. The call was upheld after video review to give Steveson a 10-8 win.
"I gave him a quick outside step, he bit it a little bit and after that he went down, I circled and I kept circling and the rest is history," Steveson said.
WHAT JUST HAPPENED! 🥇@GableSteveson grabs the GOLD as time expires. #TokyoOlympics pic.twitter.com/yqMc3wbXsu

— #TokyoOlympics (@NBCOlympics) August 6, 2021
Gable is the first American heavyweight to win a freestyle Olympic gold since Bruce Baumgartner in 1992.
Jacarra Finishes Fifth
Two-time World champion Vanesa Kaladzinskaya of Belarus headlocked Jacarra Winchester for a fall to claim the bronze at 53 kilograms.