Olympic Games Watch Party
Snyder & Hildebrandt Receive Olympic Draws
Snyder & Hildebrandt Receive Olympic Draws
The last set of Olympic brackets have been released. Here are the draws for Sarah Hildebrandt and Kyle Snyder.
Aug 5, 2021
by David Bray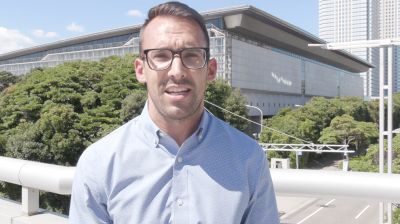 Kyle Sndyer and Sarah Hildebrandt are the last Americans set to compete in Tokyo. Hidebrandt will have a tough, but navigable journey, while Snyder draw looks about as good as possible. Here are the final Olympic brackets for 2021.
Kyle Snyder's 97kg Ideal Draw
Kyle Snyder received one of the best draws imaginable. In the opening round, Snyder will have Jordan Steen of Canada. Snyder should be a huge favorite over Steen considering he tech falled him at 2019 Pan-Ams. After Steen, Snyder will have the winner of Abraham Conyedo (ITA) and Albert Saritov (ROU). Conyedo won world bronze in 2018 and has two past losses to Snyder - 12-1 (Matteo Pellicone) and 11-2 (2018 Worlds). Saritov won world bronze in 2011 and Olympic bronze in 2016. Coincidentally, the last time Saritov and Snyder wrestled was at those 16 Games where Snyder won 7-0.
The most likely opponent for Snyder in the semi-final bout is Suleyman Karadeniz (TUR). The young, Turkish wrestler won Euro Gold in 2020 and has past wins over world medalist Elizbar Odikadze (GEO) and the aforementioned Albert Saritov. Karadeniz will be a solid test, but Snyder should be the favorite to make the finals.
The major story at 97kg is the top quarter. Two Olympic champions, Abdulrashid Sadulaev and Sharif Sharifov (AZE) will meet in the very first round! This is a rematch of the 2019 world finals where Sadulaev won 4-0. The winner of that match will face the winner of Mohammad Mohammadian and Elizbar Odikadze. Both Mohammadian and Odikadze are past world bronze medalists and have wins over Kyle Snyder. Sadulaev will be the favorite to make it out of that quarter but it is the toughest draw one could draw up for the pound for pound best wrestler in the world.
97kg Men's Freestyle Olympic bracket
Sarah Hildebrandt's Tough 50kg Olympic Bracket
2017 World bronze medalist Evin Demirhan awaits Sarah Hildebrandt in the first round. That bronze medal came at 48kg where Demirhan also won a U23 World title.
If Hildebrandt wins in the first round, she'll see either two-time World silver medalist Emilia Vuc of Romania or European champ Miglena Seliska of Bulgaria. Vuc is the favorite here which is a good thing for Hildebrandt who beat her in the 2020 Matteo Pelicone finals.
If she can notch two wins, Hildebrandt's most likely semifinal would be against World Champ and four-time World/Olympic medalist Yunan Sun of China.
The clear favorite on the opposite side of Hildebrandt's bracket is Yui Susaki of Japan, one of the biggest favorites regardless of style at this year's Olympics. Susaki's results are remarkable. She hasn't lost in international competition in her entire career. That's insane. She has two World titles along with five age level world titles, and honestly, she might just be getting started as she was still Junior eligible in 2019.
The 50kg Women's Freestyle bracket in Tokyo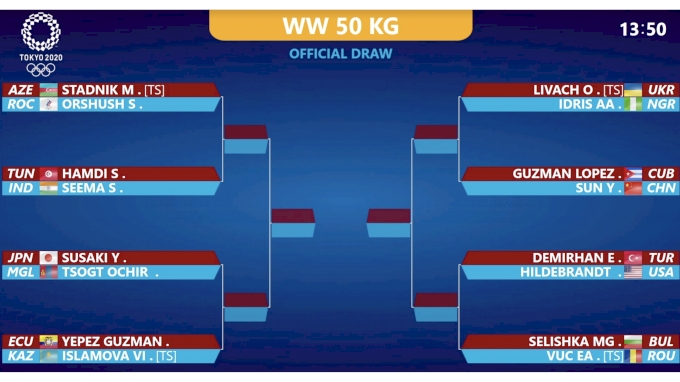 The 65kg Olympic Meat-Grinder
If you're looking for an entertaining bout to watch at the Tokyo Games, you simply can't go wrong with any of the 65 kilogram bouts. Arguably the deepest weight class, this Olympic bracket is ridiculously stacked.
Rashidov, the #1 seed and 2019 world champ, gets the young Armenian dynamo Tevanyan as his first match. Tevanyan has been on an absolute heater recently, winning the 2020 Individual World Cup and the 2021 Euro Olympic Qualifier.
That's just the first bout of the 65kg tourney. In the next quarter, Takuto Otoguro and Ismael Musukaev are slated for an explosive second round matchup. Consider buckling up for that match because it is going to be intensity in ten cities.
As if that's not enough electricity, how about a first round match between world medalists Niyazbekov of Kazakhstan vs Cuba's Valdes, the winner getting Olympic bronze medalist and three-time world champ Haji Aliev.
Then we get to the final quarter of the bracket, where the famous Bajrang Punia and rising star Ernazar Akmataliev close out the round of 16 with a spectacular matchup.
Truly, this is a weight class for freestyle wrestling connoisseurs.
65kg Men's Freestyle bracket at the Olympics