UWW
Women's Freestyle Olympic Preview
Women's Freestyle Olympic Preview
Derek Levendusky takes an in-depth, weight-by-weight look at the top teams and medal contenders in Tokyo.
Jul 27, 2021
by Derek Levendusky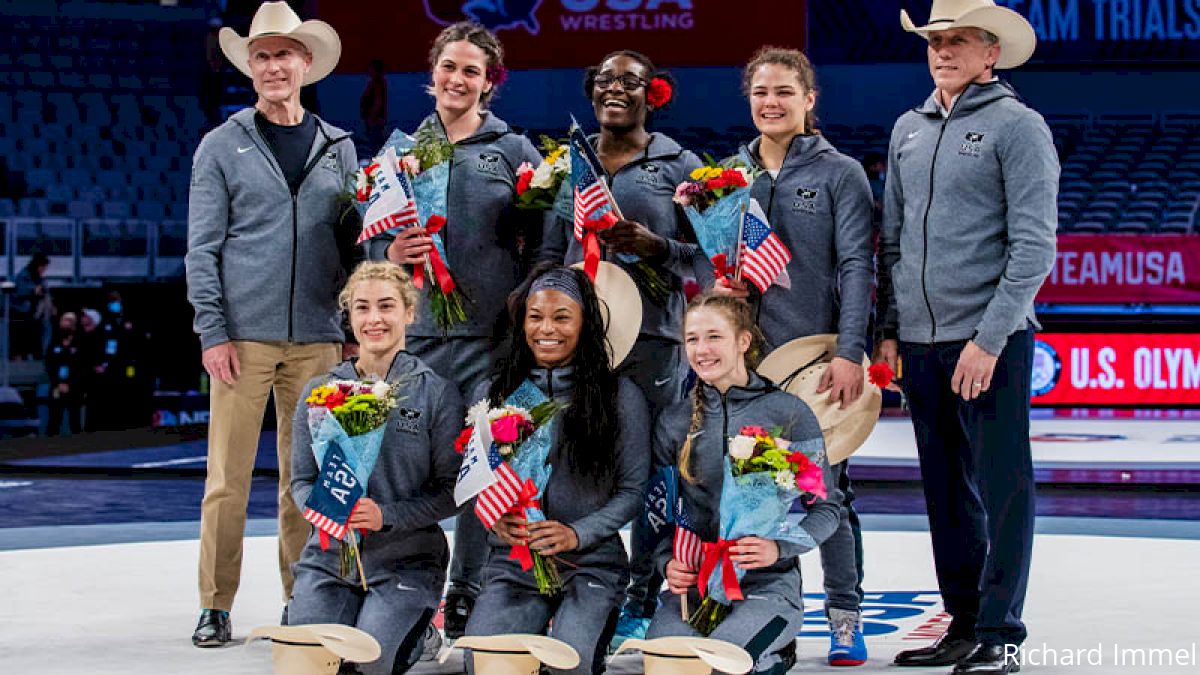 The United States is sending arguably the strongest team the country has ever sent to the Olympics — battle-hardened, experienced, and with the confidence of knowing they can win medals at the international level.
Although there is no official team award given at the Olympics, Japan is the heavy favorite in the team race, a headline on repeat in World competitions over the last 30 years.
At the last World Championships in 2019, the final standings looked like this: 1. Japan, 2. Russia, 3. United States, 4. China, 5. Ukraine.
Japan won by a wide margin with 138 points to second-place Russia's 108. The United States earned 105 points for the third-place finish. Even so, the U.S. women showed a lot of grit and promise in 2019 at the World level, winning three gold medals for the first time at the World Championships. It also must be noted that the event in 2019 featured the 10 United World Wrestling weights featured in non-Olympic years. During Olympic years, the field shrinks to six weight classes.

The competition to land a spot on the Olympic team was fierce in the United States over the past few years, including the need to persevere through the pandemic pause, but in the end, the team includes many familiar names that have been on world teams often during the last cycle, including two that were on the team in 2016 — Helen Maroulis at 57 kilograms and Adeline Gray at 76 kg. Mensah-Stock made the 2016 national team at 69 kg, but the U.S. program failed to qualify the weight for the Olympics, a heartbreaking scenario at the time for the American.
The Tokyo 2020 team:
50 kg — Sarah Hildebrandt — 2018 World silver medalist (New York AC/USOPTC)
53 kg — Jacarra Winchester — 2019 World champion (Titan Mercury WC)
57 kg — Helen Maroulis — 2016 Olympic gold medalist, four-time World medalist, two-time World champion (Sunkist Kids WC)
62 kg — Kayla Miracle — 2019 U23 World silver medalist (Sunkist Kids WC)
68 kg — Tamyra Mensah-Stock — 2019 world champion, two-time World medalist (Titan Mercury WC/USOPTC)
76 kg — Adeline Gray — five-time World champion, seven-time World medalist (New York AC/Beaver Dam RTC)

Here's a look at each weight and the obstacles each U.S. team member faces to earn an Olympic medal in Tokyo:
50 kg
When Sarah Hildebrandt wrestled at 2019 Worlds, she was up at 53 kg, where she took a disappointing ninth. Not long after the event, Hildebrandt announced that she would be dropping to 50 kg for the Olympic year. Since then, she has been unstoppable at that weight, dominating domestic competition and putting together an impressive resume of international performances and titles. Heading into the Olympics, she'll be unseeded in a field that includes the #1 seed Mariya Stadnik of Azerbaijan, the 2019 World champion that some argue is one of the best pound-for-pound wrestlers in the world. The experienced Stadnik has already won three Olympic medals, including a silver in Rio in 2016.
Romania's second-seeded Emilia Vuc took second to Stadnik at the 2019 World Championships. Third-seed Oksana Livach of Ukraine won a bronze at 2018 Worlds, and #4 seed Valentina Islamova Brik of Kazakhstan was the 2019 World bronze medalist. Meanwhile, Japan's Yui Susaki is also going in unseeded, and will be a tough draw for whoever is unlucky enough to get the match, as the young Japanese phenom has already won two World titles. A few other names to watch are China's Sun Yanan, a 2013 World champion and 2016 Olympic bronze medalist, and Turkey's 2017 World bronze medalist, Evin Demirhan of Turkey.
Draw: Aug. 5
Competition: Aug. 6-7
53 kg
In 2019, Jacarra Winchester won her first World title at 55 kg. Following the event, she dropped down to 53 kg for the Olympic season, where she'll face a field loaded with World & Olympic medalists. Unseeded Sofia Mattsson of Sweden has been a problem for Winchester in the past, though Winchester has closed the gap. When they met at the Poland Open in 2018, it was all Mattsson with a 10-0 win over Winchester in the third-place match. They hit again in January in the finals at the Henri Deglane in France, and this time it was a very close 7-4 win for Mattsson. The Swede has a World title under her belt, winning gold at the World Championships in 2009, and has compiled a career six medals at Worlds, and an Olympic bronze in Rio in 2016. Two other names also hold the World title distinction on their resume, #2 seed Mayu Mukaida of Japan, a two-time World champion, winning the crown in both 2016 and 2018. Unseeded Vanesa Kaladzinskaya of Belarus also won two World titles, one in 2012 and one in 2017.
With Winchester, Mattsson, and Kaladzinskaya all unseeded, the draws will be very interesting to watch, as any of them could hit a top four seed in the opening round. Top seed Vinesh Phogat of India, cousin of Geeta and Babita Phogat, the famous subjects of the movie Dangal, was the 2019 World bronze medalist. Her performance in Nur-Sultan included a win over Sarah Hildebrandt. Second seed Mukaida also defeated Hildebrandt at the same event. Third seed Luisa Valverde Melendres took seventh at the World Championships in 2019, while #4 seed Qianyu Pang of China won the bronze medal at the same event. Melendres was added to the field after North Korea announced they wouldn't be sending anyone to this year's Olympic Games. That put out 2019 World champion Yong Mi Pak and made a spot for Melendres, who had enough ranking points to secure the #3 seed.

Another name in the mix is Bolortuya Bat Ochir of Mongolia, who earned World bronze at 55 kg in 2019, though she owns a win over Winchester since then, a 4-4 criteria win over her at the 2019 World Cup event in Narita, Japan.
Draw: Aug. 4
Competition: Aug. 5-6
57 kg
Helen Maroulis stole the hearts of the American wrestling community when she defeated the legendary Yoshida in the finals of the 2016 Olympic Games to win the gold medal. She followed that up with a dominant performance at the 2017 World Championships, outscoring her opponents 53-0. But then a severe concussion derailed her in 2018, and only recently has she had flashes of her old self, earning a dramatic and memorable 2-1 series win over Jenna Burkert at the Olympic Team Trials in April. Will we see the same Helen Maroulis on the mats in Tokyo that we saw in Rio five years ago? She'll have to be in that form to earn a medal in Japan, and we have a lot of reasons to think she's ready.
"I fought tooth and nail to get back to this point," Maroulis said in March. "I trust the process. I love where I'm at. I love the training, the preparation, so I'm ready to go."

The field includes another Olympic champion, #1 seed Risako Kawai of Japan, who won gold in Rio at 63 kg, while Maroulis earned her gold medal at 53 kg. Kawai has also won three World titles, going back-to-back-to-back 2017-2019 after winning her 2016 Olympic gold. Second seed Odunayo Adekuoroye of Nigeria is a three-time World medalist and won bronze at the 2019 World Championships. Also noteworthy is that she had a 13-0 win over Maroulis at the Poland Open in mid-June, though it was just a tune-up event for the American. Third seed Iryna Kurachkina of Belarus also won a bronze at the World Championships in 2019 and also boasts a silver medal from the 2017 U23 World Championships. Fourth-seeded Ningning Rong of China was the 2019 World silver medalist. She fell in the finals to #1 seed Kawai 9-6 that year. Add to the field unseeded 2016 Olympic silver medalist Valerie Koblova of Russia and 2017 World bronze medalist Roksana Zasina of Poland. With the blind draw format after the top four seeds, it will certainly create compelling matchups in early rounds of the event.
Draw: Aug. 3
Competition: Aug. 4-5
62 kg
Over the past decade, Kayla Miracle has been on a trajectory that led to making this Olympic Team. A four-time WCWA champion for the famed Campbellsville Tigers squad coached by her father Lee, she then entered the Senior level and started climbing the ladder. She took fifth at the U23 World Championships in 2017 and 2018, then broke through with a silver medal at the event in 2019. She also competed at her first Worlds that year, taking eighth at 62 kg. Defeating Macey Kilty in a best-of-three at the Olympic Team Trials, she earned the opportunity to compete at her first Olympic Games. She'll go in as the #4 seed. The #1 seed is Kyrgyzstan's Aisuluu Tynbekova, the 2019 World champion. This is also her third trip to the Olympics for her country, taking fifth in 2016 and 13th in 2012.
Second-seeded Taybe Mustafa Yusein of Bulgaria has won six World medals, including a World title in 2018. She competed at the 2016 Olympic Games but did not make the podium. The #3 seed is Yukako Kawai of Japan, the younger sister of 57 kg Risako Kawai. Yukako was a 2019 bronze medalist at the World Championships and also won a gold at 2018 U23 Worlds. The field is also loaded with other well-decorated women, including Hungary's 2013 world champion and four-time Olympian Marianna Sastin; 2016 Olympic bronze medalist Marwa Amri of Tunisia; two-time World bronze medalist and three-time Olympian Henna Johansson of Sweden; two-time World bronze medalist and also a three-time Olympian Anastasija Grigorjeva of Latvia; 2019 world silver medalist Liubov Ovcharova of Russia; and Ukraine's 2019 World silver medalist Iryna Koliadenko.
Draw: Aug. 2
Competition: Aug. 3-4
68 kg
When U.S. sensation Tamrya Mensah-Stock beat five-time World champ Adeline Gray in an exhibition last January, many Mensah-Stock fans were heralding her as the best pound-for-pound wrestler in the world, claiming the victory over Gray was clear evidence of that. That may be true, and she'll have to wrestle like that at the Olympics to win a gold medal against a tough field. Mensah-Stock won the national team spot in 2016, but had to stay home when the U.S. team failed to qualify the weight. But it was different this time. By virtue of her 2019 world title, she qualified the weight for the United States. So when Mensah-Stock defeated rising star Kennedy Blades in the best-of-three at the Olympic Team Trials, she walked off the mat an Olympian. The 2019 World champion comes to Tokyo as the #1 seed. And that seeding is well-deserved as she has been undefeated at the domestic and international level since getting back on the mat once the pandemic pause lifted. Mensah-Stock faces a field that includes two World champions — Japan's Sara Dosho (2017) and Ukraine's Alla Cherkosova (2018). She handled Dosho at the 2019 World Championships, gaining a 10-1 win in the quarters to advance to the semis of that event. Both Dosho and Cherkosova are unseeded, creating the scenario where a top four seed, including Mensah-Stock, could potentially face a previous World champion in the opening round.

The #2 seed is Nigeria's Blessing Oborududu, a consistently high performer on the international stage, and an African juggernaut. The three-time Olympian recently won a silver medal at the Poland Open. The #3 seed is France's Koumba Larroque, the 2017 World bronze medalist and 2018 World silver medalist. Fourth-seeded Anna Schell of Germany won a bronze medal at the 2019 World Championships, getting a win over Dosho in the bronze match. Add to the group 2019 World bronze medalist and 2012 Olympic bronze medalist Battsetseg Soronzonbold of Mongolia; two-time World medalist Feng Zhou of China; 2018 World silver medalist Danielle Lappage of Canada; three-time Olympian Agnieszka Wieszczek-Kordus of Poland; 2018 U23 World Champion Yudaris Sanchez Rodriguez of Cuba; and 2019 World bronze medalist Elis Manolova of Azerbaijan, and you have a loaded field, but not one the Mensah-Stock can't grind her way through to gold. The American has to be considered the favorite to come out of this group.
Draw: Aug. 1
Competition: Aug. 2-3
76 kg
Adeline Gray seeks to cement her legacy by adding an Olympic gold to her five World titles. This will be her second Olympics, though she failed to medal in Rio, placing seventh.
"That's what we're striving for every single day is to win Olympic and World titles," Gray said in March before the Olympic Trials. "I have half of that recipe pretty nailed down. I've made a number of World teams and been successful there…There is some pressure on it, for sure. I would love to have that title of Olympic champion…I need to put it together on that one day that happens every four years."

That day is fast approaching. Gray comes to Tokyo as the #1 seed. Like every Olympic weight, the field is full of World champions and well-decorated women. Even with that, if Gray can get her opponents to the mat, her par terre offense is spectacular and Americans should have every hope to think we'll hear the National Anthem playing at the end for Gray. The #2 seed is 2019 World bronze medalist and 2014 World champion Aline Rotter Focken of Germany, an opponent Gray defeated 5-2 in the semis at the 2019 World Championships. The #3 seed is Japan's Hiroe Minagawa Suzuki, the 2019 World silver medalist who fell to Gray in the finals of the 2019 World Championships 4-2. Fourth-seeded Elmira Syzdykova of Kazakhstan, the 2016 Olympic bronze medalist, placed fifth at that event.

Outside of the top four seeds, the field includes two previous Olympic champions, who will both be unseeded. 2016 Olympic champion Erica Wiebe of Canada, a rival of Gray's, will be in the blind draw along with 2012 Olympic champion and 2016 Olympic silver medalist Natalia Vorobeva of Russia. Vorobeva is also a two-time World champion (2015 and 2019).

The group also includes four-time World medalist Vasilisa Marzaliuk of Belarus, who upset Gray in the quarterfinals of the 2016 Olympics; two-time World bronze medalist Epp Mae of Estonia; 2014 World silver medalist and previous Olympian Aline da Silva Ferreira of Brazil; two-time World medalist Qian Zhou of China; three-time World medalist and two-time Olympian Burmaa Ochirbat of Mongolia; and 2016 Olympian Samar Hamza of Egypt. Gray is hungry and ready. Expect her to be at her best in Tokyo.
Draw: July 31
Competition: Aug. 1-2
Watch all action on NBCOlympics.com.