2021-2022 NCAA Campus Visits
2022 Title Contenders: 133 Pounds
2022 Title Contenders: 133 Pounds
Who will win an NCAA championship at 133-pounds in 2022? We take an early look at the contenders.
Jul 12, 2021
by JD Rader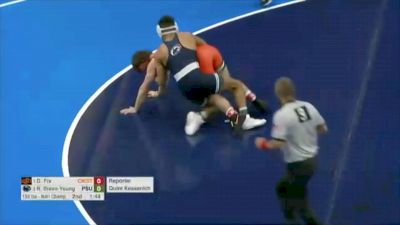 Unlock this video, live events, and more with a subscription!
Get Started
Already a subscriber? Log In
Unlock this article, live events, and more with a subscription!
Get Started
Already a subscriber? Log In
Lucky for fans but unfortunately for the field at 133 lbs, both finalists from this past year are returning. Roman Bravo-Young and Daton Fix have separated themselves from the field, so is there anyone else that could immerge as a title contender at the second to lightest weight class?
Plenty may change between now and March, but that won't stop us from running down the way-too-early list of title contenders at every single weight. Below is our rundown of 2022 NCAA title contenders at 125-pounds.
Roman Bravo-Young, Penn State
Roman Bravo-Young is a guy who has shown steady progression throughout his three years at Penn State and it all came to a culmination with an NCAA title last season. After losing to Austin Desanto twice as a freshman, I don't think too many people outside of Iowa city would pick that to happen again. It was a little closer when the two met at Big Tens in 2020. Like I said, RBY has progressed.
Watch RBY and Desanto's 2020 Big Ten semifinal below.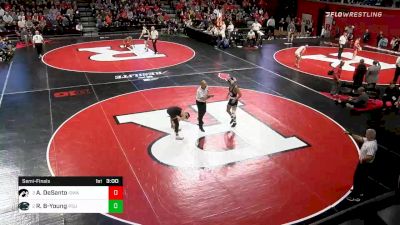 With the new NIL rules, there's only a couple of guys hotter than RBY. There's a good chance that only continues with a second NCAA title in 20222.
Daton Fix, Oklahoma State
Now, it doesn't get much closer than RBY and Daton Fix's 2020 NCAA final. A 2-2 match heading into overtime without a single takedown. Daton is right there. And this is Daton Duane Fix we're talking about. The man is a Junior World champion and Senior World team member. He came back after dropping two matches to Thomas Gilman at the World Team Trials in 2018 to beat Gilman three-out-of-four and win the 57 kg World Team spot. If you're a Cowboy fan look at it this way, with two NCAA finals and two runner-up finishes, Daton is due.
Vito Arujau, Cornell
I know, Vito Arujau is a 125 pounder. I even included him in my 125 lbs contender list as well. However, I think there is an above zero percent chance that he moves up for the sake of the team. And if Vito does move up, he is absolutely a threat to win it. After all, he did beat Daton 7-5 in the Olympic Team Trials finals. It seems strange to think Vito has only wrestled one year in college and that was three seasons ago. Vito is another guy who has shown steady improvement throughout his career albeit in freestyle. Vito's freshman year he had wins over Pat Glory and Nick Piccinini. Since then Vito has added freestyle wins over Nick Suriano, Nathan Tomasello, Nahshon Garrett, Darian Cruz, and more.
Watch Vito Arujau beat Nick Suriano at the 2019 Senior Nationals below.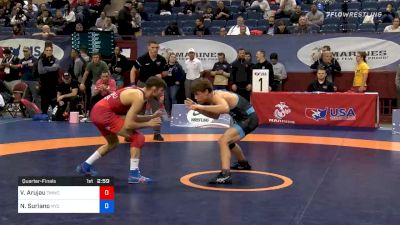 Austin Desanto, Iowa
I know I mentioned that Roman Bravo-Young and Daton Fix had separated themselves a bit, but Desanto isn't far enough behind them to say without some small improvements he couldn't put himself in the conversation. RBY has been able to figure out Desanto's offense and Daton can withstand the pace, so if he can add some offensive tools to his arsenal, he's got a shot.
Watch Austin Desanto beat RBY at the 2019 NCAA tournament below.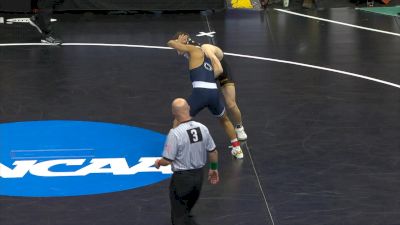 Unlock this video, live events, and more with a subscription!
Get Started
Already a subscriber? Log In
Outside Looking In
These guys are all solid wrestlers, but without a lot of improvement they're just not quite on all the way there yet to be called a "title contender."
Korbin Myers, Virginia Tech
Lucas Byrd, Illinois
I'm not sure what got into Korbin Myers last season, but it was tremendous. In his sixth year of college wrestling, he brought home his first All-American finish. The Hokie was undefeated going into the NCAA tournament and only lost to RBY and Desanto.
On the other end of the age spectrum, Lucas Byrd AAd in his redshirt freshman year last year. After getting majored by Desanto in the dual, he was able to keep it to a one-point match at Big Tens. He'll have to keep that kind of progress up to put himself in title contention.