Sadulaev Looks Human In His Last Competition Before Tokyo
Sadulaev Looks Human In His Last Competition Before Tokyo
A summary of Olympic and World champion Abdulrashid Sadulaev's results at the 2021 Ali Aliev tournament.
Jun 25, 2021
by Jon Kozak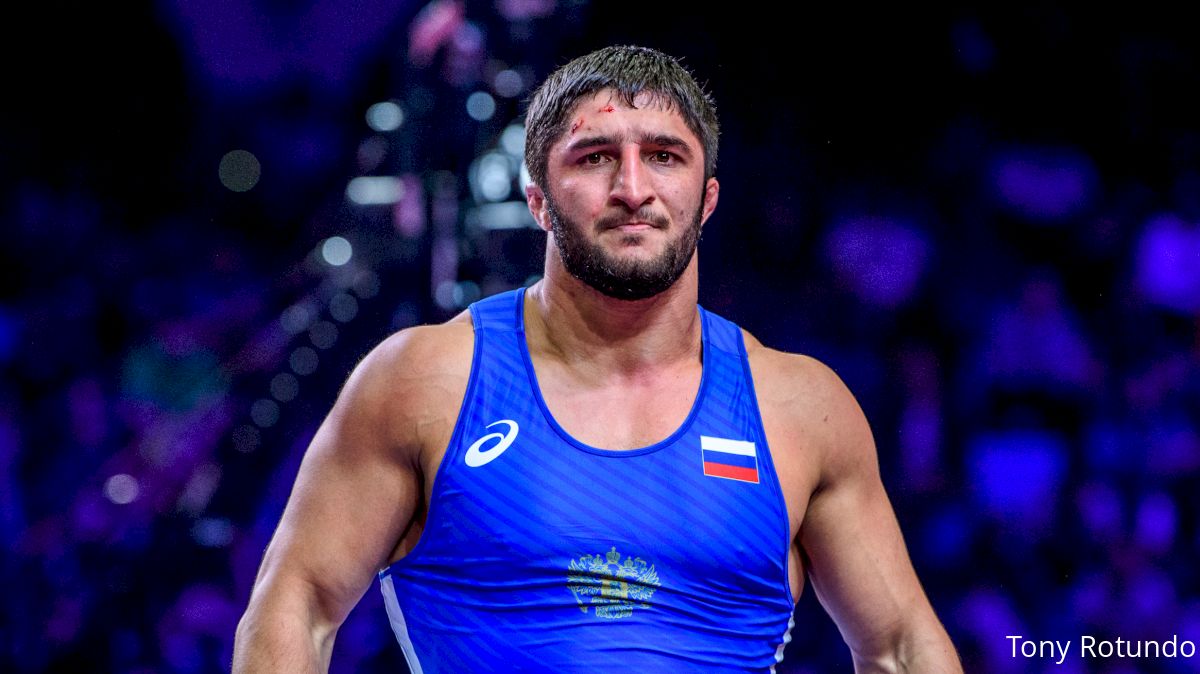 Unlock this article, live events, and more with a subscription!
Get Started
Already a subscriber? Log In
Olympic gold medalist and 4-time world champion Abdulrashid Sadulaev is currently competing at the Ali Aliev in Russia. This is his first competition since he won the Individual World Cup in December 2020. Surprisingly, Sadualev had 3 "relatively" close matches during this competition. Check out his full results below with links to each match and commentary on his international opponents.
Qualification Round - 12-2 win over Devid Kabisov (RUS)
In his first match in 7 months, Sadulaev gave up a takedown in less than 20 seconds to uncredentialed, Kabisov. As the match progressed, Sadualev looked more like himself and scored 12 unanswered points to come away with the 12-2 tech fall win.
Second Round - 4-0 win over Mojtaba Goleij (IRI)
Mojtaba Goleij is currently ranked #9 in the world at 97kg, is a 2020 Asian Gold medalist and 2-time U23 World Champion (2018 and 2019). Goleij was able to keep the match close but not able to penetrate Sadulaev's defense. Sadulaev scored 2 minutes into the match with an under-hook to a body lock. Then Sadulaev scored again early in the second period off a chest-wrap after Goleij was caught underneath.
Quarter-finals - 9-6 win over Magomedkhan Magomedov (RUS)
Magomedkhan Magomedov won a junior world title in 2018 when he defeated Missouri's Zach Elam in the finals, 11-0. He is also coming off a gold medal at the 2021 Yarygin a month ago in May. In this match with Sadulaev, Magomedov got out to an early 4-2 lead on a 4-point counter 20 seconds into the match. Despite being down 4-2, Sadulaev slowly worked his way back into the match. The score was 4-3 at end of the first period before Sadulaev scored on two step-outs, a takedown and gutwrench to take the lead 9-4 a minute into the second period. That's how the score would remain until Magomedov scored on a double-leg with 30 seconds left in the match.
Semi-finals - 5-1 win over Vladislav Baitsaev (RUS)
In the semi-finals, Sadulaev met a familiar opponent in Vladislav Baitsaev. They have previously met 3 other times - 2 in the finals of Russian Nationals (2017 and 2018) and once in a special world team wrestle-off in 2019. Their first match was a close 8-7 victory for Sadulaev. Since then Sadulaev has widened the gap with an 8-1 victory (2018) and a 10-0 tech (2019).
The familiarity was evident in this match; Sadulaev led 2-0 off 2 shot clock points with 10 seconds left. Baitsaev got in on a low-leg attack before Sadulaev took him through for exposure before Baitsaev received 1 point for a reversal. Baitsaev's coaches challenged the call but it was confirmed and Sadulaev came away with the 5-1 win.
Finals Opponent - Magomed Ibragimov (UZB) - No Match
Sadulaev's finals opponent was set to be fellow Olympian Magomed Ibragimov. However, the match never took place as either Sadulaev or Ibragimov forfeited. Ibragimov would have been a formidably opponent - he won an Olympic bronze medal at the 2016 Olympic Games and is a 2-time Asian Championship gold medalist (2017-2018). Sadulaev and Ibragimov have met only one other time in past - in the early rounds of 2018 World Championships. There Sadulaev came away with a 14-3 tech fall over Ibragimov.
What Does This Mean For Tokyo?
Three decision wins by Sadulaev is notable leading into the Olympic Games but that doesn't make him any less of the gold medal favorite. Instead, it is proof of how incredible Sadulaev is - we seldom see him challenged. Sadulaev used the Ali Aliev to "shake-off the rust" of a 7 month competition break and should be a peak performance this August in Tokyo. Check out our 97kg Olympian Rankings to see who will challenge to dethrone Sadulaev.