2021 Poland Open
This Week In Women's Wrestling: Pan Am And Poland Recap
This Week In Women's Wrestling: Pan Am And Poland Recap
Derek Levendusky looks back at last weekend's performance for the USA women's freestyle program.
Jun 16, 2021
by Derek Levendusky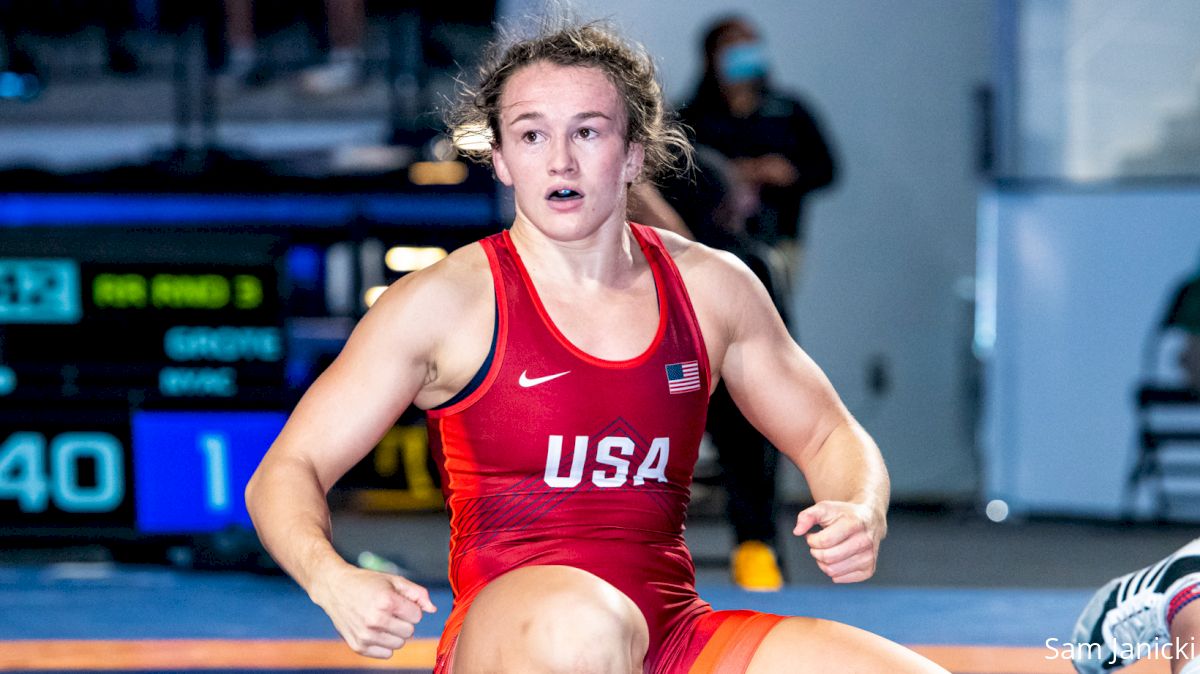 Unlock this article, live events, and more with a subscription!
Get Started
Already a subscriber? Log In
PAN AMERICAN CHAMPIONSHIPS
U.S. women put together a remarkable performance at the Cadet and Junior Pan Am Championships last week over five days of competition in Oaxtepec, Mexico. The event also served as a qualifier at Olympic weights for the Junior Pan American Games coming this December in Cali, Colombia, as the top eight in each weight class earned spots in the Games for Team USA. When it was all over, U.S. women earned 17 medals, including 12 champions in the two divisions, and qualified four of the six weights for the Pan American Games.

In the Junior division, gold medals were won by 55 kg Amani Jones, 59 kg London Houston, 65 kg Katerina Lange, 72 kg Lillian Freitas, and 76 kg Yelena Makoyed, who secured a fall in the finals to chants of "U-S-A!" from teammates and fans. The Pan Am title completes a stellar season for Makoyed, who is coming off a college season where she also won a national title for North Central. At 53 kg, Jaslynn Gallegos took home silver, while Aliyah Yates rebounded from a first round loss to win bronze. 68 kg Madeline Kubicki, who competed in two divisions, placed fifth in this one.

Team USA women also qualified four or the six weights for the December Junior Pan American Games, as Jaslynn Gallegos (53 kg), Aliyah Yates (62 kg), Madeline Kubicki (68 kg), and Yelena Makoyed (76 kg) all placed in the top eight. Samara Chavez took 10th at 50 kg and Jennifer Soto took ninth at 57 kg and did not qualify their weights.

The U.S. Junior women also earned a title in the team race, landing champions in 5/10 weights and scoring 176 points. Mexico finished second with 147 points while Cuba took the third spot with 101 points.

In the Cadet division, U.S. women won a whopping seven of 10 weight classes, and didn't place lower than silver in the other three weights. Winning gold were Gigi Bragg (40 kg), Emilie Gonzalez (43 kg), Brianna Gonzalez (46 kg), Faith Cole (49 kg), Jaclyn Dehney (53 kg), Marissa Jimenez (61 kg), and Rose Cassioppi (73 kg). Bringing home silver are Alexis Janiak (57 kg), Madeline Kubicki (65 kg), and Margaret Graham (69 kg). Gonzalez went 3-0, scoring two tech falls and a pin en route to the top of the podium. Kubicki, who competed in both Cadet and Junior divisions, medaled in this division.

The U.S. Cadet women dominated the team race with 235 points to Mexico's second place 165 points. Brazil was third with 52 points.

Junior finishes
Samara Chavez (50 kg) 10th
Jaslynn Gallegos (53 kg) silver
Amani Jones (55 kg) gold
Jennifer Soto (57 kg) ninth
London Houston (59 kg) gold
Aliyah Yates (62 kg) bronze
Katerina Lange (65 kg) gold
Madeline Kubicki (68 kg) fifth
Lillian Freitas (72 kg) gold
Yelena Makoyed (76 kg) gold

Cadet finishes
Gigi Bragg (40 kg) gold
Emilie Gonzalez (43 kg) gold
Brianna Gonzalez (46 kg) gold
Faith Cole (49 kg) gold
Jaclyn Dehney (53 kg) gold
Alexis Janiak (57 kg) silver
Marissa Jimenez (61 kg) gold
Madeline Kubicki (65 kg) silver
Margaret Graham (69 kg) silver
Rose Cassioppi (73 kg) gold


POLAND OPEN
Overall, it was tough sledding for Team USA women at the Poland Open last weekend in Warsaw, though not without some bright spots. Amy Fearnside (53 kg) and Forrest Molinari (68 kg) both took bronze, but other than that U.S. women didn't place higher than fifth, though they were competitive against elite world-level opponents.

Fearnside won a gritty 2-1 battle in the bronze match over Russia's Ekaterina Poleshchuk, while Molanari put on a gutsy performance to win the bronze at 68 kg. After a razor thin 2-2 criteria win in her first match over Mongolia's two-time world champion & 2012 Olympic bronze medalist Battsetseg Soronzonbold, Molinari lost her second match 8-2 to Nigeria's Blessing Oborududu, the African country's Olympic rep. In the bronze match, Molinari came from behind, down 4-2 at the 30-second mark, securing the fall right at 6:00 to get the win over Russia's well-decorated Khanum Velieva for the bronze medal.

Golston was very close to winning bronze, giving up a takedown in the final moments of her bronze match to fall 9-7 to Russia's Mariia Tiumerekova in a back-and-forth battle. She held a 7-6 lead with 30 seconds left, when the Russian scored a step out and then the final takedown. Tiumerekova is a five-time age-level world medalist. Golston defeated two-time world silver medalist Emilia Vuc of Romania 10-5 in Repechage, having lost earlier in the day to perhaps the #1 pound-for-pound wrestler in the world, the two-time world champion and three-time Olympic medalist, Azerbaijan's Mariya Stadnik.

At 57 kg, after winning her first match, 2016 Olympic gold medalist Helen Maroulis dropped two straight, 13-0 to Nigeria's Odunayo Adekuoroye and 8-2 to Ukraine's Tetyana Kit. Adekuoroye was a bronze winner at the 2019 World Championships and Kit was the silver medalist at the 2019 European Championships.

At 53 kg, Heaton lost a tight one in her second match against Poland's 2016 Olympian Katarzyna Krawczyk, the eventual bronze winner at this event, a 6-6 criteria loss. Heaton did not get another match. At 76 kg, Dymond Guilford lost her bronze match 7-4 to the Canadian 2016 Olympic gold medalist Erica Wiebe.

Team USA placed fourth with 68 points, behind Ukraine's 158, Russia's 122, and Poland's 94 points.

U.S. Women's Freestyle Results
50 kg: Erin Golston (Wisconsin RTC/NYAC)
WIN – Weronika Sikora (POL), Fall 4:32
LOSS – Mariya Stadnik (AZE), 10-0
WIN – Emilia Vuc (ROU), 10-5
LOSS - Mariia Tiumerekova (RUS), 9-7

53 kg: Amy Fearnside (USOPTC/TMWC) — bronze
WIN – Annika Wendle (Germany), 6-2
LOSS – Vinesh (India), Fall 1:15
WIN – Ekaterina Poleshchuk (RUS), 2-1

53 kg: Ronna Heaton (Wisconsin RTC/Sunkist Kids)
WIN – Samantha Stewart (Canada), 4-3
LOSS – Katarzyna Krawczyk (Poland), 6-6 on criteria

57 kg: Helen Maroulis (Nittany Lion WC/Sunkist Kids)
WIN – Tianna Kennett (Canada), Fall 0:31
LOSS – Odunayo Adekuoroye (Nigeria), 13-0
LOSS – Tetyana Kit (Ukraine), 8-2

62 kg: Jennifer Page (Nittany Lion WC/TMWC)
LOSS – Ana Paula Godinez Gonzalez (CAN), 9-0
LOSS - Ilona Prokopevniuk (UKR), 16-4
68 kg: Forrest Molinari (Sunkist Kids/TMWC) — bronze
WIN – Battsetseg Soronzonbold (Mongolia), 2-2 on criteria
LOSS – Blessing Oborududu (Nigeria), 8-2
WIN – Khanum Velieva (Russia), FALL 6:00

76 kg: Dymond Guilford (USOPTC/TMWC)
LOSS – Aline Rotter Focken (GER), 5-0
WIN – Aline Da Silva Ferreira (BRA), 12-1
LOSS - Erica Wiebe (CAN), 7-4