UWW
U.S. Women Dominate At Pan Ams
U.S. Women Dominate At Pan Ams
The USA women's squad crushed the Pan Am field, collecting nine golds and a bronze.
Jun 1, 2021
by Andy Hamilton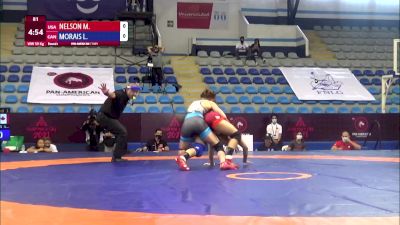 Unlock this video, live events, and more with a subscription!
Get Started
Already a subscriber? Log In
Unlock this article, live events, and more with a subscription!
Get Started
Already a subscriber? Log In
The U.S. women's freestyle team put its firepower on display at the Pan Am Championships, coming home with nine gold medals and one bronze in a tournament that featured 13 countries and 58 entries across the 10 weight classes.
U.S. women's team coach Coach Terry Steiner was proud of his squad. "A great team, better people, and a ton of fun! GRATEFUL!!!" he beamed on social media.
The team featured five women on this year's U.S. Olympic Team, as Olympians Sarah Hildebrandt (50 kg), Jacarra Winchester (55 kg), Kayla Miracle (62 kg), Tamyra Mensah-Stock (68 kg), and Adeline Gray (76 kg) all won gold for Team USA. Winchester will wrestle 53 kg at the Olympics.
U.S. National Team members Ronna Heaton (53 kg), Maya Nelson (59 kg), Jennifer Page (65 kg), and Alexandria Glaude (72 kg) also won gold medals, while Cameron Guerin (57 kg) took bronze. Guerin and Glaude have both been part of the McKendree college program, as Guerin just won a national title this year as a freshman, while two-time national champion Glaude graduated last year and recently moved to the Beaver Dam RTC at Oregon State.

Heaton had one of the most dramatic days. After falling to opponent Luisa Valverde (Ecuador) in her pool 10-0, she earned her way back to a rematch in the finals and this time defeated Valverde in a comeback victory 9-6 for the gold medal. Down 6-0, Heaton hit two crotch lifts to narrow the margin to 6-4 late in the first, then scored five unanswered points in the second to get the win.

Nelson had perhaps the match of the day, defeating 2019 Canadian World Champion Linda Morais 5-5 in the first round of a round robin. She had to come from behind to do it. Down 5-2 in the second, Nelson scored a step out followed by a takedown with 1:35 left on the clock to go ahead by criteria 5-5. She held off Morais' late attacks to close out the match in what was effectively the finals.

Hildebrandt, Winchester, and Glaude all held their opponents scoreless, while Miracle outscored opponents 38-1, Page dominated the field 31-1, and Gray owned 76 kg 25-2. Guerin defeated a familiar name twice—Mexico's Jane Valencia—to win the bronze, both close matches with an 8-6 win in pool competition and a 7-4 victory in the bronze match. Valencia was featured on several Nittany Lion Wrestling Club cards during the pandemic against top U.S. opponents.

Team USA won the team race with 137 team points, going 33-2 in matches while outscoring opponents 268-56. Brazil was second with 103 team points, while Canada took third with 81 points.
U.S. National Team Finishes
50 kg Sarah Hildebrandt GOLD
Gold match: Hildebrandt over Jacqueline Del Rocio Mollocana Eleno (Ecuador) 10-0 at 3:00

53 kg Ronna Heaton GOLD
Gold match: Heaton over Luisa Valverde (Ecuador) 9-6

55 kg Jacarra Winchester GOLD
Gold match: Winchester over Virginie Kaze Gascon (CAN) by fall 1:03

57 kg Cameron Guerin BRONZE
Bronze match: Guerin over Jane Valencia (MEX) 7-4

59 kg Maya Nelson GOLD
Gold match: Nelson over Linda Morais (CAN) 5-5

62 kg Kayla Miracle GOLD
Gold match: Miracle over Lais Nunes De Oliveira (BRA) 6-0

65 kg Jennifer Page GOLD
Gold match: Page over Ashley Chantelle Zarate Campbell (Panama) by fall :53

68 kg Tamyra Mensah-Stock GOLD
Gold match: Mensah-Stock over Yessica Coraima Oviedo Perez (DOM) 10-4

72 kg Alexandria Glaude GOLD
Gold match: Glaude over Yanet Ursula Sovero Nino (PER) by fall :23

76 kg Adeline Gray GOLD
Gold match: Gray over Genesis Rosangela Reasco Valdez (ECU) 12-2 at 5:06
Team standings
1. United States (137)
2. Brazil (103)
3. Canada (81)
4. Mexico (61)
5. Ecuador (53)