2021 UWW Junior and Senior Nationals
U.S. Senior Nationals Women's Freestyle Recap
U.S. Senior Nationals Women's Freestyle Recap
Several Senior-level stars put on stellar performances last weekend. Derek Levendusky recaps the women's freestyle action at U.S. Senior Nationals.
May 4, 2021
by Derek Levendusky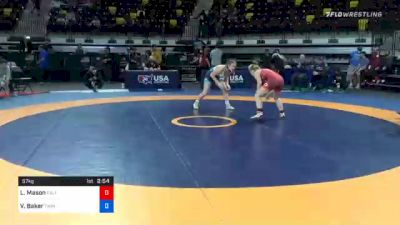 Unlock this video, live events, and more with a subscription!
Get Started
Already a subscriber? Log In
Unlock this article, live events, and more with a subscription!
Get Started
Already a subscriber? Log In
Several Senior-level stars put on stellar performances last weekend at the 2021 Seniors Nationals in Coralville, Iowa, as Olympic Team member and 2019 World champion Jacarra Winchester of Titan Mercury dominated her opponents 40-0 on the day in the 55 kg bracket, while 2017 Junior world champion Maya Nelson of Sunkist Kids battled her way to the Outstanding Wrestler award competing at 59 kg. Other familiar names won their first-ever Senior Nationals stop signs, with 50 kg Erin Golston of Wisconsin RTC finally getting one after being a runner-up three times (2016, 2017 & 2019) and third place twice (2013 & 2018), Alexandria Glaude of Beaver Dam RTC getting her first at 72 kg, and Dymond Guilford of Titan Mercury getting one at 76 kg.
Several women added to their collection as Titan Mercury's 65 kg Jennifer Page went back-to-back, winning this year's event after earning the title in 2020, her third title overall after winning it way back in 2014.
At 53 kg, Titan Mercury's Alex Hedrick overcame a laparoscopic heart surgery in the fall of 2020 after being diagnosed with Long QT Syndrome to win her second U.S. Open title, having won her first in 2018. It's a remarkable story for the gritty and courageous athlete.
"It feels great to win a U.S. Open title, especially after this past year," Hedrick said. "It obviously feels very different than in 2018, when the brackets were fuller and I was new to the Senior level. But I am grateful that I've been blessed to be able to keep training and improving through a lot of adversity."
Meanwhile, young talents made their mark, with Twin Cities RTC's Vayle Baker winning it at 57 kg. The Augsburg sophomore is a story of perseverance, after being eliminated from her college postseason at skin checks. She competed at Last Chance but failed to qualify, only to walk away with a Senior Nationals title on Friday night at the Xtream Arena.
"Show up to practice everyday, work hard and good things will happen," Twin Cities RTC coach Chad Shilson said of Baker.
At 62 kg, Titan Mercury's Gracie Figueroa won the title with an impressive tech fall over Army/WCAP's Alex Liles, and Figueroa's one-time Menlo teammate, Solin Piearcy, won the stop sign at 68 kg.
The top five finishers at each weight class qualified for the 2021 World Team Trials in September. An even bigger qualifying prize went to Amy Fearnside (55 kg), Maya Nelson (59 kg), Jennifer Page (65 kg), and Alex Glaude (72 kg), who all earned spots on the 2021 Pan-American Championship Team. Nelson, Page, and Glaude earned their spot by virtue of their titles, while second-place Fearnside gained the spot because Jacarra Winchester is already qualified at 53 kg due to winning Olympic Trials.
Titan Mercury won the team trophy with 64 points, while Twin Cities RTC took second with 39 points.
Here's a brief weight-by-weight recap:
50 kg
With #3 Alyssa Lampe and #8 Alleida Martinez, originally entered at this weight, both scratching, #6 Erin Golston owned this group. The Wisconsin RTC athlete outscored opponents 31-0, including 10-0 in what was effectively the title match over McKendree Bearcat Wrestling Club's Natalie Reyna. Otherwise, Reyna had a solid performance in the round robin, defeating Hannah Michael 10-0 and Chloe Krebsbach by fall.

Placements
First — Erin Golston (NYAC/Wisconsin RTC)
Second — Natalie Reyna-Rodriguez (McKendree Bearcat Wrestling Club)
Third — Chloe Krebsbach (Grand View Wrestling Club)
Fourth — Hannah Michael (Twin Cities Regional Training Center)

53 kg
The story here was #5 Alex Hedrick vs. #8 Alisha Howk. Though they're always in close matches, Hedrick beat Howk for the fourth time in a row, this time 4-1 after earning two 10-0 tech falls in earlier rounds of the round robin. Howk gave the other two women in the group the same treatment, scoring two tech falls before her match with Hedrick.

Placements
First — Alexandra Hedrick (Titan Mercury Wrestling Club)
Second — Alisha Howk (Sunkist Kids Wrestling Club)
Third — Vanessa Ramirez (Indiana)
Fourth — Arelys Valles (Grand View Wrestling Club)

55 kg
Jacarra's 40-0 performance was a string of first-period tech falls. If her day was any indication of how she'll perform at the Olympics, Winchester is dialed in. The defending world champ had wide variety of attacks all day, including short offense, clean shots, finishes, counters, and par terre turns. Her highlight moment came when she hit a big four-point suplex against Amy Fearnside. For the #4 ranked Fearnside, who bumped all the way up to 55 kg from 50 kg, she had a solid day outside of her loss to Winchester, outscoring opponents 25-0 in the rest of her matches, including a 5-0 win over Army/WCAP's #6 ranked Areana Villaescusa.

Placements
First — Jacarra Winchester (Titan Mercury Wrestling Club)
Second — Amy Fearnside (Titan Mercury Wrestling Club)
Third — Areana Villaescusa (Army/WCAP)
Fourth — Samantha Klingel (Army/WCAP)
Fifth — Ngao Shoua Whitethorn (Victory School of Wrestling)

57 kg
Vayle Baker vs. Lauren Mason was the match of the finals as far as excitement goes. Leading 6-5, Baker was defending as time dwindled down in the second period when Mason got in on legs. An exchange right as time expired was originally called two for Baker, making it 8-5, but Mason's corner challenged the sequence that looked like it could have been called either way. Baker paced nervously, waiting for the match-deciding call. In the end, it was scored 2-2, making the final score 8-7 and giving the stop sign to Baker. The Twin Cities RTC wrestler's path went 12-2 over fellow RTC teammate Tateum Park, 12-2 over Army/WCAP's Estrella Dorado Marin, 6-2 over Wisconsin's Sophia Smith.

Placements
First — Vayle Baker (Twin Cities Regional Training Center)
Second — Lauren Mason (California)
Third — Sophia Smith (Wisconsin)
Fourth — Tateum Park (Twin Cities Regional Training Center)
Fifth — Estrella Dorado Marin (Army/WCAP)

59 kg
After Sunkist Kids' Maya Nelson returned to the mat and put together a solid tournament at Olympic Trials, she followed it up with an OW performance at Senior Nationals. Seventh-ranked veteran Lauren Louive gave Nelson the best match of the day in the round-robin format, a match Nelson won 9-4. In what may have been the match of the tournament, Louive came from a 9-0 deficit against #5-ranked Xochitl Mota-Pettis to win 20-9. Climbing back to 9-4 at the break, the seasoned Louive transitioned a takedown to trapped arm gut to score a whopping seven straight turns to win the match. In their last meeting at the Last Chance Qualifier, it was all XMP with a 14-2 win. In the finals of the 2020 Senior Nationals, it was also Louive over XMP, that one by fall. This is a fascinating rivalry between veteran and youth, stick-to-fundamentals and explosive risk-taker.

Placements
First — Maya Nelson (Sunkist Kids Wrestling Club)
Second — Lauren Louive (New York Athletic Club)
Third — Xochitl Mota-Pettis (Rise RTC)
Fourth — Megan Black (Army/WCAP)

62 kg
Figueroa finally broke through to her first-ever Senior Nationals title with an 11-1 technical fall over Army/WCAP's Alexandria Liles at the 5:26 mark. Only a few years ago, this final would have been a battle of top high school stars, as both were multiple-time Fargo champions. This time, it was the finals of Senior Nationals. Figueroa had a 6-2 win over Life Wrestling Club's Briana Kellin, and a 10-0 win by technical superiority over Twin Cities' Sierra Brown Ton en route to the title match. In spite of the fact that Liles lost the final, she has been impressive since returning to the scene after 18 months off the mat, putting together solid performances at both the Last Chance Qualifier and Senior Nationals.

Placements
First — Gracie Figueroa (Titan Mercury Wrestling Club)
Second — Alexandria Liles (Army/WCAP)
Third — Sierra Brown Ton (Twin Cities Regional Training Center)
Fourth — Briana Kellin (Life WC)

65 kg
Titan Mercury's Jennifer Page continued to put together a fantastic year of competition, winning her second straight Senior Nationals title, and that, it seemed, very easily, as veteran Page scored 10-0 tech falls in less than a minute in both matches against her round robin opponents. Grand View's Andrea Schlabach won the match that determined second pace, 6-3 over Life Wrestling Club's Zoe Wight.

First — Jennifer Page (Titan Mercury Wrestling Club)
Second — Andrea Schlabach (Grand View Wrestling Club)
Third — Zoe Wight (Life WC)

68 kg
This group was the most competitive from top to bottom. Life Wrestling Club's Anna Naylor, who landed in fourth place out of four in this group, gave champion Solin Piearcy of Menlo all she could handle in a 4-4 scrap, with Piearcy needing a late takedown to win the match. Piearcy earned her stop sign with that tight win over Naylor, a win that followed a 7-2 victory in a rematch with #7 Alyvia Fiske — a match she also won 6-3 at Last Chance — and a 10-7 win over 2020 WCWA champ Rachel Watters. The funky Anna Naylor almost ruined the party for Piearcy, but in the end, the Californian was holding up the stop sign. Fiske beat Watters 2-1 in the chess match that determined the runner-up.

Placements
First — Solin Piearcy (Menlo Wrestling Club)
Second — Alyvia Fiske (Titan Mercury Wrestling Club)
Third — Rachel Watters (New York Athletic Club)
Fourth — Anna Naylor (Life WC)

72 kg
It was all Alexandria Glaude in the anticipated rematch with NYAC's #6 Skylar Grote. Glaude was also representing her new club, the Beaver Dam RTC at Oregon State, as she announced only last week that she was relocating to this new program from McKendree University, where she's been for the last five years. Because there were only these two in the group, it was a best-of-three format, with Glaude putting together two very similar matches in script and score, winning the first 8-1 and the second 8-0. In the first match, Grote had a 1-0 lead at the break but Glaude came back to score eight unanswered points with several counter go-behinds off of Grote's shots, and a double leg feet-to-back four-pointer at the end of the match. In the second match, Glaude started again with two counter go-behinds to go up 4-0, then finishing the match with two shots of her own. She recently took third in the Challenge Tournament at Olympic Trials.

Placements
First — Alexandria Glaude (Titan Mercury Wrestling Club)
Second — Skylar Grote (New York Athletic Club)

76 kg
Women's wrestling fans are getting used to this—another high stakes match between #4 Dymond Guilford and #6 Precious Bell. And it was Guilford again, making it five straight wins against her rival since she fell in the finals of the 2019 Senior Nationals to Bell. Beating Bell again wasn't easy as Guilford had to come from behind 5-1 to get the fall in the second period. Locked up in a 50-50 bodylock position, Guilford hit a pancake to put Bell to her back and secure the pin. It was Guilford's first-ever Senior Nationals title in what turned out to be the largest group of the tournament, the only weight that wasn't a round robin. Colorado's Emily Cue, a Simon Fraser wrestler that didn't get a college season this year, lost her first-round quarterfinal match to two-time All-American Marlynne Deede of the Twin Cities RTC 8-2, only to flip the script against Deede in the third-place match where they met again, getting the fall at 5:18 after building her lead to 9-2.

Placements
First — Dymond Guilford (Titan Mercury Wrestling Club)
Second — Precious Bell (Titan Mercury Wrestling Club)
Third — Emily Cue (Colorado)
Fourth — Marlynne Deede (Twin Cities Regional Training Center)
Fifth — Ashley Lekas (Texas Pride Wrestling Club)
Sixth — Hunter Robinson (Grand View Wrestling Club)