The Ultimate New Jersey State Championship Preview
The Ultimate New Jersey State Championship Preview
New Jersey's state tournament won't be held in its traditional location, but it's loaded again with stars and storylines.
Apr 23, 2021
by Brendan Scannell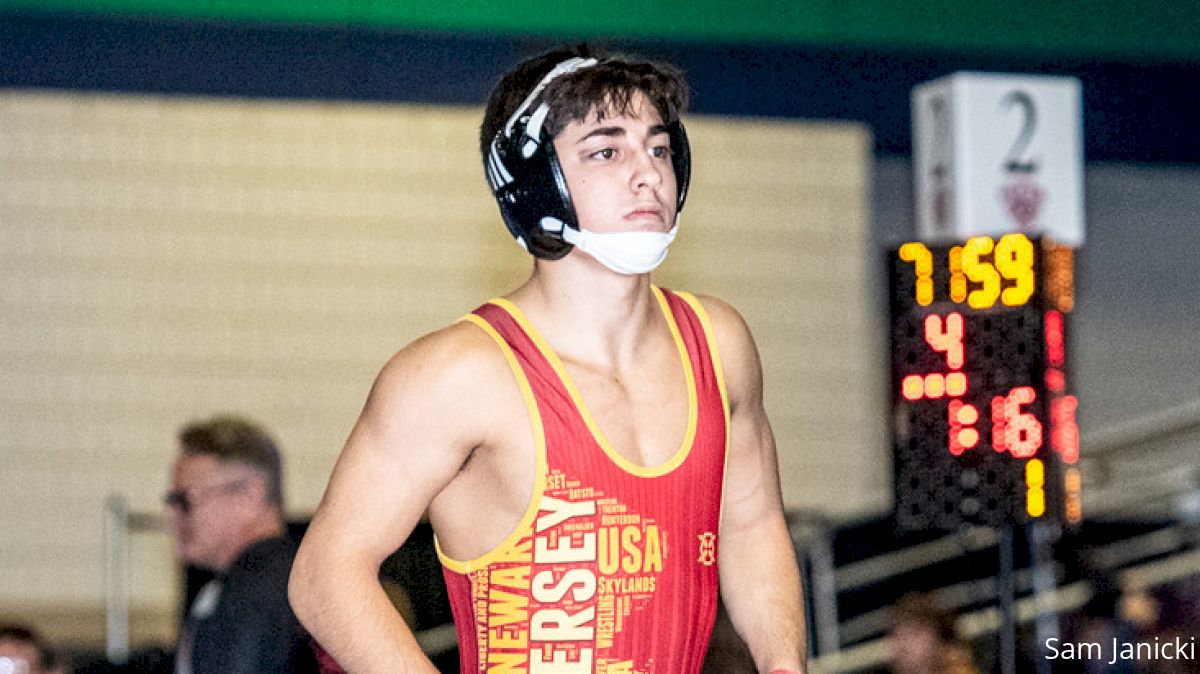 Unlock this article, live events, and more with a subscription!
Get Started
Already a subscriber? Log In
It was a weird season, sure. But it's been a weird year. In the end, we made it to New Jersey state championship weekend.
If it couldn't be held at Boardwalk Hall in Atlantic City, it's appropriate the state championships are being held in Phillipsburg – one of the state's most passionate wrestling towns. It all goes down this weekend. Saturday is the first seven weights (106-145), followed by the next seven weights (152-285) on Sunday.
I'm sure I'm not alone when I say I'm looking forward to an awesome weekend of wrestling.
Be sure to check out nj.com for all the live streaming beginning at 10 a.m. Saturday.
Top Stories To Watch From New Jersey:
Santaniello Brothers Seek Redemption
The brothers from Brick Memorial – Anthony and Vincent Santaniello – are headed back to the state championships, looking for redemption after both came just short last year. The younger, Anthony, will likely face a familiar foe in returning champ Evan Mougalian, while Vincent enters as the #1 seed and the top-ranked overall.
Olivieri Chasing #3
Rutgers-commit Joey Olivieri has taken a few surprising losses in the last few months, but that shouldn't overshadow all his wins, including two previous New Jersey state titles. Olivieri looks to stamp his name in the history books as the second three-time state champ in Hanover Park history alongside James LaValle, who also won titles his freshman and junior seasons before winning a third as a senior.
Which Team Gets The Most Champs?
Delbarton is the #1 team in the state and enters with the most qualifiers by far. But St Joe's, Kingsway, Bergen Catholic, and North Hunterdon also enter as top 5 teams and have a few contenders of their own. Brick Memorial is the only team with three returning state finalists and has the potential to add a fourth this year. Which squad will rise above the rest?
Weight By Weight Preview
Check out the full brackets here.
106
This 106-pound weight class is as wide open as we've seen it in years.
As expected, Nico Calello got the top-seed like he did a year ago. After giving up a quick takedown to Anthony Rossi in his Central Region final last weekend, he was able to take control of the match, pinning the freshman late in the first period. In the quarters here, he'll likely see the winner of a South Region rubber match between Brendan Callahan and Kaden Naame.
Delbarton's Daniel Jones has a pretty solid draw out of the fourth seed as the Green Wave continues to churn out high-level lightweights. I think he sees Calello in the semi and could give him trouble.
There's a lot of underclassmen heat down on the bottom-side of this bracket, as well.
Jack Bastarrika was a fast climber this year and feels like the pick to win, but there's certainly some landmines along the way in the form of Aidan Carmody, Taisei Kurachi and Logan Wadle.
The First Round Match I Won't Miss: Brendan Callahan (Kingsway) vs. Kaden Naame (St. Augustine).
113
The 113-pound class is a good mix of proven upperclassmen and a young crop of talented freshmen. The real question will be if any of the youngsters can make a run to the finals.
Evan Tallmadge, Luke Stanich and Jared Brunner were all state placers at tough 106-pound bracket last year and are likely the top contenders here, but they'll have to deal with some fabulous freshmen like Ryan Ford, Sebastian Ortega and Alex Nini.
I expect this group of freshmen to make waves in Atlantic City in the next few years, but I'm leaning towards the experience in this bracket. This feels chalky.
The First Round Match I Won't Miss: Ryan Ford (Bergen Catholic) vs. Cameron Morgan (Pennsville).
120
I have a think we're going to get a rematch of last year's 106-pound final in this one.
Both Evan Mougalian and Anthony Santaniello enter this tournament wrestling great after getting through some stout Region competition with little issue. It's an interesting matchup as each are really good positionally and tend to maneuver their way on top of most 50/50 situations. Mougalian's had the better of Santaniello in prior matchups, but I think this could be the weekend that changes.
But maybe I'm getting ahead of myself – because this whole bracket is loaded.
In the first round, returning placer Tyler Vazquez and John Hildebrandt will run back a states match from last season – a bout that was won by Hildebrandt.
I might have picked Santaniello as the #2 seed, but keep an eye on the rest of a bottom side that features Joe Manno and Garrett Totten to go along with Kingsway freshman Nathan Taylor, who owns a South Region title and a resume of wins that includes Vazquez and 126-pound qualifiers D'Amani Almodovar and Cross Wasilewski.
Speaking of freshman, I'm looking forward to seeing more of Camden Catholic's Jackson Young this weekend. He's got a tough early-round draw with returning placer Jack Zaleski, who could overwhelm the frosh with his funk. With that said, Young is a tough rider with clean finishes. I'll be watching.
The First Round Match I Won't Miss: John Hildebrandt (Williamstown) vs. Tyler Vazquez (Delbarton).
126
Not to just jump ahead to the finals again, but I have a pretty good feeling about a Vincent Santaniello vs. Joe Cangro final here. Both enter this tournament as three-time state placers with the goal of climbing atop that podium for the first time.
Bergen Catholic's Cangro was dominant in a region final over the #3 seed Ethan Fernandez, who he'll likely see again in the semifinal.
Santaniello, on the other hand, won a close Central region final over Nicholas Diaz and could see him again in his own semifinal.
Cross Wasilewski, at the #7 seed, looked tough in his Super Region. He won a loaded bracket that featured Frank DiEsso and Patrick Adams, showing off good leg attacks and fast finishes. I think he finishes high on the podium this weekend.
The First Round Match I Won't Miss: Frank DiEsso (North Hunterdon) vs. Nathan Fitt (Newton)
132
For the second season in a row, Nico Nardone looks to be part of one of the biggest semifinal matchups of the weekend.
Not many state tournaments feature two past Super 32 placers in the semifinals, but that's what we'll have here in New Jersey between Nardone and Clearview's Ty Whalen. Whalen's been on a roll for a while now, but I think the senior Nardone brings home that long-awaited title in his final season.
Most expected to see a Whalen vs. Kelly Dunnigan semifinal matchup on the bottom side here. That is, until Boonton's Joe Fongaro shook things up, taking out Dunnigan in the North 1 Region finals by way of a last-second takedown on the edge.
Last year, Dunnigan lost in the district final before getting payback only a week later in the region finals. Look for him to bounce back in similar fashion this weekend. His path includes Patrick Phillips, Jack Bertha, or a potential rematch with Joe Fongaro while the other two work things out up top.
The First Round Match I Won't Miss: Patrick Phillips (Brearly/Dayton) vs. Jack Bertha (West Morris, Mendham).
138
This is a mean top three at 138 pounds
But who comes out on top?
Olivieri - the top seed and the two-time state champ - must love his path to the finals.
On the bottom, it will likely be Alex Almeyda and Eddie Hummel working things out with a trip to the finals on the line.
Hummel is no stranger to the challenges the state tournament presents. Last year, the Army commit overcame a first-round loss to take third after winning seven straight backside matches.
Almeyda is one of the top juniors in the country and has been knocking on the door for a couple years but has yet to break through to the finals.
Bergen Catholic's Chris Bacchioni isn't a bad pick to make a run to the semis out of the 13-seed. He beat Hummel this offseason, so we know we has the goods to go with these guys.
I think it's going to be Olivieri and Almeyda highlighting Saturday night's Championship finals, though.
The First Round Match(es) I Won't Miss: Chris Bacchioni (Bergen Catholic) vs. Ken Sherman (Holy Spirit); Chase Casey (Camden Catholic) vs. Jasiah Queen (Elizabeth).
145
It's mostly been the same story all season long. Simon Ruiz and Anthony White have teetered back and forth in the national rankings at 145 pounds for the past year and if there's one thing we know, every matchup between these two will be a close one. Ruiz might have the edge, but White is a hungry senior – something never to be overlooked. They're the #1 and #2 seeds here.
Michael Cetta only recently broke into the national scene but is strong and athletic. He's going to be a tough matchup for anyone in this bracket, after a sixth-place finish at states a year ago.
Hunter Gandy, meanwhile, owns career wins over Eddie Hummel and McKenzie Bell to name a few. He'll get Logan Waller in the first round - a matchup between two state-ranked seniors who are both looking for their first podium finish. Whoever falls in that one will endure a long road back to the podium.
Expect fireworks at 145.
The First Round Match(es) I Won't Miss: Austin Jack (Jefferson Township) vs. Kamrin O'Neill (Matawan); Logan Waller (Colts Neck) vs. Hunter Gandy (Woodstown).
152
Ultimately, this bracket includes four guys at the top who seem to have separated themselves a bit from the rest. Who wins between the four? That's anyone's guess.
All four took care of business in their region brackets with little issue. Cooper Pontelandolfo, as the #1 seed, owns wins over all three wrestlers behind him, but has also taken losses to two of them.
The bottom will likely come down to a matchup between returning finalist Andrew Troczynski and returning-placer Nathaniel Camiscioli.
If it's not one of these four, look out for potential bracket busters in the form of Michael McGhee, Tanner Peake, and Cole Carroll.
The First Round Match I Won't Miss: Matt Hoelke (Highland) vs. Cole Carroll (Seton Hall Prep).
160
Freshman Louis Cerchio of Delbarton was one of the big stories to come out of the Super Region weekend when he took out two-time placer and Rutgers commit Dylan Weaver, earning himself the third seed in this bracket.
Blake Bahna gets the nod as the top seed, thanks to previous state credentials, despite a few losses on the year. His path, though, is not easy. He'll get the winner of a big-time first round matchup and Region final rematch between Nick Franco and Eric Freeman for a chance at either Weaver or Howell's Hunter Mays.
Mays, an offseason transfer from Pennsylvania, enters this state tournament peaking at the right time. He was dominant last weekend en route to a Central Region title and now wants to win a Jersey state title. He'll be part of an exciting bracket.
The bottom half features a South Jersey battle between Dakota Morris, Jurius Clark and Brock Zurawski – a trio where Morris seems to hold the upper hand.
Take your pick.
The First Round Match(es) I Won't Miss: Nick Franco (Paramus Catholic) vs. Eric Freeman (Paramus); Jurius Clark (Camden Catholic) vs. Brock Zurawski (St Augustine).
170
Aaron Ayzerov and Michael Dellagatta enter this bracket as the top two seeds and have both spent time in the national rankings. Ayzerov currently sits at #12. I imagine they are each heavy favorites to make the final, but this is Jersey.
I'm not sure who we'll see in Ayzerov's top-side semi, but I know it's going to be a South Jersey guy. All four wrestlers in that quad spent last weekend scrapping in the South Super Region, where they finished in the order of Jared Schoppe, David DiPietro, Alex Marshall, then Raymond Weed. Will it be more of the same this weekend? I think it might be.
I also feel pretty good about Dellagatta coming out of the bottom side here. His biggest tests will likely come from Sabino Portella and returning placers Shay Addison and Colin Calvetti.
The First Round Match I Won't Miss: James Holder (North Hunterdon) vs. Norman Cella (Hunterdon Central)
182
This weight is all Brian Soldano.
After going untested in what was a tough region, he enters riding an in-state undefeated streak that dates back to his freshman year. Behind him, is a big crop of guys fighting to join him in the finals, or potentially knock him off.
I like Shawnee's Isaac Dean, who just took home his second straight Region title and remains unsigned. If this bracket goes chalk, he'll get Rumson Fair Haven's Jack Kelly in the semi. Kelly is the only other returning placer besides Soldano, so a matchup with Dean seems likely.
After that, you just have to knock off the top dog.
The First Round Match I Won't Miss: Brendan Newbury (Wall) vs. Zachary Andruchowitz (Bloomfield)
195
Blake Clayton and Cody Thurston lead the way up top. Thurston was pretty dominant in his South Region and heads to Phillipsburg looking like one of the four best guys at the weight. He was a state placer at 220 pounds a year ago and returns this year down a weight class. I like the idea of a potential quarterfinal between him and freshman standout Hudson Skove.
I picked Jack Wilt as my finals pick opposite Martin Cosgrove earlier this season, so I think I'm going to stick with him to win this one.
The winner of Alex Kostantas and Kevin Pandorf could wrestle himself into a nice draw for a chance at making a deep run. With that said, it's a crowded bottom side that includes Wilt and returning placer Thomas Renna.
This another wide-open weight.
The First Round Match I Won't Miss: Alex Kostantas (Pascack Hills) vs. Kevin Pandorf (Kingsway)
220
Ranked #10 in the nation, Mike Misita enters this weekend as one of the heavier favorites in the tournament, no pun intended.
The senior transferred from St Augustine to Williamstown prior to the start of the season so he was limited in regular-season matches but showed he's still in championship form after a dominant South Region title.
On the bottom side, it feels like we'll see St Joe's Mike Toranzo – a sixth-place finisher in the state a year ago. He already owns wins this year over Jack Stoll and Remy Brancato.
Also, look out for South Region runner-up Shane Whitney out of the #11 seed, as well as North 2 Region champ David Pierson, who hopes to make some noise in his home gym.
The First Round Match I Won't Miss: Shane Whitney (Lower Cape) vs. Bryan Bonilla (Hightstown)
285
Even without Jim Mullen in the bracket, this heavyweight title will be a battle. I can't wait to see it.
Heading into Region weekend, on the heels of Mullen's announcement he'd be opting out of the postseason, it looked like David Szuba's title to lose. That is, until John O'Donnell flipped the script by knocking off the returning state finalist with a 5-1 victory and reversing the result of a match from only a couple weeks ago where he lost by fall.
O'Donnell is an interesting matchup for heavyweights around the state. He's a leg rider on top, which is certainly different. He complements it with some mean handfighting on his feet.
I think he and Szuba are on a collision course to meet in the finals again this week.
Others to lookout for include returning placer Liam Akers and blood round finisher from a year ago Max Acciardi.
The First Round Match I Won't Miss: Dom Brogna (Bergen Catholic) vs. Jeff Jordan (Audubon)