The Highs & Lows Of Brick Memorial Brothers Vincent & Anthony Santaniello
The Highs & Lows Of Brick Memorial Brothers Vincent & Anthony Santaniello
The term "brotherhood" is thrown around in sports all too often. In the case of Vincent and Anthony Santaniello, there's no better word.
Oct 15, 2020
by Brendan Scannell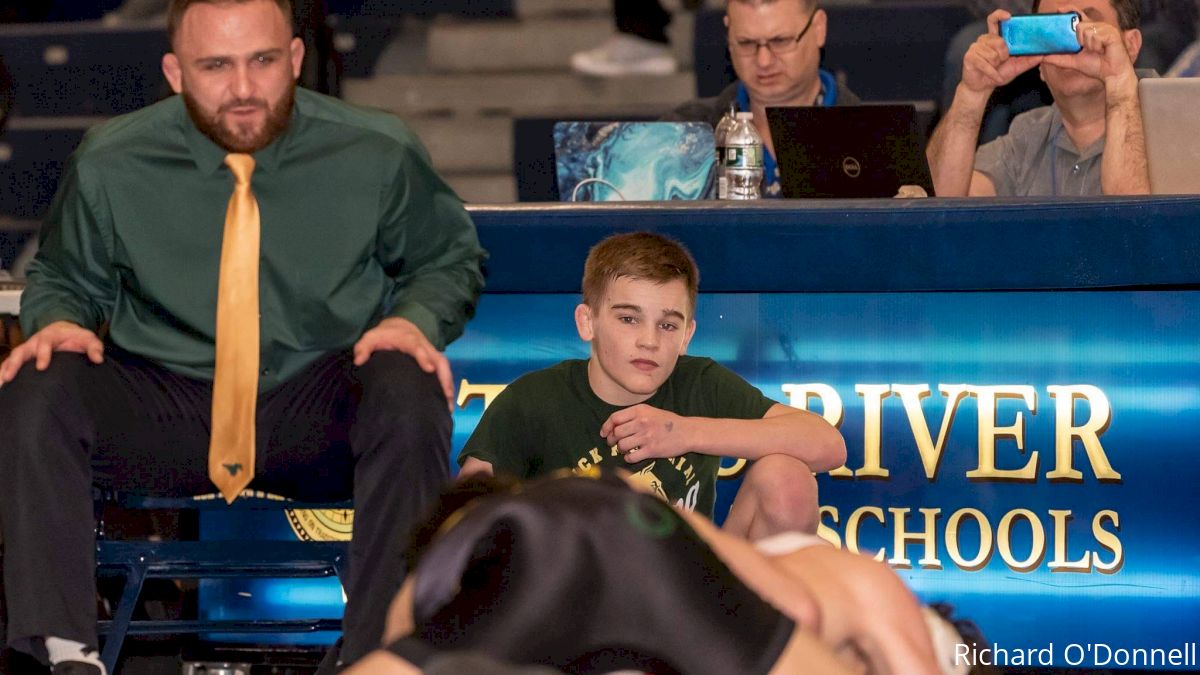 Unlock this article, live events, and more with a subscription!
Get Started
Already a subscriber? Log In
The term "brotherhood" is thrown around in sports all too often. Usually used as a way to characterize championship teams, it's how we describe those who empathize with the effort and sacrifice it takes to succeed. The ones who were there through it all. In the case of Brick Memorial's Vincent and Anthony Santaniello, wrestling has always been about brotherhood.
Only two years apart, Vincent, a senior headed to Navy next year, and the sophomore Anthony were raised in the Shore Thing wrestling room – a club full of hammers in Lakewood, New Jersey, where their father Vincent Sr. is the head instructor. Despite being constant drill partners for one another, the two didn't get the opportunity to compete on the same team as often as you'd expect prior to high school. Instead, it was mostly imaginary duals at home, complete with singlets and walkout music. Wrestling together for Brick Memorial was something they thought about constantly. Whether it was chatting in their room before bed at night or on the way to a tournament. It was always part of the plan.
Last season, they finally got the chance to make all of those living room dual meets a reality. It wasn't long before they were the most dangerous sibling duo the state had seen in years.
"Having him on my team was a really big confidence boost," said Vincent.
"Yeah, same," Anthony echoed immediately, as if his brother had taken the words right out of his mouth.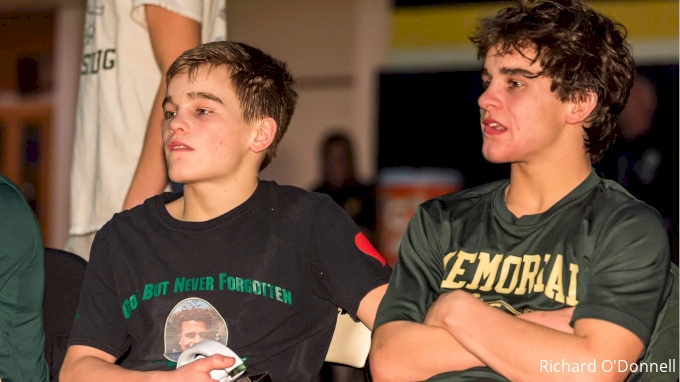 The brothers side by side.
As the youngest and the lighter of the two brothers, Anthony is often the first one to wrestle. When he is on the mat, you'll usually find Vincent trying to sneak a peek of his little brother's match through the crowd. Sometimes, to the displeasure of coaches trying to get him to focus on his own upcoming bout. But he just can't help himself.
For Anthony, win or lose, his day isn't over when he steps off the mat. After catching his breath and gathering his things, it isn't long before he is crouched mat-side locked in on Vincent's match.
"It's nerve-wracking . . . it's like another match," he said.
Both boys agreed that the nerves that come with preparing for their own matches are nothing compared to those that come with watching their brother.
"But also, it's like another win," Anthony added.
In the Santaniello's case, that's how it usually tends to go. Two matches, two wins.
That's how it mostly went last year as they rolled into the postseason and cruised to district and region titles before moving onto the state tournament. Round after round, each win was accompanied by a flex or fist bump towards the Brick Memorial faithful who greeted them with a roar of approval. It's a crowd made up primarily of Santaniellos. Not just their parents and older sister Sam — who both boys agreed is their loudest fan — but also grandparents, aunts, uncles, and cousins. For the Santaniellos, wrestling is a family affair.
After both boys won in the semis, having punched their ticket to Saturday night's state finals, the brothers walked out of Boardwalk Hall supremely confident
Due to a mix of nerves and anticipation, they could hardly sleep that night, kept up by the thought of becoming the first pair of brothers to win New Jersey state titles since Mark and Maurice Worthy of Central Regional accomplished the feat nearly 25 years ago.
Pretty soon it was morning and time to wrestle.
As usual, Anthony was the first to go. In his final, he was facing top-ranked Evan Mougalian of Kinnelon, who beat him previously at middle school states. Anthony was looking for redemption, while Vincent watched anxiously from the warmup area like he always does.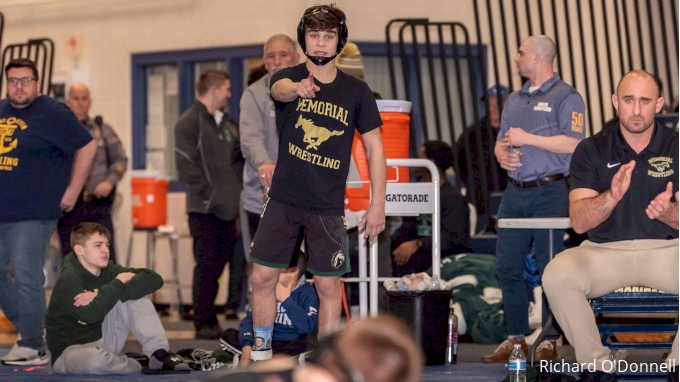 Vincent watching his brother Anthony.
It was a tight battle but the difference was a takedown at the buzzer by Mougalian for the title, and the Santaniello's first loss of the weekend.
Next, it was Vincent's turn to try and accomplish the same goal that his brother had come just short of achieving. The goal they share. He was focused but the sting of having just watched Anthony lose was unavoidable.
"I was like, all right I've got to do this for him, too," Vincent recalled. "I was getting way more fired up than I usually would."
As Vincent's match got underway, it wasn't long before Anthony, still visibly emotional from his own match just minutes earlier, sauntered back out to the arena floor to assume his rightful place mat-side to watch his big brother. His day wasn't done. His day ends when Vin's does.
Vincent, meanwhile, faced a familiar foe of his own in St. John Vianney's Dean Peterson, who currently sits atop the national rankings at 126lbs. Vincent had taken losses to Peterson before, including one a few weeks earlier in the Shore Conference finals.
He would fall again here, 1-0, suffering the same heartbreak as his little brother had before him.
It's not very often that the Santaniello family goes 0-2 on the day. The feeling was unfamiliar to them. All those times spent daydreaming of wrestling glory, donning the Brick Memorial green and gold, and wrestling in the state finals at Boardwalk Hall in Atlantic City — at no point in those countless hours spent of visualization and anticipation did they imagine they'd both lose. That was never part of the plan.
Wrestling can be a lonely sport. Especially in defeat. Not usually one to welcome visitors after a tough loss, Vincent admitted that after that one, his brother was just who he needed. After all, no one would understand quite like Anthony would.
"He knew exactly how I was feeling. He knew exactly what to say. So, it was perfect having him there," Vincent said.
Mom, of course, didn't miss this moment between her boys.
"It's breathtaking. It's what you raise your kids to do. Support each other. And my daughter is in the stands and she's supporting them and, you know . . . that makes you proud," said their mother, Christy.
That night was not one of silence or sulking. Instead, the boys joined their family for dinner to celebrate their accomplishments on the season. Through it all, this was what allowed the family to keep a tremendous perspective when looking back on that weekend in March. It was a rollercoaster of emotions. Sure, there were some lows but they were nothing compared to the highs.
"Just to get to the state finals and be together . . . win or lose, it didn't matter," Vincent Santaniello Sr. explained. "Our weekend was great."
Looking ahead to this year, their goals remain the same, but expectations are heightened. Although a number of question marks still surround the upcoming season, their Brick Memorial team will come in loaded with four state placewinners, five qualifiers, and will, no doubt, enter as one of the preseason favorites in Group IV. More than anything, though, the Santaniello boys look forward to what could be their last season as teammates.
"I'm really excited. I'm hoping we have a season. This is a good team . . . it's Vin's senior year," said Anthony.
"Everything just flew by so fast. It feels like Anthony just got in the room. This year I've definitely just got to embrace it all and cherish every moment of it," Vincent added.
Although both remain uncertain about what to expect from the upcoming year, both can be sure: their brother will be right by their side.