2021 Senior European Championships
Challengers To Team USA On Display At The Continentals
Challengers To Team USA On Display At The Continentals
The European and Asian Championships gave us a preview of some of the best competitors Team USA will face at the Olympics in Men's Freestyle.
Apr 22, 2021
by Jon Kozak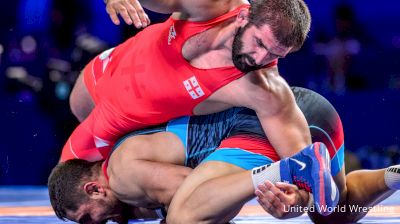 Unlock this video, live events, and more with a subscription!
Get Started
Already a subscriber? Log In
Unlock this article, live events, and more with a subscription!
Get Started
Already a subscriber? Log In
Both the Asian and European Championships went down over the past week. In men's freestyle, 4 world champions and over 20 Olympians competed in the continentals. In case you missed some of the action, here are a few major takeaways and how they might influence Team USA this August in Tokyo.
Gable Steveson's Quest to Dethrone the 125kg Kings
Gable Steveson's performance at the Olympic Trials had fans crowning him Olympic Champion. And the hype was deserved; Steveson breezed through the Trials in one of the most impressive performances we've seen in America at 125kg. The problem - Olympic Medals aren't awarded until August in Tokyo and the Olympic trials went down in April in Fort Worth.
The European Championships should be a reminder to American fans of at least two names at 125kg-Taha Akgul and Geno Petriashvili. These two have won gold at the past six World/Olympics at heavyweight (Akgul in 2014, 2015, 2016 and Petriashvili in 2017, 2018 and 2019)! Because of the random draw, Akgul faced the 4 toughest opponents in the bracket and, like Gable at the Trials, Akgul looked to be untouchable on his way to his EIGHTH European Championships gold. He outscored his opponents 25-4 and impressively defeated Geno Petriashvili 6-1.
Akgul vs Petriashvili
Taha Akgul looks to be Gable's toughest opponent in Tokyo but Steveson will likely have to go through both past champions to earn Olympic gold. Because of seeding points, Akgul and Petriashvili will be on opposite sides of the 125kg bracket. Gable, on the other hand, has not earned any seeding points and will be randomly drawn into either side. Steveson could draw Akgul or Petriashvili in the first round! While the probability of that happening is 1/6, Gable will almost certainly have to wrestle both Akgul and Petriashvili to win the Olympics.
Yazdani Continues to Dominate
Hassan Yazdani is the main obstacle in David Taylor's path to Olympic Gold. Going into the Asian Championships, there were questions regarding Yazdani's health due to a knee injury he sustained last year. His performance at Asians removed all doubt as Yazdani extended his winning streak to 37 straight and did so in dominant fashion. He won all three matches by 10-0 tech, and averaged only 3 minutes and 14 seconds per match. Yazdani even got to show his superiority over Deepak Punia (IND), who forfeited to him back in the 2018 World Finals.
Watch Yazdani's Semi-Final Dominance: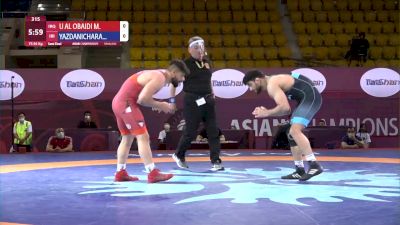 Unlock this video, live events, and more with a subscription!
Get Started
Already a subscriber? Log In
New Challenger to Kyle Dake
More than Gilman at the Olympic Trials, Tajmuraz Salkzazanov (SVK) came out of nowhere at the European Championships. Salkazanov won gold over the weekend at 74kg by defeating Avtandil Kentchadze (GEO-world silver medalist), Frank Chamizo (ITA-2X world champion), and Razambek Zhamalov (RUS-2020 World Cup Champ). What might be more surprising than his performance is that Salkazanov is not yet qualified for the Olympics! He will have to go to the last Olympic Qualifier in Bulgaria and make the finals there to qualify.
Check out Salkazanov's match against Chamizo: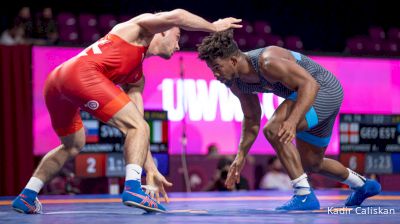 Unlock this video, live events, and more with a subscription!
Get Started
Already a subscriber? Log In
No one could have predicted the run Salkazanov went on to win Euros, but some of his past results prove his performance wasn't an anomaly. He won the 2018 U23 World Championships at 70kg with a win over David Baev (RUS-2019 World Champ). Along with that, he competed in the same bracket as Kyle Dake in the 2019 World Championships at 79kg. He took a bronze medal there and only lost to Jabrayil Hasanov (AZE), 4-3 (Dake would go on to beat Hasanov in the finals 4-2). Should Salkazanov qualify for the Olympics, look for him to challenge for a medal and be one of the toughest competitors to test Kyle Dake.
Iran's 97kg Spot Still Undecided
While Team USA had some drama for the Olympic spot at 97kg, Iran has its own. One would think teching Bo Nickal, pinning Kyle Snyder, and qualifying the weight for the Olympics would earn Mohammad Mohammadian the spot on Iran's Olympic team. However, Ali Shabani is also at 97kg for Iran and defeated Mohammadian in two-straight matches in November 2020 during a wrestle-off for the 2020 Individual World Cup. Shabani won the Asian championships in dominant fashion-3 techs by a combined score of 33-2. That performance by Shabani will set up a showdown for him and Mohammadian for the Olympic Team spot. Iran will either host a wrestle-off between the two, or use the Poland Open in early June to make the decision.
You can access all matches to both Continental Championships by clicking the links below: